---
USA. 1989.
Crew
Director/Screenplay – Phil Alden Robinson, Based on the Novel Shoeless Joe by W.P. Kinsella, Producer – Charles & Lawrence Gordon, Cinematography – John Lindley, Music – James Horner, Visual Effects – Industrial Light and Magic (Supervisor – Bruce Nicholson), Production Design – Dennis Gassner. Production Company – Gordon Co.
Cast
Kevin Costner (Ray Kinsella), Amy Madigan (Annie Kinsella), James Earl Jones (Terence Mann), Gaby Hoffman (Karen Kinsella), Timothy Busfield (Mark), Ray Liotta (Shoeless Joe Jackson), Burt Lancaster (Dr Archibald 'Moonlight' Graham), Frank Whaley (Archie Graham), Dwier Brown (John Kinsella), Lee Garlington (Beulah)
---
Plot
Iowa corn-farmer Ray Kinsella is puzzled when he hears a voice speaking to him while he is working in the field, saying "If you build it, he will come." He also receives the vision of a baseball diamond sitting in the midst of his cornfield. On an impulse, he ploughs the cornfield over and builds a baseball diamond. This causes him to risk certain financial disaster. He is then startled when long-dead baseball players – members of the Chicago Black Sox who were suspended during the 1950s, suspected of rigging a game – appear and begin playing. The continuing visions lead him on a quest to find the reclusive writer Terence Mann.
---
Americans have the need to see their sports, especially baseball, in larger-than-life fantastic terms. On film, baseball has received a number of fantastic treatments with the likes of It Happens Every Spring (1949) with Ray Milland as a chemist who becomes a star player when he coats balls with a substance that repels wood; Angels in the Outfield (1951) where heavenly hosts steps in to aid a losing team; The Natural (1984) with Robert Redford, which saw baseball in terms of Midwest folklore and allusions to the Arthurian legends. Even Kevin Costner's previous film Bull Durham (1988) had a spaced-out Susan Sarandon applying Tantric Buddhism to the game.
Indeed, the entire literary output of W.P. Kinsella (1935-2016), the Canadian author whose book Shoeless Joe (1982) the film is based on, would seem to centre around such baseball fantasies – his novel The Iowa Baseball Confederacy (1986) features a time-travelling baseball team, and he has published short stories like the self-explanatory The Vampire Short Stop and The Baseball Wolf with a werewolf shortstop, and other stories that feature ball players in the afterlife, employing feng shui, and alien visitors and angels visiting the pitch, even an alternate world story featuring George Bush and Fidel Castro as players. Indeed, W.P. Kinsella had edited an entire collection of such stories, Baseball Fantastic (2001). (Although oddly for a sport that seems so central to the American psyche, W.P. Kinsella himself is Canadian).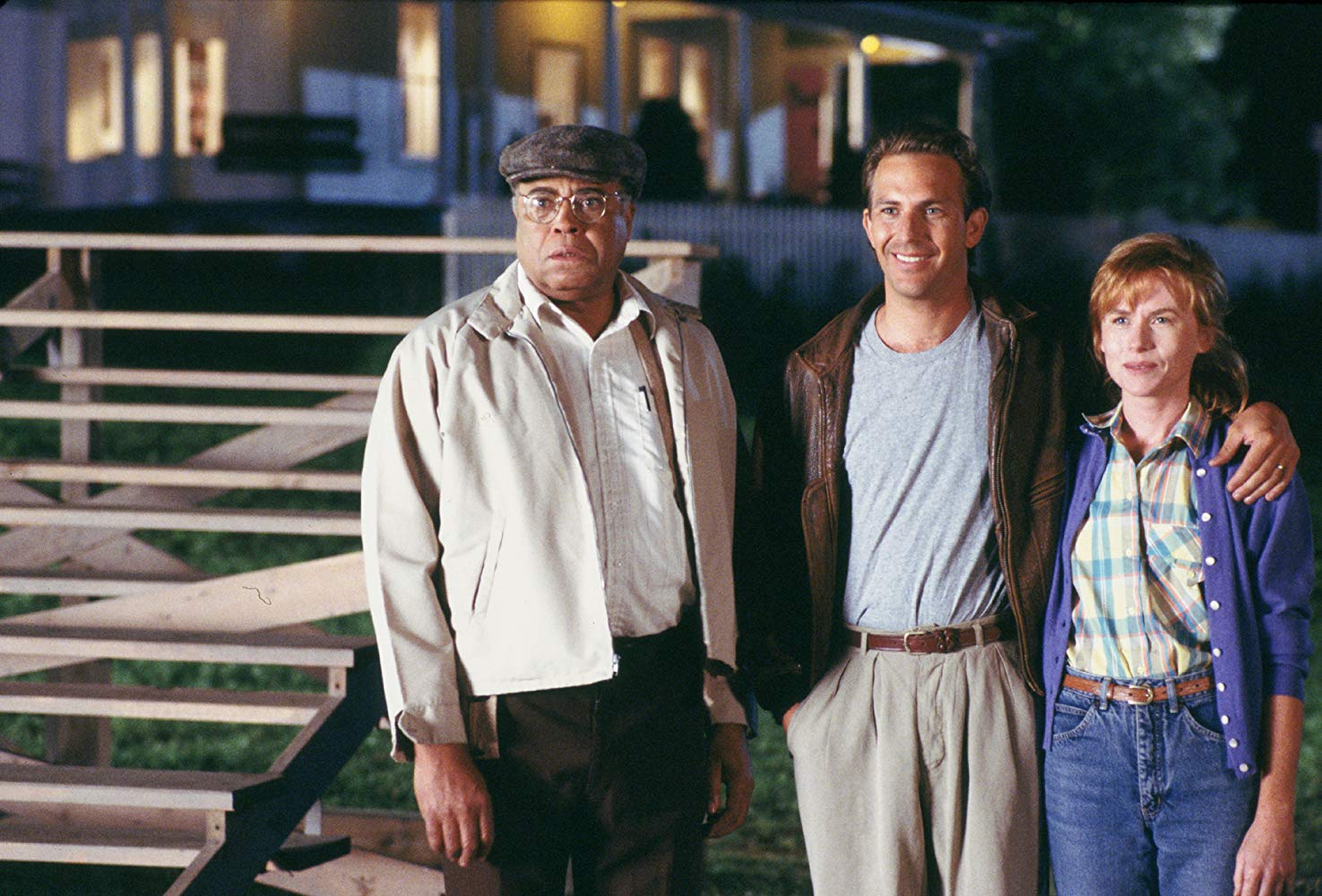 When a film starts sprouting a vision of a baseball diamond as the afterlife and delivering lines like "The one thing that has always remained constant in America is baseball," one can see there is going to be a fairly large pill to swallow. Field of Dreams incredibly enough, even has the chutzpah to openly advocate a kind of divine capitalism at the end, with James Earl Jones showing Kevin Costner that people will come, mysteriously drawn to see a part of their past and will unthinkingly be guided to hand over $20 for the privilege. Field of Dreams is one of the films that one either buys into completely or loses out on entirely. One does, and the idea of Heaven being somewhere in the Major Leagues makes magical sense; reject the film and it is a load of tripe about America sentimentalising its own lost past.
For all its eccentrically strange notion of the afterlife as a baseball diamond in the American heartland, one liked Field of Dreams a good deal. Phil Alden Robinson writes beautifully poetic dialogue, he knows what W.P. Kinsella was writing about – the courage to follow dreams and the finding of lost innocence – and demonstrates a rare ability to evoke it on screen.
Phil Alden Robinson makes no shame that he is writing a sentimental, inspirational film and the places the story reaches are often enormously touching. When it arrives at its perfectly natural culmination, the gently intimate reconciliation of never-said regrets between Kevin Costner and his father, it is a lovely conclusion. Appropriately, Field of Dreams was nominated for Best Film and Best Adapted Screenplay at that year's Academy Awards.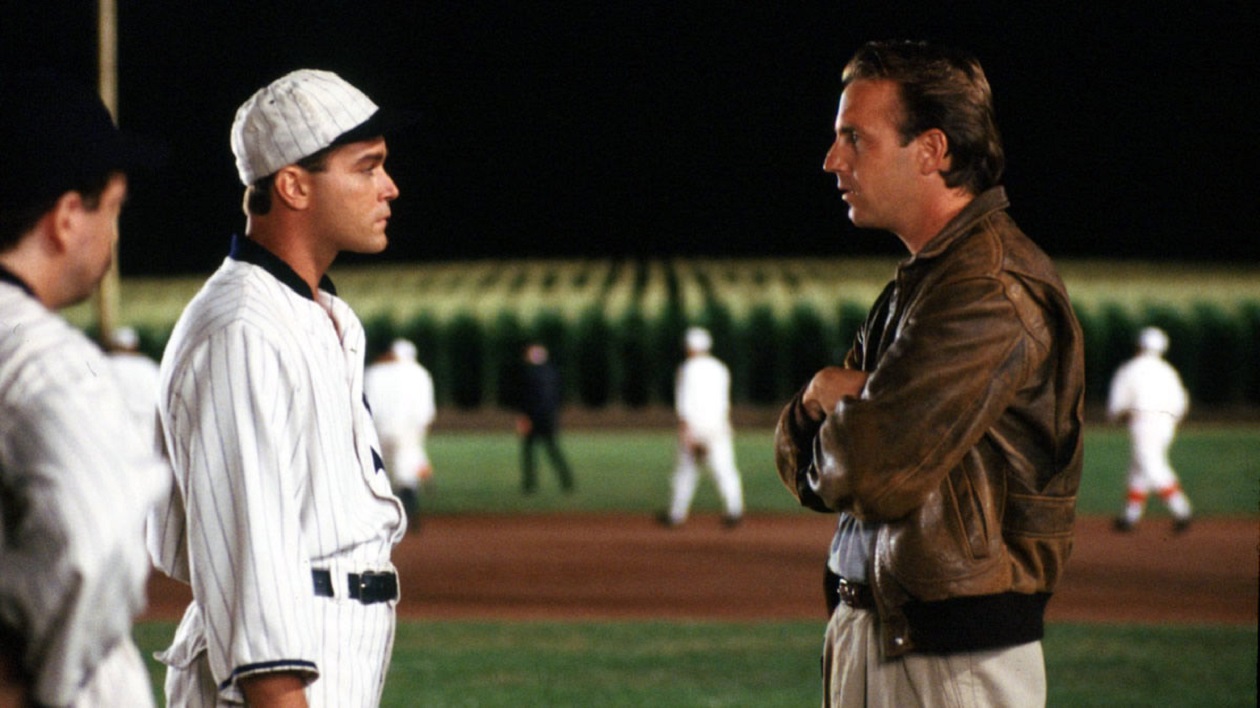 The element of fantasy is evoked with a perfect sense of Twilight Zone-like hovering between this world and the incursion of another. Although, rather than any afterlife drama, Field of Dreams comes closer to being a Biblical quest of sorts. It taps into the great American search for faith beyond suburbia as embodied by Steven Spielberg's Close Encounters of the Third Kind (1977) but filtered through the Free Love Generation. (In W.P. Kinsella's book, the character of Terence Mann was J.D. Salinger). Underneath it, you could say that this is a film that reflects the Free Love Generation's mellowing into middle-age conservatism and holds a strong lament for the loss of that era's idealism.
Phil Alden Robinson had previously worked as a screenwriter with scripts like the Sylvester Stallone-Dolly Parton Country-and-Western flop Rhinestone (1984) and the delightful bodyswap comedy All Of Me (1984), before debuting as director with The Woo Woo Kid (1987). He next made the enjoyable computer thriller-comedy Sneakers (1992), although has never again found the same success as Field of Dreams. Both of these films are imbued with a sense of Utopian nostalgia for the values of the 1960s. More recently, Robinson made the Tom Clancy adaptation The Sum of All Fears (2002) about nuclear terrorism and the comedy The Angriest Man in Brooklyn (2014).
---
---