---
Crew
Directors – (Episodes 1-4) Simon Cellan Jones & (Episodes 5-6) Lisa Mulcahy, Teleplay – Russell T. Davies, Producer – Karen Lewis, Photography – Tony Slater Ling, Music – Murray Gold, Visual Effects – The Flying Color Company, Special Effects – Quicksilver, Production Design – Ed Turner. Production Company – HBO/Studio Canal/Red Production Company.
Cast
Rory Kinnear (Stephen Lyons), Russell Tovey (Daniel Lyons), T'Nia Miller (Celeste Bisme-Lyons), Anne Reid (Muriel Deacon), Jessica Hynes (Edith Lyons), Ruth Madeley (Rosie Lyons), Lydia West (Bethany Bisme-Lyons), Emma Thompson (Vivienne Rook), Maxim Baldry (Viktor Goraya), Jade Alleyne (Ruby Bisme-Lyons), Rachel Logan (Elaine Parris), Sharon Duncan-Brewster (Fran Baxter), Dino Fetscher (Ralph Cousins), George Bukhari (Jonjo Aleef), Kieran O'Brien (Woody), Zita Sattar (Yvonne Burkhari), Craig Gazey (Steven Lyons), Noel Sullivan (Tony Watts)
---
Plot
The saga of the Lyons family in Manchester throughout the 2020s. Son Daniel Lyons is married to Ralph Cousins but becomes involved with Ukrainian immigrant Viktor Goraya while trying to process Viktor's refugee claim. Son Stephen Lyons and his wife Celeste's teenage daughter Bethany announces that she wants to become transhuman. Daughter Edith is engaged in environmental protest in Vietnam and is witness as Donald Trump conducts a nuclear strike on the island of Hong Sha Dao. Afterwards it is discovered that Edith has received a fatal dose of radiation. The other daughter Rosie is wheelchair-ridden and attempts to raise two boys on her own. Elsewhere, Vivienne Rook goes from an outspoken nobody on television to a politician who catches the popular vote and in successive elections holds the balance of power in a hung parliament and then becomes the Prime Minister. In control of the country, Rook rapidly suspends social liberties and introduces draconian measures. Viktor is deported back to Ukraine where under Russian rule he could be imprisoned for being gay. Daniel travels to Spain to try and rescue him but this ends up with the two of them forced to try and re-enter England as undocumented refugees. Meanwhile, the others face dramatic changes of fate as the economy and other disasters cause unemployment to skyrocket in the grim new England.
---
Russell T. Davies has gained a name in recent years in particular as a showrunner and producer of the modern Doctor Who (2005– ) and frequent writer of numerous episodes throughout the Christopher Eccleston and David Tennant seasons, He has a prolific career in British television going back to the 1980s and has been responsible for other genre shows such as Dark Season (1991), Century Falls (1993), The Second Coming (2003), Wizards vs Aliens (2012-3), a modernised adaptation of A Midsummer Night's Dream (2016) and as creator/producer of the Doctor Who spinoffs Torchwood (2006-11) and The Sarah Jane Adventures (2007-11).
Years and Years is a family saga that follows the fates and fortunes of a family throughout the 2020s. It is also a Near Future political saga. This is something that has been conducted before in the UK before with tv works like A Very British Coup (1987), King Charles III (2017) to the original House of Cards (1990) and in particular To Play the King (1992), which all showed current political events a few years on.
What should be celebrated about Years and Years is that it takes the call for reflecting diversity on screen and runs with it in a highly engaging way. Among the Lyons family – we have a gay man (Russell Tovey) married to another man; a straight guy (Rory Kinnear) married to an Afro-British woman (T'Nia Miller); an environmental protestor (Jessica Hynes) who later takes up with another woman; and the daughter of the family (Ruth Madeley) who is confined to a wheelchair. In most cases, these are cast with actors like Tovey who is gay in real life and Madeley who is a real-life paraplegic. Russell T. Davies also dedicates the final episode to his own husband Andrew Smith who passed away in 2018. The series is equally willing to poke fun at this, like when Rory Kinnear and T'Nia Miller look up daughter Lydia West's browser history and find that she has been researching information on becoming trans and go to her supportive of her desire to become transgender only for her to inform them that she is referring to transhumanism and wants to become a machine.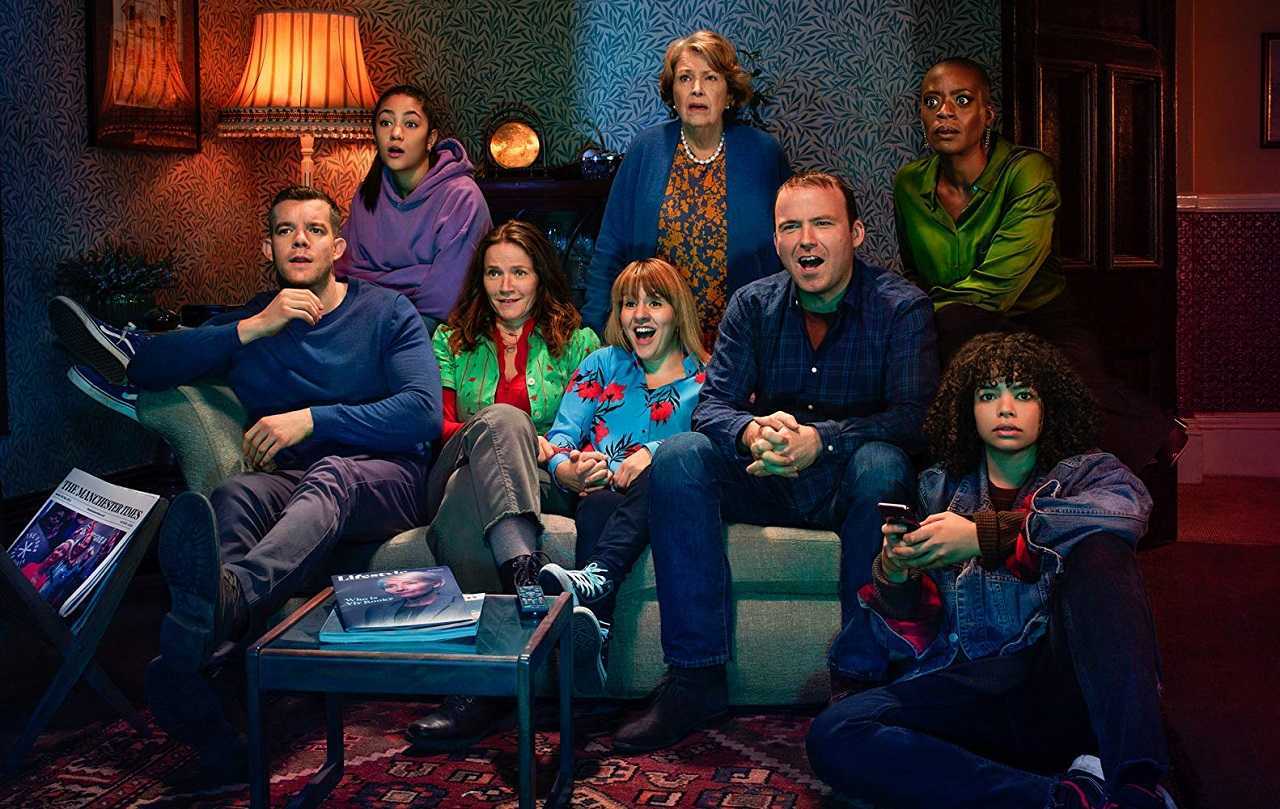 These dramas are written and played in a series of extremely well rounded and warm characterisations. Some of the twists and abrupt changes of characters' fortunes are dramatic and tragic. Other times the series is downright hilarious – the scene where the group attend the funeral of the father and Jessica Hynes drinks the hydrated ashes side-splitting. The dramas though are what make the show. You become highly engaged with the characters, which makes the end of the fourth episode with the refugee crossing a particular brutal and emotional one to watch.
Much of the show is stolen in a coarse and abrasive performance from Emma Thompson as the clearly Trump-modelled populist politician who parlays her fringe popularity into becoming the Prime Minister. We are taken aback by her from about the opening scene of the first episode with her announcing "I don't give a fuck about Palestine" and then later outrageous announcements about people needing IQ checks before being able to vote in the election.
It is a show that is never scared to get too political and bleak. Many current issues of great concern – climate change, the European refugee crisis and the xenophobic reactions to it, the increasing surveillance society, Russia's aggressive expansionism into former Soviet territories and prosecution of the gay community, China's demands over territories – are wound in and extrapolated a few years on. The first episode takes place "during Donald Trump's second term in office" with his firing of a nuclear warhead on a contested island in the South China Seas. Indeed, much of the rise of Vivienne Rook mirrors Donald Trumps' ascendancy – the dismissal of any criticism or embarrassing information as 'fake news', the wilful ignoring of the environmental crisis, the eagerness of conspiracy theories to fill the information gap, the authoritarian response to law and order where we see sectors of the city zoned off as high crime risk and then The Disappeared that nobody will talk about. If that is not scary, what becomes even bleaker is several episodes later when Kieran O'Brien's ruthless financier starts dismissing the nuclear attack as fake news and a particularly chilling scene where Emma Thompson stands up before a group of interested parties and in a good-humoured way brushes off and dismisses terms like 'concentration camp' and 'genocide'.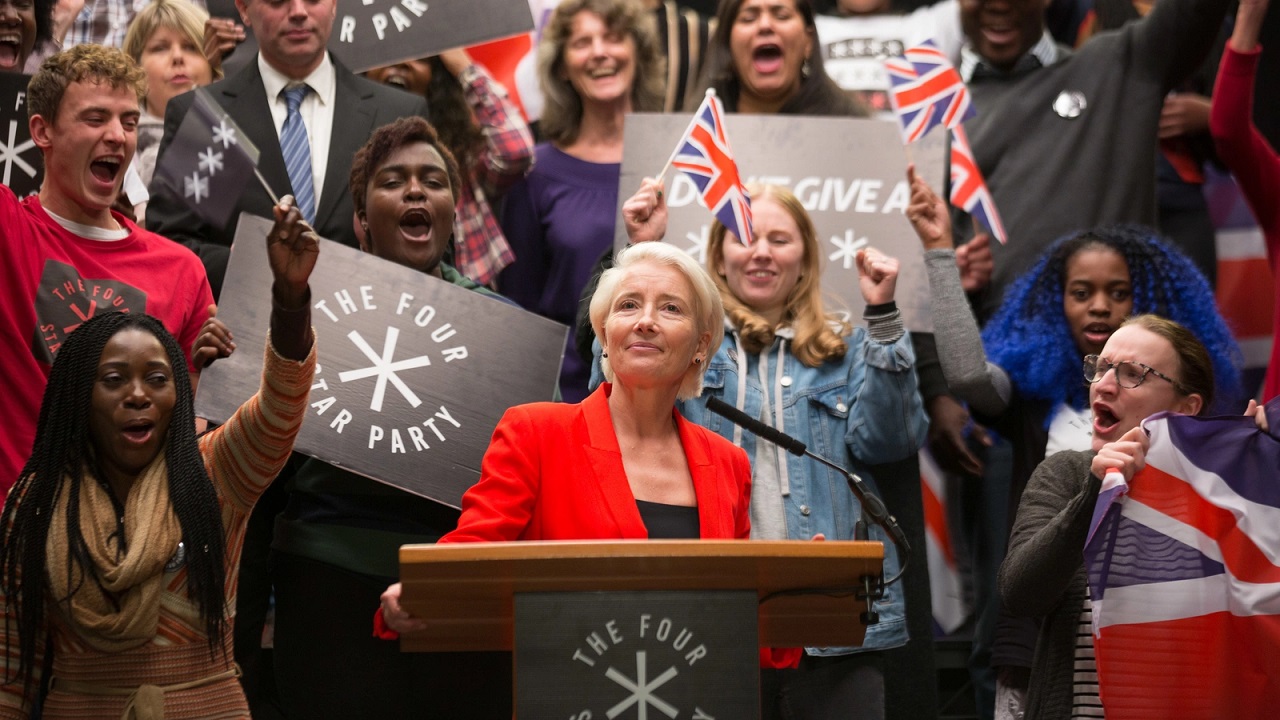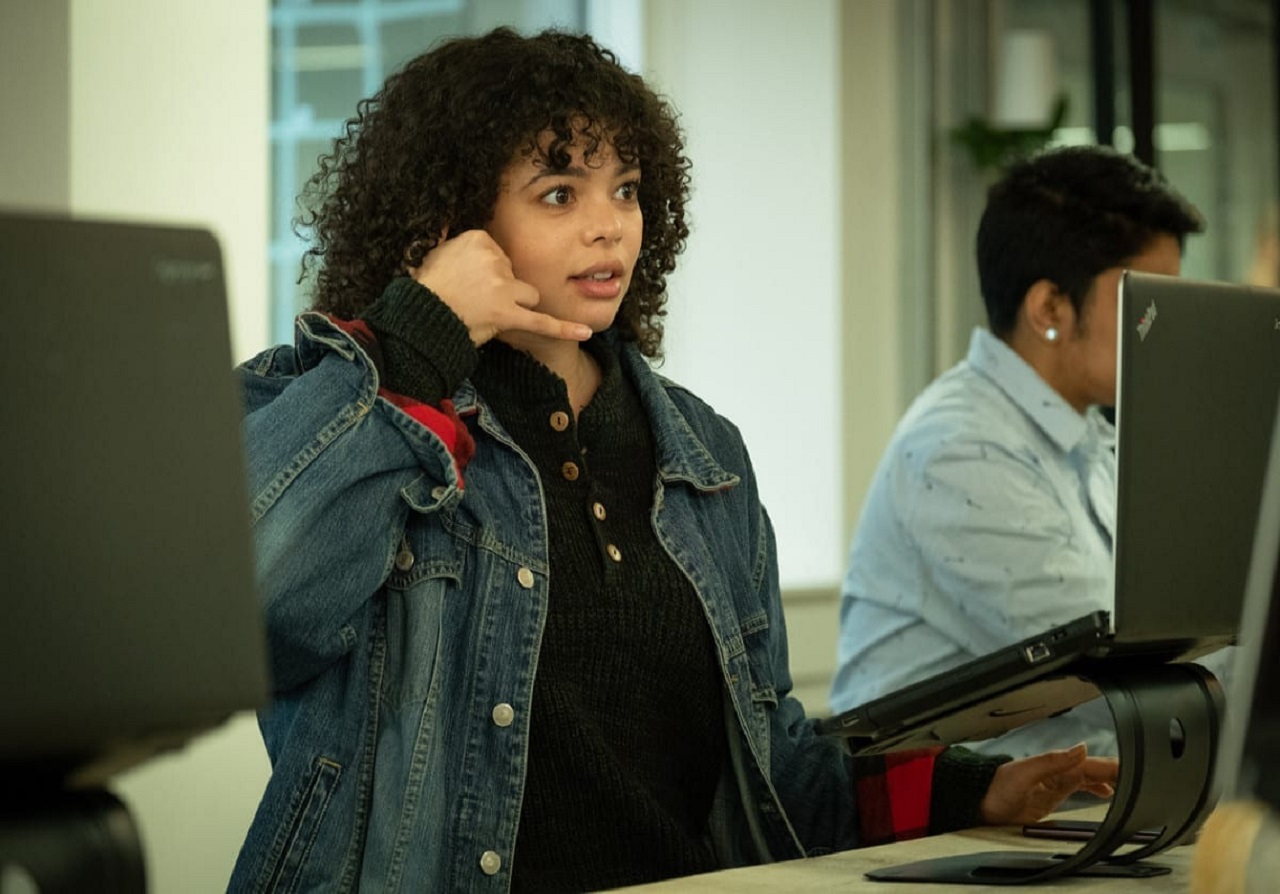 Of course, it is a political show that was only in the space of a year overtaken by world events. Rather than Vivienne Rook (the equivalent of Nigel Farage) in Parliament, the UK instead voted in Boris Johnson. Donald Trump's second term is floated as a scary possibility only for this to be torpedoed in the 2020 US election. The other thing that seems strangely absent from the show is Brexit – no mention of this for the simple reason that Britain had so far not pulled the plug on Europe and its future remained undetermined as of the series writing. In 2020, we have already seen Rory Kinnear's job as a bicycle courier being outstripped by a massive upsurge in vans from Amazon and other delivery services. The film does mention an epidemic crossing the country but its effects are only a glimmer of the socially arresting consequences that Covid brought in 2020.
One of the fun parts of the series at least from a science-fiction perspective is that it projects current technological trends into the future. There are delightful bits with Lydia West's glasses that project cute animal faces over her own and her cellphone implant in her hand; mention of entire 3D-printed villages being built for refugees. There's a rather funny scene where Ruth Madeley goes to bed for a guy and reaches into his drawer to get condoms only to find an attachment that allows him to have sex with his house robot. Davies writes a particularly good scene where Lydia West gives a great tribute to transhumanism upon getting her implants and then in the next scene the parents are concerned about her now being owned by a corporation.
Maybe things get a little far-fetched about the point that Lydia West gets her implants and gains incredible ability to monitor, track and even spy on her family members – you cannot help but think this is more a function of plotting wish fulfilment rather than the real world where privacy concerns would no doubt quickly arise. Not to mention a climax that becomes absurdly utopian in its fantasy of an ordinary family gaining hacking skills that can outwit and defeat an entire government, not to mention display commando tactics that outwit armed and trained soldiers. The mini-series goes out on the possibility of mind upload becoming a real eventuality. Nevertheless, you have to applaud its science-fictional ingenuity.
(Winner Best Film in this site's Top 10 Films of 2019 list. Winner for Best Original Screenplay and Best Supporting Actress (Emma Thompson), Nominee for Best Supporting Actress (Lydia West, Anne Reid) at this site's Best of 2019 Awards).
---
Trailer here
---