---
Crew
Director – Sean Meredith, Screenplay/Producers – Sandow Birk, Sean Meredith & Paul Zaloom, Based on the Illustrated Book The Divine Comedy by Sandow Birk & Marcus Sanders, Adapted from The Divine Comedy by Dante Alighieri, Photography – Michael Negrin, Music – Mark McAdam, Head Puppeteer – Paul Zaloom, Art Direction – Sandow Birk & Elyse Pignolet, Puppet Design – Elyse Pignolet. Production Company – Dante Film, LLC.
Voices
Dermot Mulroney (Dante Alighieri), James Cromwell (Virgil), Martha Plimpton (Celia/Lobbyist Singer/Lizzie Borden), Sean Forrester (Horace/Mr Argenti/White Pimp), Mike Coleman (Charon/Dick Cheney/Phlegyas/Senator), Tom Hallick (George Sanders/Deep-Voiced Lobbyist), Dana Snyder (Ulysses/Strom Thurmond), Paul Zaloom (Homer/God/Officer Chiron/Southern Lobbyist/Caiaphas/Macmud/Nicolae Ceausescu), Tony Hale (Ovid/Real Estate Broker/Pope Nicholas III)
---
Plot
Dante Alighieri wakes up in the street after a hard night's drinking. He is approach by the Roman poet Virgil who announces that he has come to take Dante on a tour of Hell. Virgil takes Dante on a journey down through the nine circles of Hell where they see the eternal suffering meted out for sins such as lust, greed, gluttony, anger and murder, each punishment being a reflection of the crimes the sinner committed in life.
---
This is a modernised adaptation of the classic poem The Divine Comedy (1308-21) by the Italian poet Dante Alighieri. The Divine Comedy is divided into three parts – Inferno, Purgatorio and Paradiso – and respectively concerns Dante's being guided through Hell and Purgatory by the Roman poet Virgil and in the last section to Heaven by Dante's late love Beatrice. The poem is an allegorical work that essentially illustrates the view of the afterlife held by the Catholic Church in the 14th Century. The Divine Comedy is widely regarded as a classic of Italian literature and its images, particularly Dante's vision of Hell, are resonant ones that still echo today.
Dante's Inferno has been filmed several times – with the silent Italian version Dante's Inferno (1911), the silent American Dante's Inferno (1924), Dante's Inferno (1935) with Spencer Tracy, as well as Peter Greenaway's A TV Dante (1989), which contrasted readings of the poem with superimposed visual imagery, and the animated Dante's Inferno: An Animated Epic (2010). (It is interesting that while Inferno has racked up five film versions, both Paradiso and Purgatorio, or indeed the complete poem, remain as yet unfilmed). There have been several attempts to update Inferno – Larry Niven and Jerry Pournelle's book Inferno (1975) wherein a science-fiction fan ends up in Hell, even an episode of Futurama (1999– ) that featured a version of Hell for robots.
This version of Inferno is based on The Divine Comedy (2004-5), a three-part graphic novel by Sandow Birk and Marcus Sanders, which updated the various segments of The Divine Comedy to the present-day, adding a variety of modern sins and peopling the afterlife with figures of notoriety since Dante's time.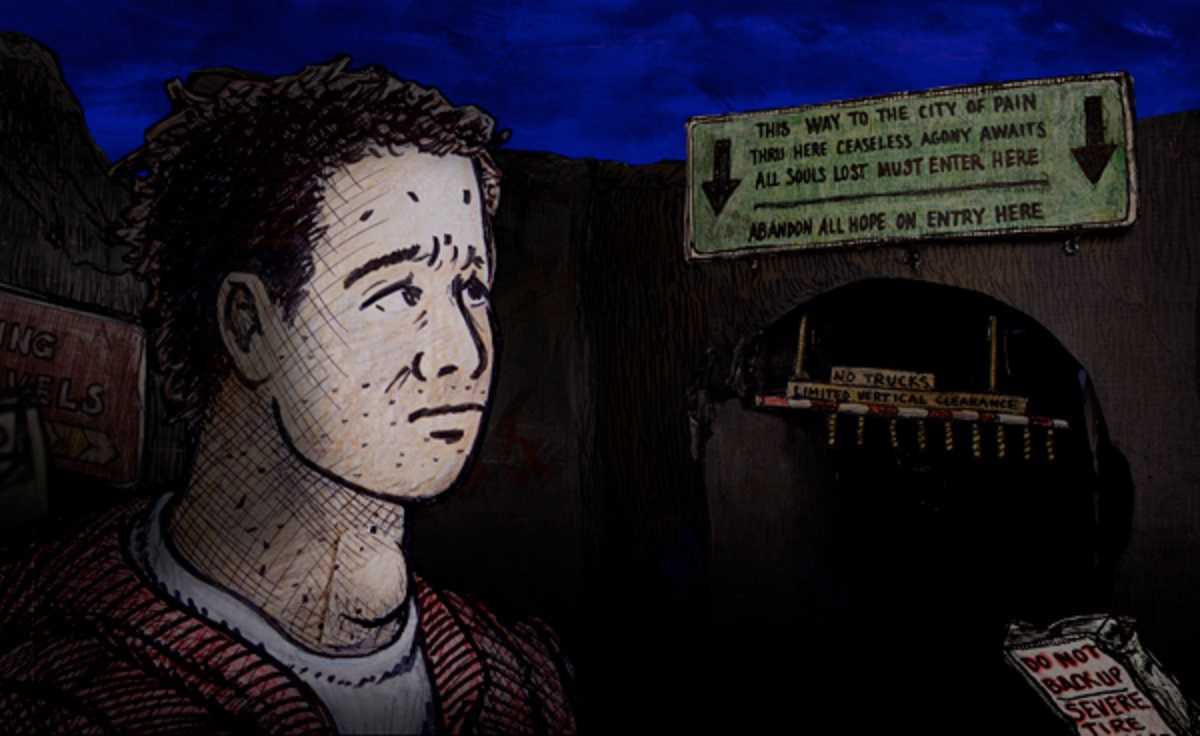 The fascinating thing about Dante's Inferno the film, aside from that it has been updated and modernised, is that this version is a puppet show. However, these are not standard puppets with joints and strings but tiny figures that have been drawn on pieces of cut-out cardboard with joints that are moved by rods, or are static figures being pulled across the stage on wires (where the filmmakers don't seem to be too concern about letting us see the wires and rods). When we get appearances from the Hand of God and a full-body Satan (both represented by actual actors), the surprise is that the puppets are only about the size of a thumbnail.
After the first few minutes of watching these static cardboard cutout figures moving about, I couldn't help but wonder if a film made entirely in this approach would end up tiring quickly. In fact, such proves not to be the case at all. It is an absorbing work and the artwork is clever and imaginative. The main problem might be not one that belongs to the film but one that has been created by Dante – that the Inferno is a picaresque rather than a full story and in following it, the film has no real dramatic structure.
One of the more interesting aspects is where Dante's original story has been modernised – at one point, someone is tried and found guilty for downloading Metallica and there is even a song number damning political lobbyists. We get appearances from modern figures such as JFK, Richard Nixon, Fatty Arbuckle, Nicolae Ceausescu, Paul Gauguin, even actor George Sanders who committed suicide (although as voiced by Tom Hallick, the accent comes nowhere near Sanders' distinctive voice).
This is also a film that is not afraid of getting political – among the damned are members of George W. Bush's government condemned over the Weapons of Mass Destruction fraud, Strom Thurman, Spiro Agnew, as well as digs at Fox News, Haliburton and Enron. During the trip across the frozen Lake of Traitors, we even meet a frozen Dick Cheney – "Some people are so evil their souls are condemned while they are still alive," Virgil notes. Interestingly, Dante's Christian allegory is frequently intermixed with elements of Greek mythology – including appearances from centaurs, Cerberus, Charon and the River Styx.
---
---