---
Crew
Director – Mike Flanagan, Teleplay – (Book 1: Genesis & Book VII: Revelations) Mike Flanagan, (Book II: Psalms) James Flanagan, Mike Flanagan & Elan Gale, (Book III: Proverbs & Book V: Gospel) James Flanagan & Mike Flanagan, (Book IV: Lamentations) Mike Flanagan & Dani Parker, (Book VI: Acts of the Apostles) James Flanagan, Mike Flanagan & Jeff Howard, Producer – Kathy Gilroy, Photography – Michael Fimognari, Music – The Newton Brothers, Visual Effects – Spin VFX (Supervisors – Keith Adams & Kirk Brillon), Special Effects Supervisor – Darren Marcoux, Makeup Effects Supervisor – Ozzy Alvarez, Production Design – Steve Arnold. Production Company – Intrepid Pictures.
Cast
Kate Siegel (Erin Greene), Hamish Linklater (Father Paul), Zach Gilford (Riley Flynn), Samantha Sloyan (Bev Keane), Henry Thomas (Ed Flynn), Kristin Lehman (Annie Flynn), Rahul Kohli (Sheriff Hassan), Annabeth Gish (Dr Sarah Gunning), Alex Essoe (Mildred Gunning), Matt Biedel (Sturge), Annarah Cymone (Leeza Scarborough), Igby Rigney (Warren Flynn), Michael Trucco (Wade Scarborough), Robert Longstreet (Joe Collie), Rahul Abban (Ali Hassan), Crystal Balint (Dolly Scarborough), Louis Oliver (Ooker), Quenton Boisclair (Angel), John G. MacDonald (Bowl), Ebony Booth (Tara-Beth)
---
Plot
Riley Flynn is released after a four-year jail term for manslaughter following a drunk-driving incident in which he killed a girl. He returns to stay with his parents on Crockett Island, a tiny fishing community that is suffering badly in the aftermath of economic downtown. Riley's parents insist that he come to Catholic mass even though he has fallen away from the faith. Riley also reconnects with Erin Greene, his former girlfriend, who has returned to the island pregnant after a relationship breakup. At the same time, a new priest Father Paul arrives to take over the church after the previous priest, the aging Father John Pruitt, has been hospitalised on the mainland. The entire community is startled when Father Paul encourages wheelchair-ridden Leeza Scarborough to stand up and walk during communion – and she does. This is heralded as a miracle. People on the island appear to be getting younger. Erin's foetus then disappears and there is no trace that she was ever pregnant. Amid the seemingly miraculous changes, Father Paul holds a dark secret that he plans to unleash on the community.
---
Director Mike Flanagan has emerged as one of the major genre leaders in the last few years. Flanagan caught attention with his fourth film Absentia (2011) and then passed through several Blumhouse collaborations Oculus (2013), Hush (2016), Ouija: Origin of Evil (2016); Before I Wake (2016), a film that befell the financial mismanagement of its distributor; and a duo of Stephen King adaptations Gerald's Game (2017) and Doctor Sleep (2019).
Ever since he adapted the Shirley Jackson novel into the mini-series The Haunting of Hill House (2018) and received great acclaim for it, Flanagan has found a new home on Netflix and streaming media. He created, oversaw and directed one episode of the Hill House follow-up The Haunting of Bly Manor (2020) and now makes Midnight Mass. He subsequently went on to produce, create and direct some episodes of the tv mini-series The Midnight Club (2022). A week after Midnight Mass premiered, Flanagan announced plans to make a new version of Edgar Allan Poe's The Fall of the House of Usher (1839), which would similarly be expanded to a multi-episode streaming series.
Midnight Mass may be Mike Flanagan's best work yet. It is one he has apparently wanted to do for years. It is filled with great pieces of writing. Flanagan gives all of the characters depths and nuances beyond our superficial take on them – even the town drunk (Robert Longstreet) gets to have a redemption and give air to his inner voice. Perhaps the most striking character arc we see throughout is Alex Essoe, who is 29 in real-life, but starts out playing an elderly, dementia-ridden mother who gets progressively younger throughout the course of the show. Flanagan is not even afraid to build up a main character and then joltingly kill them off midway through the story.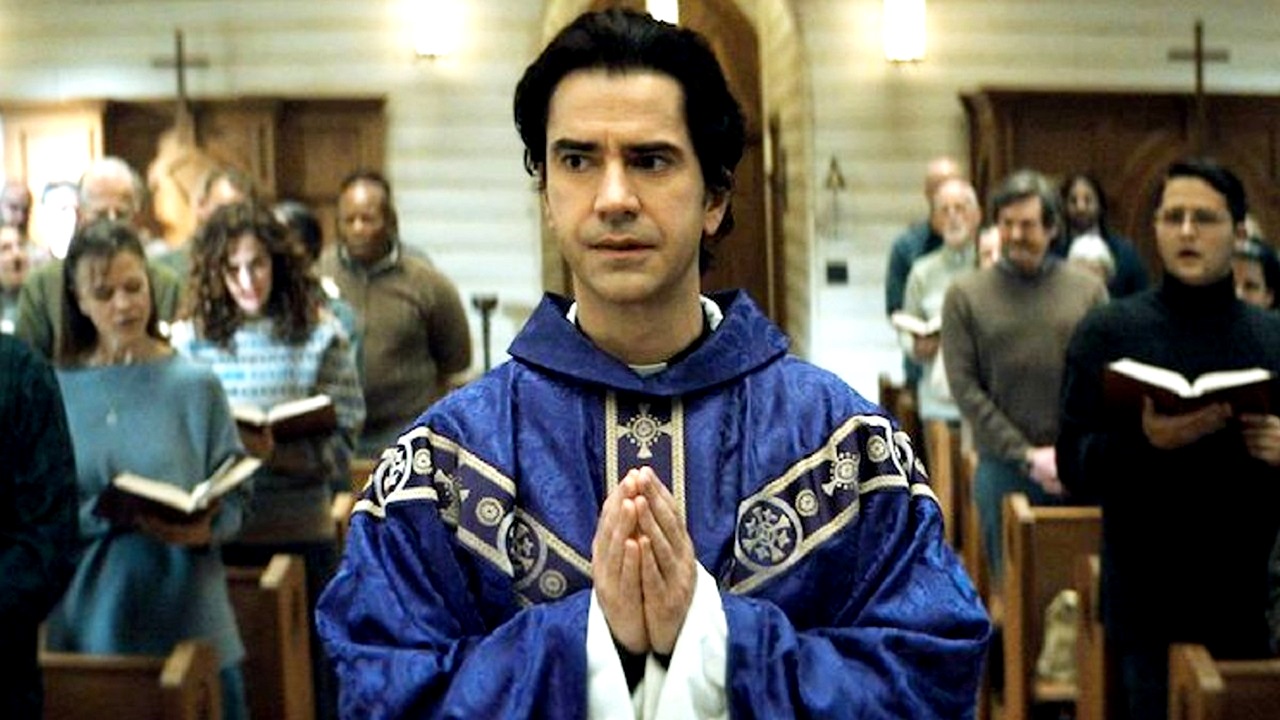 There are some excellent performances throughout – the one that stood out for me the most was Samantha Sloyan's fiercely self-righteous church support worker and the mind-boggling justifications she voices throughout. When Kristen Lehman stands up to challenger her near the end "You are not a good person," rarely has doing so felt like a collective cheer. Hamish Linklater's Father Paul also has a great arc, which I don't wish to spoil too much (although I did feel that his sudden redemption and spurning of what had happened during the final episode seemed far too much of a whitewash given that he was leading the islanders into drinking the Kool Aid communion only at the end of the previous episode).
There are just some flat out great pieces of dialogue writing throughout – be it Hamish Linklater and Zack Gilford sitting down to hold an AA meeting and Zach demolishing the entire AA process (something Mike Flanagan himself went through) on the grounds of personal accountability; Kate Siegel's childhood story of clipping the wings of birds; Rahul Kohli discussing his experience as an Islamic FBI agent and the racial backlash against this. Although perhaps the most finest sections of writing are Zack Gilford and Kate Siegel's discussions of what happens after death throughout which Flanagan passionately and with an extraordinary poetry argues in favour of a bleak kind of atheistic pantheism.
Equally, Flanagan is on great form in the director's chair and there are intensely captivating scenes like where Hamish Linklater encourages Annarah Cymone to stand up and walk. Particularly jolting is the angel's surprise attack on Zach Gilford at the end of Episode IV and how this plays into the even more heart-breaking end of Episode V. A good many scenes have shock value – that of Robert Longstreet lying dying from a head wound on the church floor as Hamish Linklater comes and laps up the spilt blood from the floor. The actual midnight mass itself is a real work of shock theatre, while the eventual end that Flanagan brings the final episode to is one that finally crafts the series with a greatness.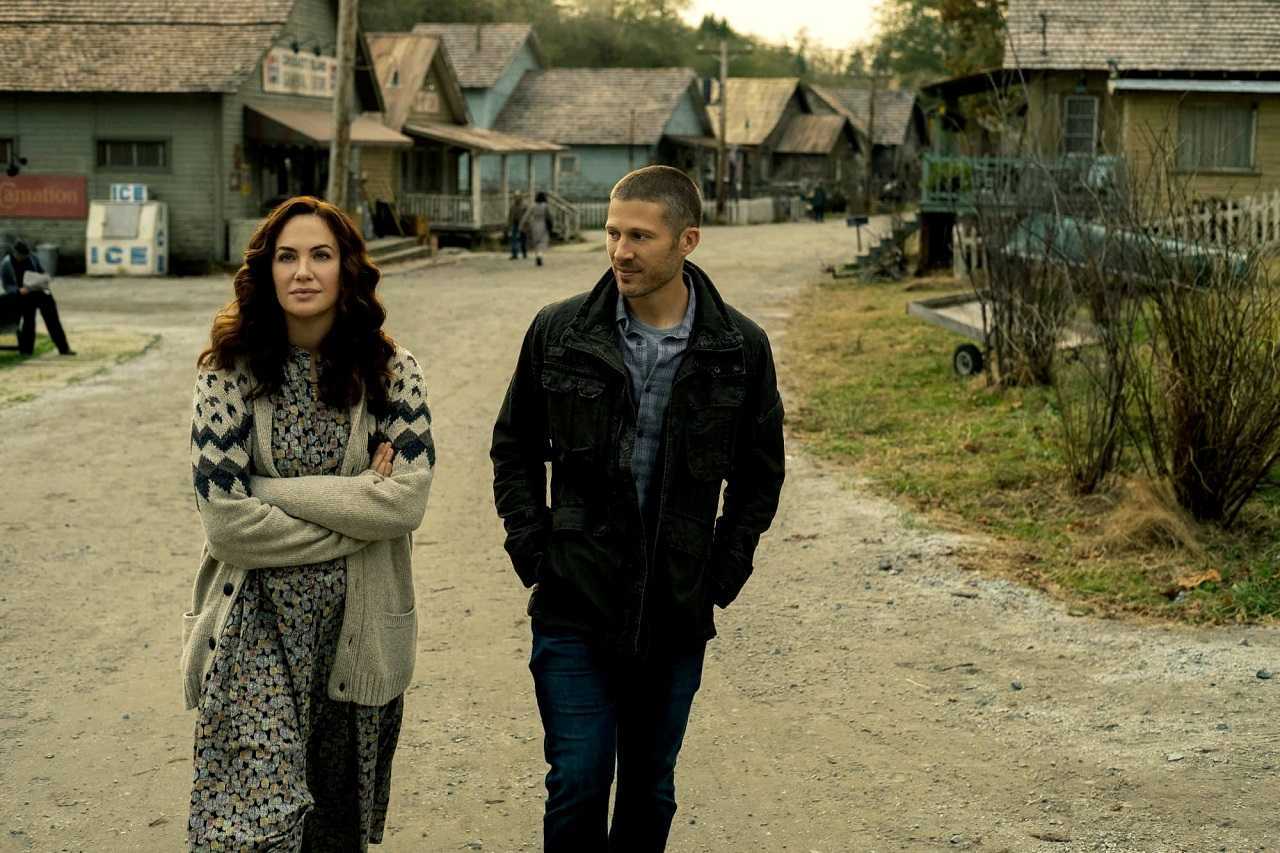 Midnight Mass delves into Religion perhaps more than any other mainstream work I have ever come across – indeed, far more even than most Christian Cinema films. It comes with screeds of dialogue quoting Bible verses, while each of the episodes is named after a book of The Bible. What is quite astonishing is how the writing manages to warp all of these verses to reinterpret essential Christian dogma. I never quite realised before just how much Biblical metaphor centres around blood and/or ties this into resurrection. The ways in which Biblical verse are twisted to fit into the mini-series' central themes are astonishing, not to mention perversely heretical in their brilliance.
It is impossible to discuss Midnight Mass in any meaningful way without giving away its surprises – of which there are several strong ones. [PLOT SPOILERS]. One of these that only becomes apparent several episodes in is that it is a vampire story. Now the Vampire Film has been going through a big downtown throughout the 2010s, all due to Twilight (2008) and sequels turning the vampire from a predator into a doting teen father preaching chastity. There have been a number of well worthwhile films made during this time – see the likes of Stake Land (2010), The Transfiguration (2016) and My Heart Can't Beat Until You Tell It To (2020), as well a number of comedies, while others have transplanted the basics into different environments such as A Girl Walks Alone at Night (2014), Boys from County Hell (2020) and Vampires vs. The Bronx (2020) – but none have done much to reignite the genre. Not merely happy with radically upending Christian symbolism, Flanagan also starts to scientifically delve into the vampire phenomenon and offers some interesting medical arguments as to reasons for the effects of daylight, rejuvenation and the like.
In this respect, Midnight Mass feels like a Catholic version of Salem's Lot (1975) and the first tv mini-series adaptation Salem's Lot (1979). Flanagan borrows the same essential idea of a small community that gets torn apart and infected by a vampire. There's even the hero who returns to town and confronts his issues. Samantha Sloyan's Bev Keane could be seen as a fierce variation on the vampire acolyte Straker, while the actual main vampire behind it all both here and in the 1979 mini-series is a similar unspeaking figure of non-human appearance.
(Winner for Best Film in this site's Top 10 Films of 2021 list. Winner for Best Original Screenplay and Best Supporting Actress (Samantha Sloyan), Nominee for Best Director (Mike Flanagan), Best Actor (Zach Gilford) and Best Actor (Hamish Linklater) at this site's Best of 2021 Awards).
---
Trailer here
---