---
Crew
Director – Mel Gibson, Screenplay – Mel Gibson & Farhad Sarfinia, Producers – Bruce Davey & Mel Gibson, Photography – Dean Semler, Music – James Horner, Visual Effects Supervisor – Ted Rae, Visual Effects – Asylum (Supervisors – Mitchell Drain & Phil Drennan), Filmworks/FX Inc, Luna Pictures, Look FX Inc, Radium & Svengali Visual Effects, Special Effects Supervisor – Jesus 'Chucho' Duran, Makeup Effects Supervisor – Keith Vanderlaan, Makeup Effects – Captive Audience, Production Design – Tom Sanders. Production Company – Icon Productions.
Cast
Rudy Youngblood (Jaguar Paw), Raoul Trujillo (Zero Wolf), Gerardo Tacarena (Middle Eye), Delia Hernandez (Seven), Jonathan Brewer (Blunted), Morris Birdyellowhead (Flint Sky), Carlos Emilio Baez (Turtles Run), Ramirez Amilcar (Curl Nose), Israel Contreras (Smoke Frog), Israel Rios (Cocoa Leaf), Ricardo Diaz Mendoza (Cut Rock), Rodolfo Palacios (Snake Ink), Ariel Galvan (Hanging Moss), Bernardo Ruiz (Drunkards Four), Fernando Hernandez (High Priest), Maria Isabel Diaz (Mother-in-Law), Rafael Velez (King), Diana Botello (Queen)
---
Plot
A tribe in the South American jungle are attacked by more advanced invaders. Many of the tribe are slaughtered, while the rest are captured and taken as sacrifices to the gods in the invaders' city. However, a fortuitous eclipse causes the sacrifices to be cancelled. The remaining prisoners are released to be hunted for fun. One of the prisoners, Jaguar Paw, escapes and flees back through the jungle to his pregnant wife, overcoming vast odds single-handedly as the invaders come in pursuit. In so doing, Jaguar Paw comes to fulfil a prophecy given by a plague-infected girl that he will cause the downfall of the Mayan civilization.
---
2006 was Mel Gibson's annus horriblus. First there was his DUI arrest, which would merely have been another star's drunken embarrassment that might have been forgotten the following week, had Gibson's drunken anti-Semitic rant to the arresting officers been broadcast across newspaper headline around the world. This resulted in huge protests from American Jewish groups that forced Gibson to go into overdrive on public apology. Gibson's directorial effort Apocalypto, which opened a few months after this brouhaha exploded, was widely predicted to be a box-office failure because of his suddenly poisoned name. Despite all of this, Apocalypto ended up being a fair success upon opening.
Mel Gibson had previously directed three films, including the underrated Coming of Age drama The Man Without a Face (1993), the Academy Award-winning historical drama Braveheart (1995) and of course the massively successful The Passion of the Christ (2004), which sparked off a renaissance of Christian movies. Subsequent to this, he went on to make the war film Hacksaw Ridge (2016).
As with both Braveheart and The Passion of the Christ, Mel Gibson seems to enjoy historical spectacles. He loves earthy, gritty and muddy portraits of past eras and, as with The Passion of the Christ and Apocalypto, visions that are frequently drenched in blood and have a fascination with historical cruelty. Apocalypto is Mel Gibson's take on Mayan culture. As with The Passion of the Christ, where all the actors spoke in Aramaic, Mel Gibson shot the whole of Apocalypto in the Mayan language.
Gibson mounts Apocalypto as a solid adventure – no more than that, no less. The film gains its feet in the last twenty minutes during Jaguar Paw (Rudy Youngblood)'s brutally tough survivalist run back home through the jungle, pursued by hunters. As was the criticism made of The Passion of the Christ, Mel Gibson's focus is less the historical reality of the times (Apocalypto was subject to some heavy criticism for its historical/cultural accuracies when it premiered in Mexico) but in the raw, brutal savagery that Gibson seems to enjoy depicting.
Both The Passion of the Christ and Apocalypto are films of raw kinesis where the frequent bloodthirsty brutality moves them along rather than any real understanding of the social climate they transpire in or depth that the characters hold. If nothing else, Apocalypto is one of the goriest films that one is likely to see in mainstream release this year, offering up multiple arrows and spears to various bodies, axes in the head, hearts bloodily ripped out, a scene where a panther devours a man's face, beheadings and so on.
There were some people that raced to read Apocalypto as a critique of US policy – the invaders being seen as representative of America in Iraq, with the end of the film held out as a warning against imperial arrogance. It is questionable if this was Mel Gibson's real intention – his personal politics seem to run to the conservative rather than those critical of the George W. Bush regime.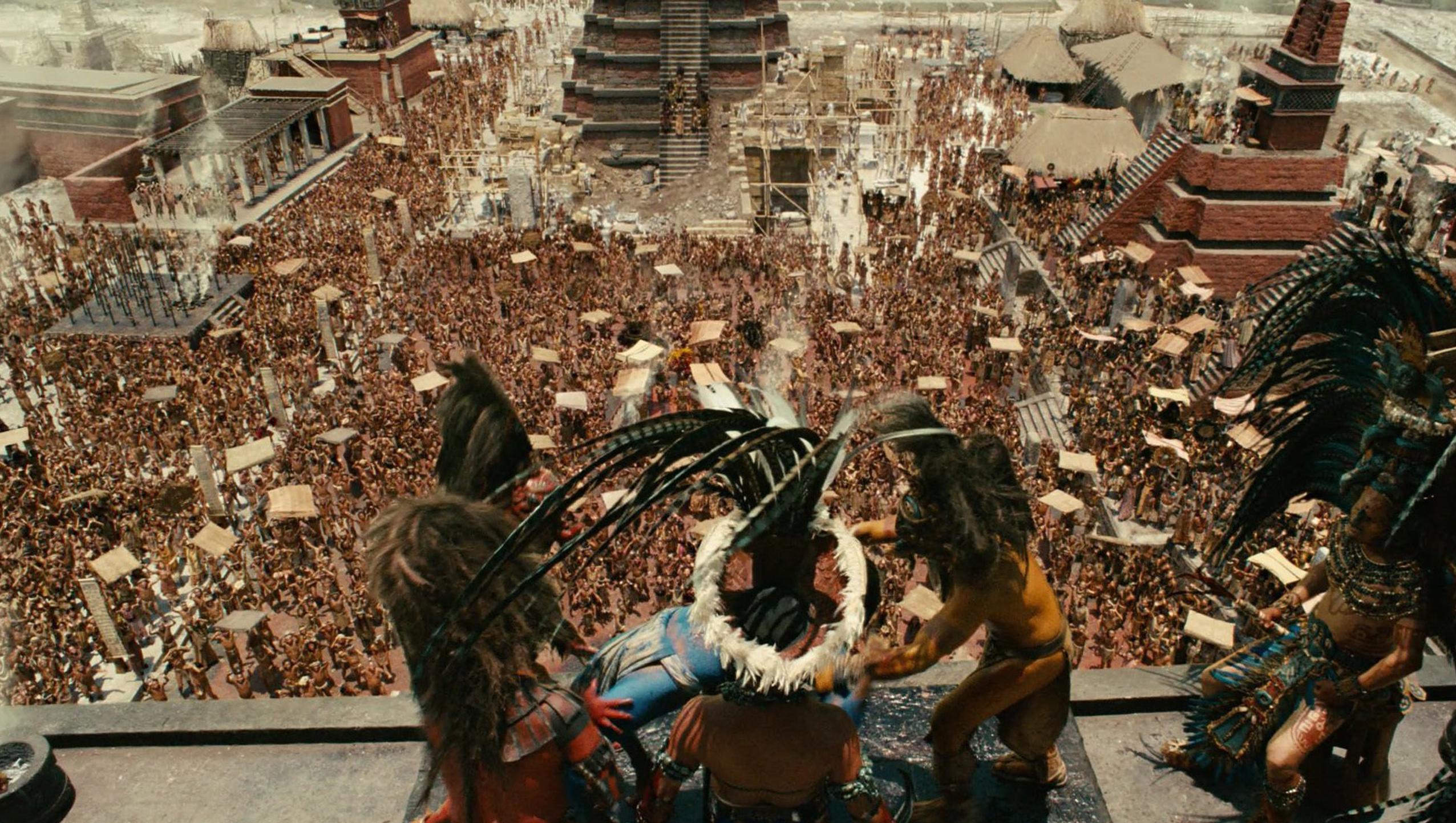 Apocalypto is not a particularly brilliant or original film. Indeed, it is a film that seems to shrug off any reading on the level of subtext – all that it is is there up on the screen in terms of the spectacle and adventure, the savagery and grit, and the cultural detail; there is nothing more to it than that. The story even draws upon character/story arcs that have become cliches in this genre – the simple but decent and virtuous villagers, the decadent ways of the city dwellers and their corrupt empire, the destruction wrought by the arrival of the Conquistadors.
The script even amusingly wheels out the old hat cliche about the heroes being saved from sacrifice by a timely eclipse, which has appeared in just about every adventure story from King Solomon's Mines (1885) to Tintin comics to episodes of Doctor Who (1963-89, 2005– ). Apocalypto has a minor fantastical element with a prophecy concerning the end of the Holcene civilization.
Mel Gibson's actors, all Mexicans and almost all complete unknowns who had never acted before, with the exception of the seasoned Raoul Trujillo as the mercenary leader, are slightly blank at times, but mostly perform their parts competently.
---
---