---
Japan/USA. 2018.
Crew
Director – Junpei Mizusaki, Part Directors – Shuhei Morita, Shinji Takagi & Junichi Yamamoto, Screenplay – Kazuki Nakashima, Music – Yugo Kanno, Animation – Barnum Studio, Kamikaze Douga, Yamatoworks, CGI Directors – Takanobi Mizuno & Satoshi Sawada, Art Direction – Masanobu Nomura. Production Company – Barnum Studio/Kamikaze Douga/Yamatoworks.
---
Plot
Gorilla Grodd activates his time travel device The Quake Engine at Arkham Asylum, which serves to transport Batman and a number of villains, along with Alfred, Nightwing, Robin and Red Robin back in time to feudal Japan. Batman arrives to discover that all of the villains have become lords of the various provinces. Seeking to rule them all is The Joker, styling himself as Lord Joker, who rules from Arkham Castle, which has been built as a giant mecha robot. Alfred shows Bruce that the Batmobile has also been transported back but this is destroyed as Batman attempt to assault Arkham Castle. Without any resources, Bruce is forced to rely on Nightwing and the Robins who have joined the ninja Bat Clan who live in the certainty of a prophecy of the coming of Lord Bat. Joined by Cat Woman and Gorilla Grodd, Batman begins an assault to overthrow The Joker, only for Grodd to turn the tables and take command of Arkham Castle. The Joker is believed killed in the explosion of a sailing ship. As Grodd seeks to bring the castles of all the other villains together into a massive transformer, Batman realises that the only means to defeat Grodd is to unite the ninja and teach them modern fighting methods.
---
There have been a good many Batman animated films produced by Warner Brothers beginning with Batman: Mask of the Phantasm (1993) and a further fourteen as part of the DC Universe Original Animated Movies. Elsewhere, Adam West and Burt Ward were even brought back for two animated revivals of the 1960s Batman in Batman: Return of the Caped Crusaders (2016) and Batman vs. Two-Face (2017). There have also been a host of Batman animated tv series from Bruce Timm's Batman (1992-4) and Batman Beyond/Batman of the Future (1999-2001) to The Batman (2004-8), Batman: The Brave and the Bold (2008-11) and Beware the Batman (2013-4).
Batman Ninja is different to all of these. It follows in the footsteps of The Animatrix (2003), which began a trend of popular US film and videogame franchises hiring Japanese anime directors to make films based on their properties. Warner Brothers followed suit once before with Batman: Gotham Knight (2008), although that was an anthology featuring contributions from different anime directors.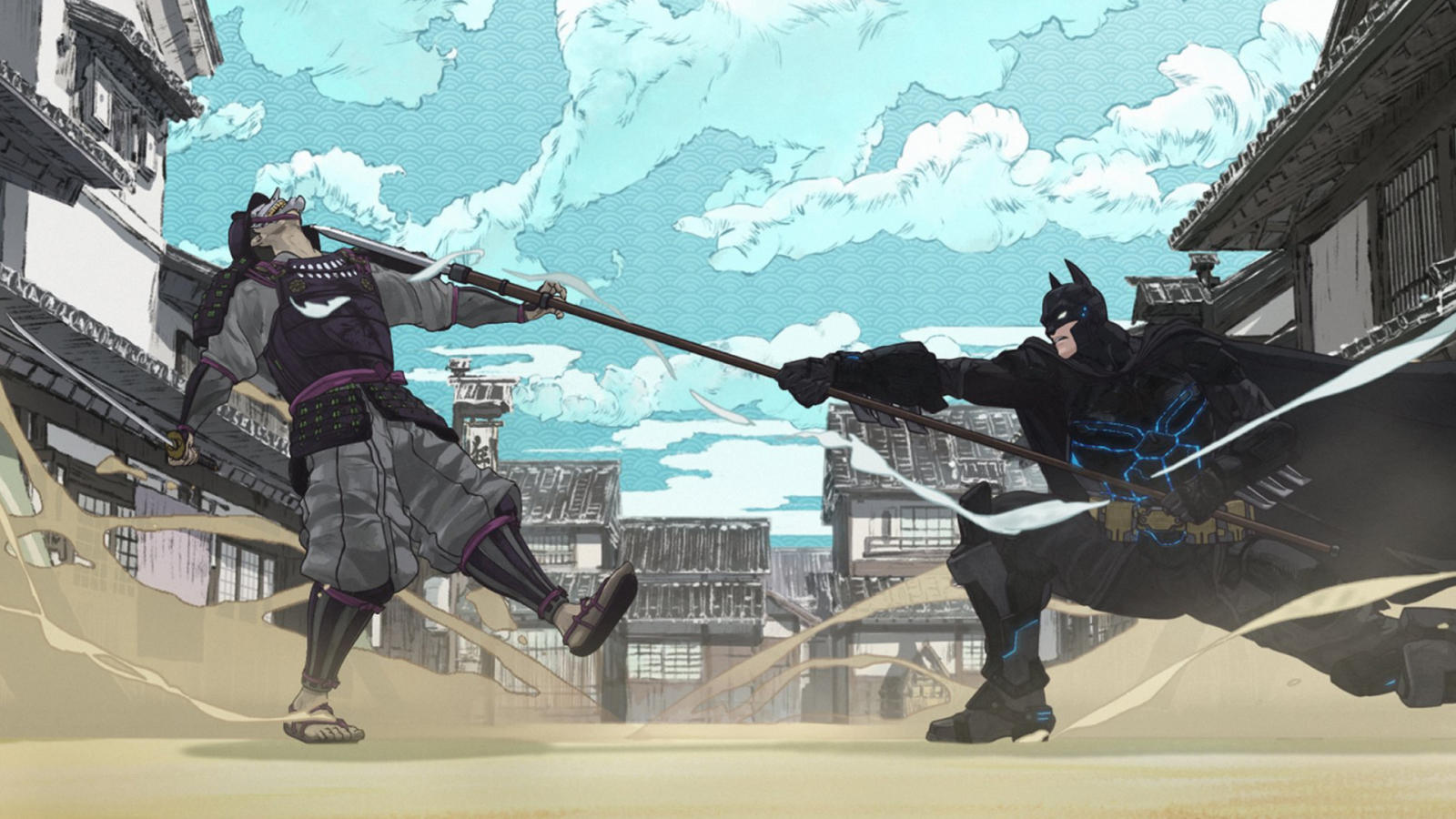 Various other series have gone anime with the likes of Highlander: The Search for Vengeance (2007), Resident Evil: Degeneration (2008), Halo Legends (2010), Mass Effect: Paragon Lost (2012), Resident Evil: Damnation (2012), Starship Troopers: Invasion (2012), Iron Man: Rise of Technovore (2013), Resident Evil: Vendetta (2017), Starship Troopers: Traitor of Mars (2017) and Altered Carbon: Resleeved (2020). Batman Ninja is a feature-length anime Batman from Junpei Mizusaki, who had previously worked in videogames and had only one prior film credit as director of one of the segments of the anime anthology Zoo (2005).
The idea of Batman and a line-up of super-villains being transported back to circa the 16th Century is a bit of a head scratcher. The hows and whys of this are quickly glossed over – Gorilla Grodd detonates a time travel device at Arkham Asylum where Batman and by a whopping coincidence most of the regular Batman villains, along with Alfred, most of The Bat Family and the Batmobile also conveniently happen to be in the vicinity and are swept up.
The end result is akin to the 'what if' experiments DC Comics have conducted in their Elseworlds imprint such as Gotham By Gaslight (1989) where Batman was transplanted back to the Victorian era, Batman: Leatherwing (1994) with Batman as a pirate and other works that imagine Superman growing up in the Soviet Union or the Justice League in the Wild West. Of particular influence here is the Elseworlds tale Shogun of Steel (2002), which imagines the arrival of baby Kal-el and the formation of the Justice League in feudal Japan or when Marvel hired Japanese artists to reinterpret their characters with the Marvel Mangaverse series.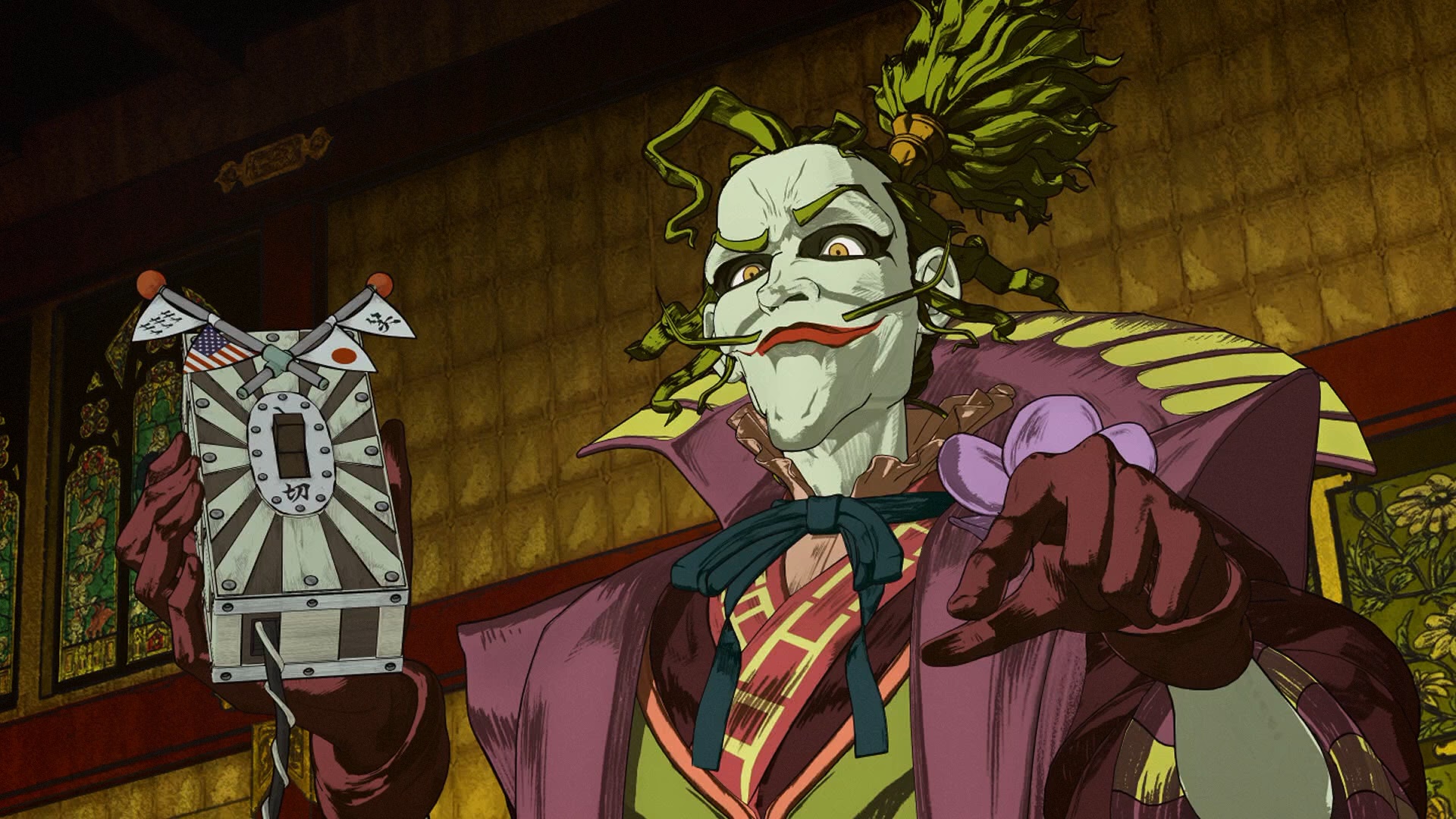 A lot of fun comes in watching the enormously creative ways that Batman Ninja reinterprets the Batman mythos using the imagery of feudal Japan. We see The Joker and Gorilla Grodd outfitted as feudal lords; Cat Woman as a geisha; where Nightwing, Robin, Red Robin and Red Hood join a ninja clad; while Bane turns up as a sumo wrestler. One of the most delightful touches is the mid-credits coda that offers up the vision of a horse-drawn Batmobile outfitted as a traditional Japanese carriage moving through the streets of present-day Gotham City with Bruce sitting inside drinking tea.
The most WTF scenes are those where Junpei Mizusaki incorporates another Japanese tradition, albeit a modern one – the anime standard of the mecha (giant human-controlled robots) and Transformers. There is a decided mind-boggling moment where The Joker's castle turns into a giant Transformer to stomp about the countryside. Mizusaki escalates to a point of wilful absurdity – later all the other super-villains get their own mecha, which combine together like something of Gigantor (1963-6) or Mobile Suit Gundam (1979-80) to create a super-mecha controlled by Grodd. This already stretches credibility but you suspect that Mizusaki had his tongue entirely in his cheek by about the point of the climactic battle where Batman counters the super-mecha with mecha variously made up of monkeys and bats.
---
---