(Daomu Biji)
---
Crew
Director/Production Design – Daniel Lee, Screenplay – Uncle Three, Based on the Books by Xu Lei, Producer – Susanna Tsang, Photography (3D) – Tony Cheung, Music – Henry Lai, Visual Effects Supervisor – Wu Kai Wen (Kevin), Visual Effects – Dexter The Eye, Future Works, Prana Studios (Supervisor – Sunil Kamath), Prismpixels, Trust Studio (Supervisor – Kim Lee Young), Makeup Effects Design – Liu Ji. Production Company – Visualizer Productions/Shanghai Film Group/Le Vision Pictures (Beijing) Co., Ltd/Nanpai Entertainment Co., Ltd/S&C Pictures Co., Ltd/Fantasy Films/Beijing Wali Network Technology Co., Ltd/Shanghai Changed Culture Communication Co., Ltd
Cast
Jing Boran (Zhang Qiling), Lu Han (Wu Xie), Wang Jingchun (Wu Sanxing/Uncle Three), Ma Sichun (Ning), Vanni Corbellini (Hendrix), Zhang Boyu (Fatty Wang), Jack Tu (Panzi), Philip Keung (Dakui), Kanin Ngo (Zhong), Gau Yuqing (Lau Tou), Fang Xushi (Ly Dandan), Mallika Sherawat (Snake Empress), Sammy Hung (King Xiang), Uncle Three (Writer)
---
Plot
Wu Xie, who manages the House of Wu antique store, is approached by a writer who wants to tell his story. As Wu Xie recounts, he grew up among the Nine Families who were all dedicated tomb raiders. He determined to become a tomb raider too and was successful in unearthing a box that contained an ancient mechanical key. He was taken along by his uncle Sanxing as they followed the clues from the box on a quest for a great treasure buried in a lost city in a remote area near the Himalayas. They were joined by the mysterious Zhang Qiling who proved to be the only one capable of picking up the family's hereditary sword. Zhang Qiling had lived a long time but claimed to have lost his memory. They ventured down into the tomb, avoiding the deadly traps and inadvertently reviving the warriors that had been left to guard it. All the while, they were pursued by the henchpeople of Hendrix, an aging German who is determined to find the secrets of immortality that had been buried in the tomb by the Snake Empress.
---
Time Raiders is essentially a Chinese version of Raiders of the Lost Ark (1981) – a not uninteresting idea. The whole Indiana Jones adventure film died away at the box-office by the end of the 1980s but the Chinese, as part of their determination to become big players in world cinema, don't seem to care.
The title Time Raiders made me initially think I was going to be watching a time travel adventure before you realise that what the film is doing is trying to call itself 'tomb raiders' in as much as it can without treading on copyright. The cross-cultural appropriation makes for some interesting changes – the quest takes the party inside a tomb filled with terracotta warriors and dynastic treasures, while the action takes place less with stunts and fisticuffs than with lightning-paced martial arts.
Director Daniel Lee has been making action, martial arts and crime films since the heyday of Hong Kong cinema with titles such as Black Mask (1996), A Fighter's Blues (2000), Star Runner (2003), Dragon Squad (2005), Three Kingdoms: Resurrection of the Dragon (2008), 14 Blades (2010), White Vengeance (2011) and Dragon Blade (2015) to his name. Lee is also the production designer on Time Raiders – as a result, the design and decor of the film is utterly gorgeous. Everything from the antiquities to the clockwork artifacts has a handcrafted feel as though Lee and his team were determined to make the most beautiful looking pieces of bric-a-brac or textured sets that anyone ever had for a film.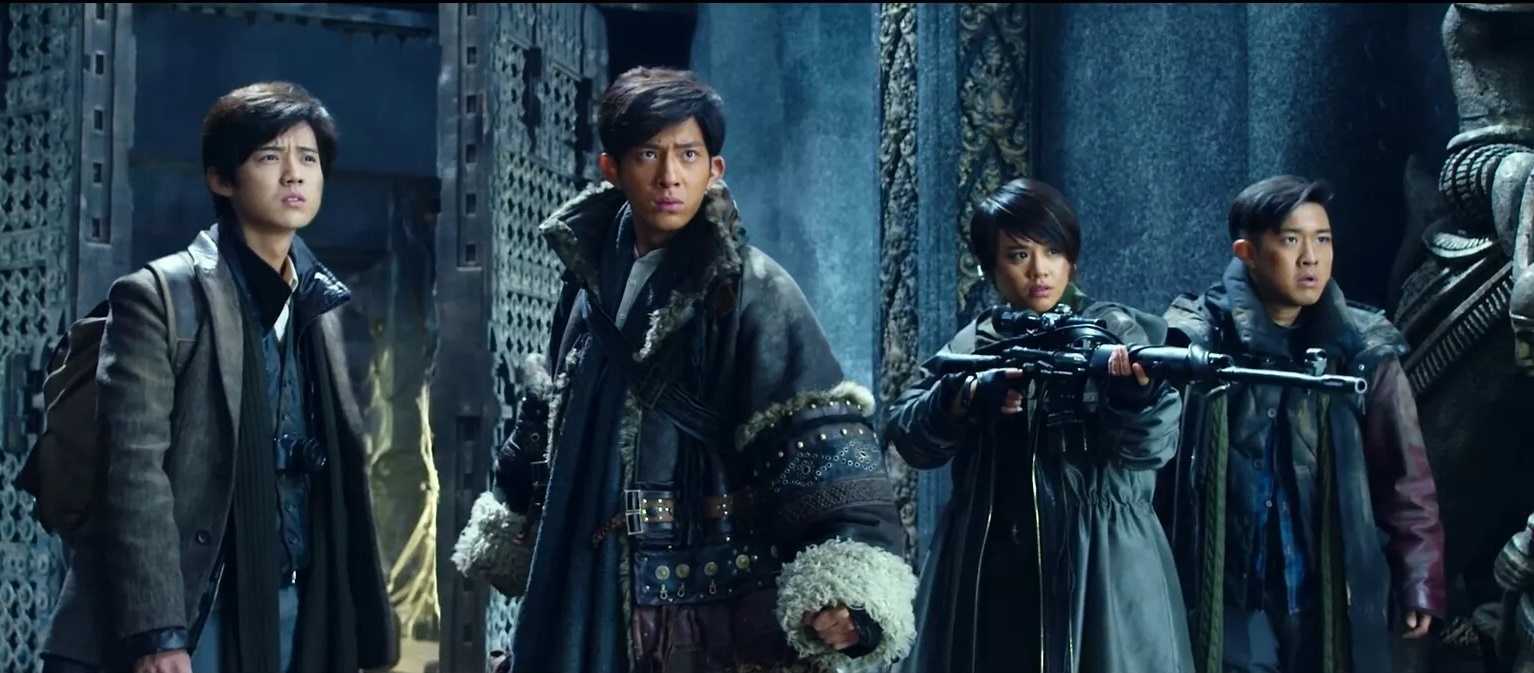 The downside of Time Raiders is that it is a film of constant postures. We get blurs of fast-paced martial arts action and gunplay at regular intervals but the film is almost entirely lacking in substance. Everything is constantly being arranged for the 3D camera and to dazzle the eye. Case in point is the absurd sequence that climaxes the film where various characters are fighting around an arena on huge mechanical devices whirling about on extension arms. What purpose these improbably designed devices serve and why they were built by the ancients is never explained, the sequence exists just because it looks cool to watch characters jumping between vast tilting mechanical rotor arms as they fight. There is a similar sequence where the party enter the tomb and a fight occurs around a massive lattice grid that that seems to plunge into the centre of the earth and exists for no reason other than looking cool in 3D. It is a film that feels as though it resembles a videogame more than it ever does a film.
Some of the sequences are undeniably stunning – I loved one where the party enter a workshop and set off a Rube Goldberg contraption where small flaming balls travel down grooves that light up dozens of lanterns all over the room and then cause puppets to come to life – but this sits alongside the inanity of the subsequent scene that has characters ducking around a room of pillars with scything blades and learning to avoid them by doing dance moves.
(Nominee for Best Production Design at this site's Best of 2016 Awards).
---
---