---
Crew
Director – Stewart Raffill, Screenplay – David Isaacs, Betsy Israel, Ken Levine & Edward Rugoff, Producer – Edward Rugoff, Photography – Larry Pizer, Music – David McHugh, Visual Effects – Cinemotion Pictures (Supervisor – Max W. Anderson), Mattes – Illusion Arts (Supervisors – Syd Dutton & Bill Taylor), Special Effects – Special Effects Unlimited (Supervisor – Joey Di Gaetano), Production Design – William J. Creber, Mannequins Sculpted by Tanya Wolf Ragir. Production Company – Gladden Entertainment Corp.
Cast
William Ragsdale (Jason Williamson/Prince William), Kirsty Swanson (Jessie), Meshach Taylor (Hollywood Montrose), Terry Kiser (Count Gunther Sprezle), Stuart Pankin (Mr James), Cynthia Harris (Mrs Williamson/Queen), John Edmonson (Rolf), Phil Latella (Egon), Mark Gray (Arnold), Julie Foreman (Gail), Andy Hill Newman (Andy Ackerman)
---
Plot
The kingdom of Hauptman-Koenig during the Middle Ages. Prince William wants to marry the peasant girl Jessie. However, they are discovered by his mother, The Queen, who has her sorcerer place an amulet around Jessie's neck that transforms her into a statue. In the present-day, the statue of Jessie is placed in an American department store as part of a Hauptman-Koenig exhibition. There store employee Jason Williamson accidentally removes the amulet, bringing Jessie back to life. The two duly fall in love without he realising her true nature. Meanwhile, the sorcerer's multi-great grandson, the villainous Count Gunther Sprezle, is determined to get his hands on the statue and remove the amulet for himself.
---
The first Mannequin (1987) – which concerned a romance between a department store window dresser and a mannequin come to life – was an inexplicable hit despite its mind-crogglingly inane premise. Everyone hated it, nobody remembered it five minutes later – it was just one of those phenomenons. The question is, with all the good unmade scripts out there, what would possibly possess anyone to think there is somebody out there in the world who would be interested in seeing the idea done a second time over.
In all fairness to Mannequin on the Move, it is a somewhat better film than Mannequin was. The premise is changed slightly with the mannequin character now being a peasant girl who has been magically petrified – a somewhat more plausible scenario than being turned into a mannequin – although this means the title is no longer strictly accurate. The mannequin and the transformation effects are a lot more convincing (although the costumes for the Middle Ages sequences are laughably unconvincing).
The only connection made with the first film is the retention of a department store setting and in bringing back Meschach Taylor's outrageously camp window dresser. Of all the characters they could have brought back from the first film, why did it have to be the character so tastelessly loud that he could have been exported as a neon sign?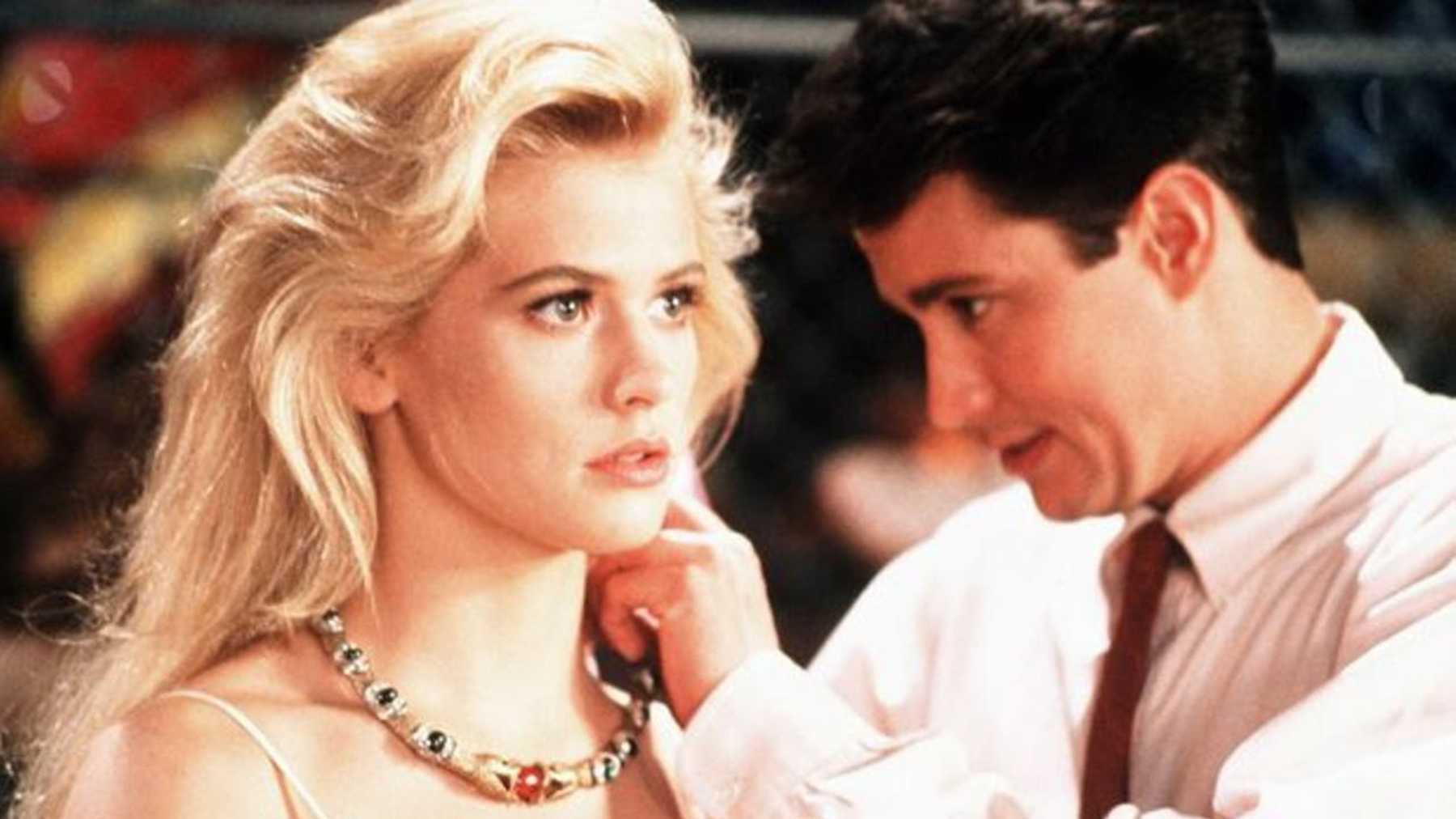 The humour is even occasionally amusing: "It's Diet Soda – no calories, no sugar, no caffeine," William Ragsdale tries to explain to Kristy Swanson, "Oh, we had something like that at home. We called it water." But for all that it is still a pretty moronic film. Not unexpectedly, the one-dimensional comic foils are allowed wild, culminating in an awful slapstick sequence with most of the cast running around the department store and ending in a chase in toy cars.
Here Terry Kiser and the three bodybuilders give amazingly awful performances. Kiser plays for a parody of the sort of mustache-twirling villainy that used to get cast with Terry-Thomas but seems unable to allow a New York accent from intruding upon the fake Germanic gutturals; the bodybuilders appear unable to sling a whole sentence together between them.
Director Stewart Raffill has made a lot of bad sf/fantasy films including The Ice Pirates (1984), Mac and Me (1988), Tammy and the T-Rex (1994), Croc (2007) and Bad Girl Island/Sirens of the Caribbean (2007), and one okay one, The Philadelphia Experiment (1984).
---
---