---
Crew
Director/Screenplay – Albert Brooks, Producer – Michael Grillo, Photography – Allen Daviau, Music – Michael Gore, Visual Effects – DreamQuest, Special Effects Supervisor – Dennis Dion, Production Design – Ida Random. Production Company – Geffen Pictures.
Cast
Albert Brooks (Daniel Miller), Meryl Streep (Julia), Rip Torn (Bob Diamond), Lee Grant (Lena Foster), George D. Wallace & Lillian Lehman (Judges), Buck Henry (Dick Stanley)
---
Plot
Advertising exec Daniel Miller is driving his new Porsche home on his birthday when he collides with a bus. He comes around in the afterlife where he is taken to Judgement City. There he is placed on trial to see whether he is worthy of remaining in the afterlife or will have to be returned to Earth again until he gets things right. The trial is to last nine days where selected incidents from his life will be replayed and debated over by lawyers. During his free time, Daniel meets fellow defendant Julia and both are attracted to one another. As his trial progresses and it becomes apparent that he will flunk because has not led his life with enough bravery, he fears losing Julia and the possibility of the one perfect relationship in his life.
---
Defending Your Life was the third directorial outing from actor/comedian Albert Brooks. Brooks's two previous outings were the neurotic romantic comedy Modern Romance (1981) and the extremely witty satiric re-examination of the Easy Rider myth Lost in America (1985), which remains Brooks' best film. Albert Brooks is a director who essentially maps the same targets of middle-class male neuroses that Woody Allen's films do.
This afterlife fantasy is a loose, occasionally amiable, trip. Brooks generates a mild degree of satire on afterlife dramas, particularly with the tv channel that shows afterlife soap-operas and game-shows. (The film's best joke is Shirley MacLaine's throwaway cameo as the holographic hostess of the previous lives' pavilion). The trouble with films sending up banality (of Brooks's character's life and the afterlife itself) is a frequent tendency to confuse the target for the delivery. When it comes to his screen character's life, Brooks takes to it with a little too much self-effacing slapstick. Unlike Allen, Brooks keeps neurotically circling around the same neuroses as though repeatedly remonstrating about them makes it a less self-absorbed subject.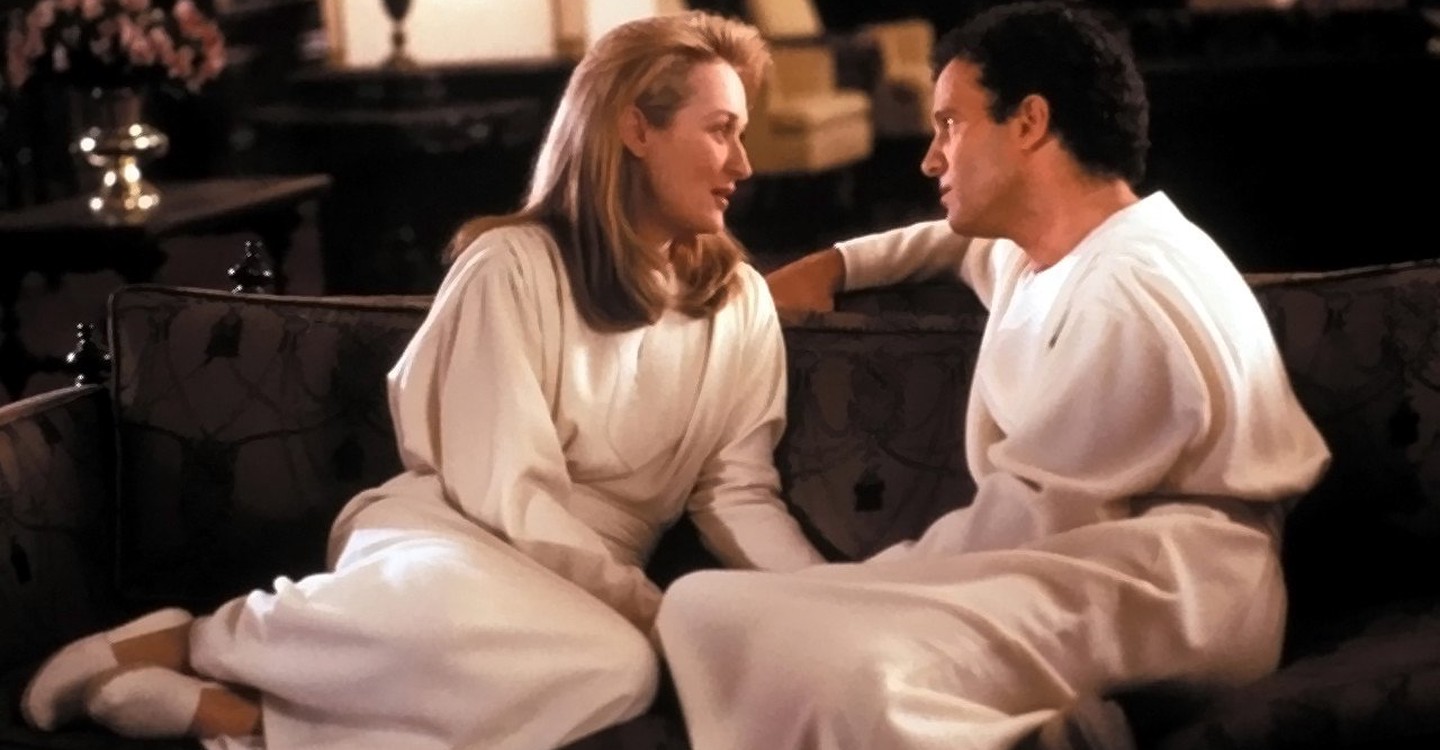 The best thing that Albert Brooks has on offer is actually Brooks himself. In the scenes with an uncustomarily subdued Meryl Streep, he writes himself some wonderfully soaring romantic dialogue and demonstrates a polished ability to snap off a one-liner. In terms of the afterlife genre, the ending the film arrives at is predictable and corny – it also strongly echoes the Timothy Hutton-Debra Winger afterlife starrer Made in Heaven (1987). In the end, Defending Your Life produces the occasional smile, even an amiability but, like the life of Albert Brooks's character, ultimately seems banally inconsequential.
Albert Brooks later returned to fantasy with The Muse (1999), with himself as a frustrated screenwriter visited by Sharon Stone's muse of inspiration. Brooks's subsequent directorial outings were Mother (1996) and Looking for Comedy in the Muslim World (2005).
---
Trailer here
---