---
USA. 1993.
Crew
Director – Ron Underwood, Screenplay – Erik Hansen, Gregory Hansen, Brent Maddock & S.S. Wilson, Producers – Sean Daniel & Nancy Roberts, Photography – Michael Watkins, Music – Marc Shaiman, Visual Effects Supervisor – Mike Chambers, Visual Effects – Available Light Inc, 4-Ward Productions & Pacific Data Images, Special Effects Supervisor – Steve Galich, Production Design – John Muto. Production Company – Alphaville/Stampede Entertainment.
Cast
Robert Downey Jr (Thomas Reilly), Kyra Sedgwick (Julia), Tom Sizemore (Milo Peck), Alfre Woodard (Penny Washington), Charles Grodin (Harrison Winslow), David Paymer (Hal), Elizabeth Shue (Anne), Wren T. Brown (Sergeant Bill Barclay)
---
Plot
San Francisco, 1959. Four people – a Black mother, a nervous librarian, a petty thief and a waitress – are in a bus that crashes off a bridge. However, instead of dying, their souls are drawn toward a baby that is born nearby. As that child, Thomas Reilly, grows up, they become his invisible companions. Twenty years later, an afterlife courier comes to collect the four of them, apologizing for the heavenly bureaucratic error that had left them there for that length of time. They discover that they are able to possess Thomas's body so that each of them can complete their Unfinished Business. Granted a brief time longer, they set out with Thomas's help each to complete their appointed task – the mother to find her children; the librarian to fulfil his lifelong ambition of singing on a stage; the thief to return the rare stamps he stole from a kid; and the waitress to catch up with the boyfriend she never returned to.
---
Heart and Souls does a surprisingly likable job of invigorating the dated afterlife comedy-fantasy. At the helm is Ron Underwood, director of the great Tremors (1990), which also had a script by this film's writing team of Brent Maddock and S.S. Wilson, and the irritably commercial City Slickers (1995) and assorted other works. (See below for Ron Underwood's other genre films).
It was a great surprise to see the clean and good old-fashionedness that Heart and Souls embodies being enjoyed by a modern audience. The script falls into predictable lines. The four guiding spirits are four conveniently opposed characters that manage to touch all bases – a girl who never went after her love (this is perhaps the only sour note of sexism that touches the film, that the afterlife seems to believe that her rightful business should have been to drop her desire to have an independent life and go home to marry her possessive and demanding man), a Black mother, a lecherous thief with a heart-of-gold, and a prissy wimp.
Robert Downey Jr does a fine job in getting the mannerisms and body language of the other four characters down right. The most frustrating thing though is how seldom Heart and Souls puts these impressions, which should have been its comic highlights, to use. Although there is one very funny scene of a boardroom meeting where Robert Downey Jr causes havoc as he is possessed by various of the four.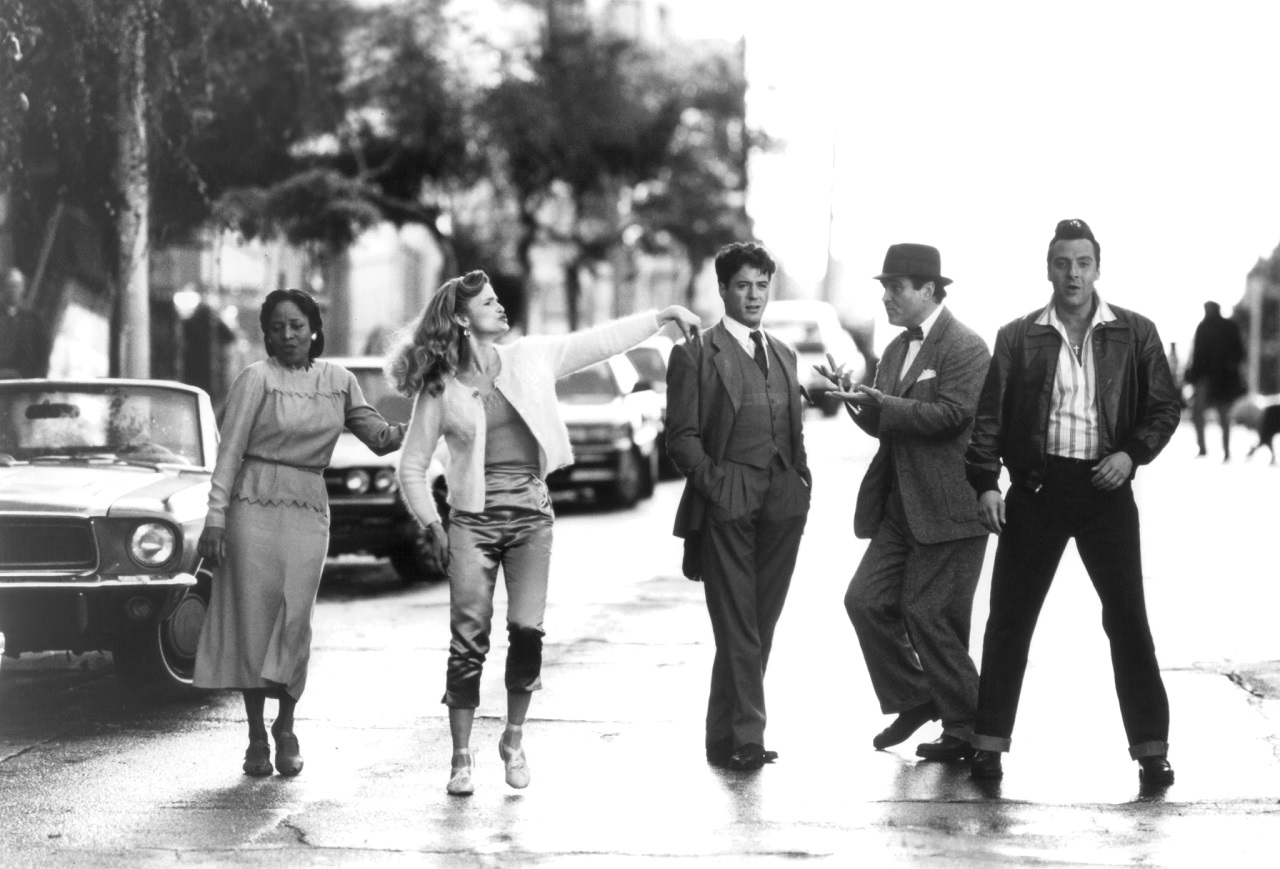 While Downey and his character come across fine, the other four do less so. Kyra Sedgwick plays merely sweetly feelgood. The excellent and muchly undervalued Alfre Woodard does her thing of acting with her bulging eyes but the role requires someone who doesn't act with so much energy – she is too sassy to seem a motherly type. Charles Grodin does a role he has done too often before, although has one or two moments that allow a sarcastic gleam to shine through. Best of all is Tom Sizemore whose role as the horny but good-hearted big lug who comes across as both immensely likeable and funny.
Director Ron Underwood is probably best known for the commercial hit of City Slickers (1995). Within the genre, he also made the highly entertaining monster movie Tremors (1990), the first in a long-running series, the remake of Mighty Joe Young (1998) and the disaster-laden Eddie Murphy science-fiction comedy The Adventures of Pluto Nash (2002). After the flops of both Mighty Joe Young and Pluto Nash, Underwood retreated to tv, making fodder like Santa Baby (2006), The Year Without a Santa Claus (2006) and Santa Baby 2: Christmas Maybe (2009). All of his work from the 2000s has been in tv.
---
Trailer here
---