---
Crew
Director/Screenplay/Producer/Photography/Music/Production Design – Chris Sullivan, Animation – Corinne Faiella, Shelley Dodson & Chris Sullivan.
Voices
Robert Levy (Earl Gray), Nancy Andrews (Gentian Violet), Chris Sullivan (Victor Blue), Chris Harris, Judith Rafael, Mary Lou Zelazny)
---
Plot
In the town of Magnusson, bus driver Gentian Violet runs down a nun. He hurriedly buries her body in the woods, although the nun is not dead. At the same time, Earl Gray maintains a nightly radio station where he talks about gardening and drifts off onto philosophy. Gentian also works at the local newspaper The Daily Suggester. Her colleague Victor Blue has the job of rearranging old photos to accompany current news articles. Victor gets in trouble for driving his father's unregistered pick-up truck but has been unable to find his father to transfer the registration papers.
---
Consuming Spirits is a unique animated film. It would appear to be a life work for Chicago-based animator Chris Sullivan. Sullivan has held a professorship at the School of Art Institute in Chicago since 1988. He has made half-a-dozen short animated films before this, which have won a variety of awards. Sullivan spent fifteen years working on Consuming Sprits and has conducted almost every single task behind the camera himself.
Consuming Spirits is a unique and amazing work. Chris Sullivan has made the film is an extraordinary variety of styles – everything from hinged hand-painted cutouts, Claymation, pencil on paper animation and crude cardboard and clay models of vehicles and buildings. The look and predominantly muted oil colour tones of the film are unlike any other animated film you will see in some time. You reach for comparisons but in the US market where people do not seem to be able to conceive of animation as being anything other than for kids, you fail. Maybe the nearest comparison you could make is to the American Gothic of people like Charles Addams and in particular Edward Gorrey as given life by the sensibilities of animator Bill Plympton of I Married a Strange Person (1997) and Idiots and Angels (2009) fame – although even then Chris Sullivan seems more realistically grounded in the opposite direction of Plympton's flights of absurdist surrealism.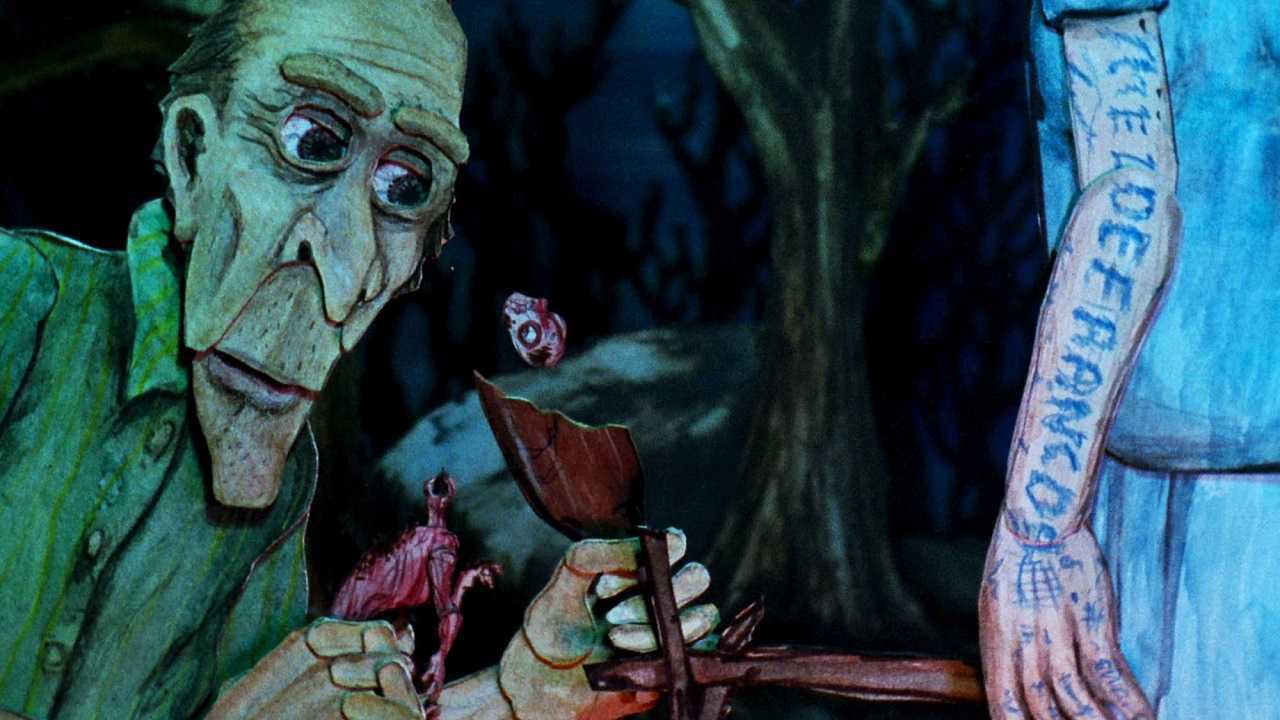 On the other hand, while Consuming Spirits is a film that you at the same time as you are admiring it for its creative brilliance, you also feel bored with it. It is never much the film about weird and sinister happenings that it seems to be at the outset – even one that easily signposts a sense of humour – but is more focused on the banally weird minutiae of characters who lead dull lives. Chris Sullivan has clearly been modelled much of the film on the Lake Wobegone segments of the radio show A Prairie Home Companion (1974– ) where the character of Earl Gray is clearly intended to mimic Garrison Keillor's droning monologues.
Alas, the Midwestern Gothic weirdness, the monologues, digressions and quirkily weird character sketches go on and on. All of this continues for a substantial 136 minutes, which is quite a length, especially for a film that has no real plot (although Chris Sullivan does at least tie the various strands together at the end). This is a film that could well have been served by someone editing three-quarters if not an hour's worth of material out of it, whereas being such a creator produced and owned work, it seems that there was nobody present to hold editorial oversight over Chris Sullivan as there would have been with a studio production. All of which is much to the detriment of an otherwise highly creative film.
---
---