---
USA. 2012.
Crew
Director – Genndy Tartakovsky, Screenplay – Peter Baynham & Robert Smigel, Story – Todd Durham, Dan Hagerman & Kevin Hagerman, Producer – Michelle Murdocca, Music – Mark Mothersbaugh, Animation – Sony Pictures Imageworks Canada & Sony Pictures Imageworks Inc, Visual Effects Supervisor – Daniel Kramer, Production Design – Marcelo Vignali. Production Company – Sony Pictures Animation.
Voices
Adam Sandler (Dracula), Andy Samberg (Jonathan), Selena Gomez (Mavis Dracula), Kevin James (Frankenstein), Steve Buscemi (Wayne), David Spade (Griffin), CeeLoo Green (Murray), Fran Drescher (Eunice), Jon Lovitz (Quasimodo), Brian George (Suit of Armour), Molly Shannon (Wanda), Luenell (Shrunken Heads), Chris Parnell (Fly), Rob Riggle (Skeleton Husband)
---
Plot
In 1895, Dracula decides to set up Hotel Transylvania as a refuge for monsters to escape from persecution by humans. The hotel is kept hidden in the midst of a haunted forest. Dracula also dotes on his daughter Mavis. In the present-day, the monsters gather at the hotel as Dracula prepares to celebrate Mavis's 118th birthday. Mavis yearns to travel beyond the safety of the hotel and discover the human world but Dracula remains protective of her and contrives to prevent her doing so. A young tourist Jonathan manages to get through the forest to the hotel. Dracula panics when he discovers that a human has entered and disguises Jonathan as a monster, while trying to get him out as quickly as possible. However, when Mavis meets Jonathan there is instant attraction between the two. Dracula is caught in the midst of trying to get Jonathan out before his presence scares the guests and not wanting to hurt Mavis's feelings. At the same time, Jonathan's modern ways end up influencing and changing the guests.
---
Hotel Transylvania is an animated film from Sony Pictures Animation who have been rising on the scene in recent years with the likes of Monster House (2006), Open Season (2006), Surf's Up (2007), Cloudy With a Chance of Meatballs (2009), The Smurfs (2011), The Emoji Movie (2017) and Peter Rabbit (2018), plus their collaborations with Aardman Animation, Arthur Christmas (2011) and The Pirates! Band of Misfits (2012). It was the first feature film outing of Genndy Tartakovsky, who has been prolific as a producer/director on various US animated tv shows, including having created the likes of Dexter's Laboratory (1996-2003), Samurai Jack (2001-4) and Sym-Bionic Titan (2010). The film is executive produced by Adam Sandler who voices the role of Dracula.
Probably the inspiration for Hotel Transylvania was DreamWorks– Monsters vs Aliens (2009) and its idea of a story that teamed up various classic 1950s movie monsters. Indeed, some of the monsters that that film drew from – the title creatures in The Blob (1958) and The Fly (1958) – also turn up here. The difference being that, rather than 1950s monsters, Hotel Transylvania draws on the Famous Monsters of the 1930s and 40s – Count Dracula, the Frankenstein monster (irritatingly identified throughout this film just as Frankenstein, the name of its creator), the mummy, Griffin the invisible man and Quasimodo the Hunchback of Notre Dame.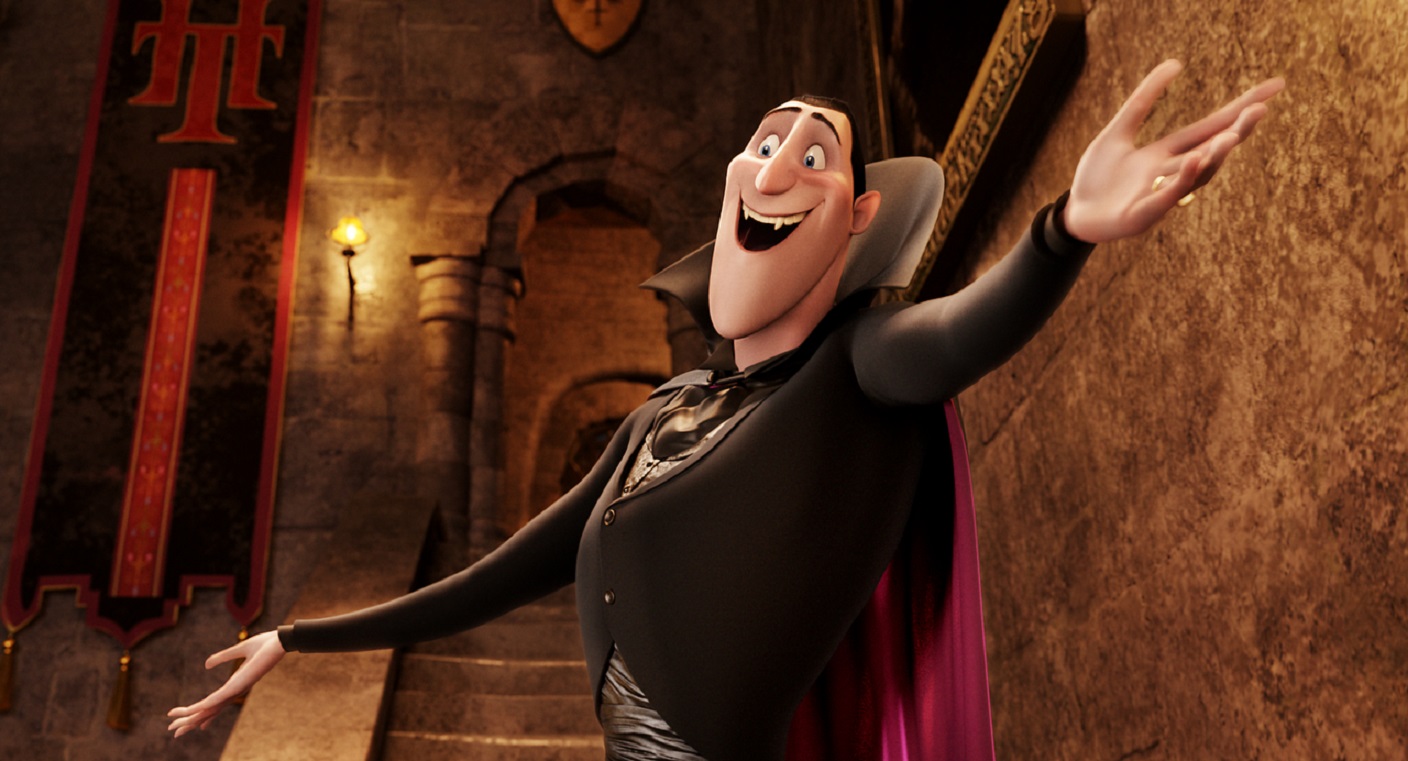 Although the film that Hotel Transylvania draws on far more than Monsters vs Aliens is surely the delightful Rankin-Bass stop-motion animated monster bash Mad Monster Party? (1967). Before that there was a comedic tradition of various comics encountering the Famous Monsters going all the way back to Abbott and Costello Meet Frankenstein (1948) and we have had variations on this such as Castle of the Monsters (1957), Frankenstein, the Vampire and Co (1961), Carry On Screaming (1966), Transylvania 6-5000 (1985) and Monster Mash: The Movie (1995).
Hotel Transylvania is a variant pitched down to children. The animation is cute. All of the monsters are cuddly and adorable as opposed to monstrous – Dracula seems devoid of any interest in drinking human blood and at most has a scary face he occasionally manifests. Some of the interpolations of the characters are occasionally amusing – the wolfman comes surrounded by a litter of wolf pups; Quasimodo is now the French chef; the Bride of Frankenstein becomes the monster's brassy-voiced wife (voiced by Fran Drescher); while Dracula gets a teenage daughter of sorts who merely wants to visit the outside world and transforms into the most adorable batgirl.
It is all amiably slung together, if it never manages to produce much in the way of belly laughs or clever and witty genre asides. The cutest gag is where Dracula spots an in-flight film screening of Twilight (2008) and rolls his eyes "This is how we're portrayed?" In terms of treatment of the Famous Monsters, it is neither a witty or endearing classic – like say Mad Monster Party?, Young Frankenstein (1974) or The Monster Squad (1987) – nor one that reduces them to absurd figures – as say Mama Dracula (1980), Transylvania 6-5000 or the team-ups with Mexican wrestlers.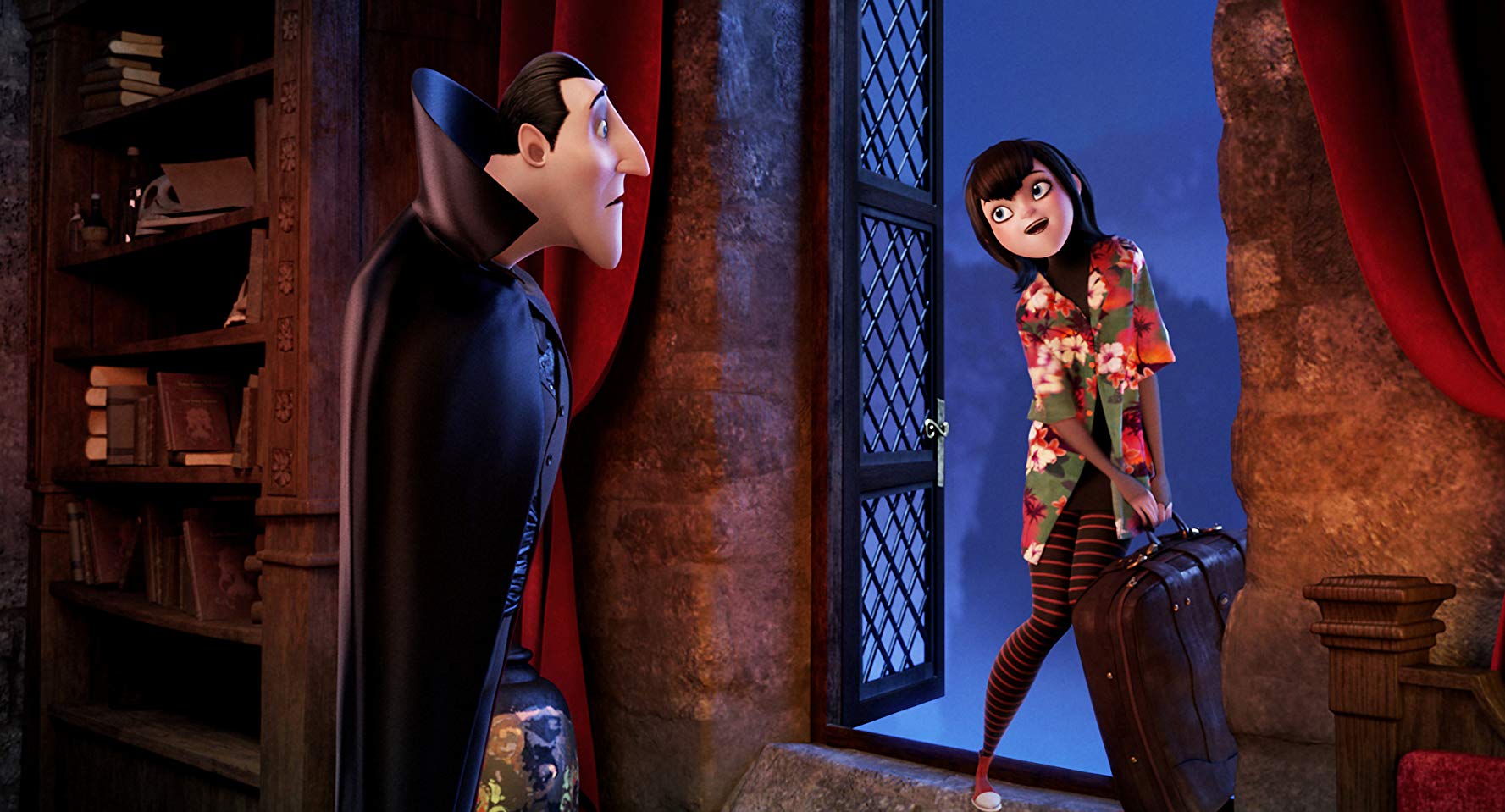 If anything Hotel Transylvania does bear something in common with the recent ParaNorman (2012) – both are classic monster movies retold for kids where the monsters are safe, cuddly and non-threatening. Both films also have a surprise reversal of expectation towards the end where the relationship between human and monster turns out to be the opposite of what we think it is (although ironically the reversal here is exactly the reverse of what it is in ParaNorman).
Sony Pictures, Adam Sandler, director Genndy Tartakovsky and most of the voice cast returned with two sequels Hotel Transylvania 2 (2015) and Hotel Transylvania 3: Summer Vacation (2018), as well as an animated tv series Hotel Transylvania: The Series (2017- ).
---
Trailer here
---
Actors:
Adam Sandler, Andy Samberg, Selena Gomez, Kevin James, Steve Buscemi, David Spade, Fran Drescher, Jon Lovitz, Brian George, Molly Shannon, Chris Parnell
Themes:
Animation, Crossovers, Children's Monster Movies, Count Dracula, Vampires, Frankenstein Films, Werewolves, Mummies, Invisibility, Zombies, Ghosts in Light Fantasy, Deformity and Disfigurement, Disembodied Body Parts, Comedies, Genre Homage, Films in 3D, Film Series and Sequels, Films of 2012