---
USA. 2000.
Crew
Director – Des McAnuff, Screenplay – Kenneth Lonergan, Based on the TV Series Created by Jay Ward, Producers – Robert De Niro & Jane Rosenthal, Photography – Thomas E. Ackerman, Music – Mark Mothersbaugh, Visual Effects/Animation – Industrial Light and Magic, Additional Visual Effects – Alter Image, But Inc, Cinesite & Illusion Arts (Supervisors – Syd Dutton & Bill Taylor), Special Effects – Kenneth D. Pepiot, Makeup Effects – Kurtzman, Nicotero and Berger EFX Group (Supervisors – Howard Berger & Greg Nicotero), Production Design – Gavin Bocquet. Production Company – Universal/Capella/K.C. Midien/Tribeca.
Cast
Piper Perabo (Agent Karen Sympathy), Jason Alexander (Boris Badenov), Rene Russo (Natasha Fatale), Robert De Niro (Fearless Leader), Randy Quaid (Cappy von Trapment), Kel Mitchell (Martin), Kenan Thompson (Lewis), Janeane Garofalo (Minnie Mogul), Whoopi Goldberg (Judge Cameo), James Rebhorn (President Will Signoff), John Goodman (State Trooper)
Voices
June Foray (Rocky J. Squirrel), Keith Scott (Bullwinkle J. Moose)
---
Plot
With their series having been cancelled in 1964, the cartoon heroes Rocky and Bullwinkle have spent the ensuing years in reruns. Their Pottsylvanian enemy Fearless Leader and his two cohorts Boris and Natasha, at a loss since the fall of the Iron Curtain, tunnel through to where the dividing line between reality and animation is thin and are pulled through into the real world by a Hollywood executive. Some months later, rookie FBI agent Karen Sympathy is assigned to find Rocky and Bullwinkle in order to stop Fearless Leader. She discovers that Fearless Leader has created a dastardly scheme – the RB TV network – with which he intends to broadcast extremely bad television that will zombify Americans and get them to vote him as President.
---
The Adventures of Rocky and Bullwinkle is another entry in the fad for big-screen revivals of old tv shows over the last few years, which began with The Flintstones (1994) and continued through the likes of George of the Jungle (1997), Mr Magoo (1997), Dudley Do-Right (1999), Inspector Gadget (1999), Josie and the Pussycats (2001), Scooby-Doo (2002), Fat Albert (2004), Alvin and the Chipmunks (2007), Transformers (2007), Underdog (2007), Speed Racer (2008), Dragonball: Evolution (2009), The Last Airbender (2010), Yogi Bear (2010), The Smurfs (2011) and Jem and the Holograms (2015).
The show in this case is the popular cartoon series The Rocky and Bullwinkle Show (1961-73), made by Jay Ward Productions with a total of 98 half-hour episodes. There has also been an earlier live-action film spinoff from the series, Boris and Natasha (1992).
Unlike these abovementioned films, which translated the original cartoon into a live-action film, The Adventures of Rocky and Bullwinkle falls into the fad begun with Who Framed Roger Rabbit? (1988) where the animated characters interact in a live-action environment. Certainly, reading the film's plot synopsis some months prior to the film's release, this seemed a clever approach to take to a big-screen tv remake. It was not just a tv remake that either offered further adventures of familiar characters or old characters recast with contemporary actors and a bigger budget, but it uniquely offered up the idea of its animated characters being pulled through into the real (that is live-action) world.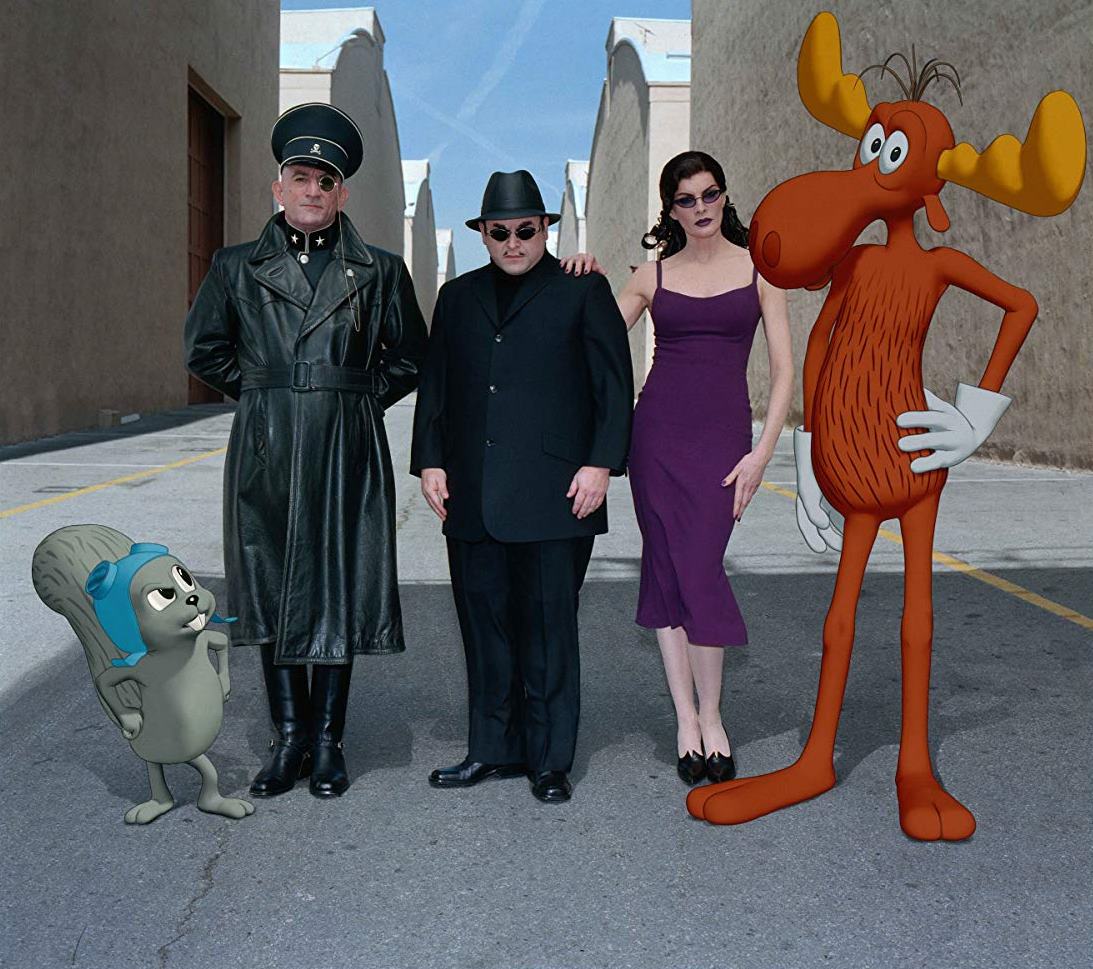 Unfortunately, The Adventures of Rocky and Bullwinkle only deals with this idea in the most pedestrian of ways. It offers up the same zany sight gags and corny puns that the animated series specialised in. The live-action scenes add numerous cartoon physics gags and various slapstick pratfalls with the two villain's henchpeople Boris and Natasha. There are also a number of meta-fictional gags – Piper Perabo complaining that she didn't write the script when interrogated about her actions in court; Boris and Natasha cheating and stealing the onscreen map that traces the hero's journey. Unfortunately, what worked on the small screen seems belaboured on the big screen. The plot drags and there is nothing that ever seems particularly lively.
There are a number of celebrity cameos and bit parts from the likes of Whoopi Goldberg, Janeane Garofalo, David Alan Grier, Randy Quaid, Carl Reiner and Jonathan Winters, although the only vaguely funny one of these is John Goodman's appearance as a state trooper. The most intriguing of these is Robert De Niro who plays Fearless Leader. The Adventures of Rocky and Bullwinkle is unique for being Robert De Niro's first appearance in anything resembling a populist sf/fantasy film. (De Niro was apparently also so enamoured of the original series that he shepherded the production in and takes a producer's credit). With Robert De Niro taking such an active role you expect something special, but sadly De Niro is only playing a one-dimensional character and offers up nothing more than a series of falsetto clipped commands. In fact, he gets less screen time that sidekicks Boris and Natasha do. The film's one plus is the cute Piper Perabo, who proves a lively discovery and clearly has a promising career ahead of her.
---
---