---
Crew
Director – Harry Lachman, Screenplay – Phillip Klein & Robert M. Yost, Suggested by the Poem by Dante Alighieri, Producer – Sol M. Wurtzel, Photography (b&w) – Rudolf Mate, Music – Samuel Kaylin, Production Design – Willy Ogany. Production Company – Fox.
Cast
Spencer Tracy (Jim Carter), Claire Trevor (Betty McWade), Henry B. Walthall (Pop McWade), Scotty Beckett (Alexander Carter), Alan Dinehart (Jonesy), Robert Gleckler (Dean)
---
Plot
Unemployed, Jim Carter takes a job at a tatty carnival simulation of Dante's 'Inferno' owned by Pop McWade. Using lurid promotional gimmicks, Jim turns the exhibit into a huge success and then goes on to build an even bigger 'Inferno'. However, his ruthless corner cutting and disregard for others starts to rebound on him. As disaster rains down on his life, Jim is taunted by a vision of the Inferno where he sees himself and others being punished for their sins.
---
Inferno was originally the middle part of a three-part poem by Dante Alighieri, The Divine Comedy (published between 1308 and 1321). In the poem, Dante, guided by the philosopher Virgil, receives a vision of the afterlife and travels through the nine circles of Hell, Purgatory and finally to the mansions of Heaven. Hardly anybody but classical scholars have ever heard of the other two parts, Purgatorio or Paradiso, which may well say something about the Great Unwashed's religious preoccupations. Of course, the one image that Dante left the public with was that of Hell as a series of circles where in each the damned would be tormented by the particular sins they were guilty of in life.
In lacking almost everything else, there is one thing this film version of Dante's Inferno is not short of and that is the sheer chutzpah involved in dragging Dante's epic poem down to fuel a cheap redemption-of-the-avaricious morality play. There is a vilely pious attitude behind the film. It emphasises all the lurid mediaeval aspects of Dante and has Henry B. Walthall and Spencer Tracy hammer home the hellfire and guilt … and then justifes it by having them say that it was only done to bring a little happiness into people's lives. There seems a strong sympathy for the unemployed underdog, an attitude born out of the Depression era in the midst of which the film was made – one of the things that Spencer Tracy's character is vilified for is buying up the premises of a sideshow proprietor who is behind in his rent.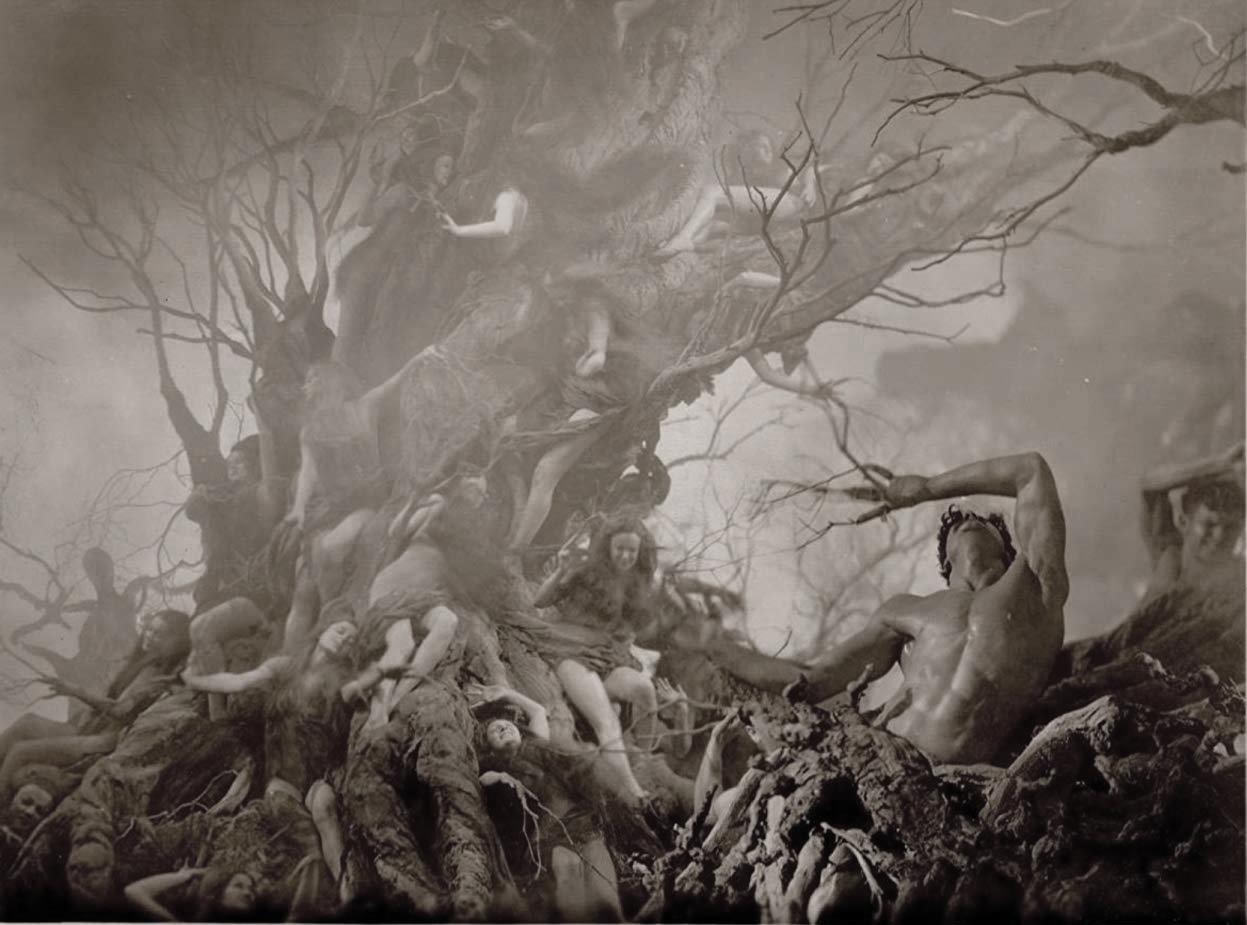 The one thing that makes the film worthwhile is its five-minute vision of the Inferno. This is stock footage that has been taken from the Italian-made silent Dante's Inferno (1911), which was believed lost up until a few years ago. These scenes are the greatest evocation of the German silent film never made. They come filled with extraordinary images – of naked bodies falling from burning cliffs; trees formed from the bodies of suicides; rows of people sitting on either side of an abyss with their feet chained across the gap; souls being crushed by the weight of the giant tombstones they are forced to carry; flying angels circling brimstone-clouded caverns and the like, all aided by a stentorious score.
So outre and fantastic these scenes are, they only show up the laughable papier-mache Inferno sets and Devil costumes presented in the rest of the film. It is these lost glimpses of an hallucinatory vision of the Inferno rather than the shabby piety of the morality tale in the film wrapped around them that make Dante's Inferno worth watching.
Dante's Inferno has been filmed several times – with the silent Italian version Dante's Inferno (1911), the silent American Dante's Inferno (1924), a puppet show involving cardboard cutouts with Dante's Inferno (2007) and the animated Dante's Inferno: An Animated Epic (2010), as well as Peter Greenaway's A TV Dante (1989), which contrasted readings of the poem with superimposed visual imagery.
Harry Lachman had directed several Charlie Chan films and made one venture into genre material with the mad scientist film Dr Renault's Secret (1942).
---
---