---
Crew
Director/Screenplay – Thom Eberhardt, Producer – Rose Lam, Photography – Ray Brounstein, Music – Firstcom Music, Inc., Visual Effects – Michael Friedman, Bosco Kline & I Postini, Special Effects Supervisor – Darren Marcoux, Production Design – Bob Bottieri. Production Company – Terra Bella Entertainment/Hallmark Entertainment.
Cast
Josh Zuckerman (Brendan Willy), Robert Townsend (Mr Five), Caroline Elliott (Twyla Day/Su Su Hiltz), Morgan Fairchild (Babylonia Fine), Noel Fisher (Tom), Crystal Hedrick (Loretta Willy), Iris Quinn (Ginger Willy), Stephen E. Miller (Joe Huntoon), Betty Phillips (Grammy), Stuart Margolin (Mephisto), Natasha Wilson (Taline), Kyle Labine (Randy Farrell), Gus Lynch (Carl)
---
Plot
In Hell, Mephisto orders the tempter Mr Five to claim more souls or be banished to the pit. Fifteen year-old Brendan Willy is a nerdy geek at Dolly Madison High School in Cloverdale, Indiana. He is stunned after meeting actress and fashion model Twyla Day on a mall escalator. The desperate Mr Five approaches Brendan, offering him cool, decent eyesight, an expensive car and the chance to win Twyla, all in return for signing a contract for his soul. Brendan persuades Mr Five to agree to a one week trial contract. However, after getting what he desires, Brendan finds that it isn't all he expected it to be. Meanwhile, Mr Five and Mephisto's girlfriend Babylonia do all they can to trick Brendan into making the deal permanent.
---
I Was a Teenage Faust is a movie made for television. It at least comes with the virtue of a great title. Alas not much else can be said about the rest of the film. Though it refers to the classic Goethe version of Faust (1808, 1832) in the opening scenes, the film has nothing to do with the title concept at all. Rather Faust is used as no more than a generic description for the standard pact with the Devil.
The film has done no more than distil its plot from the cliches of the modern Diabolical Pact comedy – the teen geek who trades his soul for cool, the perfect body and the perfect girl only to find that it isn't what he really wants; the inept diabolical minion under pressure to get souls to sign up; love and decency winning out; the end realisation that what is important in life is not cool and beauty but accepting things the way they are. There are a number of similarities between I Was a Teenage Faust and the 1980s teen comedy Hunk (1987).
I Was a Teenage Faust moves with the blandness that most children's tv movies do. Unfortunately, the characters never connect. While he does fine on the nerd side of the coin, it became for me a difficult struggle to buy diminutive Joey Zuckerman when it came to playing the ultra-cool part – he lacks the acting range. Equally, Caroline Elliott's Twyla seems self-absorbed and lacks any conviction at playing a beautiful teen girl who is pining for the ordinary life.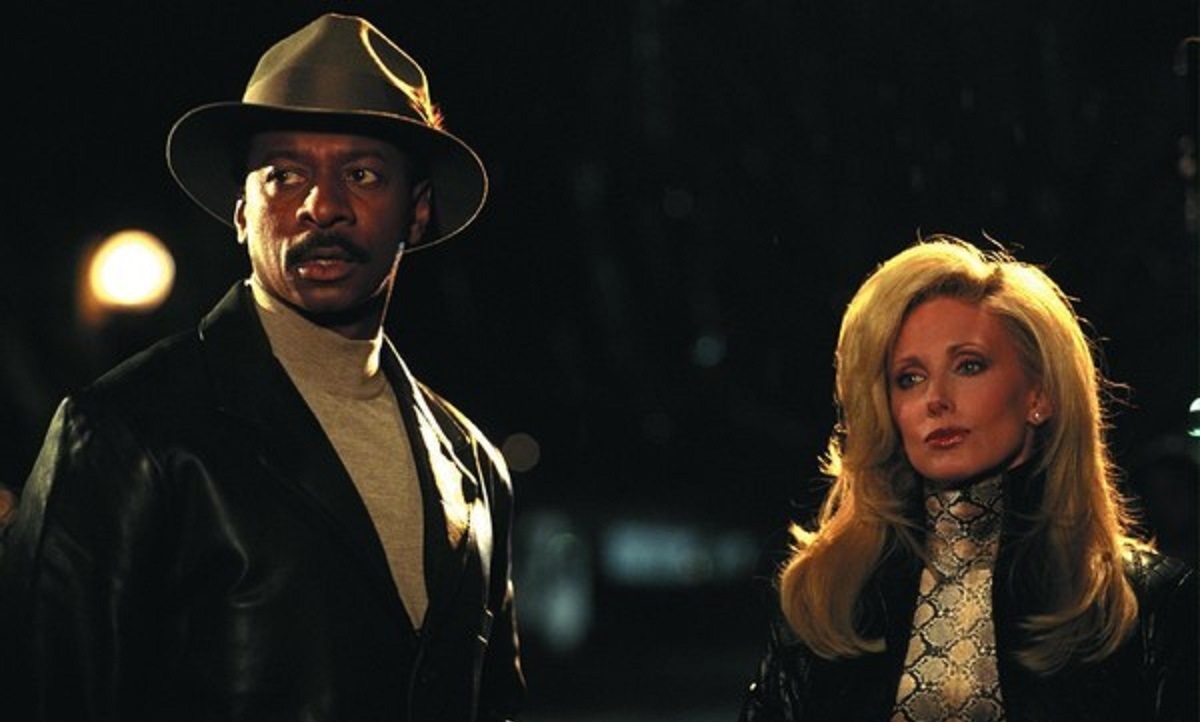 On the plus side, I Was a Teenage Faust has an occasional sense of humour. Former 1980s primetime soap queen Morgan Fairchild vamps it up but Robert Townsend plays with an amusing comedic frenzy. There are certainly some entertainingly amusing contortions to the plot and the odd one-liner:– Townsend's minion puzzling over a threat from Morgan Fairchild "Where would I go in a handbasket?" Particularly amusing are the plays between Iris Quinn's saying she has a boyfriend named Joe Montana and Joey Zuckerman's mistaking this for actor Joe Montegna. The real Joe Montegna subsequently makes an appearance as himself wondering why this woman is obsessed with him when he is a married man. And then when it all goes wrong, there is the wonderful throwaway line where Iris Quinn complains: "What'll I do with his [Montegna's] movies?" "Take them back to Blockbuster and don't rewind them."
I Was a Teenage Faust was directed and written by Thom Eberhardt who made a couple of genre releases during the 1980s with the deathdream film Sole Survivor (1983) and the post-holocaust comedy Night of the Comet (1984). Eberhardt's greatest success was the witty Sherlock Holmes spoof Without a Clue (1988). Eberhardt has made a couple of other films, the teen comedy Gross Academy (1989) and the Disney comedy Captain Ron (1992). Nowadays, Eberhardt directs light fantasy movies tv, which include the likes of the Molly Ringwald alternate life pathways drama Twice Upon a Time (1998) and Ratz (2000) about two rats transformed into teenage guys. Eberhardt also wrote the screenplay for Honey, I Blew Up the Kid (1992) and subsequently directed the horror film Naked Fear (2007).
---
Full film available here
---