---
USA. 1935.<p.
Crew
Director – Lansing C. Holden & Irving Pichel, Screenplay – Ruth Rose, Additional Dialogue – Dudley Nichols, Based on the Novel by H. Rider Haggard, Producer – Merian C. Cooper, Photography (b&w) – J. Roy Hunt, Music – Max Steiner, Photographic Effects – Vernon Walker, Art Direction – Van Nest Polglase. Production Company – RKO Radio Pictures.
Cast
Helen Gahagan (Ayehsa), Randolph Scott (Leo Vincey), Helen Mack (Tanya Dugmore), Nigel Bruce (Professor Horace Holly), [uncredited] Gustav von Seyffertitz (Bilali), [uncredited] Lumsden Hare (Dugmore)
---
Plot
Leo Vincey is recruited by his dying uncle to go on a quest for a new element, a radiation source in the form of a flame that is believed to be able to bestow immortality. 500 years earlier, Leo's ancestor John Vincey found the flame in a lost city in the frozen North. They depart on the expedition, finally coming upon the lost city hidden beneath a glacier. There they meet the city's cruel and tyrannical queen, the immortal Ayesha, who insists that Leo is the reincarnation of John whom she loved and has been waiting 500 years to return to her.
---
This was the seventh of nine adaptations of H. Rider Haggard's novel She (1887) and the first sound version. It was produced by Merian C. Cooper and written by Ruth Rose, both coming fresh from the success of the original King Kong (1933).
She the novel is one of the cornerstones genre of Lost World exoticism that H. Rider Haggard and other turn of the century writers such as Jules Verne, Arthur Conan Doyle and Pierre Benoit specialised in. It conjures a vision of mysterious unexplored Africa that belongs very specifically to the great Victorian Age of Exploration. (Although, for reasons inexplicable, this version transposes Haggard's African setting to the frozen North). Like that other great classic of Lost World cinema, Benoit's L'Atlantide (1919), which was also filmed several times during this era, She features a lost world ruled by a queen who is alternately impossibly desirable and innately cruel. (Indeed, Carl Jung uses Ayesha as an example when he talks about his concept of the anima – the archetype of the impossibly desirable woman).
The very fact that both She and L'Atlantide had the majority of their numerous adaptations made before the era of sound is indicative of just how much these films belong to a lost era of exploration and colonialism. The arrival of the sound era is almost parallel with the closing off of Africa and The Poles as discovered areas, in effect removing all exoticism and mystery from these locales. This fantasy of exotic locales inhabited by women who are alternately desirable and cruel castrators was briefly transposed into outer space in the 1950s with the likes of Cat Woman from the Moon (1953) and Queen of Outer Space (1958).
This version of She is dreary. The film's depiction of the Poles never for a moment strays beyond the studio soundstage and is not at all convincing. Merian C. Cooper has brought two directors on board, one being actor Irving Pichel, who had earlier co-directed the great The Most Dangerous Game (1932) and would later make the science-fiction classic Destination Moon 1950), and the other former art director Lansing C. Holden.
You can almost see which scenes were directed by one director and which by the other. One director is almost entirely static in their set-ups – not even an avalanche manages to raise the slightest dramatic ripple. However, when the other director gets the occasional chance to direct, the film lights up in a big way. There is an exciting sequence with the explorers trying to escape from natives who are determined to cook them and an exhilarating climactic escape swinging across an enormous crevice. Most memorable is a fabulous sequence set in a temple surrounded by forty-foot tall statues with natives engaged in elaborate dance rituals. Unfortunately, these sequences are few and far between and the rest of the film is dreary.
Helen Gahaghan makes for an okay, if melodramatic, cruel queen and the film writes the part well, although the outpourings of love are wretchedly banal. (In the 1940s, Helen Gahaghan became a US Congresswoman and the film obtained a whole new level of campy amusement).
There is an interesting opening where the explorers speculate that the Flame of Eternal Life is a radiation source. She is usually a story that falls into the realms of fantasy but these scenes interestingly start to take the story into the province of science-fiction. Although, other than this single scene, these speculations are never raised again. This does however let the subtext fall squarely into the territory of 1930s mad scientist cinema. As a result, She ends up reiterating the views of 1930s mad scientist films that knowledge – in this case, the secret of immortality – is a Pandora's Box that should not be opened and will have socially cataclysmic consequences when done so. This version also comes with a strong Christian undertow – Ayesha has a speech about Christ sacrificing himself for the world's sins.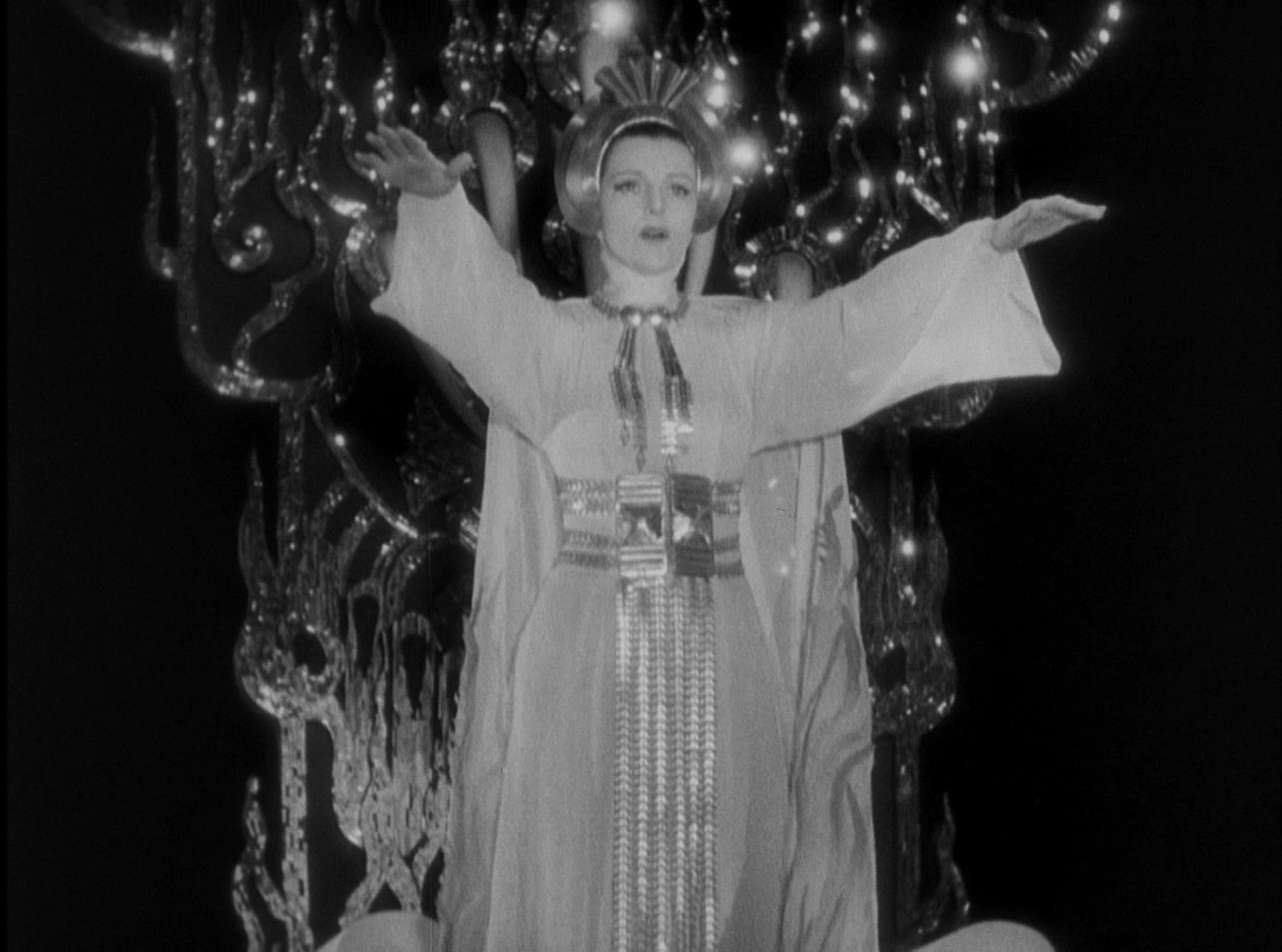 Moreover, the ending, where traditionally Ayesha crumbles to dust after bathing in The Flame a second time, becomes one where a 'Higher Power' steps in to stop her cruelty. In a typically conservative ending, the explorers come to the realisation that all the love they need is right there with them, whereupon the camera pointedly moves over to focus on the fire in the fireplace, symbolically emphasising the flames of the hearthplace as normal as opposed to the cold flames of eternal life and forbidden knowledge.
Other versions of She are:– Georges Melies's The Pillar of Fire (1898), She (1908), She (1911), She (1916), She (1917) and She (1925). All but the last version are lost. The only other extant versions are Hammer's She (1965), starring Ursula Andress as Ayesha, and the international production She (2001) starring Ophelie Winter. Hammer also made a sequel to their version with The Vengeance of She (1967). She (1983), despite acknowledging the H. Rider Haggard novel as its source, has nothing to do with lost cities or flames of immortality and is an incredibly awful post-holocaust film.
The most famous other H. Rider Haggard story to have been filmed was King Solomon's Mines (1885) with film versions made in 1937, 1950, 1977, 1985 and 2004. In a odd trivia note, H. Rider Haggard's grandson Piers Haggard is a genre movie director – see Blood on Satan's Claw (1971), Quatermass (1979), The Fiendish Plot of Dr Fu Manchu (1980) and The Breakthrough/The Lifeforce Experiment (1994).
---
---