---
Crew
Director/Screenplay – Brian De Palma, Producers – Tarak Ben Ammar & Marina Gefter, Photography – Thierry Arbogast, Music – Ryuichi Sakamoto, Visual Effects Supervisor – Agnes Sebenne, Visual Effects – L'E.S.T. (L'Etude de la Supervision des Trucages), Mikros Image & Scan Lab, Special Effects Supervisor – Philippe Hudin, Production Design – Anne Pritchard. Production Company – Quinta Communications.
Cast
Rebecca Romijn-Stamos (Lily Watts/Laure Ash), Antonio Banderas (Nicolas Bardo), Peter Coyote (Bruce Watts), Eriq Ebouaney (Black Tie), Rie Rasmussen (Veronica), Edouard Montoute (Racine), Therry Fremont (Serra), Gregg Henry (Shiff)
---
Plot
The beautiful Laure is part of a daring robbery that takes place during the Cannes Film Festival. She seduces the model Veronica in a bathroom and steals the valuable diamond pendant that Veronica is wearing. Laure then immediately double-crosses her partners and heads off with the diamonds herself. She seeks refuge with her girlfriend Lily, only to see Lily shoot herself because Laure has stolen her passport and plane ticket to America. Laure takes the plane flight and meets wealthy Bruce Watts aboard. Seven years later, the two have married, and she now calls herself Lily. Meanwhile, paparazzi photographer Nicolas Bardo is given the assignment of obtaining a photo of Watts's mystery wife. This drives Laure/Lily to the brink of near suicide because Bardo's focus on her now attracts the attention of her ex-partners from Cannes who come seeking vengeance. Laure/Lily draws Nicolas into feeling sympathy for her. She then twists things around and leaves him the dupe in a complicated scheme to let Watts think that Nicolas has kidnapped her and is demanding a $10 million ransom.
---
Brian De Palma became a genre favourite throughout the 1970s and early 1980s. During this period, De Palma made a number of excellent genre films, mostly psycho-thrillers, including Sisters (1973), The Phantom of the Paradise (1974), Carrie (1976), Obsession (1976), The Fury (1978), Dressed to Kill (1980), Blow Out (1981) and Body Double (1984). De Palma was celebrated for his incredibly stylish direction but equally criticised for pillaging ideas from Alfred Hitchcock and by the feminist movement of the day for an underlying misogyny. After Body Double, De Palma appeared to lose interest in psycho-thrillers and moved away to mainstream moviemaking.
Over the next two decades, De Palma turned out works like the gangster film Scarface (1983), the big screen adaptation of the classic tv series The Untouchables (1987), the Vietnam War film Casualties of War (1989), the disastrous adaptation of Tom Wolfe's The Bonfire of the Vanities (1990), the gangster film Carlito's Way (1993), the first Mission: Impossible (1996) film, the thriller Snake Eyes (1998), the science-fiction film Mission to Mars (2000) and the Iraq War mockumentary Redacted (2007), all of which swing between the extremes of acceptance and dislike by critics and audiences. Since 1984, De Palma has only returned to his trademark psycho-thriller a handful of times with Raising Cain (1992), The Black Dahlia (2006) and Passion (2012). Femme Fatale was one of these occasions.
Brian De Palma loves outrageously stylish scenes that shout their directorial virtuosity out from the rafters – like the famous twenty minute single opening shot from Snake Eyes, or elaborately staged sequences like the chase through the gallery in Dressed to Kill and the prom scene in Carrie. He seems to reserve his flashiest work for his genre films – indeed, the flamboyant set-ups of his thrillers from the 70s/80s became muted in his subsequent mainstream work.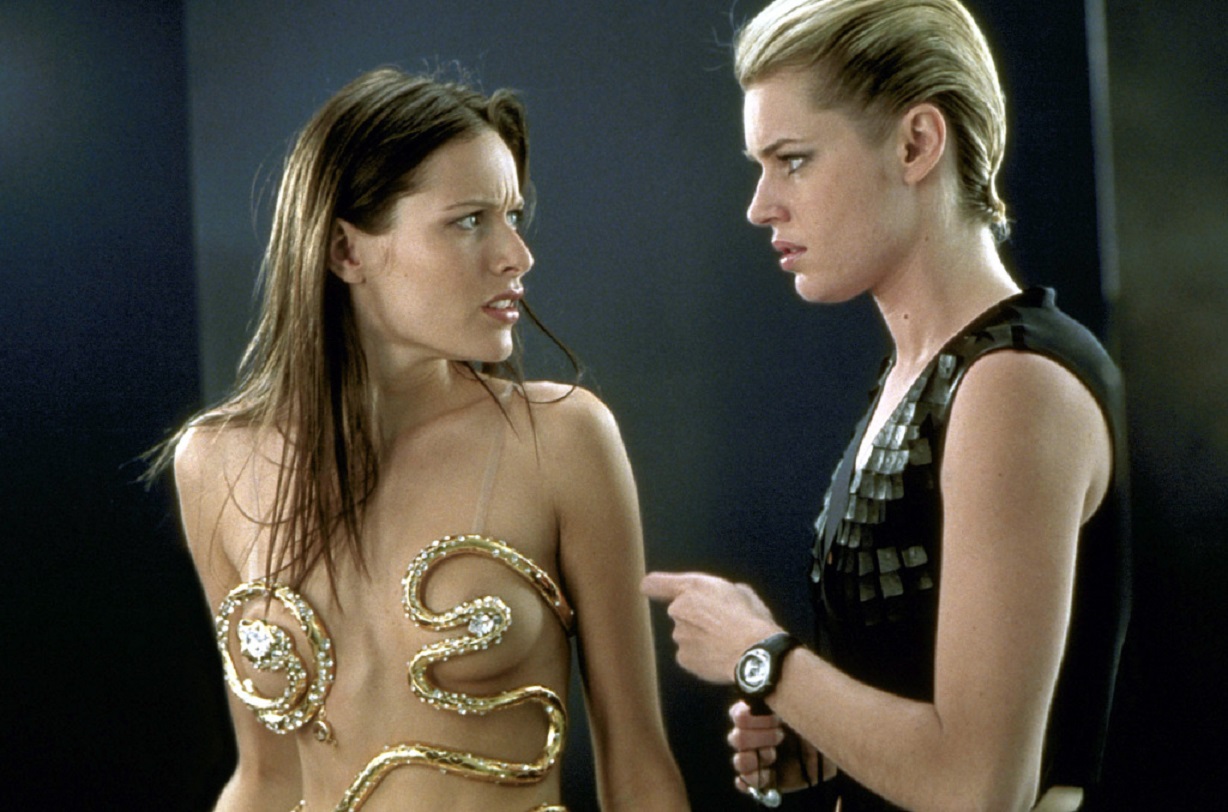 In Femme Fatale, it is immediately apparent from the opening scene that De Palma is back on form. He offers up an ingenious restaging of a Cannes film premiere before we head into an improbably enjoyable set-up involving guards fooled with syrup on their keys and a laser drilled through a security door, a model (Rie Rasmussen) wearing a diamond top that bares most of her chest being seduced up against the opaque wall of a cubicle in the ladies by Rebecca Romijn-Stamos as the diamond top is slipped to Romijn-Stamos's partner (Eriq Ebouaney) on the other side of the wall to be substituted for a replica, before the scheme is sprung and Romijn-Stamos double-crosses her partners and switches to an infra-red scope to flee in darkness. The sequence is some twenty minutes long and comes entirely without dialogue.
Subsequently, De Palma spins us through a progressiion of scenes – Rebecca Romijn-Stamos all in black meeting a mystery woman in khakis in a church and fleeing, being taken home by an aging couple who seem to regard her as their child, and paparazzi Antonio Banderas secretly taking her picture. It is certainly confusing during these scenes as we have no idea what is happening.
Upon re-reviewing it is apparent the subtle misdirection that De Palma is engaging in in letting us think that it is Laure rather than Lily. The plot becomes absurdly contorted in trying to follow the subsequent twists piled on. All the while, De Palma engages in many of his usual thriller effects and plot motifs – split-screen, his fascination with doubles and the confusion between the two, big cheat 'it's all a dream– (or illusion) twists, long hypnotic and often sexually beguiling scenes where one person leads another on a chase.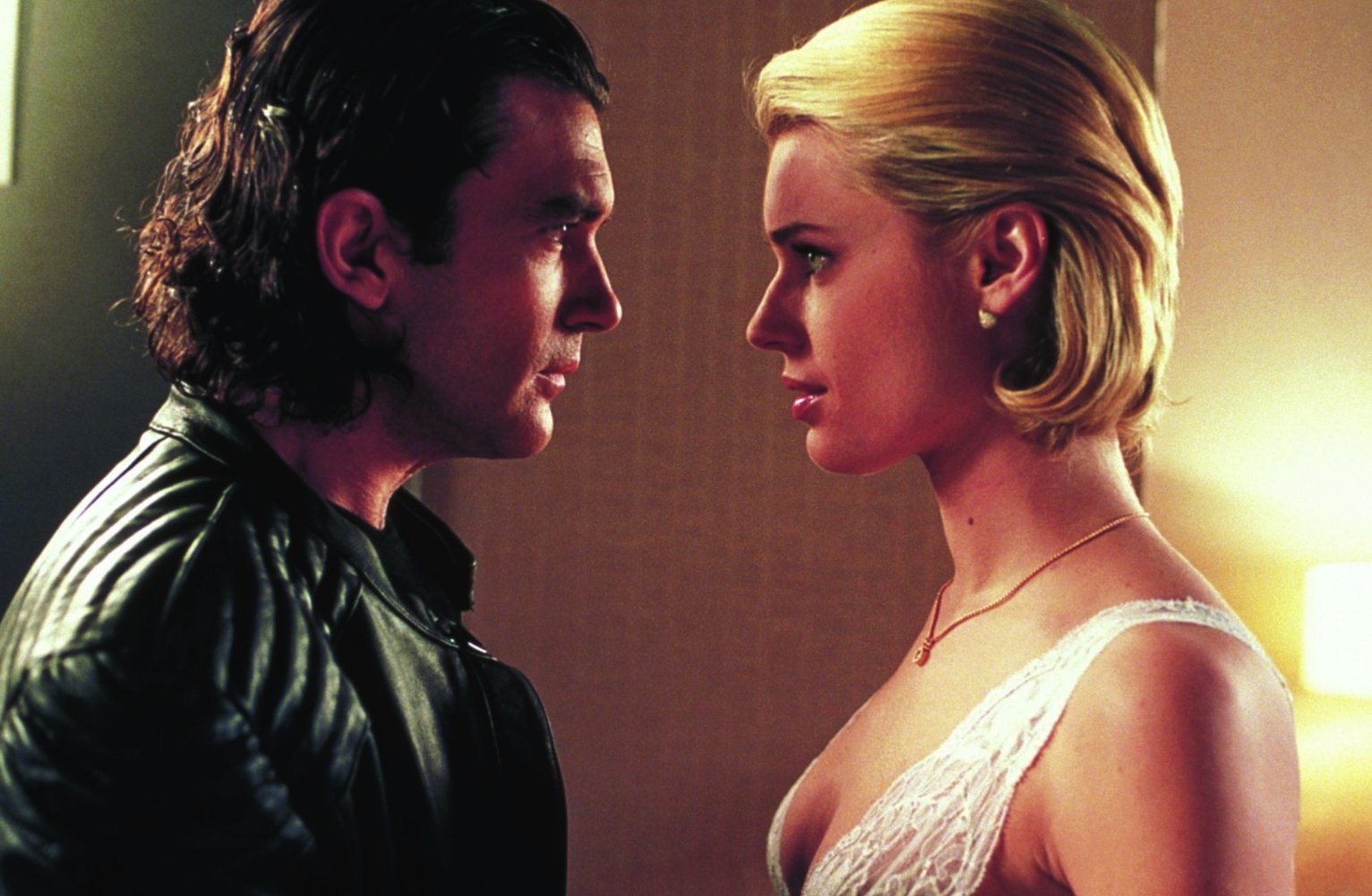 Eventually, Femme Fatale turns out to be Brian De Palma's strongest return to classic form in some time. It works through a big left-field twist ending [PLOT SPOILERS] where De Palma turns the film into a variant on Sliding Doors (1998) and Run, Lola, Run (1998) in a twist that reveals that everything that has transpired is a precognitive dream being had by Rebecca Romijn-Stamos. This type of cop-out cliche is as old as movie-making itself but is surprisingly one that De Palma makes work. He cleverly brings every seemingly random element of the film together – the identity of the khaki clad woman, revelations about the double-cross, the murder, the bauble and the truck driver. It is gimmicky but De Palma makes the elements weave together in a way that is surprisingly touching.
Rebecca Romijn-Stamos, in her first lead role after coming to attention in X-Men (2000), has an impossibly desirable presence. The scenes with her seducing a man in a bar while Antonio Banderas watches have a considerable erotic sizzle (if an over-the-top dramatic absurdity). On the minus side, Antonio Banderas plays rather wimpily. Ryuichi Sakamoto delivers an unusual score.
Brian De Palma's other genre films are:– Get to Know Your Rabbit (1972), Sisters/Blood Sisters (1973), The Phantom of the Paradise (1974), Obsession (1976), Carrie (1976), The Fury (1978), Dressed to Kill (1980), Blow Out (1981), Body Double (1984), Raising Cain (1992) and Mission to Mars (2000). De Palma (2015) is a documentary about De Palma's life and films.
---
---