---
Canada/UK. 1997.
Crew
Director/Screenplay – Thom Fitzgerald, Producers – Thom Fitzgerald, Louise Garfield & Arnie Gelbart, Photography – Daniel Jobin, Music – Ashley MacIsaac & Heather Rankin, Production Design – Taavo Soodor. Production Company – Triptych Media/Nova Scotia Film Development Corporation/Harold Greenberg Fund/Channel 4 Films/Canadian Film & Video Production Tax Credit/Emotion Pictures/Nova Scotia Film Industry Tax Credit/Quebec Government/Galafilm/Odeon Films/Telefilm Canada.
Cast
Chris Leavins (William), Troy Veinotte (Teenage William), Seana McKenna (Iris), Kerry Fox (Rosemary), Joel S. Keller (Fletcher), Peter MacNeill (Mac), Joan Orenstein (Grandmother Grace May), Sarah Polley (Teenage Rosemary), Christine Dunsworth (Violet), Martha Irving (Dusty Miller)
---
Plot
After ten years absence during which he has never spoken to his family, William returns home for his sister Rosemary's wedding. There he remembers back to his teen years and his emerging homosexuality and the family's reaction to this. Outside the house, the ghosts of unresolved conflicts play out in the garden and the spectre of William's teenage self, who appears to have committed suicide, hangs from a tree.
---
The Hanging Garden is a Canadian gay filmy. It is one film on the subject that should be welcomed for the lack of the seeming weight that dogs most films about being gay – one where story values end up being secondarily subsumed by a solemn need to make messages about sexual politics. Not wishing to decry the liberal sentiments in any way, one accusation that could be made of many films that try to tackle gay themes – Philadelphia (1994), Priest (1995) and Twilight of the Golds (1996) – to name but a handful is that they carry a weightload of their own political self-importance way before they do any considerations of story. One rule of thumb might be that if one were to consider that it were a heterosexual romance/relationship on display, there would be little talking point to these films.
About the only films that don't carry this great political burden with them are those like La Cage aux Folles (1980) (and its various sequels and remakes), Kiss of the Spider Woman (1985), The Adventures of Priscilla, Queen of the Desert (1994) and To Wong Foo, Thanks for Everything Julie Newmar (1995), which play it up the other way and reinforce the stereotype that all gay men are drag queens. [The situation has changed considerably since The Hanging Garden was made with exceptional works like Angels in America (2003) and Brokeback Mountain (2005) emerging].
The Hanging Garden comes with a refreshing lack of stereotype or political bandwagonning and pays attention to small issues like story and character, while still allowing the whole issue of gay male sexual identity to remain crucial to the story. The characters in the film are memorably etched and the cast all give fine performances. The film also has a sense of humour that is warmly endearing – there is an hilarious sequence taking a senile grandmother to buy a replacement Madonna.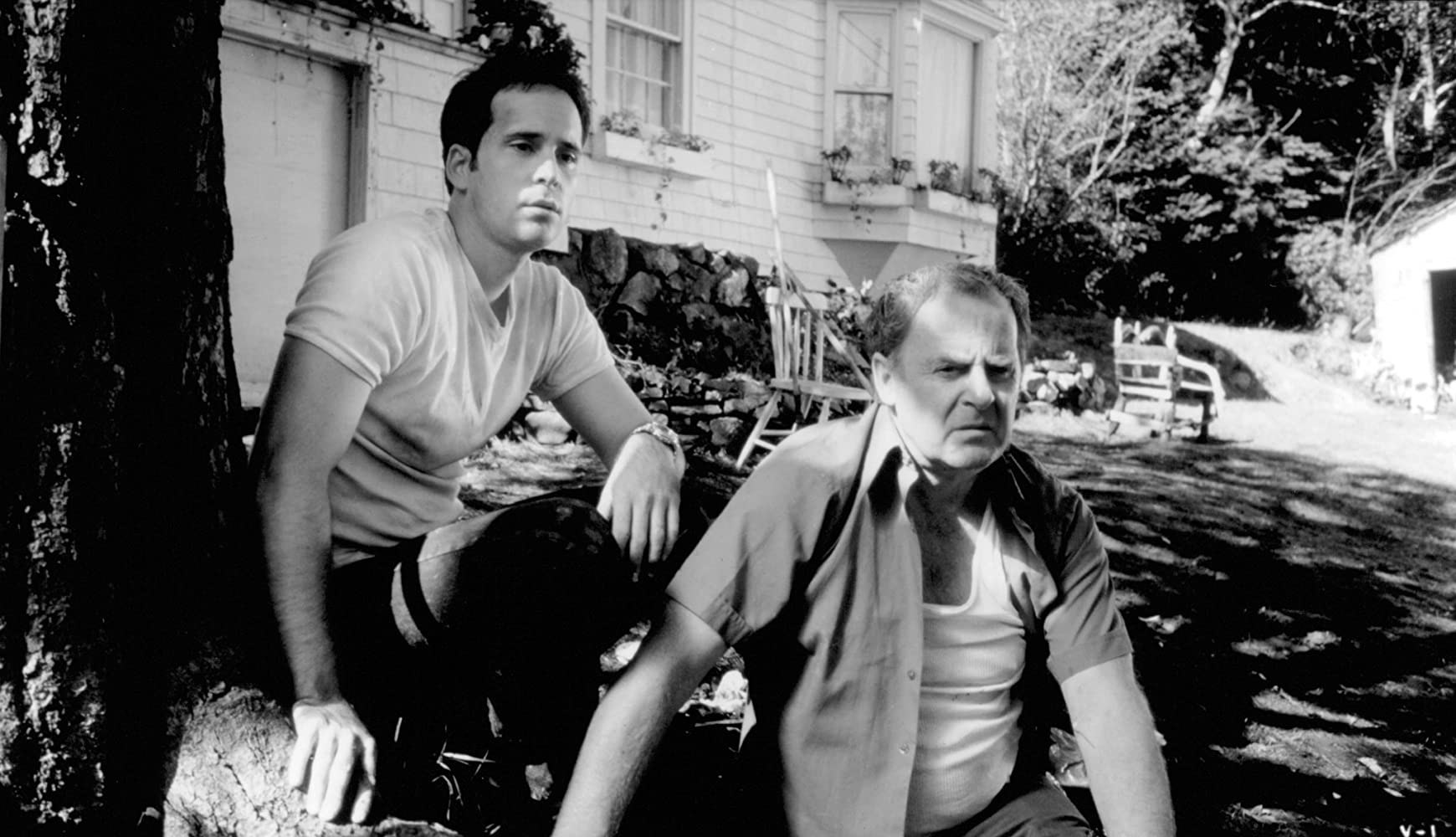 The title The Hanging Garden is meant as a double play. Not unlike Sliding Doors (1998), The Hanging Garden seems to offer a view of two alternate realities – one where the central figure hung himself as an awkward teenager and another where he has gone on to successfully remake himself. (Although the use of the device is far less clear than it is in Sliding Doors). There are some unique effects where ghosts of the past seeming to appear. At first one takes these to merely be narrative devices, concomitant with the film's flashback story structure. It then appears that other people can see these ghosts too and we are momentarily given the unique image of the ghosts seeming to be hovering about as the spectres of old unresolved arguments. Even the hanging body in the garden turns out not to be an alternate reality but an actual body that the central character takes down and buries at the end. Exactly how the protagonist can be both dead and alive at the same time is never made clear. This double structure and ghost play is certainly one of the most puzzling aspects of The Hanging Garden. It also makes for a fascinating film.
Thom Fitzgerald has yet to venture back into genre material. He has since made a consistent output of gay-themed films with the likes of Beefcake (1998), The Event (2003), 3 Needles (2005), Cloudburst (2011), Stage Mother (2020) and Cam Boy (mini-series, 2021).
---
Trailer here (in German)
---