---
Crew
Director/Producer/Story – Brian De Palma, Screenplay – Brian De Palma & Robert J. Avrech, Photography – Stephen H. Burum, Music – Pino Donaggio, Music Conductor – Natale Massara, Makeup Effects – Tom Burman, Production Design – Ida Random. Production Company – Columbia.
Cast
Craig Wasson (Jake Scully), Melanie Griffith (Holly Body), Deborah Shelton (Gloria Rovelle), Gregg Henry (Sam Bushard/Henry Rovelle), Guy Boyd (Detective McClean), Dennis Franz (Rubin)
---
Plot
Out-of-work actor Jake Scully returns home to find his girlfriend in bed with another man. Fellow actor Sam Bushard offers Jake the use of his apartment while he is out of town so that Jake can sort himself out. Before he goes, Sam shows Jake a neighbouring house where a woman performs a solo erotic dance every night. Jake becomes fascinated with the dance and watches the woman through binoculars and then starts following her. However, while he watches through the binoculars, an Indian breaks into the house and murders the woman with a power-drill. He is unable to get to her in time. Later while watching a promo clip for a porn movie on a cable channel, Jake sees an actress performing the same erotic dance as the murdered woman and comes to realise that he is the dupe in an elaborate set-up.
---
Brian De Palma became one of the genre's foremost stylists through a body of horror movies made in the late 1970s and early 1980s that included Sisters/Blood Sisters (1973), The Phantom of the Paradise (1974), Obsession (1976), Carrie (1976), The Fury (1978), Dressed to Kill (1980), Blow Out (1981), and this.
Brian De Palma is a director who divides critics between either great love or savage dismissal. De Palma's films are made with extraordinary flourishes of style – split-screen, slow-motion camerawork and flashy show-off cinematographic tricks. At the same time, De Palma's films are also enormously derivative, especially of Hitchcock – Obsession is a blatant remake of Vertigo (1958) and Dressed to Kill of Psycho (1960).
Since Body Double, with the occasional exception of Raising Cain (1992), Femme Fatale (2002), The Black Dahlia (2006) and Passion (2012), De Palma has abandoned the psycho-thriller for mainstream gangster and action films like Scarface (1983), The Untouchables (1987), Carlito's Way (1993) and Mission: Impossible (1996). At least in this author's regard, this is a career path that is less interesting and personal than De Palma's genre one.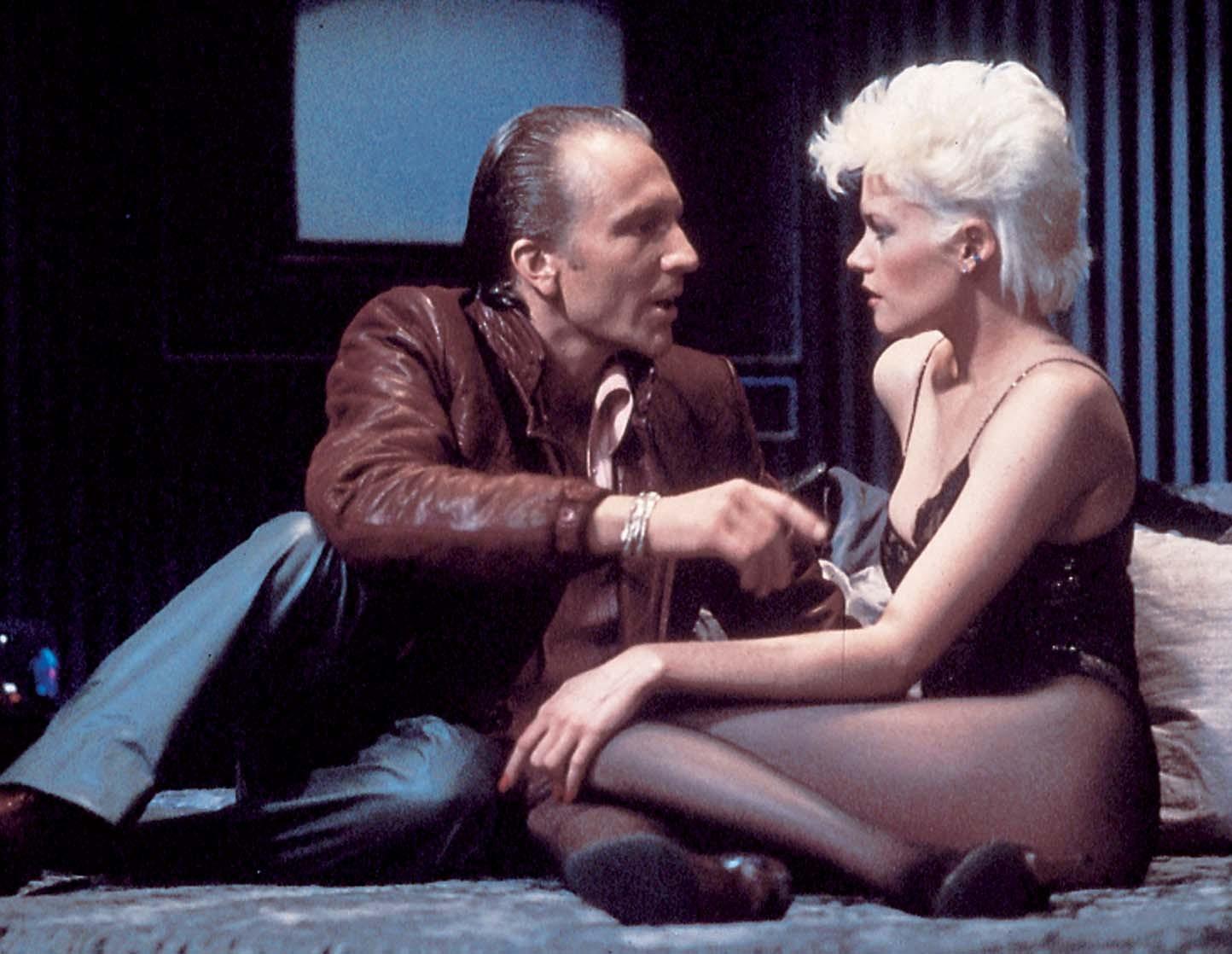 Body Double was Brian De Palma's most flagrant stealing from Hitchcock. The film is a virtual remake of Vertigo – with a good deal of Rear Window (1954) also thrown in for measure. It is not only Hitchcock that De Palma is rehashing – it also seems like he's rehashing De Palma too. The film reads like a dot-to-dot of De Palma themes – the Vertigo-like theme of double identity and role confusion (Sisters, Obsession, Femme Fatale), the film or dream-within-a-dream reality twister opening/ending (Sisters, Blow Out, Dressed to Kill, Carrie), the long seductive pursuit of a woman by a male stranger (Dressed to Kill), the Psycho-like jolt of killing off of the lead female halfway through (Dressed to Kill).
De Palma has always been more interested in style and surface glitter than substance – something that tends to work for or against his films depending on the plot and performances – but here the precarious balance that he managed to keep in check in most previous films teeters over. Body Double is the worst of his genre films.
There are occasional moments of style – particularly the Indian's attack on Deborah Shelton seen through the binoculars, which comes as only a silent pantomime accompanied only by Craig Wasson's off-screen comments. Pino Donaggio also contributes a wonderful score. There is also a reasonable cast, notably Melanie Griffith whose usual ditzy bubblehead blonde thing is well suited to the part. (Apparently, Brian De Palma had originally wanted to cast porn star Annette De Haven in the part but this was nixed by the studio).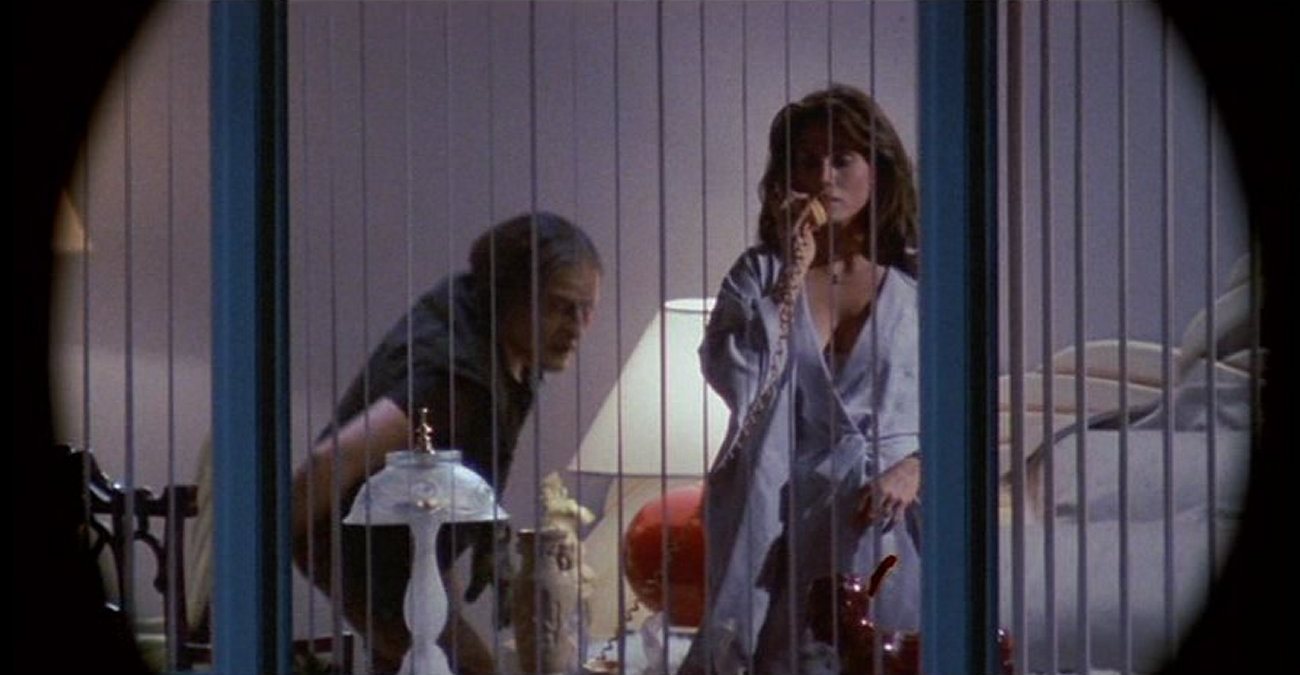 However, the plot is so ludicrously contrived that the entire film falls apart upon a moment's serious reflection. The killer's plan is based on absurdly contrived schemes that are entirely dependant not only on Craig Wasson's being home but also watching through the binoculars at certain times, his becoming obsessed with and following the woman, the two of them meeting by coincidence with neither in the know at a roadblock, as well as Wasson being courageous enough to admit to being a peeping tom and a stalker to the police. What would have happened to the entire scheme if Rovelle had been brought in as a witness in the police case and Jake happened to meet him in court?
Other pieces don't make sense – why does Deborah Shelton buy a pair of panties in a lingerie store and then throw them away outside the shop? The film is further capped by a De Palma-esque reality-twister ending, which only adds confusion. The film is filled with so many ridiculous coincidences and necessary improbabilities that the plot feels like a sieve.
Brian De Palma's other genre films are:– Get to Know Your Rabbit (1972), Sisters/Blood Sisters (1973), The Phantom of the Paradise (1974), Obsession (1976), Carrie (1976), The Fury (1978), Dressed to Kill (1980), Blow Out (1981), Raising Cain (1992), Mission to Mars (2000) and Femme Fatale (2002). De Palma (2015) is a documentary about De Palma's life and films.
---
---