USA. 1976.
Crew
Director – Brian De Palma, Screenplay – Paul Schrader, Story – Brian De Palma & Paul Schrader, Producers – Harry N. Blum & George Litto, Photography – Vilmos Zsigmond, Music – Bernard Herrmann, Special Effects – Joe Lombardi & Sfx Unlimited, Art Direction – Jack Senter. Production Company – Columbia.
Cast
Cliff Robertson (Michael Courtland), Genevieve Bujold (Elizabeth Courtland/Sandra Portinari), John Lithgow (Bob La Salle)
---
Plot
New Orleans, 1959. Businessman Michael Courtland finishes celebrating his wedding anniversary, only to have his wife Elizabeth and daughter Amy kidnapped. The police rescue attempt goes wrong and the kidnappers' getaway car collides with a fuel tanker, killing both Elizabeth and Amy. Courtland is shattered. Fifteen years later, Courtland and his business partner take a holiday in Rome. There Courtland goes to re-visit the church where he first met his wife and is startled when he meets Sandra Portinari, a young Italian student working on the reconstruction of the church, who is a dead ringer for his wife. Obsessively believing Sandra to be the reincarnation of his wife, Courtland brings her back to the New Orleans and decides to marry her – only to then have her kidnapped too.
---
Brian De Palma seems to vary from one film to another as to whether he is the plunderer of Hitchcock's tomb or the carrier of his torch. This borderline genre entry was the first of De Palma's reworkings of Hitchcock's Vertigo (1958). [De Palma even admits on the DVD release that his decision to make Obsession came after he and screenwriter Paul Schrader watched a print of Vertigo, which was out of general circulation at the time]. The debt is even emphasised to the extent of De Palma employing Vertigo composer Bernard Herrmann. (Also borrowed, one might note, is the famous scissors killing from Hitchcock's Dial M for Murder [1954]).
Brian De Palma's other great debt is to Nicolas Roeg and Don't Look Now (1973), from whom he borrows the obsessive, gloomily haunted vision of Italy (he merely swapping Rome for Roeg's Venice locations). It is certainly an attractive idea to set the Vertigo obsession amid the sinister Europe, playing on the anxiety of the continent's oppressive past and culture that have preoccupied filmmakers ever since The Third Man (1949). Like Roeg, Brian De Palma creates attractive images of figures funereally moving through an elegant Old World landscape, caught up in a doomed repetitive destiny. Bernard Herrmann's score is powerful and brooding and Vilmos Zsigmond delivers alluringly gauzy, watercolour photography.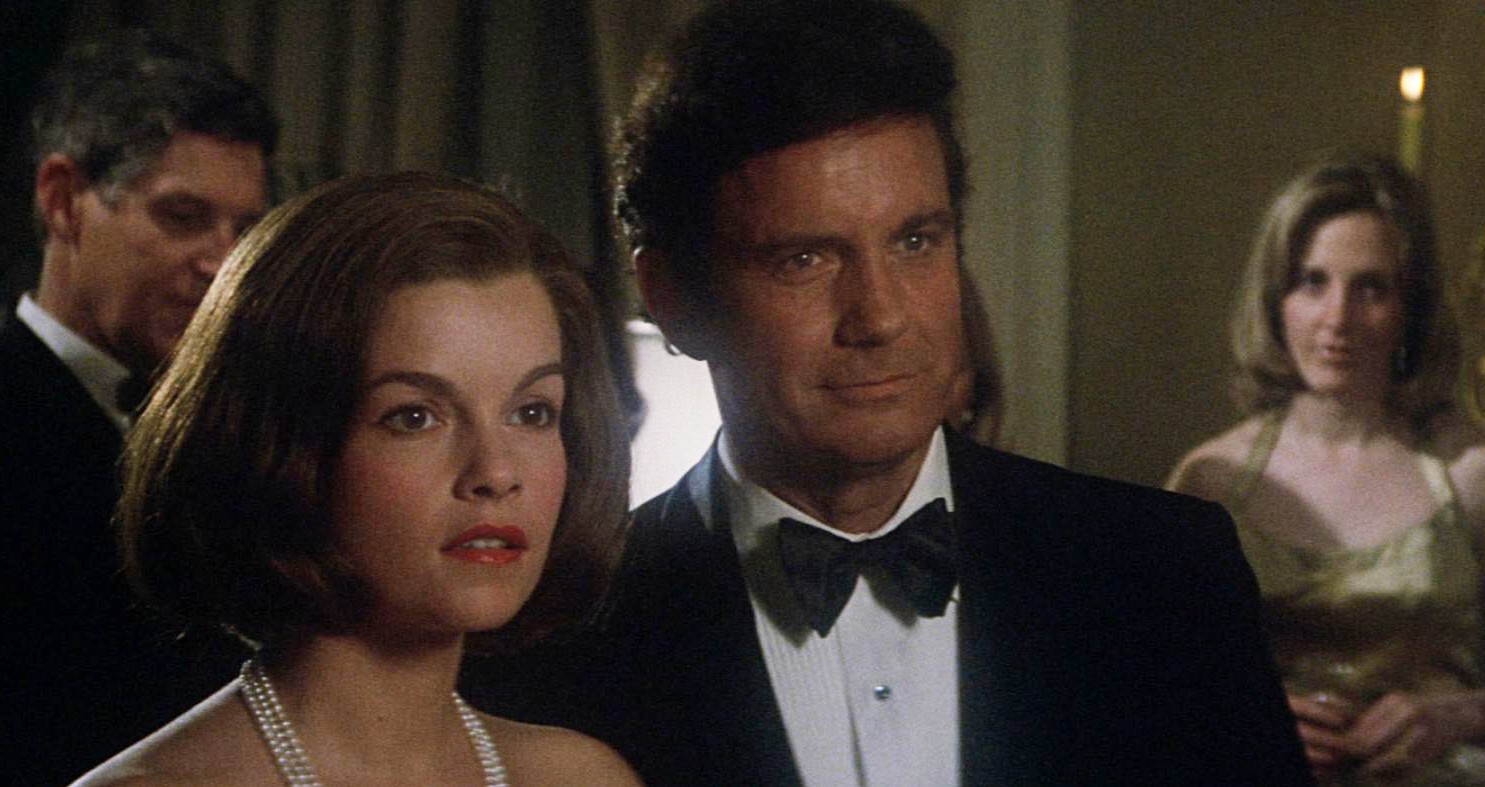 However, while the characters brood, they are as silent as graves and the backdrop offers no resonance to anything other than mechanical plot twists. It might have worked but when the final contrived and completely implausible plot twist comes, the ridiculous house of cards comes tumbling down into absurdity.
Brian De Palma's other films of genre note are:– the absurdist comedy Get to Know Your Rabbit (1972), the psycho-thriller Sisters/Blood Sisters (1973), the rock musical Phantom of the Opera parody The Phantom of the Paradise (1974), the psychic powers films Carrie (1976) and The Fury (1978), the psycho-thrillers Dressed to Kill (1980), Blow Out (1981), Body Double (1984) and Raising Cain (1992), the sf film Mission to Mars (2000), and the psycho-thriller Femme Fatale (2002). De Palma (2015) is a documentary about De Palma's life and films.
The screenplay is from Paul Schrader, a frequent dabbler in genre material. Schrader also wrote the screenplays for Martin Scorsese's mesmerising urban psychosis films Taxi Driver (1976) and Bringing Out the Dead (1999). As director, Schrader has also made a number of genre films such as the remake of Cat People (1982); the tv movie Witch Hunt (1994) set in an alternate world where magic works; the faith healer film Touch (1997); and Dominion: Prequel to The Exorcist (2005). Schrader's psycho-sexual thriller The Comfort of Strangers (1990) also returns to the same fascination with a doom-laden Italy. Outside of the genre, Schrader has directed the impressive likes of Hardcore (1979), Mishima: A Life in Four Chapters (1985) and Auto Focus (2002) and written a great many scripts for other directors.
---
---