---
Crew
Director/Screenplay – Luc Besson, Photography (b&w) – Thierry Arbogast, Music – Anja Garbarek, Visual Effects – Buf (Supervisor – Stephane Naze), Special Effects Supervisor – Pierre Buffin & SFX Evolution (Supervisors – Georges Demetrau & Jerome Miel), Production Design – Jacques Bufnoir. Production Company – Europacorp/TF1 Films Production/Apipoulari Prod/Canal +/Sofia Europacorp.
Cast
Jamel Debbouze (Andre Moussa), Rie Rasmussen (Angela), Gilbert Melki (Franck), Serge Riaboukine (Pedro)
---
Plot
Andre Moussa is an Algerian immigrant living in Paris. Andre's unsuccessful attempts to run an olive oil business have ended him in debt to numerous gangsters. When the gangsters give him 24 hours to pay up, Andre's options start to run out. Seeing no other alternative, he decides to jump off a bridge into the Seine. However, a tall mystery girl appears and jumps off before he can. Andre dives in to save her. As they argue about it afterwards, the girl Angela offers to do whatever Andre wants. As Andre goes back to confront one of the people he owes, Angela offers herself to them to get the debt dropped. She then sells her body in a nightclub, which provides all the money that Andre needs to pay back his debts. However, Andre cannot bear her selling herself like that and forbids it. Angela then reveals that she is an angel who has been sent down to help Andre sort his life out and come to love himself.
---
In the 1980s, France's Luc Besson emerged as a director of films that had an assuredly stylish confidence and cool – the likes of the Subway (1986), The Big Blue (1988) – and then into the 1990s went onto a duo of dazzling action films – Nikita/La Femma Nikita (1990) and The Professional/Leon (1994). By the end of the 1990s, the assuredness of Luc Besson's earlier films had fallen into overinflated bombast – as witness flops like The Fifth Element (1997) and The Messenger: The Story of Joan of Arc (1999). Into the 00s, aside from odd outings like the children's film Arthur and the Invisibles (2006) and its sequels, Besson has taken more to producing (usually action) films for other directors. (A full list of Luc Besson's genre films is at the bottom of the page).
Angel-A is Luc Besson's one other directorial film of the 00s. It is clearly an effort on Besson's part to scale back the over-budgeted pomposity that began to overtake his films in the late 1990s. It is a fantastic film but one that eschews action and big-name stars (and for the most part even any overt fantastic elements). Although it isn't, Angel-A could easily have been a no-budget indie improvisational drama between two people. It is Luc Besson making a Little Film.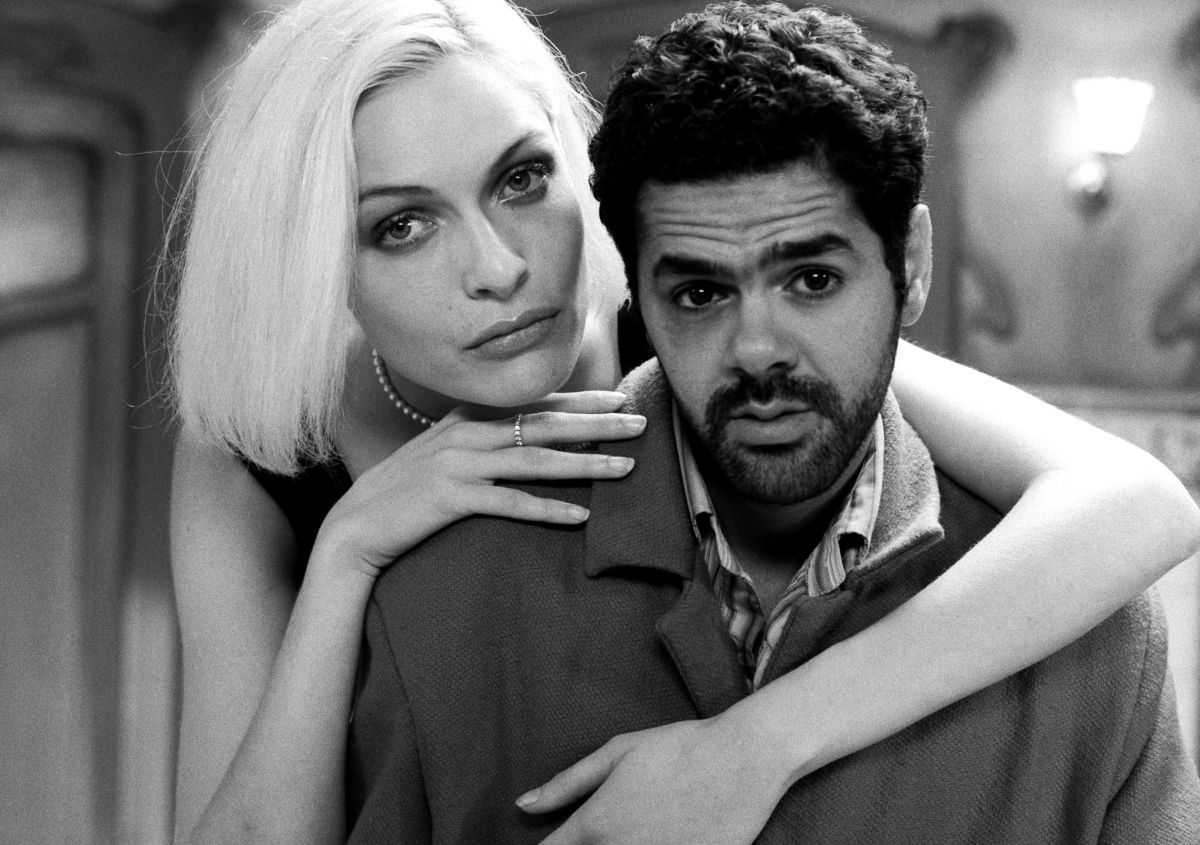 Angel-A has a quirky appeal. It is an odd mix of It's a Wonderful Life (1946) – angel saves a man from committing suicide and shows him how to love the things he has in his life – and streetwise down-on-their-luck-loser dramas like London Kills Me (1991) or Pusher (1998). That said, this is clearly an angel fantasy that is more Michael (1996) than it is It's a Wonderful Life and its ilk. A Michael where the title angel gets a sex-change from a boozy, eccentric John Travolta to a chain-smoking Rie Rasmussen who happily describes herself as a slut. One of the more eccentric aspects of Angel-A is how Luc Besson plays on Rie Rasmussen's 5'10" height, making her appear over 6 feet tall on screen and at least a foot taller than hero Jamel Debbouze. The result is as though a physically gawky version of Amazonian blonde bombshell Brigitte Nielsen had been recast in the female waif role frequently beloved of French cinema.
Perhaps taking a leaf from Wings of Desire (1987), Luc Besson has shot the entire film in black-and-white. Under Thierry Arbogast's camera, this opens the Parisian locations up with a considerable beauty. Besson keeps the elements of the overtly fantastic ambiguous – at least up until the end, these consist of no more than Rie Rasmussen levitating a saucer and causing a cigarette to regenerate, as well as the odd playful shot Besson throws in of her silhouetted beside a statue in Gilbert Melki's office that makes it look as though she has angel wings.
The early scenes have an amusement in Rie Rasmussen's facing off Jamel Debbouze's debtors or taking men off to a toilet cubicle in a nightclub to get money. The film posits the appealing idea that an angel is an alter ego of the person they have come to aid, where they appear as their assignee is on the inside with Besson then amusingly conjecturing that inside scruffy, diminutive Jamel Debbouze is a six-foot, Nordic blonde slut.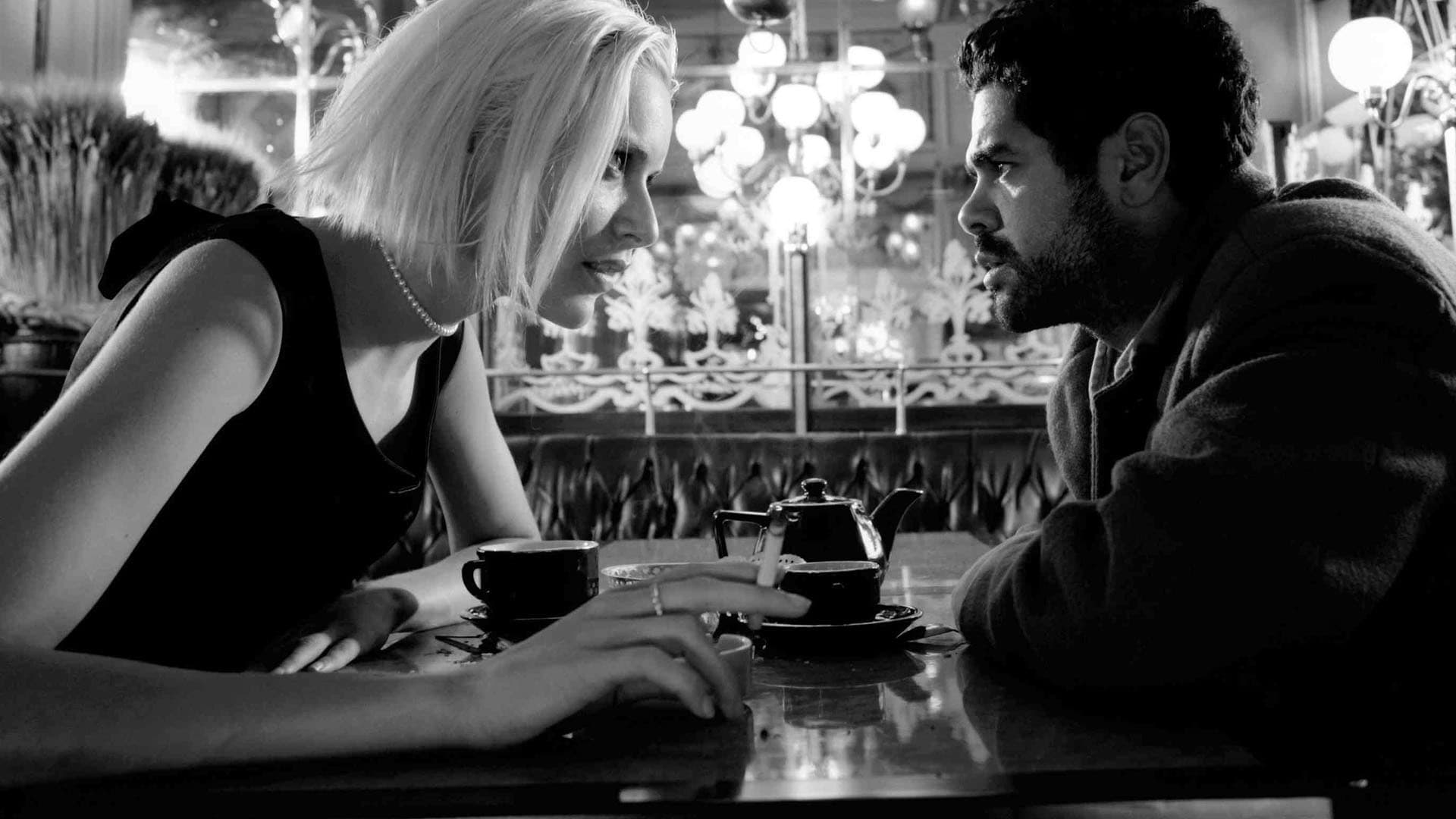 Once it gets past the initial comic scenes, Angel-A becomes a touching self-realisation drama where we see that Rie Rasmussen's angel has been sent down to teach Jamel Debbouze to love himself. The journey where we see a general screw-up in life slowly finding their self-esteem is gently appealing.
Luc Besson's other films of genre note are the arty Le Dernier Combat (1983) set in a post-holocaust world where people have become mute; the space opera/action film The Fifth Element (1997); his fantastical interpretation of the historical story of Joan of Arc in The Messenger: The Story of Joan of Arc (1999); Arthur and the Invisibles (2006), a part-live, part-animated film based on his own children's books about adventures in a land of miniaturized people, and its sequels Arthur and the Revenge of Maltazard (2009) and Arthur and the Two Worlds War (2010); the adventure film The Extraordinary Adventures of Adele Blanc-Sec (2010); Lucy (2014) in which Scarlett Johansson gains enormously expanded mental abilities; and the space opera Valerian and the City of a Thousand Planets (2017). Besson also produced and wrote The Dancer (2000) about a mute dancer who gains expression through a unique sound invention; produced the mystical quasi-sf Quebecois film Chaos and Desire (2002): wrote and produced the End Times serial killer thriller Crimson Rivers II: Angels of the Apocalypse (2003); produced the serial killer film Tristan (2003); produced and wrote the futuristic action film Banlieue 13 (2004); produced the serial killer thriller Tell No One (2006); produced the Backwoods Brutality film Frontier(s) (2007); produced the videogame adaptation Hitman (2007); produced the horror film The Secret (2007); produced and wrote Banlieue 13: Ultimatum (2009); produced the animated A Monster in Paris (2011); produced the orbiting prison film Lockout (2012); wrote/produced the English-language Banlieue 13 remake Brick Mansions (2014); and wrote/produced The Warriors Gate (2016) in which a videogamer is transported to Ancient China.
---
---