---
Crew
Director – Stuart Orme, Teleplay – Mark Haddon, Based on the Book by Raymond Briggs, Producer – Ian Whitehead, Photography – Stefan Ivanov, Music – Colin Towns, Visual Effects/Animation – D.A.M.N. FX, Production Design – Frank Walsh. Production Company – Galafilm/Indie Kids/Canadian Broadcasting Corporation/BBC.
Cast
Mak Wilson (Fungus/Stench), Clare Thomas (Jessica White), Jordan Metcalfe (Mould), Martin Clunes (George White), Flora Hogan (Mildew), Fay Ripley (Jane White), Alice Connor (Mucus), Tom Goodman-Hill (Tony), Charlie Hicks (Tom White), William Todd Jones (Gunge/Scab), Kate Lynch (Septic), Andrew Shim (Grot), Alakina Mann (Katie)
---
Plot
Fungus is a bogeyman who lives in Bogeydom beneath human civilisation where he and his fellow bogeys revel in all that is smelly, mouldy and rotting. Fungus frequently ventures to the surface to cause mischief in the human world. In rural Rutland, Fungus sneaks into the house of journalist George White but is seen by George's teenage daughter Jessica. Meanwhile, Fungus's son Mould has been hanging out with the wrong crowd and gets into trouble after he is found with soap, a scrubbing brush and travel brochures from the Upside world hidden under his mattress. Fungus decides to teach Mould a lesson by taking him on a venture to Upside. However, they are separated and Mould is found by Jessica who has become obsessed with the bogeys. Mould is forced to abduct Jessica and take her down into Bogeydom. Not knowing what to do with her, Fungus and his wife Mildew make her a prisoner. Jessica makes an escape but her abduction has provoked her father's journalistic interest in the bogeys, as well as that of an opportunistic colleague who sees the potential for lurid headlines. As they try to find evidence of the bogeys, Jessica must fight to protect Fungus and Mould from being discovered.
---
Fungus the Bogeyman is a four-hour tv mini-series adapted from Raymond Briggs's best-selling illustrated children's book Fungus the Bogeyman (1977). Raymond Briggs is one of the most popular British writer-illustrators and his works vie between children's books and adult satire. Briggs's most famous works include Father Christmas (1973) featuring a grumpy Santa; the much-loved and entirely wordless The Snowman (1978); When the Wind Blows (1982), a bleak vision of nuclear war; The Tin-Pot Foreign General and the Old Iron Woman (1984), a satiric attack on Margaret Thatcher and the Falklands War; Ethel and Ernest (1988), a depiction of his parents' marriage; and Ug: Boy Genius of the Stone Age and His Search for Soft Trousers (2001).
This British-Canadian mini-series has the novelty of being shot live and with CGI animated characters drawn over the top of the actors' performances a la The Polar Express (2004) to represent the bogeys. Necessarily, Raymond Briggs's original has been changed on its journey to the screen – there is a human family wound into the bogeyman goings-on that was never there in the book. In conception, the mini-series of Fungus the Bogeyman comes out somewhat like a combination of The Borrowers (1997) with its secret world of people that hide in the shadows and steal from humans, and The Garbage Pail Kids (1986). The plot is also not dissimilar to Pixar's Monsters, Inc. (2001) wherein a girl accidentally wanders into a forbidden realm of monsters where her presence has to be kept a secret lest the entire social order collapse. In both Monsters, Inc. and Fungus the Bogeyman, the monsters also enjoying playing practical jokes on and scaring humans.
The mini-series is played with a perfectly droll sense of humour. There are numerous sly puns and jokes in the background – humans are called Drycleaners, which is regarded as something monstrous, while old toothpaste ads and illustrations of vacuum cleaners are shown in a sinister light. There are some cute ideas – like when Fungus's son Mould falls in with the wrong crowd and is found with soap and a sponge, or where his mother finds him guiltily hiding copies of Home and Garden and travel brochures under his mattress. (This wit is much richer if one reads the original Briggs book).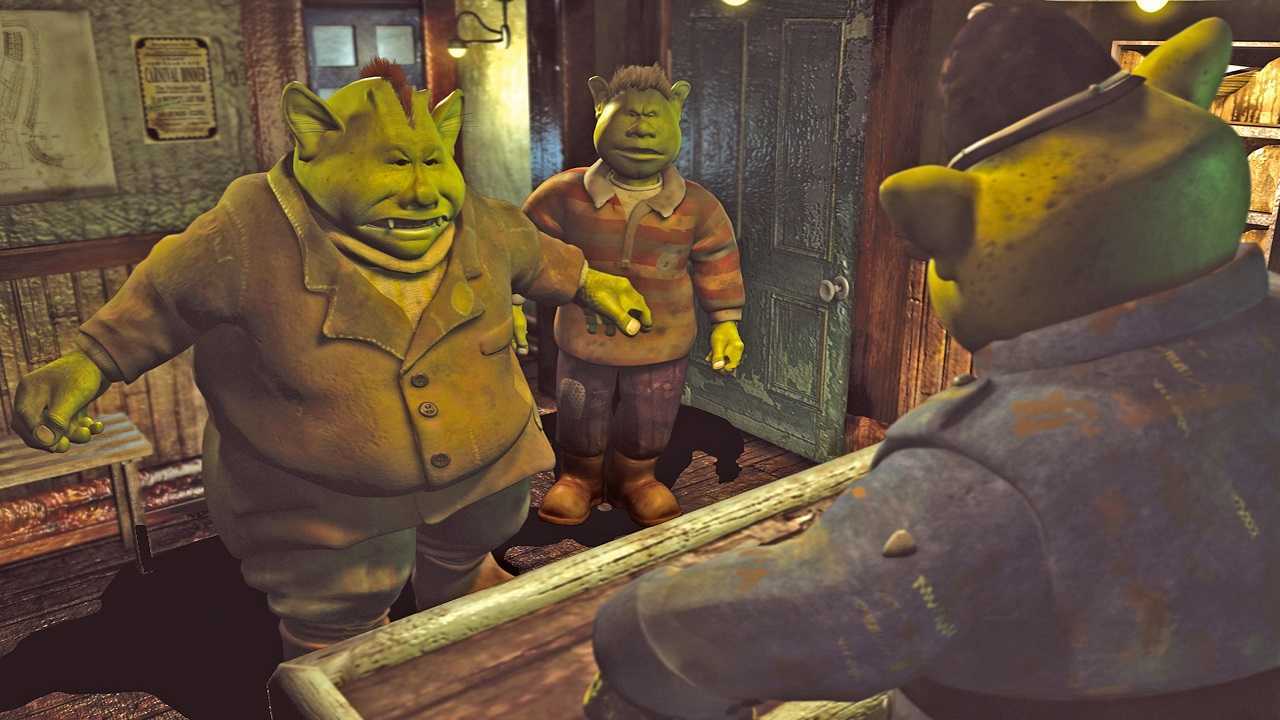 Even though the CGI animation is much more low-tech than in The Polar Express, the bogeys are extremely likeable and convincing characters, coming as they do with the wry British provinciality of Raymond Briggs's writing. The mini-series is probably a little long with too much running around between above and underground. One suspects that the story might have worked much more tightly as a feature film than a mini-series. On the whole, it is a likeable effort.
Raymond Briggs's other adaptations include:- The Snowman (1982), Father Christmas (1991) and The Bear (1999), all 30 minute long animated specials for British television. The Snowman in particular has become a perennial favourite. When the Wind Blows (1986) was a feature-length animated adaptation of Briggs' work about nuclear war.
Director Stuart Orme has made a number of other genre works, including the films The Wolves of Willoughby Chase (1989) and The Puppet Masters (1994), and British tv works such as Heaven on Earth (1998), The Lost World (2001), Cold Blood (2005-6), Ghostboat (2006) and Cold Blood: The Last Hurrah (2007).
Fungus the Bogeyman (2015) was a further tv mini-series adaptation of the Raymond Briggs book.
---
---