---
UK/USA. 2000.
Crew
Director – Andy Wilson, Teleplay – Malcolm McKay, Based on the Novels Titus Groan and Gormenghast by Mervyn Peake, Producer – Estelle Daniel, Photography – Gavin Finney, Music – Richard Rodney Bennett, Visual Effects Supervisor – Simon Giles, Special Effects Supervisor – Tom Harris, Makeup Design – Christine Greenwood & Joan Hills, Production Design – Christopher Hobbs. Production Company – BBC/WGBH Boston.
Cast
Jonathan Rhys Meyers (Steerpike), John Sessions (Dr Alfred Prunesquallor), Warren Mitchell (Barquentine), Neve McIntosh (Lady Fuchsia), Christopher Lee (Flay), Celia Imrie (Lady Gertrude), Zoe Wanamaker (Lady Clarice), Lynsey Baxter (Lady Cora), Richard Griffiths (Swelter), Stephen Fry (Professor Bellgrove), Andrew N. Robertson (Titus Groan), Ian Richardson (Lord Sepulchrave Groan), Fiona Shaw (Irma Prunesquallor), June Brown (Nannie Slagg), Cameron Powrie (Young Titus), Olga Sosnovska (Keda), Spike Milligan (Headmaster De'ath), Daniela Zucchi (Wild Girl), Caroline Nelson (Young Wild Girl)
---
Plot
In the vast and labyrinthine Castle Gormenghast where tradition and tedious ritual holds precedence over everything else, Titus, the 77th Earl of Groan, is born to Lord Sepulchrave and Lady Gertrude. Meanwhile, down in the kitchens, the young scullery rat Steerpike desires to rise above his station. By wheedling, being obsequious and appealing to people's vanities, Steerpike is able to rapidly rise through the palace hierarchy, becoming assistant to the royal doctor Alfred Prunesquallor and then to the royal secretary Barquentine. Steerpike then appeals to Sepulchrave's twin sisters, Lady Clarice and Lady Cora, and their frustrated desire to hold the power of the throne and gets them to set a fire in Lord Sepulchrave's library. The destruction of his beloved books drives Sepulchrave mad and he starts to believe that he is an owl. His body is carried away by owls under mysterious circumstances, leaving the infant Titus to inherit the Earlship. As he grows into a young man, Titus begins to detest the ritual that dominates his life and desires to be free. However, Gormenghast faces threat from the increasingly murderous schemes of Steerpike.
---
Mervyn Peake's Gormenghast trilogy is one of the classics of fantasy literature. (Although Gormenghast sits just on border between being fantasy or something purely mundane about a made-up land like Ruritania or the Duchy of Grand Fenwick – it is set in a clearly fantastical world, although in itself there are no fantastical happenings). Mervyn Peake (1911-68) was an English author who was born in China where he lived until the age of thirteen. Peake was probably better known during most of his lifetime as an artist, where he worked in numerous capacities – as an exhibition painter, as a book and children's book illustrator and for the British government during World War II, including being commissioned to draw the sights at the Belsen concentration camp immediately after the War.
As an author, Mervyn Peake published little during his lifetime – a children's book, four books of poems and one other fantasy novel Mr Pye (1953), but will always be known for the Gormenghast trilogy. The Gormenghast trilogy consists of Titus Groan (1946), Gormenghast (1950) and Titus Alone (1959), the latter published uncompleted after Peake developed Parkinson's Disease. It is said that Peake drew his inspiration for the world of Gormenghast from the journeys of his early youth through the remnants of imperial China with his father, a doctor. The image of the castle that permeates the books was taken from the vast sprawling Arundel Castle in West Sussex that dominated the skyline where Peake lived in the village of Burpham during the writing of most of the Gormenghast books.
This was a BBC tv adaptation of the Gormenghast books. The mini-series only adapts the first two books, leaving out the fragmentary Titus Alone, wherein Titus finally leaves the castle and travels to a strange futuristic city that resembles the present world. The mini-series was made at four-hour length and is screened variously in four one-hour or two two-hour parts.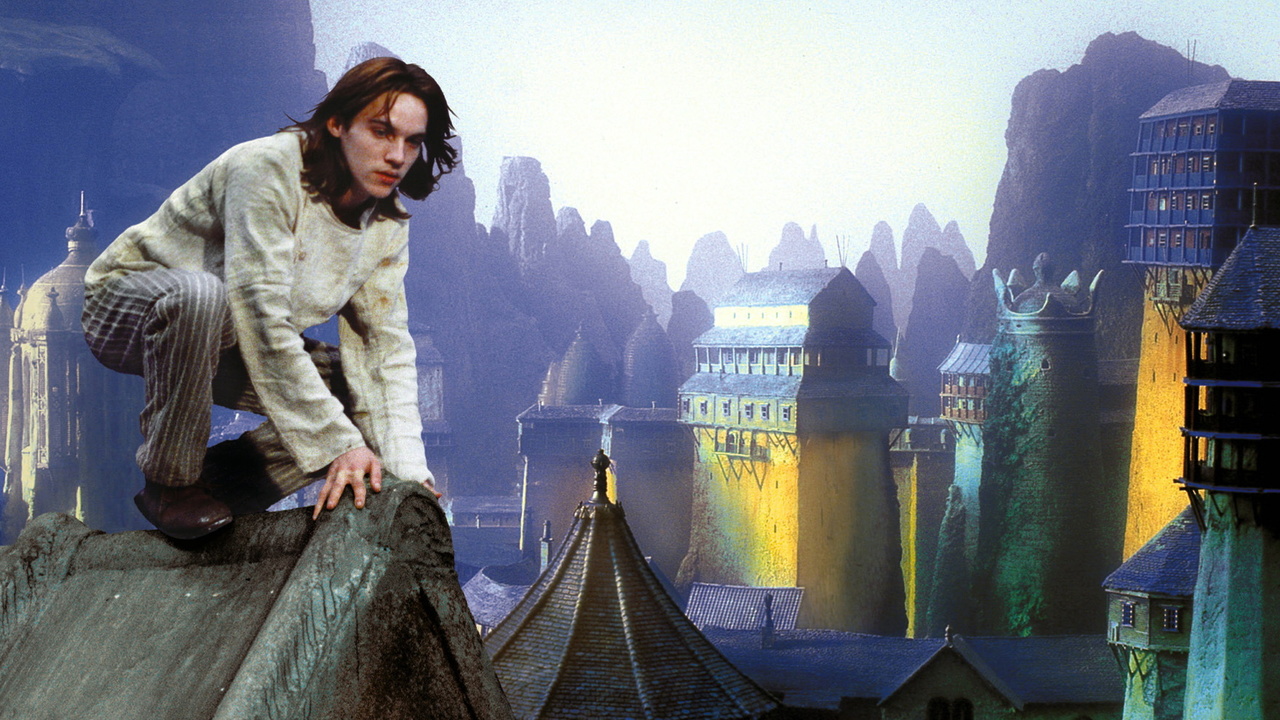 I loved the Gormenghast books – in fact, I may even be so heretical as to say that I think Mervyn Peake is a better writer in terms of place and character than J.R.R. Tolkien. Peake was a master of texture who would describe something to hyper-exaggerated extremes – I remember where Peake devoted one entire chapter to the single image of a baptismal party as reflected in a dewdrop.
Alas, the Gormenghast mini-series kills the books off. Director Andy Wilson has no appreciation of Mervyn Peake's texture and treats everything with a cartoonish giddiness. There is no sense in the mini-series of anything like what the books conveyed – of the weight of the castle that surrounded every character, with everything covered in dust and the ritual having gone on to the point that it has reduced the lives of everyone living there to meaninglessness. Rather, the mini-series is Mervyn Peake's world played out in a colourfully silly and absurdly over-ornamented landscape akin to The Wizard of Oz (1939) or Willy Wonka and the Chocolate Factory (1971).
Andy Wilson seems to have encouraged his cast to go as over-the-top as much as possible and most of them overact horrendously. Jonathan Rhys Meyers' villainy comes with a theatrically overwrought absurdity (although once Rhys Meyers gets his mask, the villainy of Steerpike starts to become something physical). Some of the scenes with Jonathan Rhys Meyers posturing, doing silly faces and producing eggs out of his mouth for Neve McIntosh's Fuchsia or mocking Christopher Lee's Flay are incredibly silly.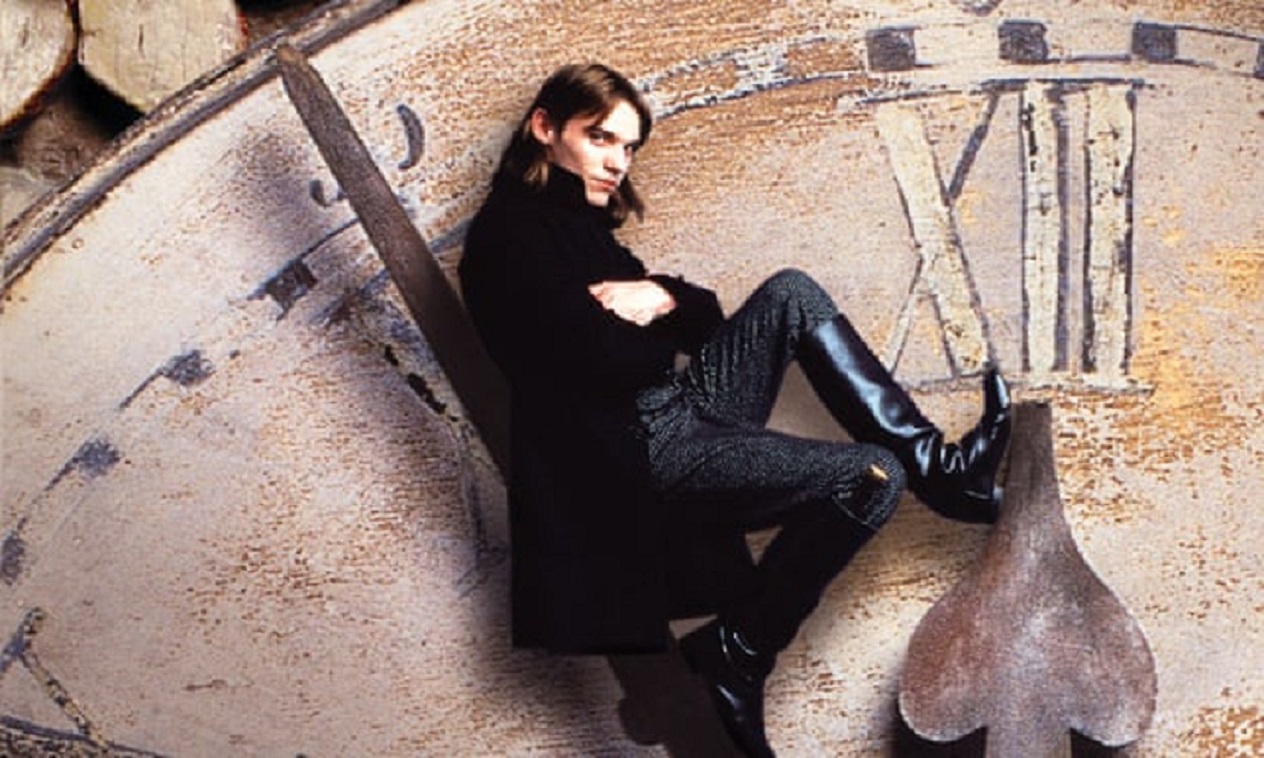 Among the rest of the exaggerated caricatures that pass for performances, in particular Warren Mitchell, usually a fine performer in British comedies like Till Death Do Us Part (1965-75), plays with an abrasively shrill falsetto and quaver that irritates in a major way whenever he is on screen. Cameron Powrie, the actor playing the young Titus, is wooden in his perpetually cross intensity.
The castle is depicted with some not very special digital effects – people lounge against obviously inserted blue screen backgrounds. Occasionally Andy Wilson creates some imaginative visions – Ladies Clarice and Cora holding a tea party along the trunk of a giant tree that is growing out of the wall of the castle at a 90-degree angle, or of Steerpike having fallen down a vast wall and caught onto the arm of a giant clock. Other scenes unfortunately descend into pure slapstick – the fight to the death between Flay and Swelter is directed as a comic set-piece rather than a dramatic scene; the pure silliness of scenes like where Steerpike commands the twin sisters to sit down in the water in the lake; or where Spike Milligan's decrepit headmaster is propelled out of a classroom window.
In 2018, it was announced that Neil Gaiman was working on a new adaptation of the Gormenghast books for tv.
The only other of Mervyn Peake's works to be adapted to the screen was Mr Pye (1986), an enjoyably funny mini-series where Derek Jacobi alternately becomes angel-like and then devil-like. The Boy in Darkness (2000) was also a short film adaptation of Peake's short story pendant to the Gormenghast cycle.
---
Trailer here
Full mini-series available online beginning with Episode 1 here:-
---