---
UK. 2015.
Crew
Director – Catherine Morshead, Teleplay – Tom MacRae, Additional Material – Guy Andrews, Based on the Book by Raymond Briggs, Producer – John Chapman, Photography – David Marsh, Music – Stephen Warbeck, Visual Effects – DNEGTV (Supervisor – Hayden Jones), Special Effects Supervisor – Steve Bowman, Production Design – Anna Higginson. Production Company – Imaginarium Studios.
Cast
Timothy Spall (Fungus), Joanna Scanlan (Mildew), Marc Warren (Daryl Hedge), Keeley Hawes (Wendy Hedge), Victoria Wood (Eve), Fern Deacon (Lucy Hedge), Haydon Downing (Mould), Paul Kaye (Scarface), Jimmy Akingbola (Reverend Jake Ruto), India Ria Amarteifio (Ella), Dean Charles Chapman (Dean), Rhiannon Wallace (Racinda)
---
Plot
Fungus is a bogeyman who lives in a secret underground society of bogeys that love all that is filthy and disgusting. During the hours of night, Fungus ventures up to the surface to scavenge human refuse. Fungus and his wife Mildew are shocked when their teenage son Mould admits that he is 'dry curious' – desiring to follow the lifestyle of the Drycleaners, the name given to the humans on the surface world, and revere cleanliness. After an argument, Mould runs away. Fungus and Mildew venture up to the surface to get him back. In their absence, they are banished from bogey society. Fungus shows them the art of face-folding – rearranging their hideous green features to resemble humans – so they can blend in. They are taken in by Eve, a Drycleaner with a secret past among the bogeys, who buys them a house next to the Hedge family. In trying to settle in and act as normal Drycleaners, Fungus and family cause a great many raised eyebrows with their strange ways. At the same time, seeing Fungus's true form has caused the local vicar to start a panic about monsters.
---
Fungus the Bogeyman is a tv mini-series in three one-hour part adapted from Raymond Briggs's best-selling illustrated children's book Fungus the Bogeyman (1977). Briggs is a popular British writer-illustrators whose works move between children's books and adult satire. Briggs's most famous works include Father Christmas (1973) featuring a grumpy Santa; the much-loved and entirely wordless The Snowman (1978); When the Wind Blows (1982), a bleak vision of nuclear war; The Tin-Pot Foreign General and the Old Iron Woman (1984), a satiric attack on Margaret Thatcher and the Falklands War; Ethel and Ernest (1988), a depiction of his parents' marriage; and Ug: Boy Genius of the Stone Age and His Search for Soft Trousers (2001).
This was the second screen adaptation of the Raymond Briggs book, following the earlier British-Canadian made tv mini-series Fungus the Bogeyman (2004), which was likewise in live-action with CGI used to represent Fungus and family. Both mini-series follow essentially the same plots – from Briggs they take the idea of Fungus, his wife Mildew and troubled son Mould who is having ideas of joining the Drycleaners. Both mini-series also add to the book a plot that has Fungus and family emerging from underground to become involved in a series of comic mishaps with an average human family.
The mini-series keeps the same puns and jokes that Briggs made about the aboveground lifestyle but takes the opportunity to go to town on the disgustingness of the bogeys lives. Variously, we see them celebrating muck, stench, rotting food, farts, belching, drinking toilet water and eating fish heads. Mildew moves into a brand new house and gets all excited about being able to spread the contents from neighbourhood trash bins over the walls and floor. The two scenes that had my viewing companion unable to keep watching was the one where the bogeys sit down to eat a meal of "baby bum bags" (ie. used diapers) and the one where Timothy Spall mixes various household products in order to make his cup of tea drinkable. One of this series more amusing jokes is to contrast Mould's fascination with the Drycleaner lifestyle with a gay coming-out and suddenly proclaim that he is "dry-curious."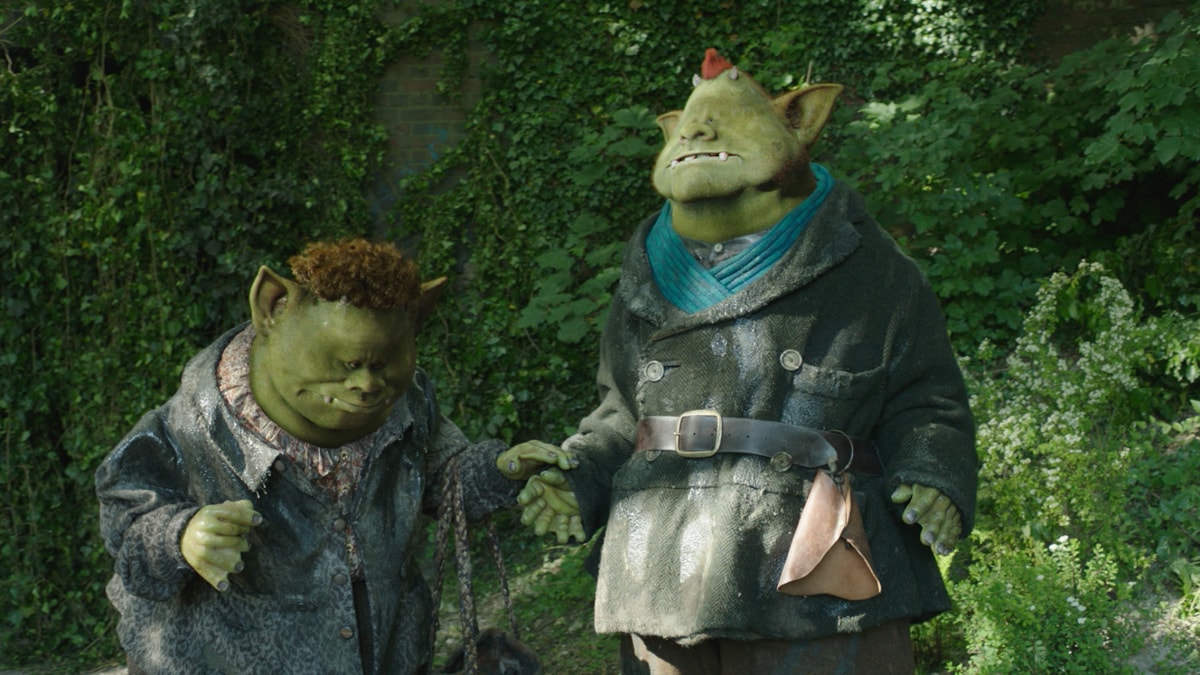 The CGI used to create the bogeys is certainly more technically accomplished here than it was in the 2004 mini-series. That said, one of the big complaints about this series is that it cheats and invents the notion of 'face-folding' (something that does not appear in the Briggs book) and quickly has the bogeys replaced by regular actors as soon as it gets aboveground. Thus, apart from bookended sequences at the start and end and occasional moments where the bogeys lose control, the bogeys are pushed to the side and the mini-series becomes a regular live-action show.
As such, it conducts some likeable comic contortions – Marc Warren offers them a cup of tea, "Milk everyone?" to which Timothy Spall responds "You're welcome to milk my wife but I don't think I'm equipped." As the face-folded Fungus, Timothy Spall appears to play the part with his face in a frozen bug-eyed expression of fear at the same time as suffering from a nervous stammer.
Raymond Briggs's other adaptations include:– The Snowman (1982), Father Christmas (1991) and The Bear (1999), all 30 minute long animated specials for British television. The Snowman in particular has become a perennial favourite. When the Wind Blows (1986) was a feature-length animated adaptation of Briggs' work about an elderly couple trying to deal with the onset of nuclear war.
---
Trailer here
---