---
USA/Germany. 2011.
Crew
Director/Screenplay – Miranda July, Producers – Gina Kwon, Gerhard Meixner & Roman Paul, Photography – Nikolai von Graevenitz, Music – Jon Brion, Visual Effects – Grant Keiner & Eliza Pelham Randall, Production Design – Elliott Hostetter. Production Company – Razor Filmproduktion/GNK Productions/Film 4/The Match Factory/Haut et Court/Medienbord Berlin-Brandenburg/Filmförderungsanstast
Cast
Miranda July (Sophie/Voice of Paw-Paw), Hamish Linklater (Jason), David Warshofsky (Marshall), Joe Putterlik (Joe/Voice of The Moon), Isabella Acres (Gabriella), Angela Trimbur (Dance Studio Receptionist), Mark Atteberry (Tree by Tree Canvasser)
---
Plot
Sophie and Jason are a Los Angeles couple, both in their mid-thirties and four years into their relationship. They rescued a stray cat with a wounded paw and took it to an animal shelter. They make the decision that they will adopt the cat rather than see it euthanised but are told they have to wait thirty days until it is able to leave the shelter. Thinking about the responsibility they have taken on makes them contemplate the future. They make a spontaneous decision to quit their nowhere jobs – Jason as an IT phone support worker and Sophie as a dance teacher – and spend the remaining thirty days of freedom following their passions. Jason decides to go with whatever chooses him and signs up with a door-to-door campaign asking people to buy trees to stop global warming. Sophie wants to follow her passion of uploading a video of a new dance move to YouTube every day but is unable to feel inspired about even the first day. She randomly calls a phone number left on the back of a drawing they brought at the animal shelter where she befriends and then begins an affair with the older divorcee Marshall.
---
Miranda July is a name that developed an instant cool with the discovery of her first film, the indie hit Me, You and Everyone We Know (2005). July has proven a multi-disciplined talent – she has been writing, directing and starring in her own material ever since she began running a cooperative that sold video compilations of short films contributed by other women via mail. Outside of film, July has become an award-winning short-story writer, has created an online arts community, and is a singer and multimedia performer. She subsequently went on to direct/write but not star in the heist comedy Kajillionaire (2020)
The Future was Miranda July's second film with she again directing, writing and starring. It is a similar whimsical, appealingly eccentric and off-centre look at life and relationships. And The Future is about as whimsically eccentric as it gets with Hamish Linklater having conversations with a talking moon; the film being narrated by a stray cat; where an ambulatory blanket appears to be stalking Miranda; while Hamish Linklater also has the ability to stop time – shades of Cashback (2006). This is the sort of thing that teeters between offbeat charm – Miranda July's leaps off into fantasy here make you think of Michel Gondry films with their nutty little throwaway visual gags – and just being silly. Certainly, when July throws in scenes of her opening a window to shout across the city in order to see if she and David Warshofsky live in the same area, she seems determined to push the envelope.
At the centre of The Future is the presence of Miranda July itself. A tall, gangly beanpole figure – she is like the studious girl at high school who was pretty but too awkward and nerdy to get dates. July even has a monologue here at one point bemoaning the fact that she wishes she had one notch on the dial closer to pretty in terms of looks. Equally, with just one notch more you feel that Miranda July's work could move from indie whimsy to a wry mumblecore cynicism, yet she often continues to play scenes that could easily have gone that way with a peculiar deadpan innocence.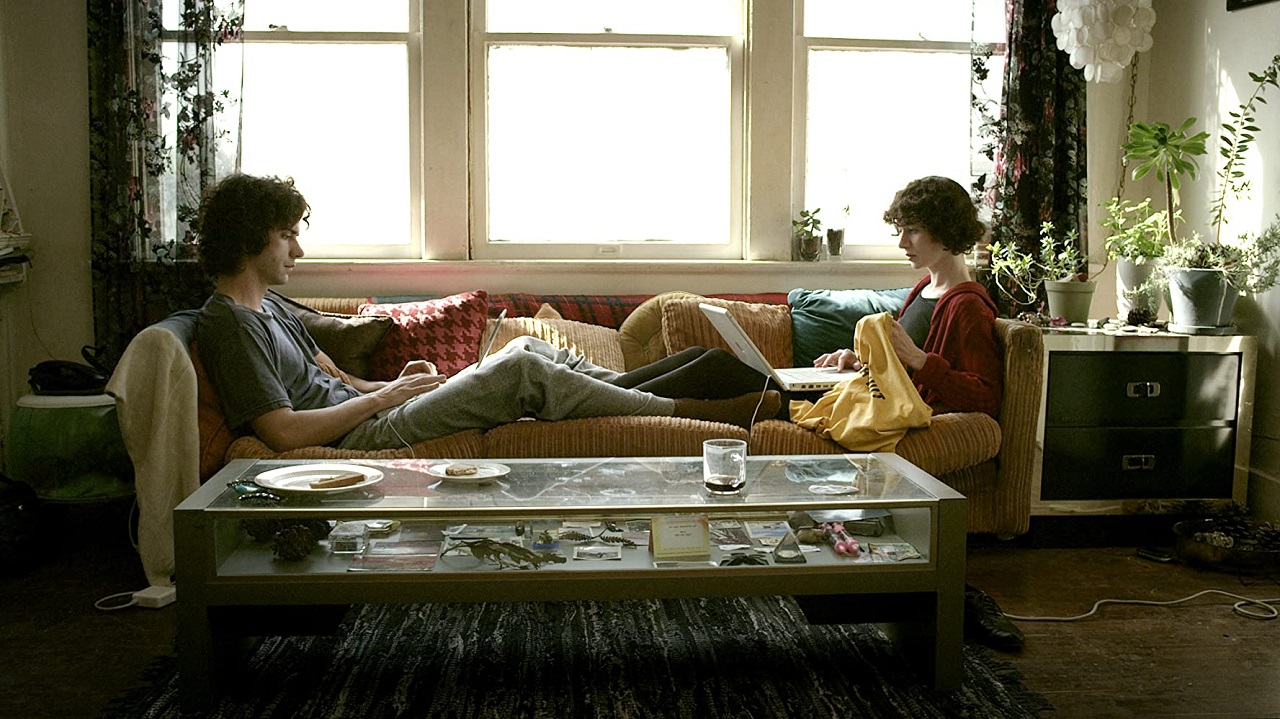 A mainstream filmmaker Miranda July certainly is not – if you were to imagine a mirror opposite in terms of where she sits on the spectrum of woman directors you would probably find someone like Nora Ephron. July's films come together in ways that are not always neatly wrapped – you can search in vain for cliche cues and banal epiphanies.
The whimsy does settle down with undeniable effect. The cat narration (conducted by Miranda July herself affecting an annoyingly squawky child's voice), for example, seems an irritatingly twee effect at the outset but soon develops an extraordinary striking and poetic viewpoint – and eventually leads to a heartbreaking end. The scenes with Hamish Linklater talking to the moon and freezing time pan out into some potent writing in the scene where we see him with Miranda held under a blanket not wanting to unfreeze her and allow the moment to transpire where she will leave him.
Yet for all her claim that she writes her films and stories about emotions rather than plot, Miranda July's central character is a curiously blank one. Her portrayal of relationships seems oddly dissociated from any negative emotions such as anger, pain, guilt or unhappiness. At most, we see her expressing frustration at her failure to get inspired about her series of YouTube dance moves. Her having an affair with David Warshofsky sits in a black box where we are left entirely in the dark regarding any of her reasons for doing so, about her unhappiness at staying with Hamish Linklater or indeed for eventually leaving Warshofsky. That leaves the central character an odd blank in terms of effect – The Future almost feels like a film where the character's emotional reactions have all been surgically excised. Certainly, the last scene of the film is an oddly affecting one but it says so much in terms of what the characters have never discussed as to be frustrating.
---
Trailer here
---