---
Crew
Director/Screenplay – Garth Jennings, Co-Director – Christophe Lourdelet, Producers – Janet Healy & Chris Meledandri, Music – Joby Talbot, CGI Supervisors – Laurent De La Chapelle & Boris Jacq, Animation Directors – Patrick Delage, Pierre-Francois Duhamel & Pierre Leduc, Art Direction – Olivier Adam. Production Company – Illumination.
Voices
Matthew McConaughey (Buster Moon), Scarlett Johansson (Ash), Bobby Cannavale (Jimmy Crystal), Reese Witherspoon (Rosita), Tori Kelly (Meena), Bono (Clay Calloway), Taron Egerton (Johnny), Nick Kroll (Gunter), Garth Jennings (Miss Crawly), Halsey (Porsha Crystal), Chelsea Peretti (Suki), Adam Buxton (Klaus Kickenklober), Leiitia Wright (Nooshy), Eric Andre (Darius), Pharrell Williams (Alfonso), Jennifer Saunders (Nana Noodleman), Nick Offerman (Norman), Peter Serafanowicz (Big Daddy)
---
Plot
Buster Moon puts on a musical production of Alice in Wonderland to sell-out audiences. However, Suki, the assistant to big name Redshore City producer Jimmy Crystal, walks out, saying they don't have what it takes. Buster persists and uproots the various animals and they set out to Redshore City. Not having a pass to Crystal's audition, they sneak in disguised as cleaners. Their act is rejected by Crystal until Gunter suggests the idea of a science-fiction musical and Buster intimates that he knows Clay Calloway, a big name singer who has been reclusion for the last fifteen years. Crystal agrees to back their show if they can get Calloway as their headline act. As rehearsals begin, Buster is stuck with how to lure Calloway who has been in seclusion since the death of his wife out of his fenced and booby-trapped compound. Meanwhile, the show is plagued by problems including a lack of script, Crystal insisting his daughter Portia take the female lead and the threat of Crystal throwing Buster off the top of the building if the show proves a disaster.
---
Sing (2016) was the sixth film from the French animation company Illumination who had had a great deal of success with Despicable Me (2010) and sequels, which created the pop culture icons of the Minions. Illumination has also made various Dr Seuss adaptations such as The Lorax (2012) and The Grinch (2018), The Super Mario Bros. Movie (2023) and original efforts like The Secret Life of Pets (2016), Amid these, Sing proved an unexpected delight. It took the idea of the jukebox film where popular songs are reworked in musical form and gave it an animated spin, adding a plot set around a singing competition a la American Idol (2002– ) et al and peopled it with talking animals and gave the roles a celebrity voice cast.
Sing 2 is a sequel that reunites director/writer Garth Jennings and all of the principal voice cast. The original plot of Buster, the dodgy but likeable koala (voiced by Matthew McConaughey of all people), uniting a disparate ensemble of oddballs to create a singing competition has been expanded in scope. Now we have Buster creatively lying his way into putting on a big stage spectacular in the talking animal equivalent of Las Vegas.
The depictions of Las Vegas and in particular the production of the show and its staging as the big finale of the film allow the Illumination team to go all out with creating some exquisitely detailed and spectacularly colourful backgrounds. The sequel is not as much of a comedy film as its predecessor, although it is by no means without its eccentricities – in particular, a scene where the group sneak into the hotel elevator by hanging from the side of a cleaning cart. There is not quite the sense here of each of the characters coming on with their backstory – more the case that all of them weave together as part of an ensemble and each get their own set piece.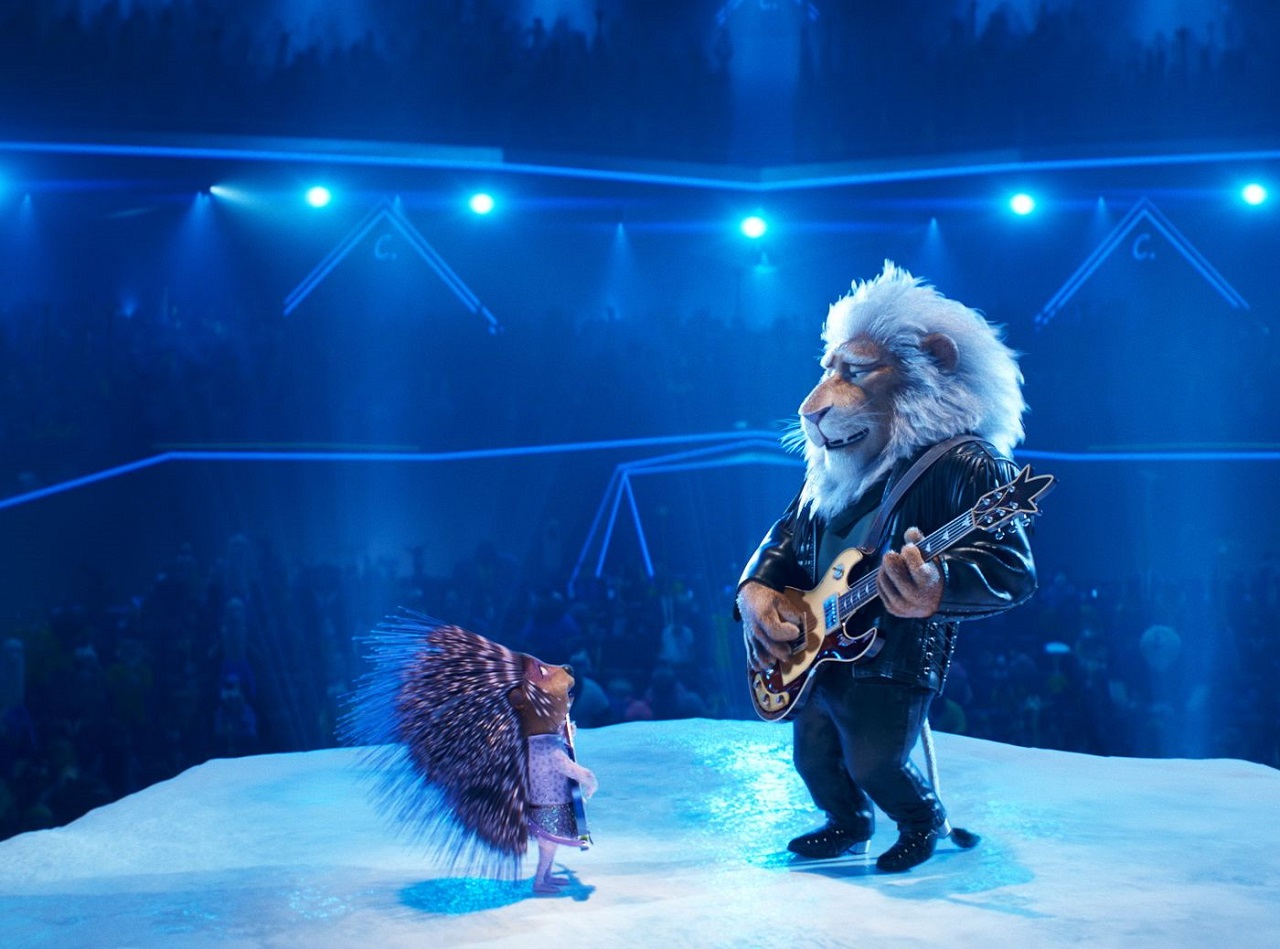 The big act the film is built up around is the appearance of Bono, the lead singer of the rock supergroup U2, as Clay Calloway. Although it seems fashionable to hate U2 these days (I'm not one of the haters), they have grown from a Dublin high school band in the late 1970s to one of the biggest rock acts in the world, while on the side Bono has become an ardent political voice in pushing for philanthropy and the voices of marginalised peoples. Bono has appeared on film before with voice work in episodes of The Simpsons (1989- ) and a cameo in Across the Universe (2007), as well as coming up with the story for The Million Dollar Hotel (2000).
My question before sitting to watch the film was trying to square Bono as a big ardent political voice with him voicing a role in a family friendly film, which cannot help but seem like a sellout on some kind of integrity. On the other hand, actually watching the film, it is far different. Bono plays an Elvis-like figure and the character has a great arc where he needs to be coaxed out of his reclusion. There are various reworked versions of U2 songs throughout and when Clay eventually emerges for his duet at the end, it proves an emotional showstopper.
---
Trailer here
---