---
Crew
Director – Chris Renaud, Co-Director – Jonathan Del Val, Screenplay – Brian Lynch, Producers – Chris Meledandri & Janet Healy, Music – Aleandre Desplat, Animation Directors – Patrick Delage, Gwenole Oulc'hen & Julian Soret, Production Design – Colin Stimpson. Production Company – Illumination Entertainment.
Voices
Patton Oswalt (Max), Kevin Hart (Snowball), Jenny Slate (Gidget), Eric Stonestreet (Duke), Harrison Ford (Rooster), Tiffany Hadish (Daisy), Lake Bell (Chloe), Dana Carvey (Pops), Bobby Moynihan (Mel), Hannibal Buress (Buddy), Chris Renaud (Norman), Ellie Kemper (Katie), Nick Kroll (Sergei), Pete Holmes (Chuck), Henry Lynch (Liam), Sean Giambrone (Cotton), Michael Beattie (Led Wolf), Meredith Salenger (Cat Lady)
---
Plot
Max's owner Katie meets Chuck, they get married and soon after have a young baby Liam. Max becomes very attached to Liam and starts to experience anxiety about protecting him. Katie takes Max to a vet that specialises in behavioural issues whose solution is to place a cone around Max's neck to stop him scratching. Soon after, Katie and Chuck take Max and Duke with them to stay on the farm of an uncle. Max is amazed at the open countryside. While he is away, Max has left his favourite Busy Bee toy with Gidget to look after. However, she drops the Busy Bee out the window and it falls down into an apartment inhabited by a cat lady and her dozens of cats. Gidget's only solution is to go to Chloe and take lessons in how to pass herself off as a cat in order to sneak in and retrieve the Busy Bee. Meanwhile, Snowball dreams of being a superhero after his owner dresses him in a costume. Daisy comes to Snowball, telling the story of Hu, a white tiger taken in a cage to the circus of the sadistic Sergei. Together they hatch a plan to rescue Hu but are then stuck with the problem of where to hide a tiger in the apartment.
---
The animation company Illumination Entertainment made a big splash with their first film Despicable Me (2010), which proved an unexpected delight with audiences and became one of the biggest hits of its year, while the small supporting characters of the Minions went on to take over popular culture. Thereafter Illumination seemed trapped in having to keep repeating the same success and churned out Despicable Me 2 (2013), Minions (2015), Despicable Me 3 (2017) and Minions: The Rise of Gru (2022), all to lesser regard than the original, as well as an unhappy venture into live-action with the Easter Bunny film Hop (2011) and a couple of Dr Seuss adaptations with The Lorax (2012) and The Grinch (2018).
Just when one was happy to dismiss Illumination as one-hit wonders, they bounced back in 2016 with two appealing original works The Secret Life of Pets (2016) and Sing (2016). Indeed, The Secret Life of Pets proved to be the fourth highest grossing film of its year worldwide.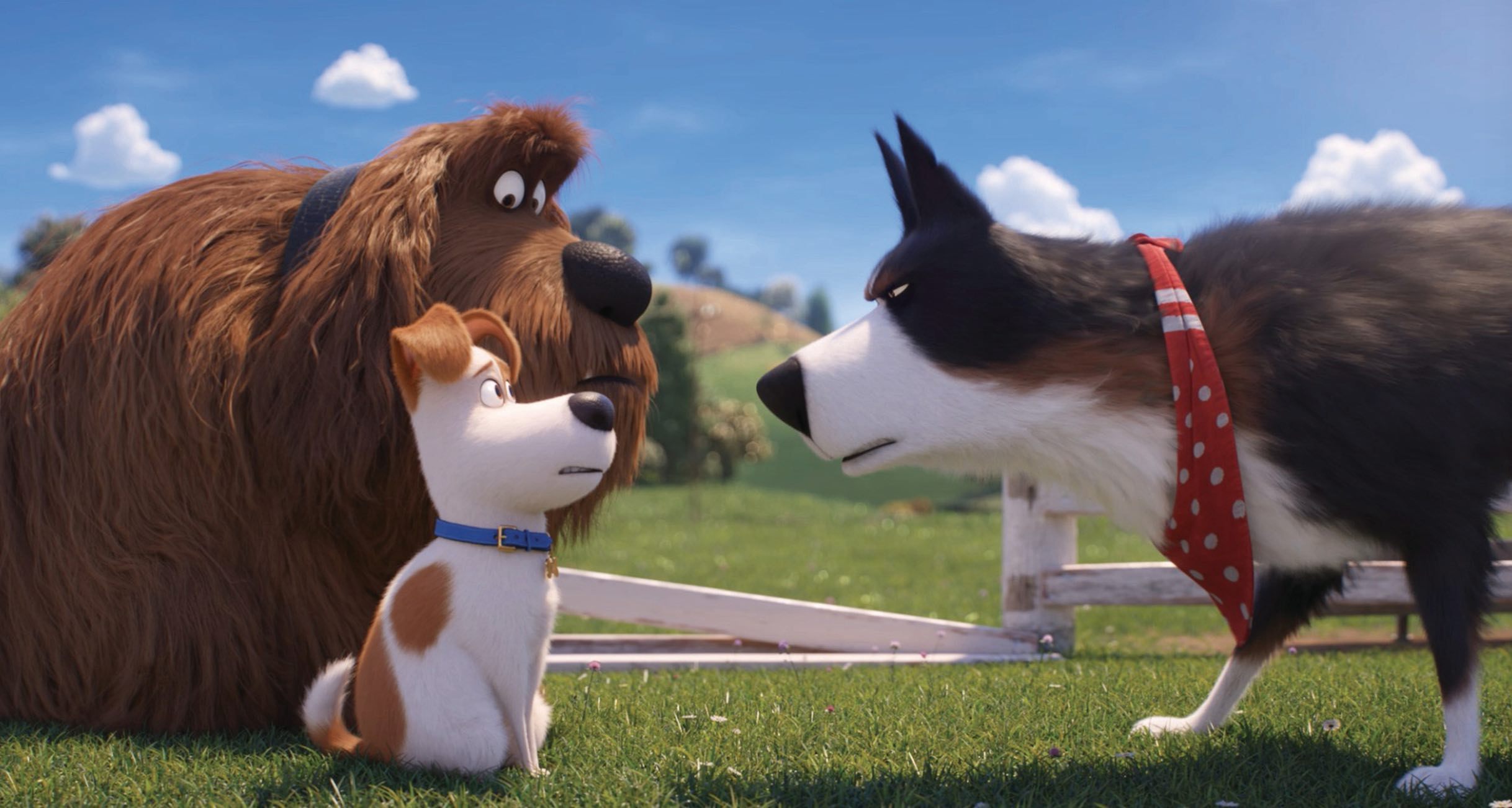 Creating an animated hit that leads to a franchise is the holy grail of the modern animated film. Fairly much every animated film that has been a success from the late 2000s onwards has been treated in such a manner. This has resulted in a series of animated sequels that just keep putting the same characters through slightly different situations and locales – finding long lost parents or siblings, meeting love interests or having children, or where the characters are uprooted from their familiar surroundings for an adventure and/or forced to find their way back home – the worst offenders here being the Ice Age and Madagascar films. The Despicable Me films are also guilty of this. I used to enjoy watching animation but this interminable sequelitis in which characters that were liked the first time around are slotted through near-identical adventures or plotting contrivations play out with a tedious predictability that has caused me to switch off and stop watching.
The Secret Life of Pets 2 falls into this same trap. All of the same talents are back (excepting Louis C.K. who voiced Max in the original and has been replaced here by Patton Oswalt since Louis is now persona non grata after sexual impropriety allegations emerged against him in 2017). The plot has each of the main characters involved in a story arc of their own – Max and Duke going into the countryside, Gidget having to venture into the apartment of a crazy cat lady, and Snowball drawn into the scheme to rescue a white tiger from the circus.
Going into the film with critical hackles raised, I have to say The Secret Life of Pets 2 proved a far more likeable animated film than anything I might have expected it to be. This is a film that in its small quiet pieces of throwaway background detail and gags – the montage of scenes during the opening as Max bonds with Liam, for instance – is something that Pixar in their seeming ham-fisted inability to make any of their sequels to their classic films work could learn from. The film has a very malleable concept – I could easily see the 'secret life of pets' scenario telling the stories of the pets in an apartment and their owners as the basis of a comic-strip not unlike Garfield.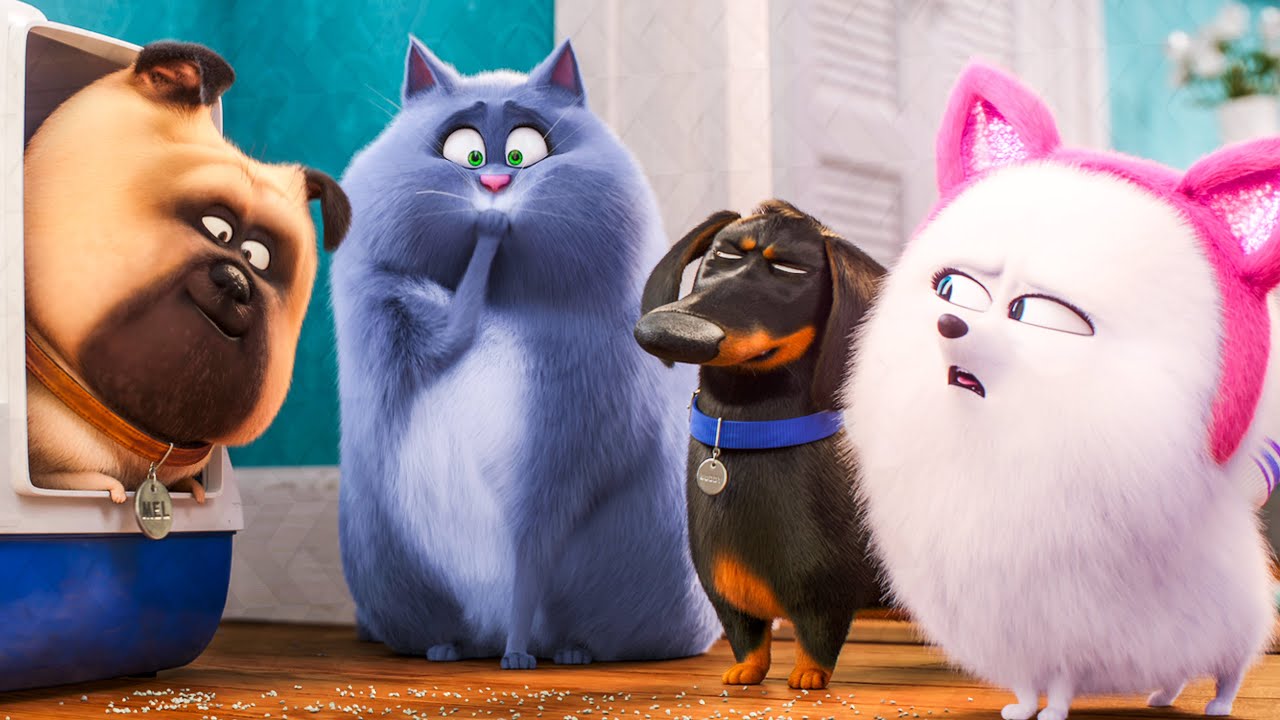 The familiar characters each get their own arc – Max having to stop being a worrier and discovering the country life; Gidget and the rather funny scenes where she has to learn to be a cat (and the even funnier ones where she is regarded as a cat god); and Snowball and the liberation of the tiger. You are even cheering on Max during the scenes where he rescues Cotton the sheep, all presided over by Harrison Ford, perfectly voice cast in a role that should mandatorily have been played by Sam Elliott.
The plot gets slightly contrived – the idea of Max asking Gidget to look after his toy seems inserted for the sole purpose of giving her a story arc this time around. There is a credibility-defying climax involving animals racing to the rescue aboard a remote-controlled toy, the cats taking over the crazy cat lady's car and the attempts to stop a train – although you have to remember that this is exactly the same sort of madcap climax that the first film ended on so one can hardly complain. Otherwise, the film is just as likeable as the first.
---
---