(Siworae)
---
Crew
Director – Lee Hyun-seung, Screenplay – Yeoh Jina, Producer – Cha Seung-jae, Photography – Hong Kyung-pyo, Music – Kim Hyun-cheol, Production Design – Kim Ki-chul. Production Company – Sidus/Blue Cinema.
Cast
Lee Jung-jae (Han Seung-hyun), Jeon Ji-hyun (Kim Eun-joo), Min Yun-Jae (Jung-suk), Jo Seung-yeon (Jae-hyeok)
---
Plot
Han Seung-hyun, an architecture student working construction, moves into the lakeside house he names Il Mare. He finds a letter in the mailbox from Kim Eun-joo, who works as a voice artist in animation, asking him to forward her mail. There appears some confusion as both Seung-hyun and Eun-joo seem to think they are living in the house. They then realise that Seung-hyun is living there in 1997 going in to 1998 and Eun-joo is living there in 1999 going in to 2000. As the two correspond, leaving letters for one another in the house's mailbox, an affection grows between them.
---
The greatest footnote Il Mare usually has is that it was later remade in English language as the Keanu Reeves-Sandra Bullock starring The Lake House (2006), as well as a further uncredited Bollywood remake Minchagi Nee Baralu (2015). Surprisingly, for all the inspiration it has given, Il Mare was not a success when it came out. It was, according to Wikipedia, overshadowed by a very similar Korean film on the same subject with Ditto (2000). It has however since become regarded as a South Korean classic.
Il Mare came out in September of 2000, which was six months after the US film Frequency (2000), which had Jim Caviezel communicating by radio across time with his father Dennis Quaid. It is not an impossible stretch to think that Il Mare might have been conceived in terms of reworking the premise of Frequency as a Romance Movie and it being quickly rushed into production while the US film was recent in people's memories – although it would have been a fairly rushed schedule. It is hard to say for sure whether that was the case or if both works on a similar premise simultaneously arose. Equal inspiration may have come from You Got Mail (1998) and to a lesser extent Sleepless in Seattle (1993), both of which were romantic comedies based on Tom Hanks and Meg Ryan communicating at a distance, albeit having been given a fantasy premise here.
Certainly, Il Mare and Frequency both approach the cross-time communications theme in different ways. Frequency is about a father and son connecting, Il Mare is about two strangers swapping letters and connecting a la You Got Mail. Frequency also becomes focused around the changes in the timeline that occur when Jim Caviezel gives information to his father seeking to prevent his death. Il Mare has little interest in changing timelines excepting perhaps at its ending.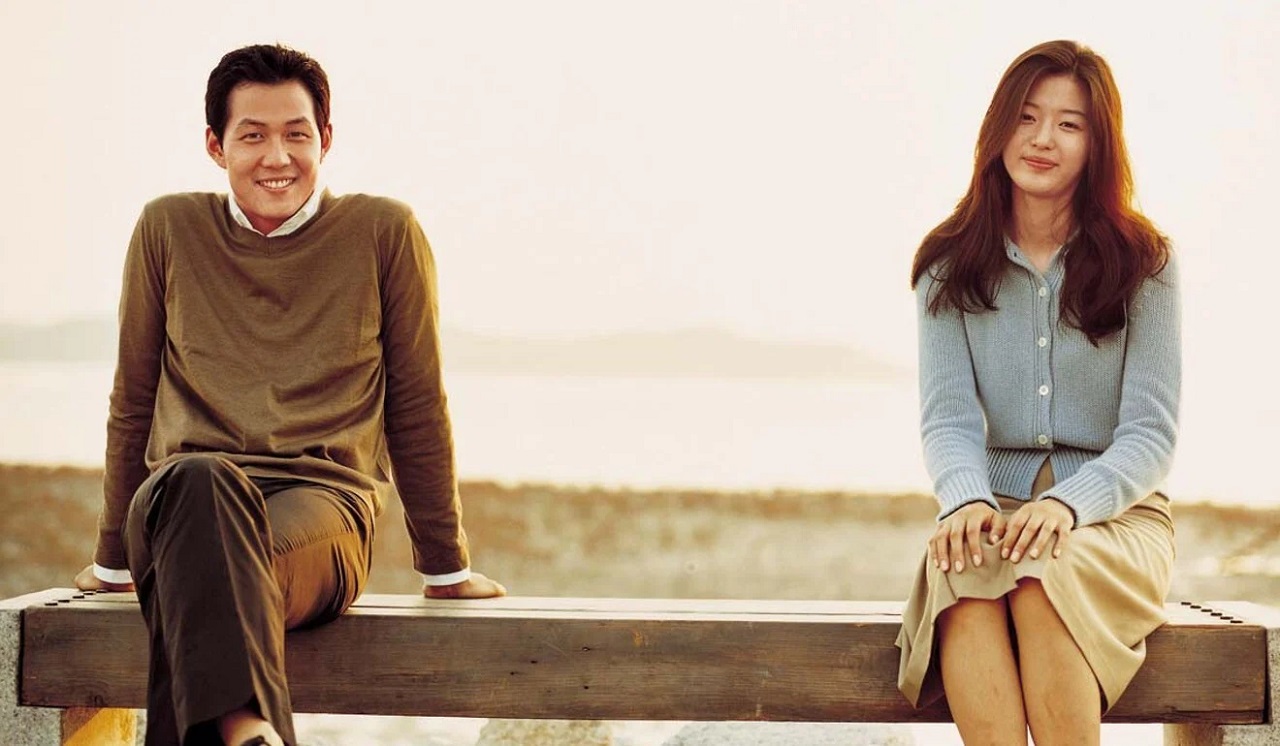 I had seen The Lake House a number of years before Il Mare. I was surprised in finally getting around to watch Il Mare how much quieter it was in comparison. Of course, The Lake House has the advantage of a bigger budget and being able to write its emotions out with two name Hollywood stars. Il Mare keeps its emotions much quieter – the two characters only admit affection for one another at the very end. The film has a visual palette that is very muted – the colour scheme throughout is a uniform eggshell blue and grey of the lake and sky and the sand of the beach. The events are subdued and move at a slow pace.
Il Mare does work with its own quiet effect. There is something saddening in small touches like seeing Jeon Ji-hyun on the beach where Lee Jung-jae fails to make the rendezvous and the mittens he sent her float away on the retreating surf. Or of the scene with him waiting on the train platform and seeing her come along with a look of recognition before realising the look is not for him but for her boyfriend. And the film does reach a nicely affecting ending.
Director Lee Hyun-seung had previously made the romance The Blue in You (1992) and the drama Sunset on the Neon Lights (1995). He has made little else up until his return with Hindsight (2011) about an assassin falling in love with her target.
---
Trailer here
---