---
Crew
Director – Stephen Gaghan, Screenplay – Stephen Gaghan, Dan Gregor, Doug Mand & Chris McKay, Story – Thomas Shepard, Based on the Books by Hugh Lofting, Producers – Susan Downey, Jeff Kirschenbaum & Joe Roth, Photography – Guillermo Navarro, Music – Danny Elfman, Visual Effects Supervisor – John Dykstra, Special Effects Supervisor – Dominic Tuohy, Production Design – Dominic Watkins. Production Company – Perfect World Pictures/RK Films.
Cast
Robert Downey Jr (Dr John Dolittle), Harry Collett (Tommy Stubbins), Carmel Laniado (Lady Rose), Michael Sheen (Dr Blair Mudfly), Antonio Banderas (King Rassouli), Jim Broadbent (Lord Thomas Badgley), Jessie Buckley (Queen Victoria), Ralph Ineson (Arnall Stubbins)
Voices
Emma Thompson (Polynesia), Rami Malek (Chee-Chee), John Cena (Yoshi), Ralph Fiennes (Barry), Tom Holland (Jip), Kumail Nanjiani (Plimpton), Craig Robinson (Kevin), Octavia Spencer (Dab-Dab), Jason Mantzoukas (James), Frances de la Tour (Ginko Who Soars), Selena Gomez (Betsy), Marion Cotillard (Tutu)
---
Plot
England, the mid-19th Century. Young Tommy Stubbins accidentally shoots a squirrel. The parrot Polynesia directs him to take the wounded animal to the rambling estate of Dr John Dolittle. There Dolittle, a renowned animal surgeon who speaks the languages of animals, has become a recluse since the death of his wife Lily. Arriving at the same time as Tommy is Lady Rose, a girl Tommy's own age who is a lady in waiting to Queen Victoria. She bears a message from the queen begging Dolittle's help in relieving a mysterious sickness that afflicts her. Dolittle wants nothing to do with either of them until Polynesia reminds him that he will lose the deed to his house if the queen dies. The animals help clean Dolittle up and he heads to Buckingham Palace. Tommy sneaks into the carriage and when found by the palace guards Dolittle insists that Tommy is his assistant. Dolittle determines that the only cure for the queen is a rare flower to be found on Eden Tree Island. And so he, Tommy and the animals set forth on a quest to find the diary left by Lily that directs the way to Eden Tree Island.
---
Dr Dolittle is one of the great children's characters of the 20th Century. I remember reading the books when I was barely school age. Dolittle, the doctor who could speak the language of animals, was the creation of British civil engineer Hugh Lofting (1886-1947), and first appeared in the book The Story of Doctor Dolittle (1920). Lofting published twelve Dolittle books within his lifetime while a further two books and a story collection that were released posthumously. These have an appealingly nonsensical charm, although some of these read a little dubious today, particularly in their jingoistic caricatures of peoples of other countries – in the first book, for instance, Dolittle aids an African prince in bleaching his skin white.
Dr Dolittle first appeared on screen in a short animated film from Lotte Reininger in 1928. However, the first major film was Doctor Dolittle (1967) starring Rex Harrison. Of all the film adaptations so far, this is the most faithful to the tone of the stories but the film was lumbered with being made as a musical and proved a financial flop. DePatie-Freling, the makers of The Pink Panther shorts, produced an animated series Doctor Dolittle (1970-2) that ran for seventeen episodes. There was then the awful Dr Dolittle (1998), which abandoned the period setting and made everything into an Eddie Murphy comedy of crass jokes. This was followed by the marginally better Dr. Dolittle 2 (2001) and three further three dvd-released sequels Dr. Dolittle 3 (2006), Dr Dolittle: Tail to the Chief (2008) and Dr Dolittle: Million Dollar Mutts (2009) featuring Kyla Pratt as Dolittle's daughter, which can be politely considered an insult to Hugh Lofting's creation.
This new version of the Doctor Dolittle stories comes from Stephen Gaghan who emerged as a screenwriter of note after various tv scripting duties during the 1990s and then with scripts for films like Rules of Engagement (2000), The Alamo (2004) and winning a Best Adapted Screenplay Oscar for Steven Soderbergh's Traffic (2000). Gaghan made his directorial debut with the psycho-thriller Abandon (2002), which was overlooked at the time but I have quite a liking for. Subsequently, Gaghan went onto direct/write the politically hard-hitting Syriana (2005) and the award-nominated Gold (2016), none of which suggest a penchant for the absurdist, nonsensical tone of Dolittle.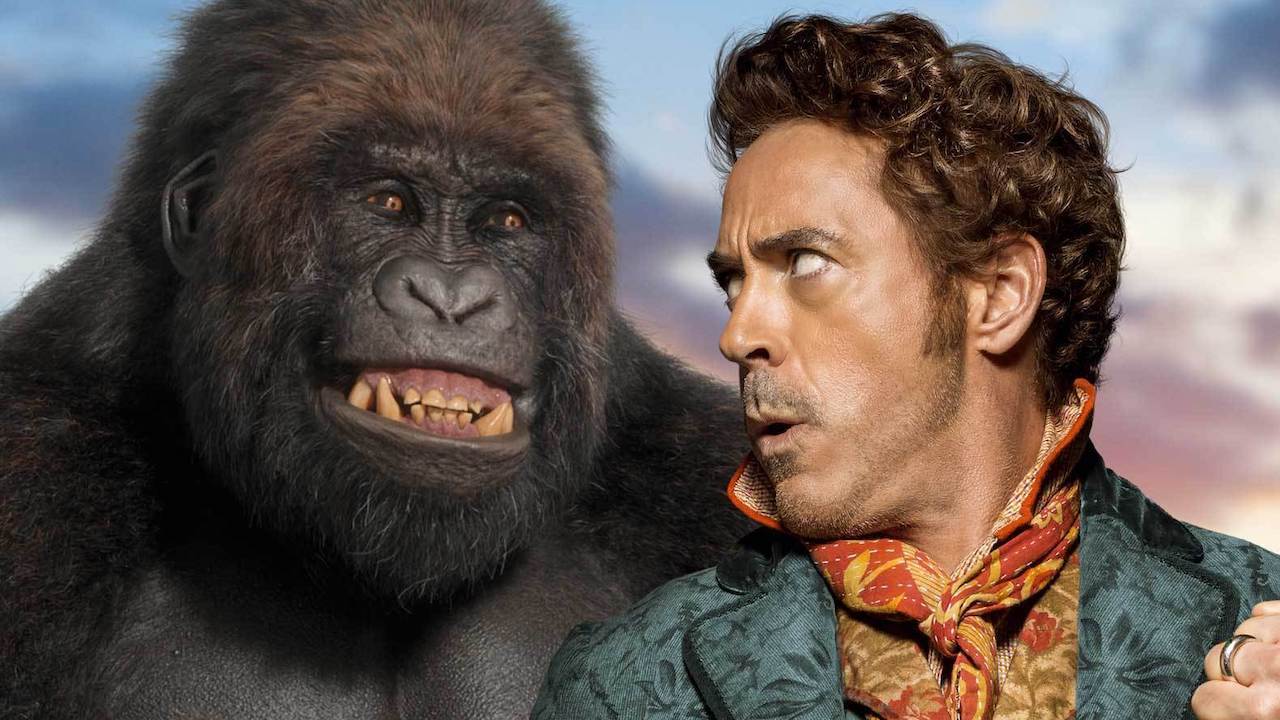 Dolittle did not look promising at the outset. Shot in 2018, it was delayed from its original May 2019 release date after poor test screenings and underwent reshoots where everyone from Seth Rogen to Jonathan Lebesman were brought in to consult. It lost its longer original title The Voyages of Doctor Dolittle and was eventually released to theatres in January of 2020, the period that is post awards-season cutoff and the middle of the North American winter where not as many people go to movies and studios usually consider the dumping ground for films that have little commercial prospect. There it earned $73 million in US box-office, which is a not immodest sum for most films but when considered against the film's $185 million budget ended up being a massive loss for the studio. And for all that it received a host of negative reviews.
I have to be one contentious voice among the crowd here and say that I actually liked Dolittle. It automatically gains bonus points for returning to the Hugh Lofting stories – the opening introduction of Tommy is fairly much taken from the second book The Voyages of Doctor Dolittle (1922) – and doing its welcome best to banish any memory of Eddie Murphy. Thereafter the story of the actual voyage and introduction of a villain is the film's own invention. I was a little disappointed that we didn't get any of the exotic made-up creatures that populate Lofting's books – the Pushmi-Pullyus and Great Pink Sea Snails – where the appearance of a dragon towards the end is not quite enough to compensate. The regular animal complement Dolittle is accompanied by is changed around somewhat – Chee-Chee goes from a monkey to a gorilla, for instance. Dolittle also gains a late wife Lily that he never had in the stories.
As soon as we get past the credits and opening scenes with Tommy and visit the Dolittle household, Dolittle proves a bewildering experience. First of all there is Robert Downey Jr in full-on eccentricity mode, mangling what is supposed to be a Welsh accent (I took it to be Scottish until I read otherwise). Downey should certainly be commended for a remarkable range of reactions and dealings with CGI animals that are not present in front of him but this counts as one of his most eccentric performances. Like Sherlock Holmes (2009), you cannot help but feel that it is a big name actor's enthusiasm for the role trumping out when the casting should have been altogether different. (It is clear that this is a vanity production with both Downey and his wife Susan acting as producers). Rex Harrison is to my mind still the Dr Dolittle that best embodies the character in the books. I could see the part inhabited by some contemporary British actor like a Hugh Laurie or a Martin Clunes but Robert Downey Jr just seems too much Robert Downey Jr.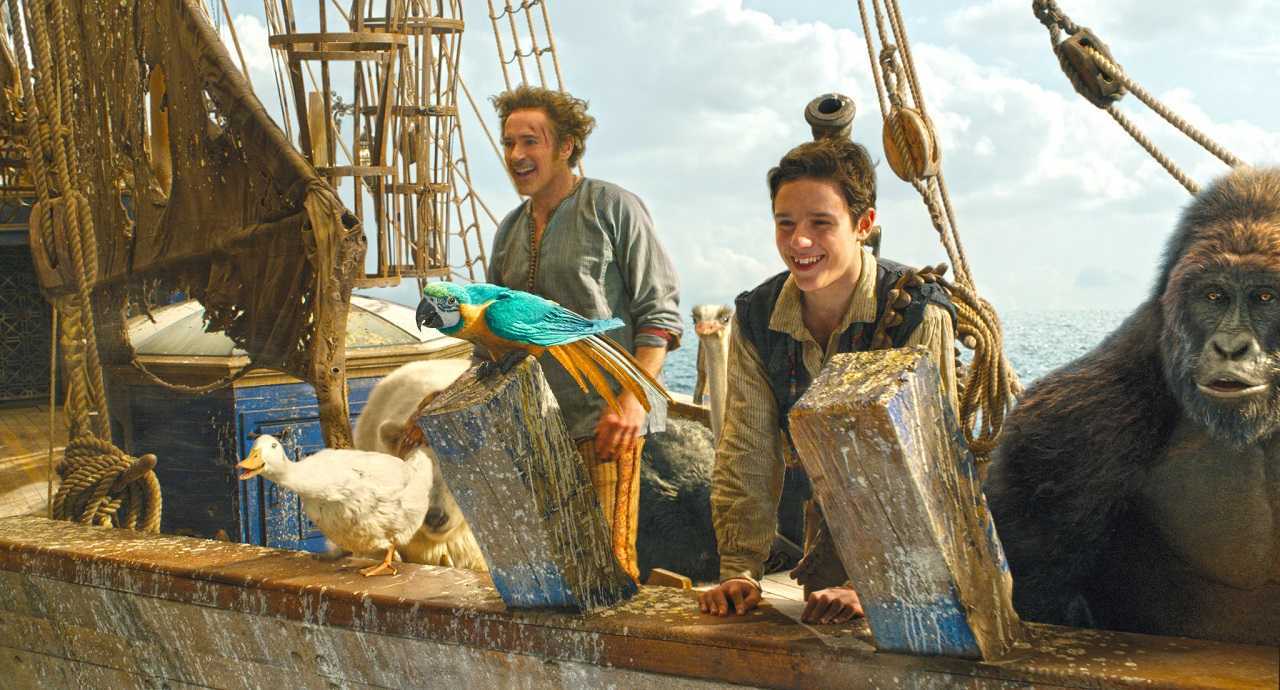 The eccentricity of Downey's performance is amplified by the manic happenings around the mansion with the animals – the gorilla that faints in fright at seeing human guests; the surgical operation to save the squirrel; animals travelling around in elaborate Rube Goldberg steam contraptions. In the most appealing scene, we see Robert Downey Jr and the gorilla engaged in a game of chess that uses mice wearing headsets as the pieces. And then there's the manic nuttiness of the scenes heading off to Buckingham Palace with Downey riding behind the royal carriage on a grumpy ostrich. All of this is directed with a fast-paced manic slapstickery that leaves you bewildered.
This kind of madcap, head-spinningly paced comedy continues throughout the film. One of the most entertaining sequences in one with Robert Downey Jr chained up in a dungeon having to fight off a tiger with issues, along with the animals' attempts to affect a rescue, climaxing in a madcap chase through the streets on the back of a giraffe. The CGI effects of the animals in these sequences – overseen by John Dykstra, no less than the man who headed Industrial Light and Magic in their very first outing for Star Wars (1977) – are absolutely top-notch. And by the end of the film, they prove sufficiently enjoyable that I didn't mind Downey's performance at all.
(Nominee for Best Special Effects at this site's Best of 2020 Awards).
---
---