---
Crew
Director – Alejandro Agresti, Screenplay – David Auburn, Based on the Film Il Mare Written by Eun-Jeong Kim & Ji-na Yeo, Producers – Doug Davison & Roy Lee, Photography – Alar Kivilo, Music – Rachel Portman, Music Supervisor – John Houlihan, Visual Effects – WBA Visual Effects (Supervisor – Jason Piccioni), Special Effects Supervisor – John D. Milinac, Production Design – Nathan Crowley. Production Company – Warner Brothers/Village Roadshow/Vertigo Entertainment.
Cast
Keanu Reeves (Alex Wyler), Sandra Bullock (Dr Kate Forster), Dylan Walsh (Morgan Price), Shohreh Aghdashloo (Dr Anna Klyczynski), Christopher Plummer (Simon Wyler), Ebon Moss-Bachrach (Henry Wyler), Lynn Collins (Mona), Willeke van Ammelrooy (Kate's Mother)
---
Plot
Architect Alex Wyler moves into a modernist glass house on a lake shorefront outside of Chicago. He finds a note from the previous tenant Kate Forster and writes her a reply. As they correspond, each leaving their letter in the mailbox outside the house, there are some essential confusions – he is living in the house in 2004, while she insists that the year is 2006. Increasingly, it appears that there is two years difference in time separating the two of them. A deep romantic relationship grows between them throughout their correspondence, where they learn that small things the other does can affect both the future and the past.
---
The Lake House is based on the South Korean film Siworae (2000), which was released in English-language countries as Il Mare. As with a great many other successful foreign-language films – see the likes of Vanilla Sky (2001), The Ring (2002) et al – Il Mare has been bought up for an English-language (American) remake – in fact, by Roy Lee whose Vertigo Entertainment seems to specialise in buying up Asian film properties for English-language adaptation. In this case, it has been made into a romantic vehicle for Keanu Reeves and Sandra Bullock. The director is the Argentinian Alejandro Agresti, known for films such as La Cruz (1997) and Valentin (2002).
While pitched principally as a romantic film, The Lake House also ranks strongly as fantasy. We have had time travel romances before – see the weepie Somewhere in Time (1980), the lightly comedic Kate & Leopold (2001), the somewhat disappointing The Time Traveler's Wife (2009) and the more substantial and muchly underrated Happy Accidents (2000). If anything, The Lake House feels like a conceptual collision between the sf film Frequency (2000) about a father and son communicating across time by radio, and The Shop Around the Corner (1940), which was later remade and transferred to the age of the internet as You've Got Mail (1998), where James Stewart and Margaret Sullavan conducted a romance by mail-drop.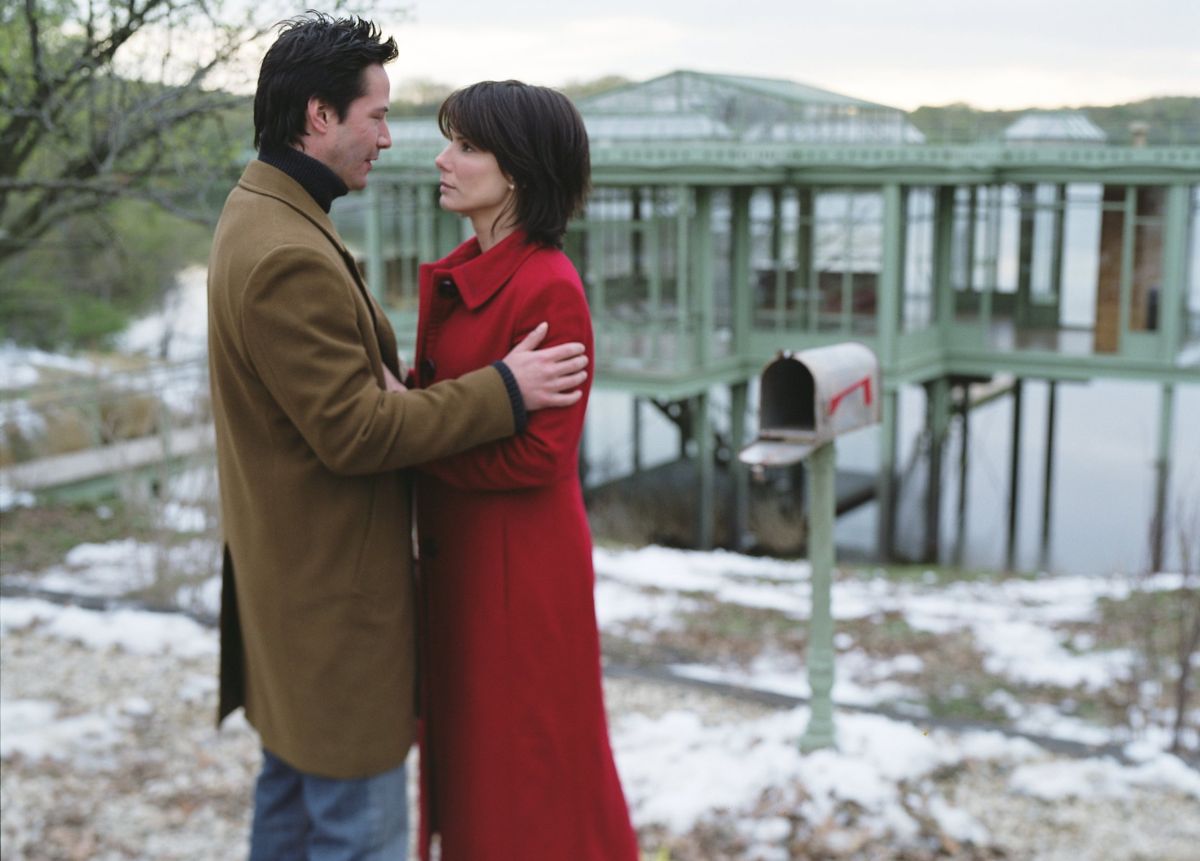 Neither Sandra Bullock or Keanu Reeves are the most expressive of performers. At the time this was made, she has a history doing light romantic comedy but little that is serious, while Reeves tends to be the same wooden performer no matter what role he is cast in – the scenes here of him trying to emote at his father's death leave one cringing. The two played together in Speed (1994), which was an action film, however The Lake House is an altogether more serious vehicle.
One cannot help but suspect the material here would have better suited to two character actors, however one equally supposes that having names like theirs attached is one of the necessities of having to sell a film. Certainly, in about the one scene where the two of them do appear together at the party, they both seem awkward and forced trying to make small talk. On the other hand, the film keeps them apart for most of the running time and what performances they give are mostly relegated to the pictographic, of drifting past on screen while their thoughts come relayed in voice-over, which works effectively in having to avoid any real acting on their part.
Alejandro Agresti's direction is quiet, mannered and almost entirely understated. To Agresti's enormous credit, The Lake House is a long way away from what one might expect of a romantic film with Sandra Bullock attached. It rarely (in fact never) touches the maudlin or tries to hype any unearned feelings. You suspect any Hollywood director in comparison would have made The Lake House into an epic of sweeping romantic affectations but Agresti by almost entirely understating everything achieves far more than that.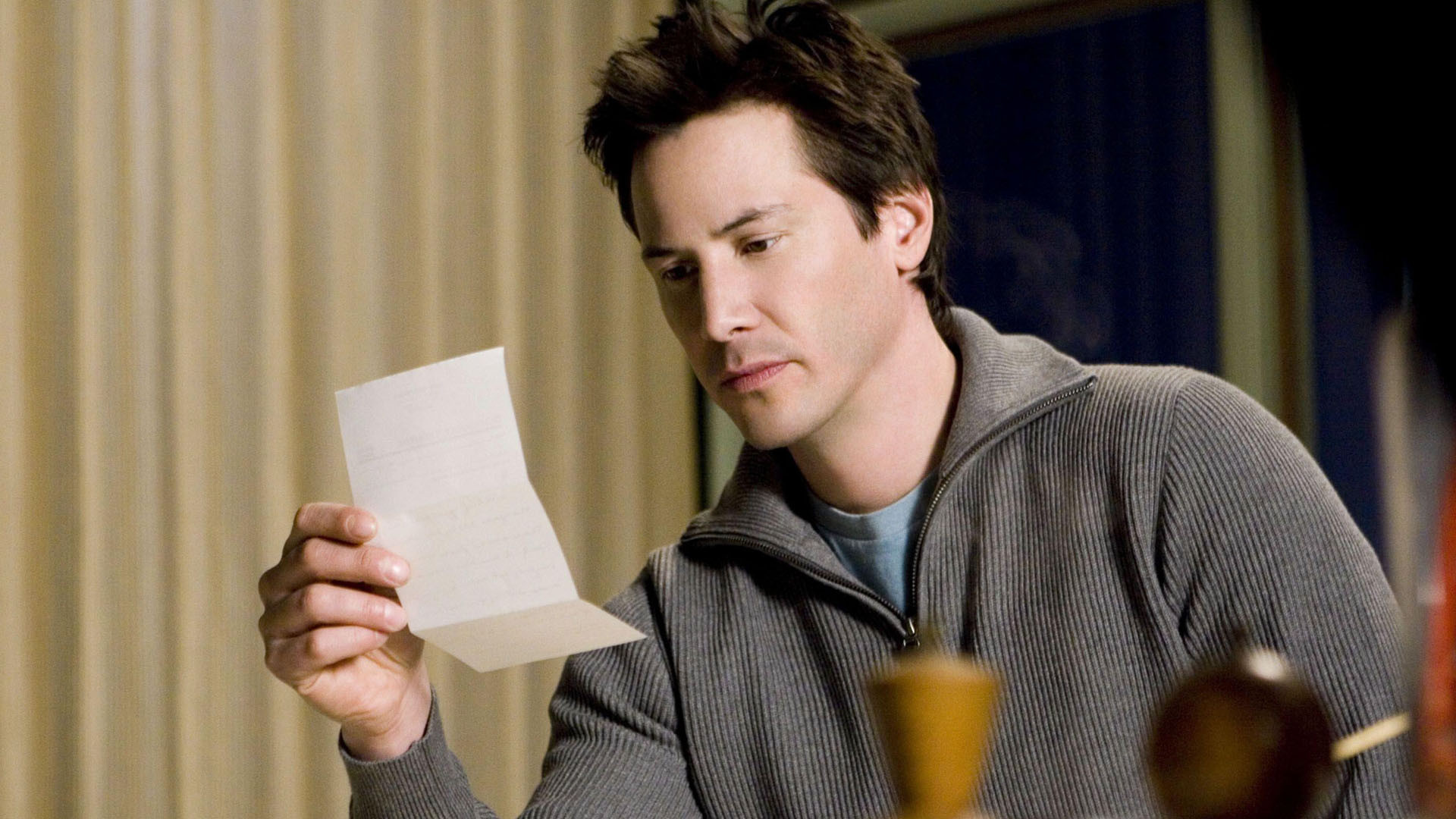 The Lake House rests clearly in fantasy rather than science-fiction – at most explanations are tossed off with a whimsical "Can this be happening?" "Why not?" What is appealing about the film is its sense of synchronicity and the editing cuts that Alejandro Agresti makes – Sandra Bullock's vehicle appearing on one side of the corner of a crossroads and the scene fading to winter in the same shot as Keanu Reeves' pickup appears going the other way; or a turnstile door going 360o and starting in one era and coming out in another; people meeting one person from the other's era without realizing it.
The Lake House works thanks to a wonderful script. It is not merely a work that engenders feelings but one that also makes for a great time travel movie. The Lake House is a film, like Twelve Monkeys (1995) and indeed the later lesser Sandra Bullock time travel vehicle Premonition (2007), where the joy of it comes in the weave of details – of seeing all the aspects of the film from the shared dog to the identity of the stranger at the party, the mystery of Keanu Reeves's failure to attend the date, the Valentine's Day accident all falling into place as a beautiful whole. In this respect, screenwriter David Auburn has done a fine job.
---
---