---
Crew
Director – Ken Annakin, Screenplay – Peter Blackmore, Additional Dialogue – Dennis Waldock, Based on the Play by Peter Blackmore, Producer – Betty E. Box, Photography (b&w) – Ray Elton, Music – Temple Abady, Art Direction – George Paterson. Production Company – Gainsborough Pictures Ltd.
Cast
Glynis Johns (Miranda Trewella), Griffith Jones (Paul Martin), Googie Withers (Claire Martin), David Tomlinson (Charles), John McCallum (Nigel Hood), Margaret Rutherford (Nurse Carey), Yvonne Owen (Betty), Sonia Holm (Isabel)
---
Plot
London doctor Paul Martin leaves his wife Claire at home and takes a vacation in Cornwall on his own. Paul goes fishing only to hook something and be dragged overboard. He ends up in a cave alongside a mermaid who introduces herself as Miranda. Miranda expresses a desire to visit London and so Paul arranges to take her there. Saying she is one of his patients, he has a room prepared at his apartment and orders full-length dresses for her in order to disguise her tail. There Miranda starts to have an influence on the men around her, including Paul's servant Charles and friend, the artist Nigel Hood, both of whom prepare to abandon their respective fiancées for Miranda. Not to mention the problems caused by Paul's efforts to keep Miranda being a mermaid a secret from everyone.
---
Miranda was the very first mermaid film. It was released in May 1948. Very shortly after – August of that same year – Hollywood responded with their own version Mr Peabody and the Mermaid (1948). Mr Peabody feels exactly like a blatant attempt to copy Miranda, given the near-identical nature of the plots in both films where a married man fishes up a mermaid and how her free-spirited ways cause havoc and much misunderstanding in his life.
Since then, the mermaid film has become a regular cinematic staple. It is usually the stuff of light comedy – Splash! (1984) and The Mermaid (2016), or family entertainment – The Little Mermaid (1989), Barbie Mermaidia (2006), The Little Mermaid (2018) – and Young Adult as in Aquamarine (2006). In recent years, the mermaid film has become darker and more adult with no longer family friendly works like She Creature (2001), Charlotte's Song (2015), The Lure (2015), Little Mermaid (2016) and Mermaid Down (2019). (For more a detail overview of the genre see Films About Merpeople).

In the case of both Miranda and Mr Peabody, they feature a male lead who is a married man and both have plots that float around the idea of marital infidelity without coming out and actually doing so. They are films about the sexual fantasy of the Manic Pixie Dream Girl – someone who is free-spirited, capricious and playful, flouting of all social conventions. The films allow their married man the fantasy of involvement with her at the same time as pulling back and engaging in much comedy about how his wife and everybody else is only mistaken about what is going on.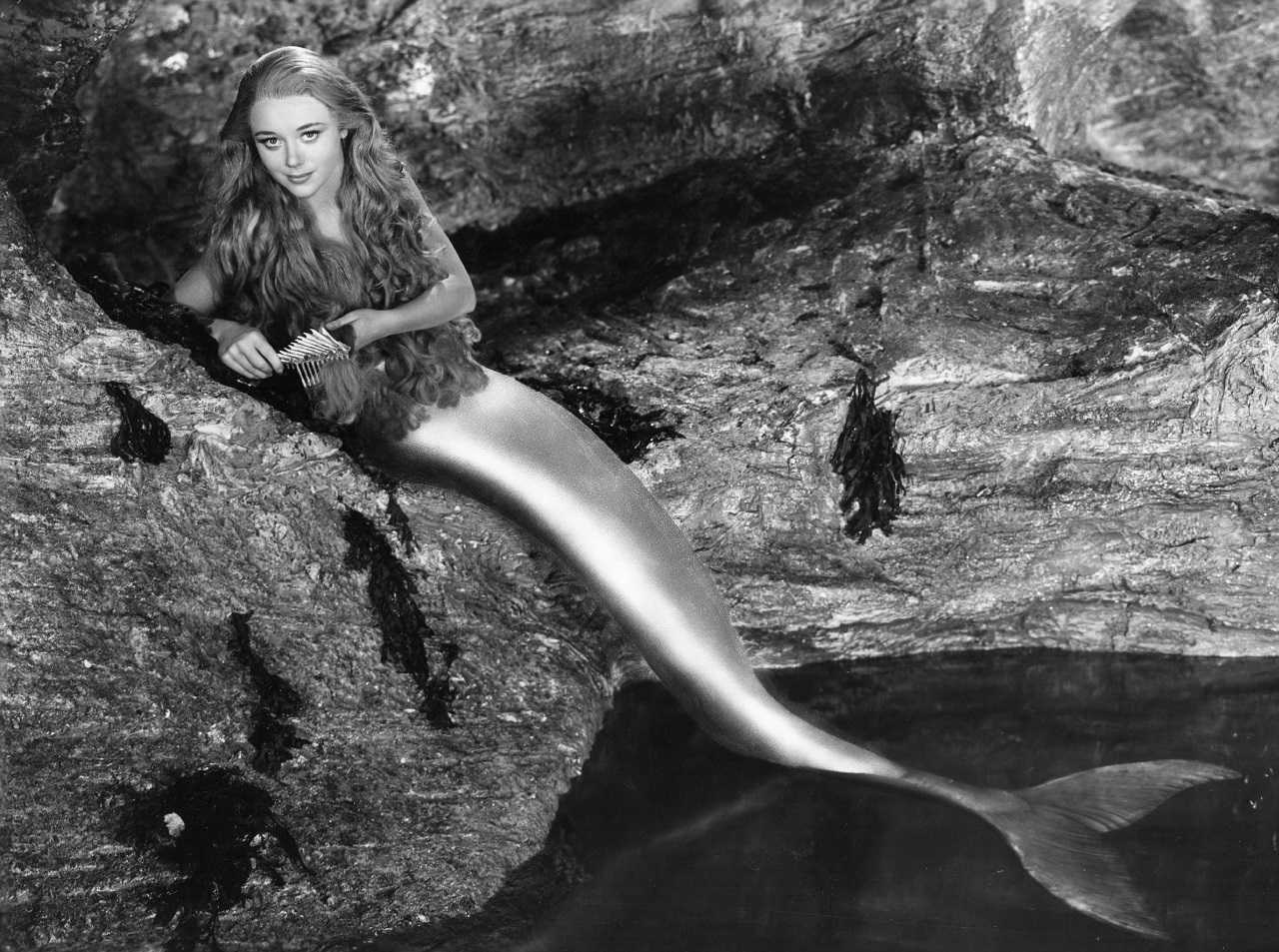 Glynis Johns' performance as Miranda is all coy, flirtatious sparkle – she delivers everything in terms of what people call bedroom eyes and a soft seductive voice. Much of the plot circles around the effect she has on not only married Griffith Jones but also his engaged friend John McCallum and Jones's manservant (a young David Tomlinson) both of whom are happy to ditch their respective fianceés for her during the course of events.
The comedy is droll and in Peter Blackmore's playful dialogue wonderfully understated. Much of the amusement comes from Glynis Johns' reactions to everyday things. Upon watching Googie Withers light up a cigarette, she asks: "Do you always have to cook it or can you eat it raw?" There is also a good deal in the way of piscine puns made throughout – a great many variants on "there's something very fishy about this" and the like. It is a rather likeable confection.
Mad About Men (1954) was a sequel with Glynis Johns returning as Miranda and another script from Peter Blackmore.
Ken Annakin (1914-2009) was a British director who had made a number of adventure films, including big hits like the Disney film The Swiss Family Robinson (1960) and Those Magnificent Men in Their Flying Machines (1965). His other ventures into genre material included The Pirate Movie (1982) and The New Adventures of Pippi Longstocking (1988).
---