---
Crew
Director – David Lean, Screenplay – Anthony Havelock-Allan, David Lean & Ronald Neame, Based on the Play by/Producer – Noel Coward, Photography – Ronald Neame, Music – Richard Addinshell, Conductor – Muir Mathieson, Special Effects – Tom Howard, Art Direction – C.P. Norman. Production Company – Two Cities/Noel Coward/Cineguild.
Cast
Rex Harrison (Charles Condomine), Kay Hammond (Elvira Condomine), Constance Cummings (Ruth Condomine), Margaret Rutherford (Madame Arcati), Hugh Wakefield (Dr George Bradman), Joyce Carey (Violet Bradman), Jacqueline Clarke (Edith)
---
Plot
Novelist Charles Condomine invites the medium Madame Arcati to his house to conduct a séance. He does not believe that her abilities are real but merely wants to take notes for a character in one of his books. However, Madame Arcati succeeds in conjuring up the ghost of Charles's late wife Elvira. Charles is the only one who can see Elvira and his current wife Ruth thinks he is either mad or hallucinating until Elvira demonstrates her presence. Ruth then sets about trying to find a means of exorcising Elvira. She suspects that Elvira is trying to kill Charles so that the two of them can be reunited in the afterlife, only to get in a car where Elvira has rigged the brakes and be killed herself. Now Charles must deal with two ghostly wives who are squabbling over him.
---
Noel Coward (1899-1973) is one of the legends of British theatre and his plays are considered classics. Coward first appeared on stage at the age of seven and became bitten by the bug. He made his professional stage debut at the age of 12 and became an actor, even appearing in one D.W. Griffith film, but found his calling first writing songs for musicals and then writing and producing plays. His first play to be staged was I Leave it to You (1920), which he also starred in at the age of 21. He then went onto works like The Vortex (1924), which became a work of controversy in its day because of its themes of extra-marital affairs and cocaine usage. Coward became most famous for his sharp and sophisticated comedies of manners, which include the likes of Hay Fever (1925), The Marquis (1927), Private Lives (1930), Cavalcade (1931), Design for Living (1932) and Blithe Spirit (1941), among many others. Coward became the most celebrated British playwright of the 1930s and 40s, before being supplanted in the 1950s by the Angry Young Men generation of Harold Pinter and Joe Orton. Noel Coward was a writer who was as much public persona as he was known for his works, with his scarves, silk dressing gowns and cigarette holders having become an iconic look. He is also celebrated these days for being one of few openly gay members of the establishment during the era.
Blithe Spirit was one of four films that Noel Coward wrote/produced in conjunction with director David Lean. The others were the Wartime film In Which We Serve (1942), which Lean actually co-directed with Coward, the family saga This Happy Breed (1944) and the classic romantic drama Brief Encounter (1945). These were also the first four films made by David Lean who would go onto become one of the greats of the British film industry with epics like The Bridge on the River Kwai (1957), Lawrence of Arabia (1962), Doctor Zhivago (1965) and A Passage to India (1984), as well as one quasi-science fiction film The Sound Barrier/Breaking the Sound Barrier (1952).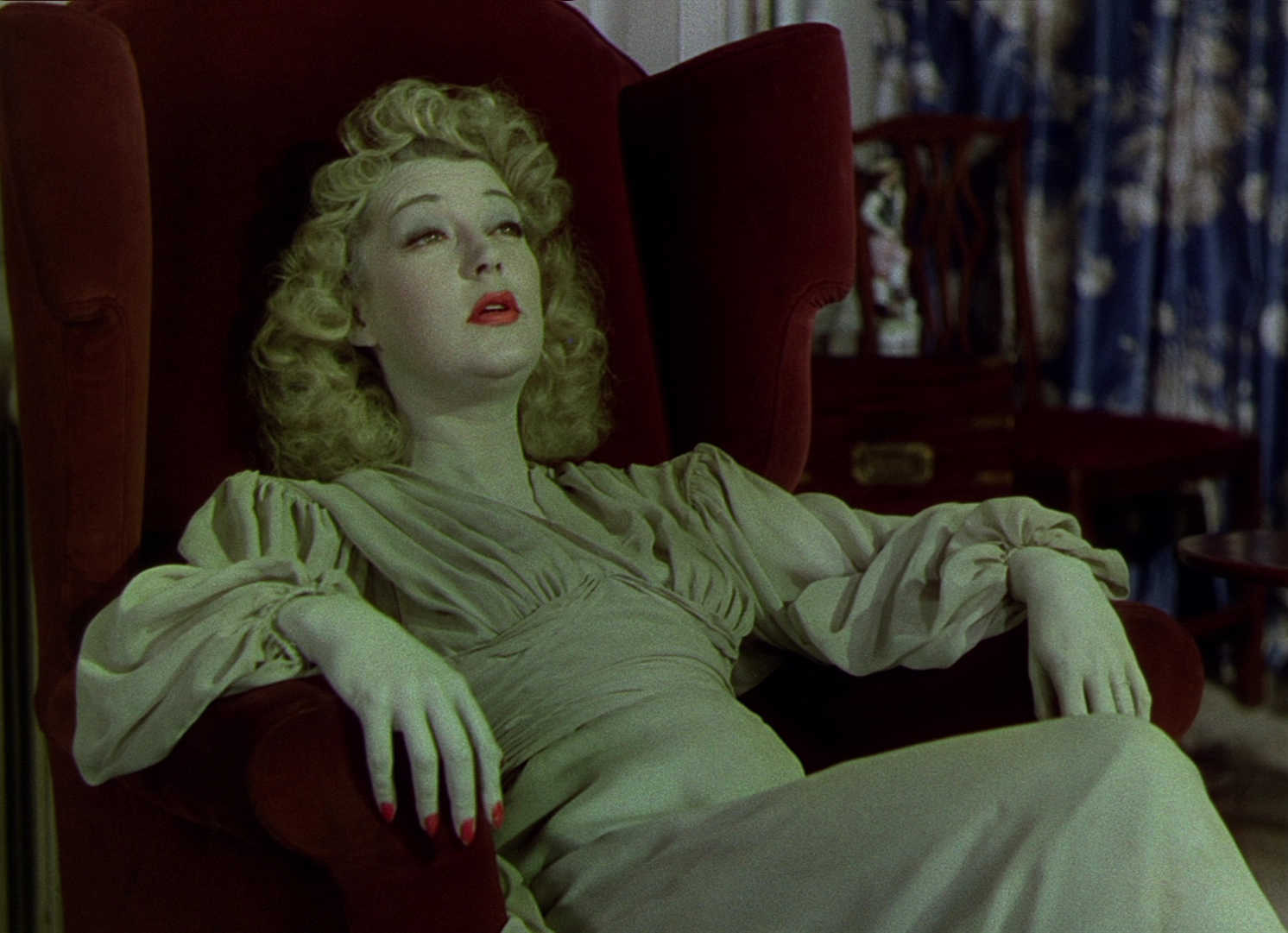 Blithe Spirit is one of Noel Coward's droll drawing room comedies. Like many of Coward's works, the dialogue is filled with sharp and witty asides, pokes fun at its characters very British eccentricities, leaves a light amusement and has no greater profundity than that. Noel Coward's plays have dated in the respect that they are very much rooted in the time and place they were written – the British upper middle-classes of the 1930s and 40s, something that is fairly much a dying breed today. Blithe Spirit is certainly very likeable. It moves through several amusing if predictable reversals, all interspersed with Coward's pithy Oscar Wilde-esque one-liners.
The film is well cast and played by all involved. It is interesting, knowing Rex Harrison through roles like My Fair Lady (1964) and Doctor Dolittle (1967), where he was in his mid-50s, to see him playing a handsome, young leading man here. As the ghostly wife, Kay Hammond vamps it up archly – her performance rarely consists of anything else. The film is fairly much stolen by that grand old dame of the British theatre, Margaret Rutherford, who sweeps the whole show up with her daffy presence in the role of the medium.
It is perhaps worth comparing Blithe Spirit to other light fantasy ghost stories of the era such as The Ghost Goes West (1935), Topper (1937) and sequels, and The Canterville Ghost (1944), which were much more openly knockabout and screwball in their comedy. More to the point, they were more overtly supernatural in their manifestations, whereas Blithe Spirit keeps to the convention of what the play must have done – the ghost is a woman in white dress and with white greasepaint on her face who interacts with the other players who pretend not to see her. In this sense, David Lean appears to be faithful to the play, with the film clearly remaining stagebound and centred around a single setting.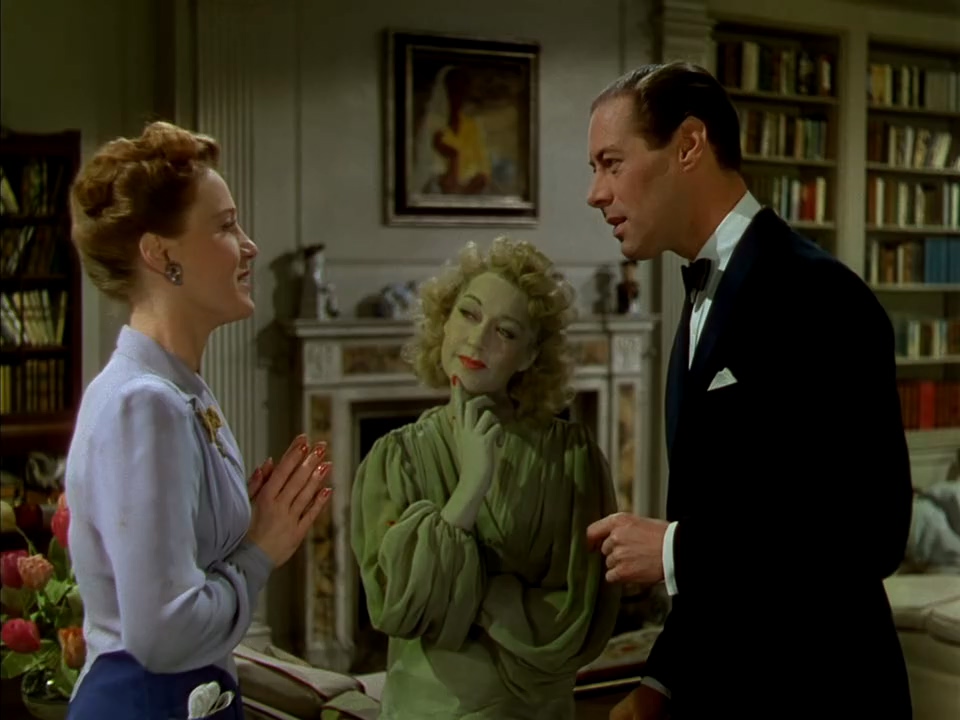 One notable aspect is the gorgeous Technicolor cinematography. Rather than the employment of any special or optical effects, Elvira's ghostliness is an effect that has been created solely via the Technicolor photography, which is used to emphasize her in white against the rest of the colour surrounds. This is an effect that is surely lost on modern audiences but back in an era where film was still predominantly shot in black-and-white, the appearance of a woman all in white must have had striking effect.
The play has been remade several times, mostly for tv. Other adaptations are:– an early American tv version in 1946; a British tv play version in 1964, which was part of a season of Noel Coward adaptations; an American tv version in 1966 starring Dirk Bogarde; a German tv adaptation in 1966; and a film version in 2020 with Dan Stevens and Isla Fisher. Coward himself wrote, directed and played the role of the husband in one tv adaptation, Blithe Spirit (1956), alongside Lauren Bacall as the departed wife.
---
---