---
Crew
Director/Screenplay – Woody Allen, Producers – Faruk Alatan, Letty Aronson, Giampaolo Letta & Stephen Tenenbaum, Photography – Darius Khondji, Special Effects Supervisor – Daniel Dominic Acon, Production Design – Anne Seibel. Production Company – Medusa Film/Gravier Productions/Perdido Productions.
Cast
Pierluigi Marchionne (Traffic Policeman). 1:- Woody Allen (Jerry), Fabio Armiliato (Giancarlo Santoli), Judy Davis (Phyllis), Flavio Parenti (Michelangelo Santoli), Alison Pill (Haley). 2:- Robert Benigni (Leopoldo Pisanello), Monica Nappo (Sofia Pisanello), Sergio Solli (Chauffeur), Cecilia Capriotti (Serafina). 3:- Alessandro Tiberi (Antonio), Alessandro Mastronardi (Milly), Penelope Cruz (Anna), Antonio Albanese (Luca Salta), Roberto Della Casa (Uncle Paolo), Ariella Reggio (Aunt Rita), Gustavio Frigerio (Uncle Sal), Simona Caparrini (Aunt Giovanna), Ornella Muti (Pia Fusari). 4:- Jesse Eisenberg (Jack), Ellen Page (Monica), Alec Baldwin (John Foy), Greta Gerwig (Sally), Carol Alt (Carol)
---
Plot
1:- Retired opera director Jerry and his wife Phyllis arrive in Rome to visit their daughter Haley and her Italian boyfriend Michelangelo. Taken home to meet Michelangelo's family, Jerry is struck by the father Giancarlo's perfect operatic voice after listening to him singing in the shower. He insists that Giancarlo try out for an audition but Giancarlo fails badly. Jerry realises that Giancarlo can only sing when he is in the shower and has to contrive the entire opera around him being in the shower during the performance. 2:- Leopoldo Pisanello is an ordinary clerk who feels ignored and that nobody takes his opinion seriously. He wakes up in the morning to suddenly find he is famous, now being flocked by paparazzi, followed everywhere and his sought opinion on matters of trivia by interviewers. 3:- Newlywed couple Antonio and Milly move to Rome from the country. They are to meet his relatives who plan to introduce them to important people so that Antonio can find a job. Milly becomes lost in the streets. Back in the hotel, the prostitute Anna comes into the room by mistake, thinking that Antonio is her client. His family members stumble in and find them and Antonio is quickly forced to pretend that she is Milly. This becomes an embarrassment as they are taken to meet people. Meanwhile, Milly stumbles onto a film set and meets the handsome star Luca Salta who becomes determined to seduce her. 4:- The American architect John is visiting Rome and searches for the residence where he spent a year in his youth. He meets young architecture student Jack and becomes an invisible advisor to him as Jack and his girlfriend Sally are visited by her friend Monica. Despite John's advice, Jack becomes attracted to Monica and is tempted to have an affair with her.
---
Woody Allen is entering his sixth decade now as a filmmaker. He has charted out a position as a unique voice in comedy and his work has consistently been celebrated by the critical intelligentsia. Allen's output has several distinctive phases. There is the Allen from the 1960s through most of the 70s who enjoyed making screwball comedies centred around his nebbish persona with the likes of Take the Money and Run (1969), Bananas (1972), Everything You Always Wanted to Know About Sex * But Were Afraid to Ask (1972), Sleeper (1973) and Love and Death (1975); there is the Allen from Annie Hall (1977) onwards and through the likes of Manhattan (1979), Interiors (1978), Stardust Memories (1980), September (1987) and Another Woman (1988) who seemed somewhat gloomy and depressed and kept searching for deeper meaning beyond comedy.
There was the Allen from the late 1980s onwards through the 1990s and early 00s who was caught up in his messy separation from Mia Farrow and spent the entire time concerning himself with the comic foibles of Manhattan's upper-classes in the likes of Alice (1990), Crimes and Misdemeanors (1990), Husbands and Wives (1992), Manhattan Murder Mystery (1993), Everyone Says I Love You (1996), Small Time Crooks (2000), Melinda and Melinda (2004) and Whatever Works (2009).
There is the Allen of the mid-00s onwards who entered his seventies and rediscovered a new lease on life by abandoning New York and the US, taking up international funding offers and enjoying the creative freedom offered by shooting in Europe with the likes of Match Point (2005), Scoop (2006), Cassandra's Dream (2007), Vicky Christina Barcelona (2008), You Will Meet a Tall Dark Stranger (2010), Midnight in Paris (2011) and Magic in the Moonlight (2014). And then there is the Allen of the late 2010s/20s who became a pariah over much disputed and unproven child abuse allegations.
To Rome with Love is another of Allen's European-funded deals. It apparently came together when Italy's Medusa Distribuzione offered Allen funding as long as he shot the film in Rome. The film went through several title changes, starting out as Bop Decameron in homage to The Decameron, a collection of bawdy tales written in the 14th Century by Giovanni Boccaccio, before Allen realised that not many people today knew who Boccaccio was. It then then changed to Nero Fiddled, which apparently left people equally confused. The title eventually arrived at To Rome with Love feels like a sudsy 1960s Cary Grant comedy – indeed, was also the name of a largely forgotten sitcom To Rome with Love (1969-71) starring John Forsythe – where Allen himself admits to being dissatisfied with the final result.
The script is clearly comprised of odds and ends of leftover ideas that Allen had in the back of his head. Many of the four stories are slight in conception – a man gains fame as an opera singer but only when he can sing in the shower, an ordinary man suddenly finds he is famous and being pursued by paparazzi and questioned everywhere – and none of them feel as though they have sufficient meat to extend to a full-length film on their own.
To Rome with Love ended up getting some of the most mediocre reviews of any Woody Allen film of recent. I certainly enjoyed it more than most others appeared to. It is very much Allen in his European renaissance. With the aid of Darius Khondji on camera, he shows the Rome locations with exquisite colour and beauty. (The only complaint about most of these European films is that Allen seems stuck in permanent tourist mode and never ventures too much beyond showing off his visited locations in their picture postcard glory). To Allen's favour, he directs at least two of the episodes here all in Italian.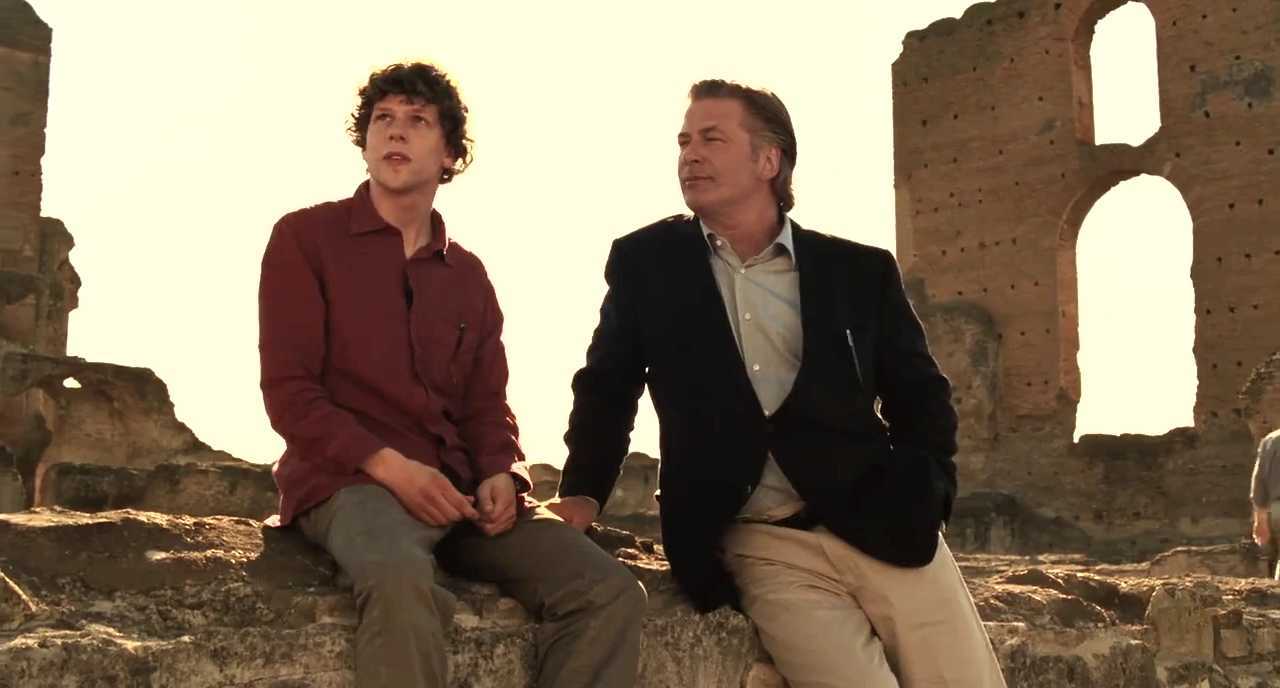 The shorter length piece is one that Allen seems happy with and has used in a number of other works – Everything You Always Wanted to Know About Sex * But Were Afraid to Ask, New York Stories (1989), Deconstructing Harry (1997). There is a return to many familiar Allen themes – Alec Baldwin's invisible advisor stepping in to offer mature perspective on Jesse Eisenberg's affair with Ellen Page is a variant on the ghostly romantic advice from Humphrey Bogart in Play It Again Sam (1972) or William Hurt's ghostly ex-boyfriend in Alice. There is also the regular theme that seems to preoccupy Allen these days of men engaged in or anguishing about wanting to commit adultery – out of the four stories we have here, three of them have characters who engage in affairs with one episode even having two separate storylines focused on the issue.
For all its familiarity and slightness, To Rome with Love works in the good old Woody Allen way. The dialogue – especially when it comes to the sparring between Woody Allen and Judy Davis in the opera episode comes with the sharp one-liners of classic Allen that has seemed off in some of his more recent films, while Allen himself, who hasn't appeared in one of his own films since Scoop, is back on classic nebbish, self-effacing form.
As always can be expected for an Allen film, the cast is top notch. The show is largely stolen by an unrestrained Penelope Cruz looking luscious and uninhibited as the hooker and Ellen Page who has fun as Jesse Eisenberg's object of desire. (For some reason, Allen lays into her pseudo-intellectualism and cultural namedropping with a passion, although ironically this is something that he himself has been accused of by more than one writer). I have never particularly warmed to Roberto Benignini as an actor whose hapless, awkward child mannerisms seem too much caught up in silent slapstick routines, and expectedly his episode is the slightest. To Rome with Love is lesser Woody Allen but never unenjoyable for all that.
Woody Allen's other genre films are:- Play It Again Sam (1972), Everything You Always Wanted to Know About Sex * But Were Afraid to Ask (1972), Sleeper (1973), Love and Death (1975), A Midsummer Night's Sex Comedy (1982), Zelig (1983), The Purple Rose of Cairo (1985), New York Stories (1989), Alice (1990), Shadows and Fog (1991), Mighty Aphrodite (1995), Everyone Says I Love You (1996), Deconstructing Harry (1997), Match Point (2005), Scoop (2006), Midnight in Paris (2011) and Magic in the Moonlight (2014).
(Winner for Best Supporting Actress (Penelope Cruz) and Best Cinematography at this site's Best of 2012 Awards).
---
---