---
Crew
Directors – Chris Weitz & Paul Weitz, Screenplay – Louis C.K., Louis Crouther, Ali Le Roi & Chris Rock, Based on the 1978 film Heaven Can Wait Written by Warren Beatty & Elaine May (Based on a Play By Henry Segall), Producers – Sean Daniel, James Jacks & Michael Rotenberg, Photography – Richard Crudo, Music – Jamshied Sharifi, Visual Effects – Balsmeyer & Everett Inc & GVFX, Special Effects Supervisor – J.C. Brotherhood, Production Design – Paul Peters. Production Company – Paramount/Village Roadshow Pictures/NPV Entertainment/Alphaville/3 Arts Entertainment.
Cast
Chris Rock (Lance Barton), Regina King (Suntee Jenkins), Frankie Faison (Whitney Daniels), Chazz Palminteri (Mr King), Eugene Levy (Mr Keys), Mark Addy (Cisco), Jennifer Coolidge (Mrs Wellington), Greg Germann (Winston Sklar), Wanda Sykes (Wanda), Brian Rhodes (Charles Wellington III)
---
Plot
Lance Barton is an African-American bicycle messenger living in New York City with aspirations to be a stand-up comic. His dream is to be one of the five amateur acts chosen for the Apollo Theatre's closing night. Lance is then run down by a truck and finds himself in Heaven. However, Lance finds that he has been removed from his body by an overzealous angel and was not due to die until 2044. The Heavenly supervisor Mr King sets about trying to find Lance a new body. Lance chooses that of white millionaire Charles Wellington III, who has just been murdered by his business partner and adulterous wife. Lance is taken by Suntee Jenkins who has come to protest against Wellington's ruthless dismissal of poor locals at the Brooklyn hospitals he owns. He uses Wellington's resources to make all effort to help the neighbourhood as well as to romance Suntee, despite being in an ageing white man's body. At the same time, Lance determines to polish his act in order to make the selection for the Apollo's closing – but finds that Black humour coming from a white man does not go down so well.
---
Down to Earth is a remake of the afterlife fantasy Heaven Can Wait (1978), which was co-directed by and starred Warren Beatty. Heaven Can Wait was in itself a remake of an earlier film Here Comes Mr Jordan (1941), although for reasons unclear Down to Earth does not credit this although does credit the play that formed the basis of all three films. In a strange piece of confusion, there was also a semi-sequel to Here Comes Mr Jordan named Down to Earth (1947) about the Greek goddess Terpsichore coming to Earth to aid a struggling Broadway playwright, although that is unrelated to this Down to Earth.
In remaking Here Comes Mr Jordan, Heaven Can Wait updated but essentially told the same story. On the other hand, Down to Earth only uses the shell of the story and instead reinvents itself as a racial body exchange comedy. In fact, Down to Earth seems less like a remake of Heaven Can Wait than it does a remake of the race exchange comedy Watermelon Man (1970). (In this respect, Down to Earth is not unlike The Preacher's Wife (1996), another recent remake of a 1940s eschatological light fantasy film, which redid the old story with a principally Black cast – in both cases, the film adds social commentary concerning itself with the plight of Black neighbourhoods under threat). More noticeable is Down to Earth's turning Heaven Can Wait from a light feelgood fantasy into a vehicle for Black comedian Chris Rock.
Down to Earth is directed by brothers Chris and Paul Weitz – both co-wrote and Paul directed the teen hit American Pie (1999) and both co-wrote Antz (1998) and The Nutty Professor II: The Klumps (2000). Together, the Weitzs made About a Boy (2002) and Chris later went onto make some mainstream success with The Golden Compass (2007) and New Moon/Twilight Saga: New Moon (2009), as well as the scripts for Cinderella (2015), Rogue One (2016), The Mountain Between Us (2017) and Pinocchio (2022), while Paul entered the genre with Cirque du Freak: The Vampire's Assistant (2009) and has made assorted other films, mostly comedies.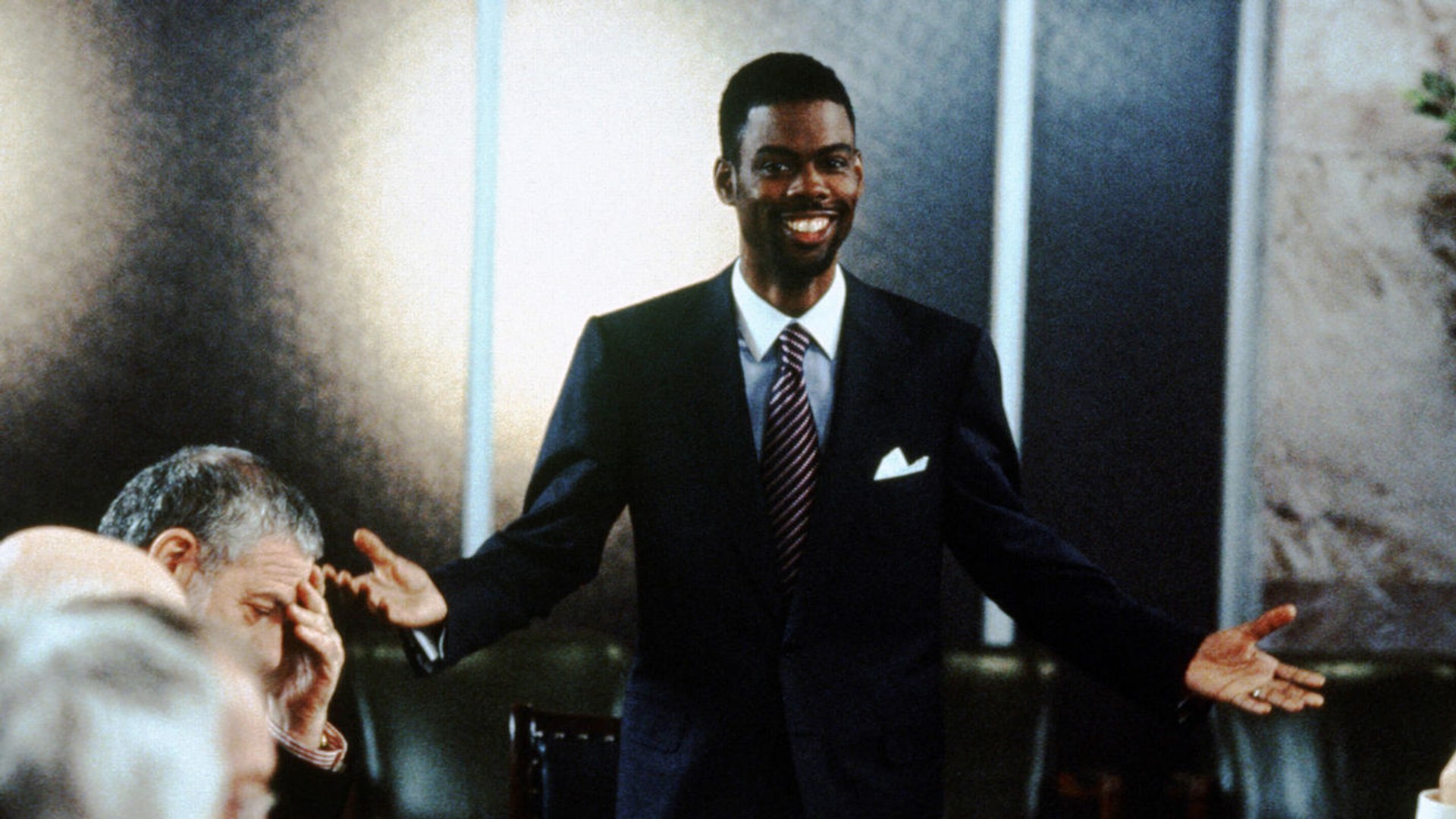 To the Weitz Brothers' credit, where one expected Down to Earth to head straight for sub-Farrelly Brothers gross-out humour, it remains relatively restrained. Although, Chris Rock's stand-up routine does seem at odds with a film trying to make a serious big statement where the message about corporate ruthlessness and community gentrification is all co-opted as part of Rock's stand-up material.
Down to Earth is not a particularly good film but it has enough moments that make it passably likable. Chris Rock's live-wire performance creates a spark of energy at the centre of the film that enervates a story that would otherwise be showing its considerable age. There are times it is funny – notably whenever Black maid Wanda Sykes appears on screen or in wife Jennifer Coolidge's attempts to revive Wellington's flagging sexual interest. There is a very funny scene near the end of the film with Chris Rock trying to hail a cab only to be driven past three times and then yell in triumph "Yes, I'm a Black man again." There is also something amusing to the idea of Heaven envisioned as a Las Vegas lounge where the Heavenly supervisor in the person of Chazz Palminteri looks like a shady Mafia type.
There is also some surprisingly sharp and pointed social commentary to the humour – the film gets mileage out of the idea of the reactions of a Black crowd to a white man telling typical Black stand-up humour or of a middle-aged white man dancing to rap and singing along to lyrics like "Kill, Whitey, Kill." In placing such material in the mouth of an aged, conservative white man, Rock perhaps unintentionally reveals the inherent anti-White racism in rap lyrics and in the constant racial self-abrogation in much modern Black stand-up humour – the likes of D.L. Hughley, Steve Harvey, Martin Lawrence and Rock himself. It is here that Down to Earth perhaps inadvertently stumbles onto something approaching the genuine social commentary it wants to make.
---
---