---
Crew
Director/Screenplay – Woody Allen, Producer – Robert Greenhut, Photography – Carlo Di Palma, Visual Effects Supervisor – Randall Balsmeyer, Wire Effects – Bob Harmon, Production Design – Santo Loquasto, Art Direction – Speed Hopkins. Production Company – Rollins-Jaffe.
Cast
Mia Farrow (Alice Tate), Joe Mantegna (Joe Ruffalo), William Hurt (Douglas Tate), Keye Luke (Dr Yang), Alec Baldwin (Ed), Blythe Danner (Dorothy), Cybill Shepherd (Nancy Brill), Bernadette Peters (Muse), Gwen Verdon (Alice's Mother)
---
Plot
Upper-class New York housewife Alice Tate consults Oriental herbalist Dr Yang about her backache. He diagnoses the cause as her dissatisfaction with her marriage. When she cautiously starts to think about an extra-marital affair with handsome sax player Joe Ruffalo, Dr Yang comes to her aid with a series of herbs that variously make her invisible, conjure her muse, raise up the ghosts of dead boyfriends and make men irresistibly fall in love with her.
---
Woody Allen began in the late 1960s making a series of hilarious slapstick films Take the Money and Run (1969), Bananas (1971), Everything You Always Wanted to Know About Sex * But Were Afraid to Ask (1972) and Sleeper (1973). Into the late 1970s and early 80s, Woody Allen's films – the likes of Annie Hall (1977), Interiors (1978) and Stardust Memories (1980) – became bogged down in weighty self-introspection.
Many of Woody Allen's films of the 1990s and beyond – New York Stories (1989), Mighty Aphrodite (1995), Everyone Says I Love You (1996), Vicky Cristina Barcelona (2008), Midnight in Paris (2011) – show him in a post-therapeutic state and altogether much happier about life. During this period, Alice was Woody Allen's most boring film in some time. Allen seems to want to parody New York's upper-class set but the film bogs down so much that Allen only ends up raising a shallow token whimper against the milieu he is poking fun at. Mia Farrow's endlessly hand-wringing doubts about her affair tire long before she ever makes up her mind.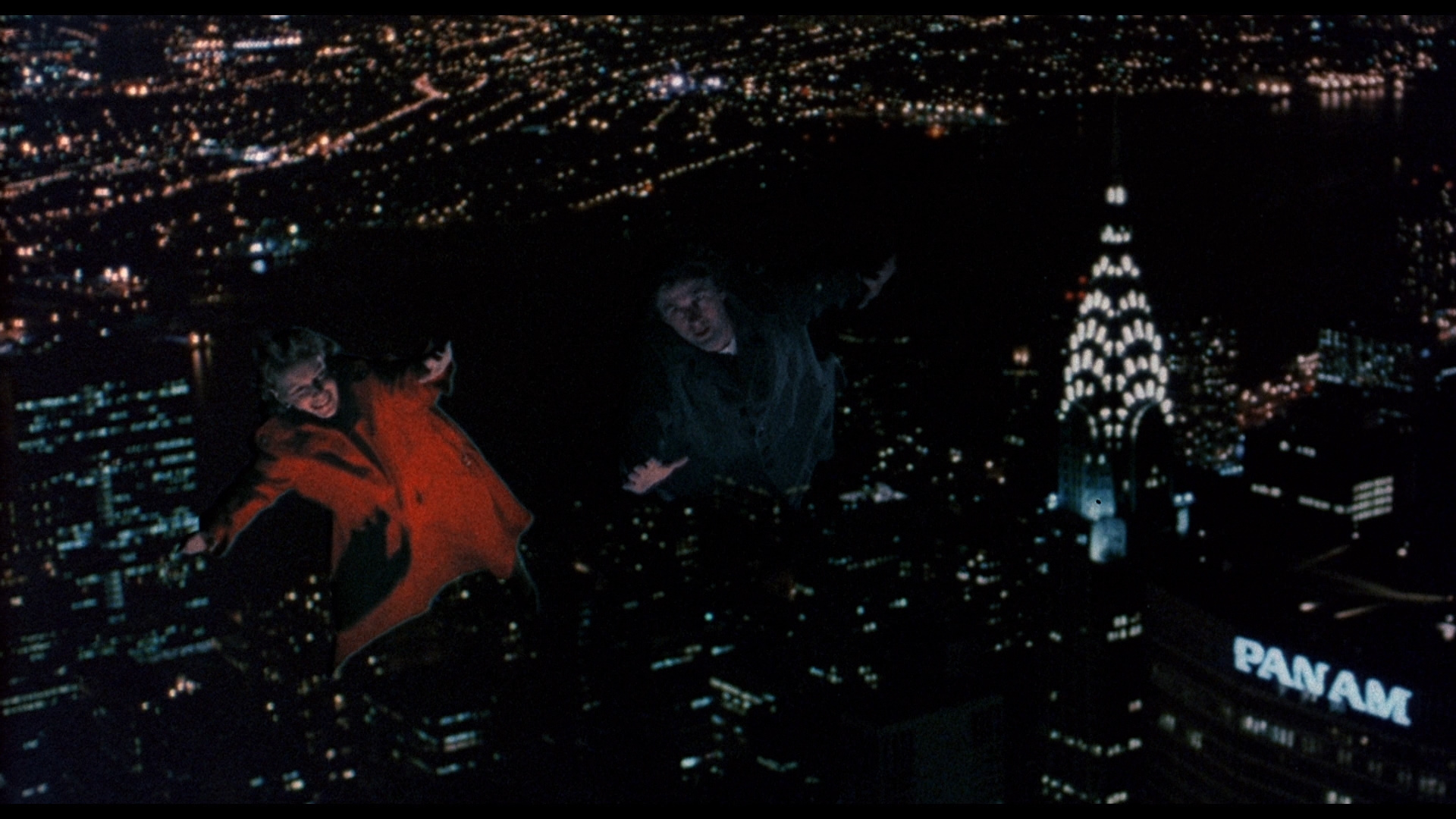 Woody Allen clearly intended Alice as the interesting idea of a modernised version of Alice's Adventures in Wonderland (1865) set in New York City but the concept gets lost somewhere along the line. Indeed, Alice is almost Woody Allen's Altered States (1980) where the taking of a drug holds revelatory powers, although here the results are directed towards Allen's usual neuroses rather than a quest for existential meaning. For once, Allen's penchant for frivolous fantasy – here invisibility, ghosts, visits from muses, Oriental mysticism and a Superman (1978)-styled flight through the Manhattan night sky – only serve to create a disjointed hodgepodge.
Woody Allen does not appear in this film but Mia Farrow could be playing him in every other way. At this point (a couple of years before their high-profile split), Farrow had been with Allen so long – living de facto and appearing in every one of his films over the preceding decade – that she has even started taking on his mannerisms. Here she is playing Allen's usual angst-ridden klutz role with a sex-change. Nevertheless, she does provide the surprisingly few moments of humour in the film, getting stoned under the influence of an opium pipe, or her seduction of Joe Mantegna, which parodies male pick-up lines.
Woody Allen's other genre films are:– Play It Again Sam (1972), Everything You Always Wanted to Know About Sex * But Were Afraid to Ask (1972), Sleeper (1973), Love and Death (1975), A Midsummer Night's Sex Comedy (1982), Zelig (1983), The Purple Rose of Cairo (1985), New York Stories (1989), Shadows and Fog (1991), Mighty Aphrodite (1995), Everyone Says I Love You (1996), Deconstructing Harry (1997), Match Point (2005), Scoop (2006), Midnight in Paris (2011), To Rome with Love (2012) and Magic in the Moonlight (2014).
---
---