---
USA. 1937.
Crew
Director – Norman Z. McLeod, Screenplay – Eric Hatch, Jack Jevine & Eddie Moran, Based on the Novel by Thorne Smith, Producer – Hal Roach, Photography (b&w) – Norbert Brodine, Musical Director – Marvin Hartley, Musical Arrangements – Arthur Marton, Photographic Effects – Roy Seawright, Art Direction – Arthur I. Royce. Production Company – MGM.
Cast
Roland Young (Cosmo Topper), Constance Bennett (Marion Kerby), Cary Grant (George Kerby), Billie Burke (Clara Topper), Alan Mowbray (Wilkins), Arthur Lake (Elevator Operator), Eugene Pallette (Casey), Virginia Sale (Miss Johnson)
---
Plot
Wealthy socialites George and Marion Kerby are killed when they crash in their speedster. Afterwards, Cosmo Topper, the manager of the bank where they are boardroom executives, buys the speedster and has it reconditioned. While driving in the car, he crashes on the same stretch of road that they did. There the ghosts of George and Marion appear to him. They believe they have been sent back to help Topper make his life less staid. Joining him, sometimes invisibly and sometimes not, they proceed to cause utter havoc around him with their carefree ways.
---
Topper was one of the first films amid the 1940s mini-genre of light eschatological fantasies. It had been preceded by The Ghost Goes West (1935) but it was the success of Topper that kicked the genre into high gear. Topper inspired a host of similar screwball comedy fantasies circling around ghost, heavenly and afterlife themes. Others included the likes of Turnabout (1940), The Horn Blows at Midnight (1942) I Married a Witch (1943) and The Canterville Ghost (1944). Later entries in this genre such as Here Comes Mr Jordan (1941), A Guy Named Joe (1943), It's a Wonderful Life (1946), A Matter of Life and Death/Stairway to Heaven (1946), The Ghost and Mrs Muir (1947) and Portrait of Jennie (1948) became increasingly more serious in their treatment of themes. The line where the light eschatological fantasy moves between screwball comedy and serious can be drawn at the outbreak of World War II. When battlefield casualties started becoming a real thing, the afterlife fantasy turned away from frivolous entertainment towards ameliorating fantasies of comfort and the assurance of a grand reuniting awaiting good people in the afterlife.
From the time when the afterlife fantasy did not take itself seriously, Topper comes with a sublime screwball silliness. The opening scenes with Cary Grant driving with his feet up on the wheel of the car; he and Constance Bennett turning up at the nightclub and sliding down slides and singing all night long; spending the night asleep in their gorgeous custom speedster on the street outside the bank as a crowd gathers, waiting for the boardroom meeting to open; and Cary Grant throwing the meeting into chaos with his refusal to take matters seriously and his punning plays on "no cents" and "no sense" are delightful.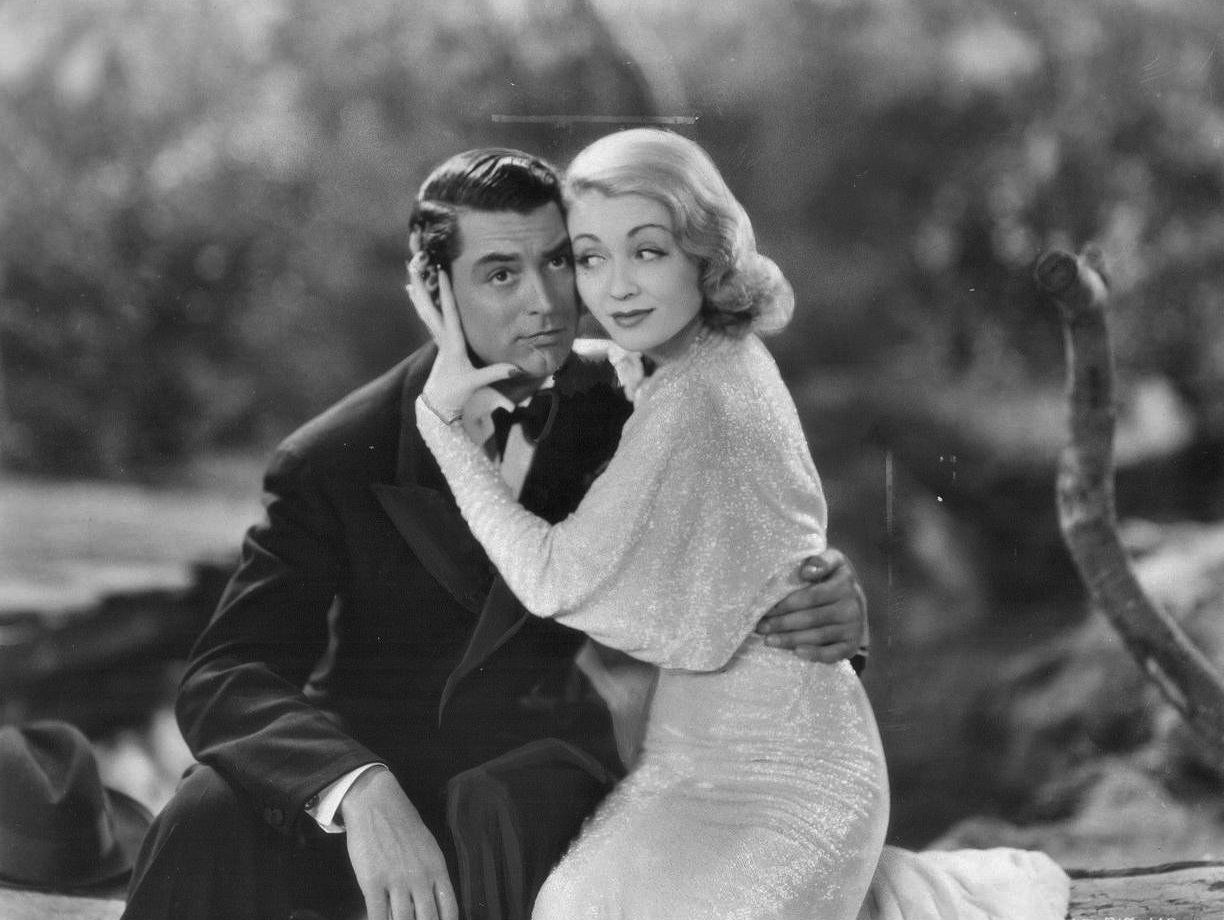 There is a giddily delirious frothiness to Topper. You can almost sense the film having been construed in a spirit of dizzily manic euphoria in a determination to throw off the social gloom of The Depression and celebrate people taking nothing at all, not even death, seriously. As such, Topper is nothing less than a series of gonzo scenes. There is an hysterical sequence with Roland Young being followed around the lobby of a hotel by Cary Grant invisibly pushing a chair and insisting he sit down, all of which is aided by Young's perfect deadpan delivery, apologizing to the other guests – "I'm having a little chair trouble. Please ignore me."
Roland Young gives a wonderfully droll and dryly dull performance as Topper. Young has a perfect sense of deadpan timing. He has been set up as a figure of boring conservatism whose character arc is a move from dreariness to enjoyment of life. That is the whole of the film's fantasy. There is an undeniable mischievousness to the film as well – with it endorsing all manner of mildly risqué and anti-social behaviours, including pinching wives' bottoms, characters getting drunk and getting into fights with cops, having affairs, even the staid Roland Young being revealed to be hiding lingerie inside his coat while in court.
Topper was made before Cary Grant had become a major name and was the film where Grant perfected his debonair, sophisticated screen persona. Here he is second-billed below the now almost forgotten Constance Bennett. She gives an appealingly flirtatious performance. Both of them are admirably served by the sparklingly effervescent dialogue.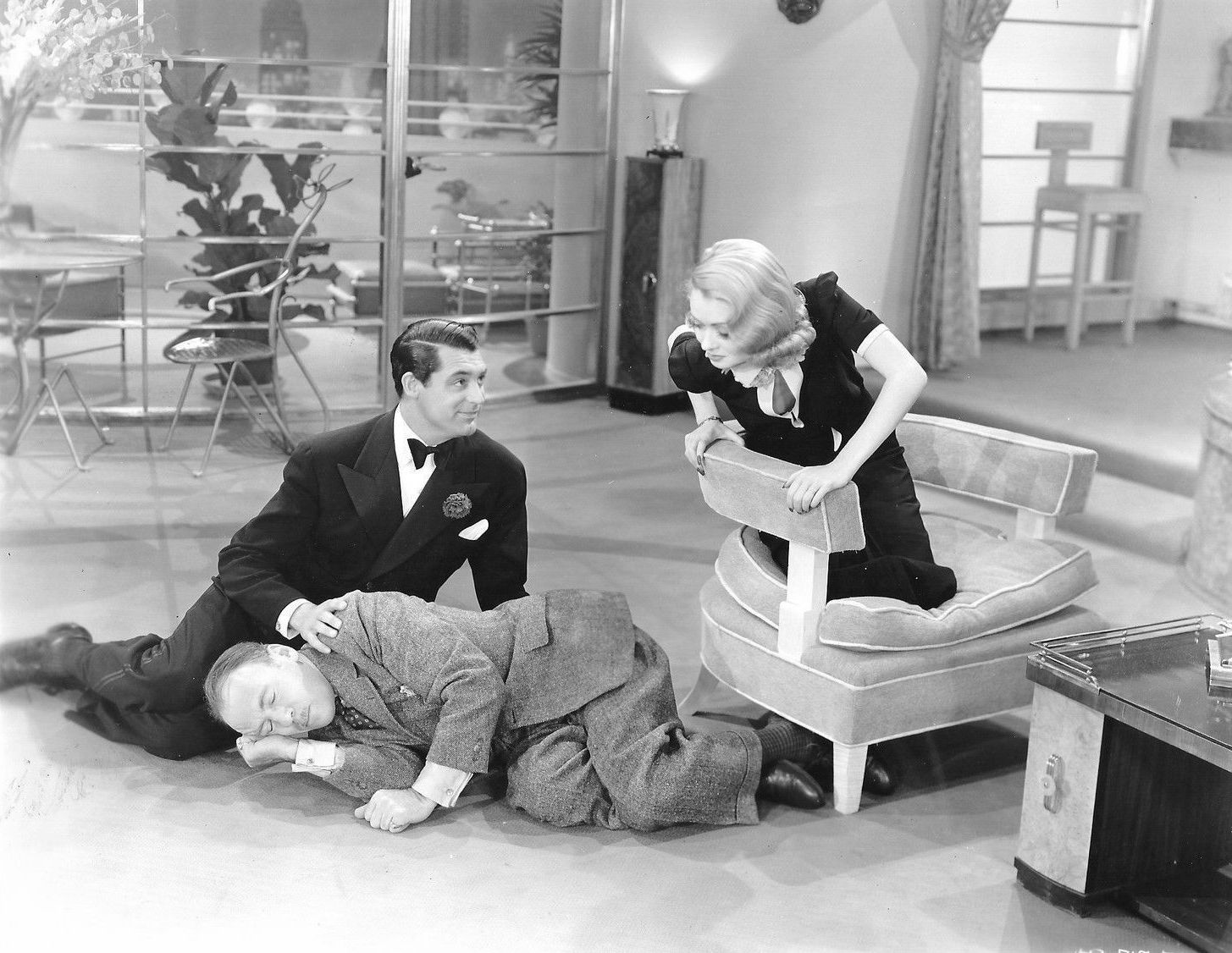 There were two sequels – Topper Takes a Trip (1939) and Topper Returns (1941). Roland Young appears as Topper in all three, Constance Bennett returns as Marion in the first. Cary Grant does not return and the character of George was written out of both the sequels. The film was also later turned into a well-liked tv series Topper (1953-5) starring Anne Jeffreys and Robert Sterling as the ethereal couple and with Leo G. Carroll as Topper. This lasted for two seasons. The film was later remade as a tv pilot Topper (1979) starring Kate Jackson and Andrew Stevens as the ghostly husband and wife and Jack Warden as Topper, although this never went to series. A further cinematic remake has been mentioned throughout the 2000s.
Director Norman Z. McLeod was a classic comedy director of the 1930s and 40s. He made early Marx Brothers films such as Monkey Business (1931) and Horse Feathers (1932), It's a Gift (1934) with W.C. Fields and Road to Rio (1947), the fifth of the Bob Hope-Bing Crosby Road movies. In genre material, McLeod also made the live-action all-star Alice in Wonderland (1933), the sequel to this Topper Takes a Trip (1938), and the Danny Kaye daydreamer fantasy The Secret Life of Walter Mitty (1947).
Thorne Smith was a popular novelist on light fantasy themes. There were a number of other films adapted from Thorne Smith's books, including Night Life of the Gods (1935) wherein a magic ring brings a statue to life, the bodyswap comedy Turnabout (1940) and the delightful I Married a Witch (1942).
---
Trailer here
---