---
Crew
Director – Charles Barton, Screenplay – Val Burton, Walter De Leon & Bradford Ropes, Additional Dialogue – John Grant, Producer – Val Burton, Photography (b&w) – Charles Van Enger, Music – Milton Rosen, Special Photography – Jerome Ash & D.S. Horsley, Makeup – Jack P. Pierce, Art Direction – Jack Otterson & Richard H. Riedel. Production Company – Universal.
Cast
Lou Costello (Horatio Prim), Bud Abbott (Dr Ralph Greenway/Cuthbert Greenway), Marjorie Reynolds (Melody Allen), Gale Sondergaard (Emily), Binnie Barnes (Mildred Dean), John Shelton (Sheldon Gage), Lynne Baggett (June Prescott), Annie Gillis (Nora O'Leary), Jess Barker (Thomas Danbury), Donald MacBride (Lieutenant Mason), Robert H. Barrat (Major Putnam)
---
Plot
The year 1780 at Danbury Manor in King's Point, New York. Cuthbert Greenway, the butler to Thomas Danbury, finds that his object of desire, the maid Nora O'Leary, is planning to leave and marry the tinker Horatio Prim and so contrives to lock Horatio in a trunk. Danbury's fiancee Melody Allen overhears a conversation and learns that Danbury is preparing to betray George Washington. She races to the stables where she frees Horatio and urges him to help her warn the patriot army. Just as they set out, the patriot army arrives and Melody and Horatio begin shooting at them, thinking they are Danbury's reinforcements, only to be shot themselves. The commander orders their bodies dumped down the well and a plaque placed that curses their spirits to never leave the property unless it can be proven that they are not traitors. The house is burned to the ground and in the years that follow, the ghosts of Horatio and Melody wander the grounds. In 1946, Danbury's ancestor Sheldon Gage has the house exactingly rebuilt according to the original specifications and intends to move in with his fiancee. Horatio and Melody set about haunting them, encountering Ralph Greenway, a psychologist ancestor of Cuthbert. They realise that somewhere amid the salvaged furniture, there is a letter signed by George Washington that will prove they are not traitors and allow their spirits to go free. Amid many mishaps, they set about to gain the aid of the living and find the letter.
---
Bud Abbott and Lou Costello were one of the hottest comedy acts of the 1940s. The two started in stand-up on stage in the 1930s, moved to radio and then made their film debut in Buck Privates (1941), which led to enormous success on the cinema screen. Almost invariably, Abbott and Costello are remembered today for their various team-ups with the Famous Monsters and less so for the bulk of the rest of their output – 36 films made between 1941 and 1956. At the peak of their popularity, they were releasing three films a year. (See below for their other genre outings).
The plot here is a riff on one that we had several years before with films such as The Ghost Goes West (1935) and The Canterville Ghost (1944) – that of the ghost who has been cursed to remain perpetually in limbo bound to an ancestral home until their misdeeds can be expiated in the present-day. The Time of Their Lives equally draws on the popular Topper (1937) and sequels, which made a great deal of mileage out of the comedic exploits of ghosts having fun with the living. Within the familiar formula of this type of film, everything falls to standard.
Surprisingly, given that their relationship was based on the playing off of their two characters, Abbott and Costello don't play the two ghosts – these are played by Lou and Marjorie Reynolds, while Abbott plays fairly much a supporting role as Costello's 18th Century romantic rival and his modern-day descendent. This was apparently due to a rift between the two where they for a time refused to speak to the other except when performing together – here the entire film seems set up to avoid any scenes that actually involve them playing off one another.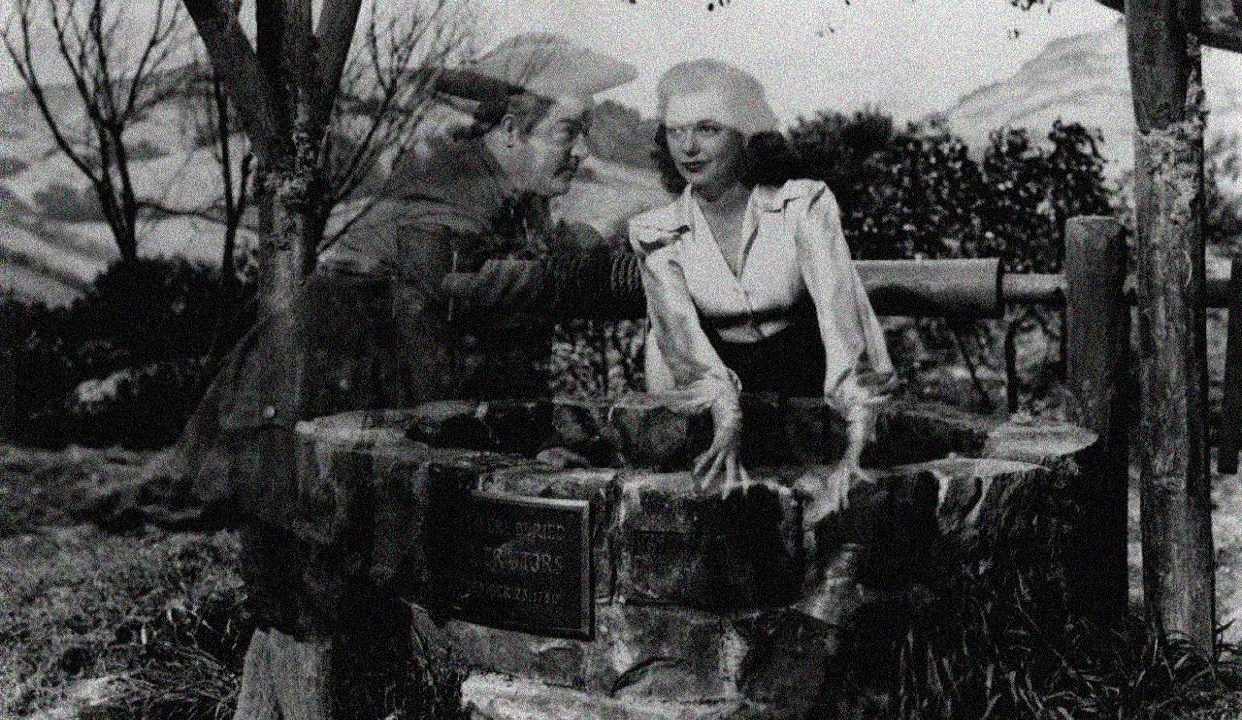 The comedy in the film does nothing astounding with the familiar elements. After an extended set-up, most of the middle of the show is taken up with gags involving the ghosts playing the harpsichord, kicking Abbott in the butt, Costello failing to get the trick of dematerialising down and constantly walking into doors, a comic seance and a climactic scene that involves silly car chases and the humiliation of pompous officer Donald MacBride's face.
I don't know about anyone else but Abbott and Costello's comic antics feel dated today. Most of the routines the film is based around are slapstick antics. There is the odd amusing line – Marjorie Reynolds tells Lou Costello: "If anyone comes through here, we must shoot them. Here's a horse pistol" after which he hands the pistol to the horse "Here this is for you. Now what do I use?" Or where Bud Abbott greets stony-faced maid Gale Sondergaard: "Pardon me, but didn't I see you in Rebecca (1940)?"
Abbott and Costello's other films of genre note are:– Hold That Ghost (1941), Abbott and Costello Meet Frankenstein (1948), Abbott and Costello Meet the Invisible Man (1951), Comin' Round the Mountain (1951), Jack and the Beanstalk (1952), Abbott and Costello Go to Mars (1953), Abbott and Costello Meet Dr Jekyll and Mr Hyde (1953) and Abbott and Costello Meet the Mummy (1955). Lou Costello made one solo effort with The 30-Foot Bride of Candy Rock (1959).
---
---