---
Crew
Director – David Koepp, Screenplay – John Kamps & David Koepp, Producer – Gavin Polone, Photography – Fred Murphy, Music – Geoff Zanelli, Music Supervisor – Kathy Nelson, Visual Effects – Rhino FX (Supervisor – Armin Matin), Special Effects Supervisor – Steve Kirshoff, Production Design – Howard Cummings. Production Company – DreamWorks SKG/Spyglass Entertainment/Pariah.
Cast
Ricky Gervais (Bertram Pincus), Téa Leone (Gwen Herlihy), Greg Kinnear (Frank Herlihy), Billy Campbell (Richard), Aasif Mandvi (Dr Prashar), Kristen Wiig (Surgeon), Alan Ruck (Ghost Dad), Dana Ivey (Marjorie), Michael-Leon Wooley (Hospital Lawyer), Bridget Moloney (Receptionist), Jeff Hiller (Naked Guy)
---
Plot
Bertram Pincus is a British-born dentist living in New York City. He doesn't much like people, finding their conversation tiresome and treating them rudely. He undergoes anaesthesia for a routine colonoscopy. However, when he emerges from the operation, he finds everywhere that people are following him. He realises that these are ghosts. He discovers that while he was under anaesthesia, he died for several minutes but then returned to life. He is persistently followed by Frank Herlihy who tells Bertram he will get the other ghosts to stop pestering him if Bertram will stop his archaeologist wife Gwen from marrying an obnoxious lawyer. Bertram agrees and realizes that the best way to break up the engagement would be to give Gwen a different option – namely himself. He awkwardly sets out to woo her, which is not helped by the fact that she is his neighbour and remembers him treating her rudely. Despite himself, Bertram starts to succeed. However, in doing so, he also realizes that he is beginning to have feelings for Gwen.
---
I have insisted for several years now that David Koepp is one of the most underrated directors out there. David Koepp is mostly known as a screenwriter and has written a number of high-profile films including Apartment Zero (1988), Bad Influence (1989), Death Becomes Her (1992), Carlito's Way (1993), Jurassic Park (1993), The Paper (1994), The Shadow (1994), Mission: Impossible (1996), The Lost World: Jurassic Park (1997), Snake Eyes (1998), Panic Room (2002), Spider-Man (2002), War of the Worlds (2005), Zathura: A Space Adventure (2005), Indiana Jones and the Kingdom of the Crystal Skull (2008), Angels & Demons (2009), Jack Ryan: Shadow Recruit (2014), Inferno (2016) and The Mummy (2017).
Far more impressive than most of these have been Koepp's outings as a director, beginning with the collapse of civilisation drama The Trigger Effect (1996) and continuing through the haunting Stir of Echoes (1999), the Stephen King adaptation Secret Window (2004) and the subsequent thriller Premium Rush (2012), although he did come somewhat unstuck with the poorly received comedy Mortdecai (2015) and followed that with the malevolent house film You Should Have Left (2020). Koepp's works have gained only a modest reputation, mostly it seems because he makes quiet and intelligent rather than big, dramatically ostentatious and star-driven films.
Ghost Town – which is not related to the dozen other films with the same title, most of which it appears are Westerns, apart from the Empire film Ghost Town (1988), a B-budget film set in a haunted Western town – is David Koepp's first venture into comedy. This surprised me when I first read about Ghost Town in that comedy is not a genre that Koepp has touched on before, apart from the blackly comic Death Becomes Her. Indeed, one challenges the reader to come up with any standout comic moments from any of the above-listed Koepp films. One supposes that Koepp has at least made a comedy here in an effort to stretch his range. That said, Ghost Town is David Koepp's most lightweight film to date.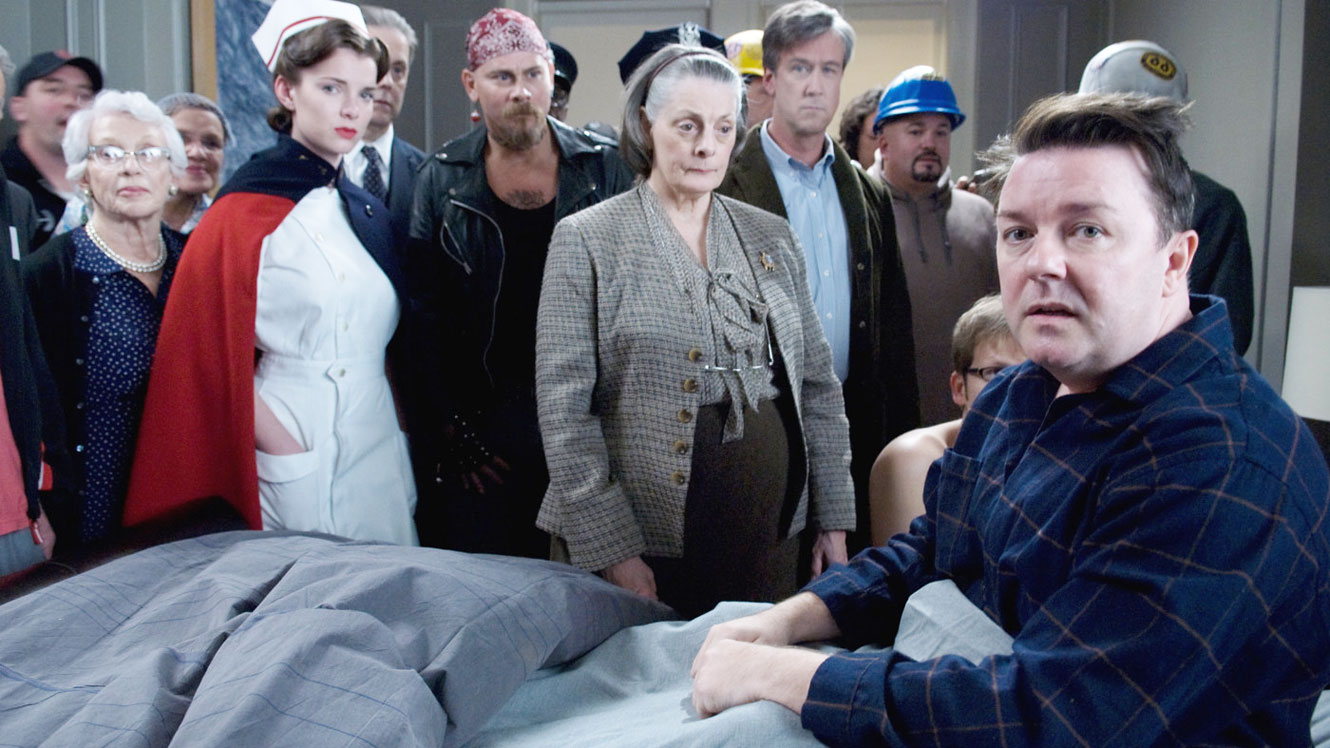 And I am not 100 percent certain after watching Ghost Town that David Koepp succeeds either. Ghost Town is a funny film, but it is very different to most other mainstream comedies at the US box-office – compare it up against anything starring Eddie Murphy or Ben Stiller, for instance. David Koepp's comedy is much dryer and frequently more intellectual in nature. The problem with comedy in a film (or at least a mainstream film) is that it is almost always something that derives from directorial timing and the persona of the actor. You get the impression that David Koepp has tried to write his comedy as opposed to direct it. There seems far too much of a reserve at times and never any points that the film goes for a physical belly laugh.
The reason that Ghost Town does succeed is the presence of British funny man Ricky Gervais, who serves up his patented aghast awkwardness and dry sarcasm in a role that would mandatorily have been played by Bill Murray a few years ago. You cannot help but think that were Ghost Town made with someone less than Ricky Gervais, it would have emerged as flat and uninspired.
The story served up is fairly predictable and very much an old-fashioned one that belongs back in the 1940s heyday of screwball light fantasy films like Topper (1937) and The Canterville Ghost (1944). Ricky Gervais is in his elements when acting the disinterested snob and in gradually thawing as he awkwardly tries to befriend Téa Leone. She plays well opposite him, with the two achieving a geeky rapport during the museum and dinner party sequences. The latter third of the film segues into more of a light fantasy romance. It is somewhat of a hard stretch trying to see Ricky Gervais playing a serious romantic lead, but David Koepp moves through the standard bittersweet moments with a sufficiently accomplished hand. It is all very predictable in its wrap-up, but not unenjoyably so.
---
---