---
USA. 2005.
Crew
Director – Mark Waters, Screenplay – Leslie Dixon & Peter Tolan, Based on the Novel If Only It Were True by Marc Levy, Producers – Laurie MacDonald & Walter F. Parkes, Photography – Daryn Okada, Music – Rolfe Kent, Visual Effects Supervisor – John Sullivan, Visual Effects – Big Red Pixel (Supervisor – Robert Rossello), Special Effects Supervisor – Al Broussard, Production Design – Cary White. Production Company – DreamWorks SKG/Parkes-MacDonald.
Cast
Mark Ruffalo (David Abbott), Reese Witherspoon (Dr Elizabeth Masterson), Dina Waters (Abby Brody), Jon Heder (Darryl), Donal Logue (Jack), Ben Shenkman (Dr Brett Rushton), Ivana Milicevic (Katrina), Rosalind Chao (Dr Fran Lo), Caroline Aaron (Grace), Ron Canada (Dr Walsh)
---
Plot
Elizabeth Masterson is intern at San Francisco's St Matthew's hospital where she works long hours and has no life. On her way to her sister's place for dinner, she is caught in a car crash. Some time later, David Abbott, a landscape artist who has been depressed since the death of his wife, finds the perfect apartment and moves in. He is startled when Elizabeth turns up insisting that he is in her apartment and then mysteriously vanishes. He worries that he is seeing things but when he sees Elizabeth walk through objects, he realizes that she is a ghost. She has no memory of who she is and so they set out in an initially testy relationship to find out more about her past. Various clues lead them to the hospital where they discover Elizabeth's body lying in a coma. They find that doctors are planning to turn off her life-support. The two race to convince people to not go through with this. As the chances of succeeding look slim, David realizes that he is starting to develop feelings for Elizabeth.
---
It is almost impossible in watching Just Like Heaven not to think about the Terry Schiavo case, which split the USA down the middle in a fierce battle between the Right to Life and euthanasia lobby in 2005. Terry Schiavo had been in a coma for fifteen years and it was medically determined that her brain was in a persistent vegetative state (which is about as near to brain death as one can get). When her husband petitioned to have her feeding tube removed, her Catholic parents, with the backing of various religious groups, lobbied the courts to regard Schiavo as still alive. A political furore erupted across the country with Florida's Governor Jeb Bush and even Congress passing various laws aimed at protecting Schiavo's life. Despite a fierce battle, her husband's camp was eventually victorious and Schiavo was allowed to die in March 2005. A subsequent autopsy showed that her brain had been destroyed beyond the point that it would have been impossible for her to ever recover consciousness. Such a fiercely heated issue, centred around issues of euthanasia and the question of the soul, and one that split the US between its liberal and conservative factions, seems the most unlikely of subjects to form the basis of a romantic comedy.
It is impossible to believe that the makers of Just Like Heaven could not have been aware of the Terry Schiavo debate, especially considering the headline prominence of the issue and the film's timing. It feels as though Just Like Heaven has been construed as a feelgood riposte to the furore, a fantasy that has been predicated on the concept of Terry Schiavo's spirit getting up off her hospital bed and falling in love with a man and the two of them setting out together on a mission to save her life. As such, Just Like Heaven wades into the Terry Schiavo debate with the case entirely weighed towards one viewpoint (The Right to Life side), where it relays the argument in purely sentimental terms. Indeed, in its siding with the Right to Life camp, it is hard not to see Just Like Heaven as being yet another in the recent fad for Hollywood films buying into a pro-Christian agenda and being overtly pitched to faith audiences that we saw after the success of The Passion of the Christ (2004) – see also The Exorcism of Emily Rose (2005) and The Chronicles of Narnia: The Lion, the Witch and the Wardrobe (2005).
While there are many times that a film's politics can make it abhorrent, agreeing with its political/moral position is never something that should impact on enjoying a film dramatically. One, for example, does not need to hold Christianity to be true to be able to enjoy a vampire film or something like The Exorcist (1973); nor does it require near-fascistic views on law enforcement in order to enjoy many action films. Considered on its own terms and ignoring any awareness of surrounding political context, Just Like Heaven is a likeable fantasy – even if one was initially put off by having to listen to The Cure's Just Like Heaven (1987) turned into a light pop ballad by Katie Melua in the opening minutes. The basic premise of a mortal with a ghost companion that only they can see is a well-tried one – from Topper (1937) and The Ghost and Mrs Muir (1947) through Disney's Blackbeard's Ghost (1968), tv's Randall and Hopkirk (Deceased) (1969-71) and Heart Condition (1990). If anything, Just Like Heaven emerges as a conceptual attempt to blend The Ghost and Mrs Muir with the comatose romance of While Your Were Sleeping (1995).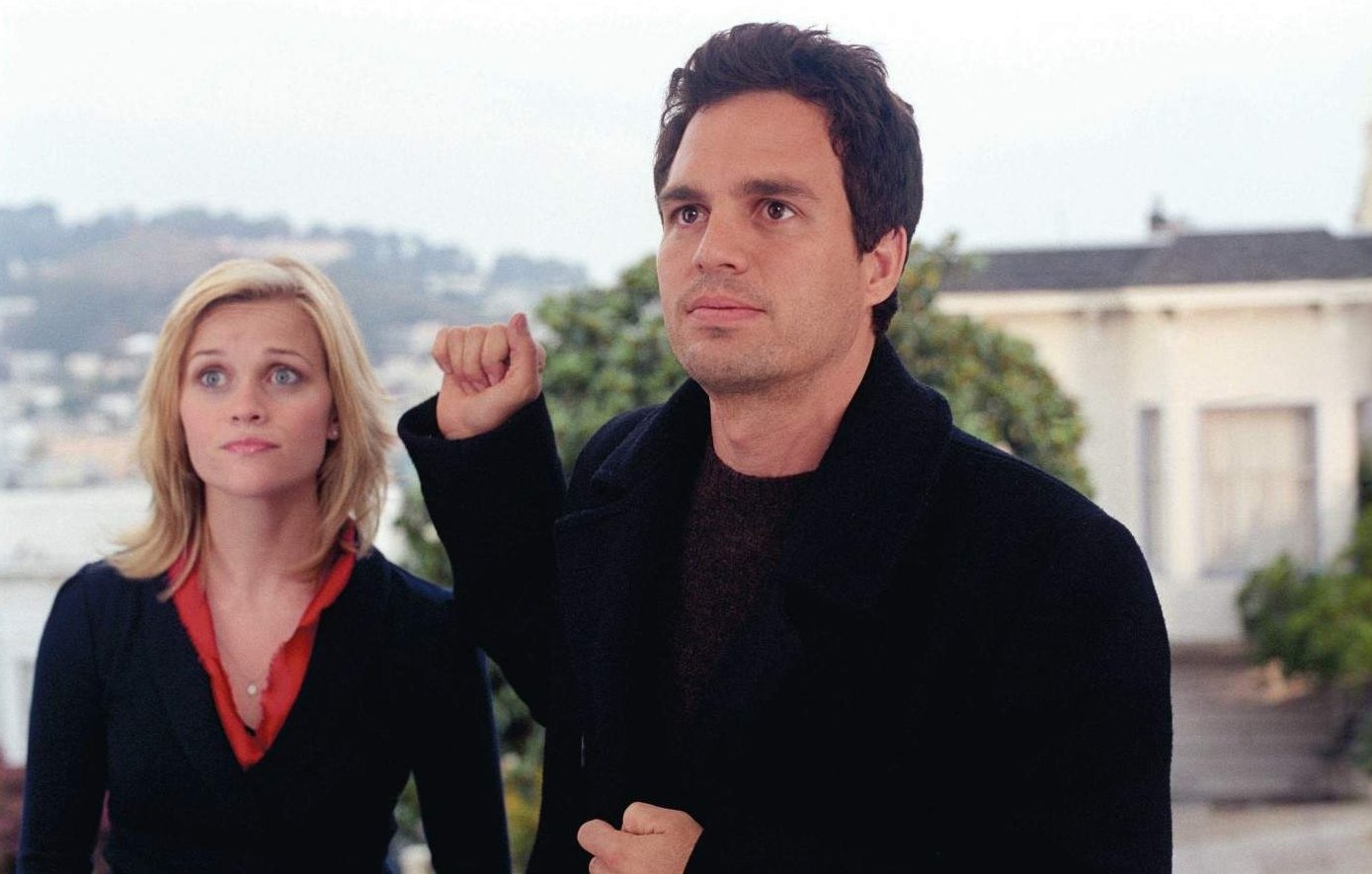 Reese Witherspoon is an actress whose star has been touted in the last couple of years, consolidated by her winning the Best Actress Oscar for Walk the Line (2005). In that time, she has also proven herself a dab hand at this sort of romantic comedy in films like Legally Blonde (2001) and Sweet Home Alabama (2002). I was very impressed with Mark Ruffalo in You Can Count On Me (2000) and as the macho detective in In the Cut (2003). Mark Ruffalo is, I predict, one of the potentially top emerging actors (as opposed to stars) of the next few years ahead.
I failed to be convinced by some of the abrupt character changes that we see in Just Like Heaven – in the opening scenes at the hospital, Reese Witherspoon is shown as a near-saintly intern with a workaholic regimen and no personal life, which tends to jar with the prim Miss Manners that we next see getting uptight about beer coasters in her apartment. Also the move from a testy relationship into romantic affectation is equally abrupt and one that seems unearned in terms of its sudden eruption of feeling on Mark Ruffalo's part. Nor are the two characters the most likeable of people – he seems a shapeless sad sack who has given up on life, while in any real world setting her motormouth control freak would be considered a major turnoff by most men. (The two of them also manage to get the film frequently stolen out from under them by comedic turns from Donal Logue and especially Napoleon Dynamite himself Jon Heder as a spacey New Age bookstore clerk).
Director Mark Waters had previously made various lightweight mainstream comedies like Head Over Heels (2001), Mean Girls (2004) and one previous venture into fantasy with Disney's remake of Freaky Friday (2003), as well as having subsequently made the goblin fantasy The Spiderwick Chronicles (2008), Ghosts of Girlfriends Past (2009) and Vampire Academy (2014).
Waters manages to make Just Like Heaven work simply by focusing the film around the two characters. Just Like Heaven may not one of those films where one comes out moved and singing for life, but it does move through its emotions with modest effect and a fair degree of sincerity. It is a film where you know the outcome in advance, yet where the scriptwriters manage to work their way there by producing a number of surprise twists and turns. Some of the writers' cleverest work comes in the frequent dual levels that the dialogue manages to work on, with conversations that people are having with absent people being interpreted entirely differently by those corporeally present.
Mark Waters' weakness though may well be that he has a reserve when it comes to directing comedy. He never lets go and aims for the hysterical. There are certainly some funny scenes – where Mark Ruffalo engages in impromptu surgery guided by Reese Witherspoon's ghost, or the climactic abduction of the body from the hospital.
There are other times that Just Like Heaven seems to miss the mark. One of these is the scene where Reese Witherspoon possesses Mark Ruffalo's body in a bar, which has much comic potential, but feels like Waters is holding back from all that the scene could have been. (This ability to possess him also proves to be something Reese Witherspoon never uses elsewhere, even though it would surely have helped her when it came to talking to her sister or during the scene where he must operate on a man). Compare this scene to All Of Me (1984) with Steve Martin possessed by Lily Tomlin and delivering a tour-de-force performance, a film where both Martin and director Carl Reiner pushed the gag of two people in one body to the completely hysterical; by contrast, the same here looks tepid.
---
---