---
Crew
Director – Genndy Tartakovsky, Screenplay – Adam Sandler & Robert Smigel, Producer – Michelle Murdocca, Music – Mark Mothersbaugh, Animation – Sony Pictures Imageworks Inc. & Sony Pictures Imageworks Canada Inc., Visual Effects Supervisor – Karl Edward Herbst, Senior Animation Supervisor – Alan Hawkins, Production Design – Michael Kurinsky. Production Company – Sony Pictures Animation.
Voices
Adam Sandler (Dracula), Andy Samberg (Jonathan), Selena Gomez (Mavis Dracula), Asher Blinkoff (Dennis), Mel Brooks (Vlad Dracula), Kevin James (Frankenstein), Steve Buscemi (Wayne), David Spade (Griffin), Keegan-Michael Key (Murray), Megan Mullaly (Grandma Linda), Nick Offerman (Grandpa Mike), Dana Carvey (Dana), Rob Riggle (Bela), Fran Drescher (Eunice), Molly Shannon (Wanda), Johnny Solomon (Blobby), Sunny Sandler (Baby Dennis), Chris Kattan (Kakie), Jon Lovitz (Phantom of the Opera), Rose Abdoo (Ticket Agent)
---
Plot
Dracula's daughter Mavis and her human boyfriend Jonathan are married. Not long after, they give birth to a young boy that they name Dennis. Dracula proves a doting grandfather but is disappointed when Dennis remains human instead of becoming a vampire. Dracula lives in the hope that Dennis will prove to be a Late Fanger but continues to be disappointed when Dennis nears the age of five without developing any fangs. Mavis keeps thinking that Hotel Transylvania is a bad environment to bring Dennis up and that maybe they should move to California. Dracula conspires with Jonathan, who is desiring time away with Mavis, and persuades the two of them to take a trip to scout out California while he looks after Dennis. With Mavis discovering the outside world for the first time, back in Transylvania, Dracula embarks on a determined scheme to force Dennis to manifest his vampire nature.
---
Hotel Transylvania (2012) didn't do much for me. The term 'Adam Sandler Comedy' has the ability to fairly much dampen one's enthusiasm before one even enters a theatre. And while he seemed less smug and obnoxious than usual as Dracula (even if the cheesy fake accent wore on one's nerves – as it also does here), the film's crime was in reducing the Famous Monsters from the 1930s Golden Age of Horror to inane caricatures in a children's cartoon. For anyone over the age of ten and certainly anyone with a love of classic monster movies, the most the film had to offer was some occasionally amusingly silly and incongruous gags thrown in the direction of the various monsters.
That said, Hotel Transylvania was one of the top grossing films of 2012. This naturally mandated Hotel Transylvania 2 in which Sony, director Genndy Tartatovsky, most of the production personnel and all of the voice cast are back for more. (This time, Adam Sandler also co-writes the script). Not too unexpectedly, what we get is fairly much exactly the same as before but with minimal variation – the principal plot this time is derived not from Dracula's daughter Mavis getting a human boyfriend but with the two of them getting married and then having a son where Dracula proves a doting grandfather but becomes upset when the kid doesn't turn into a vampire. All of the supporting monster characters are back and get pieces of comedy relief – although this time we at least get a Frankenstein who points out that Frankenstein is the name of the creator not the monster (even if the film then goes on to ignore such anyway).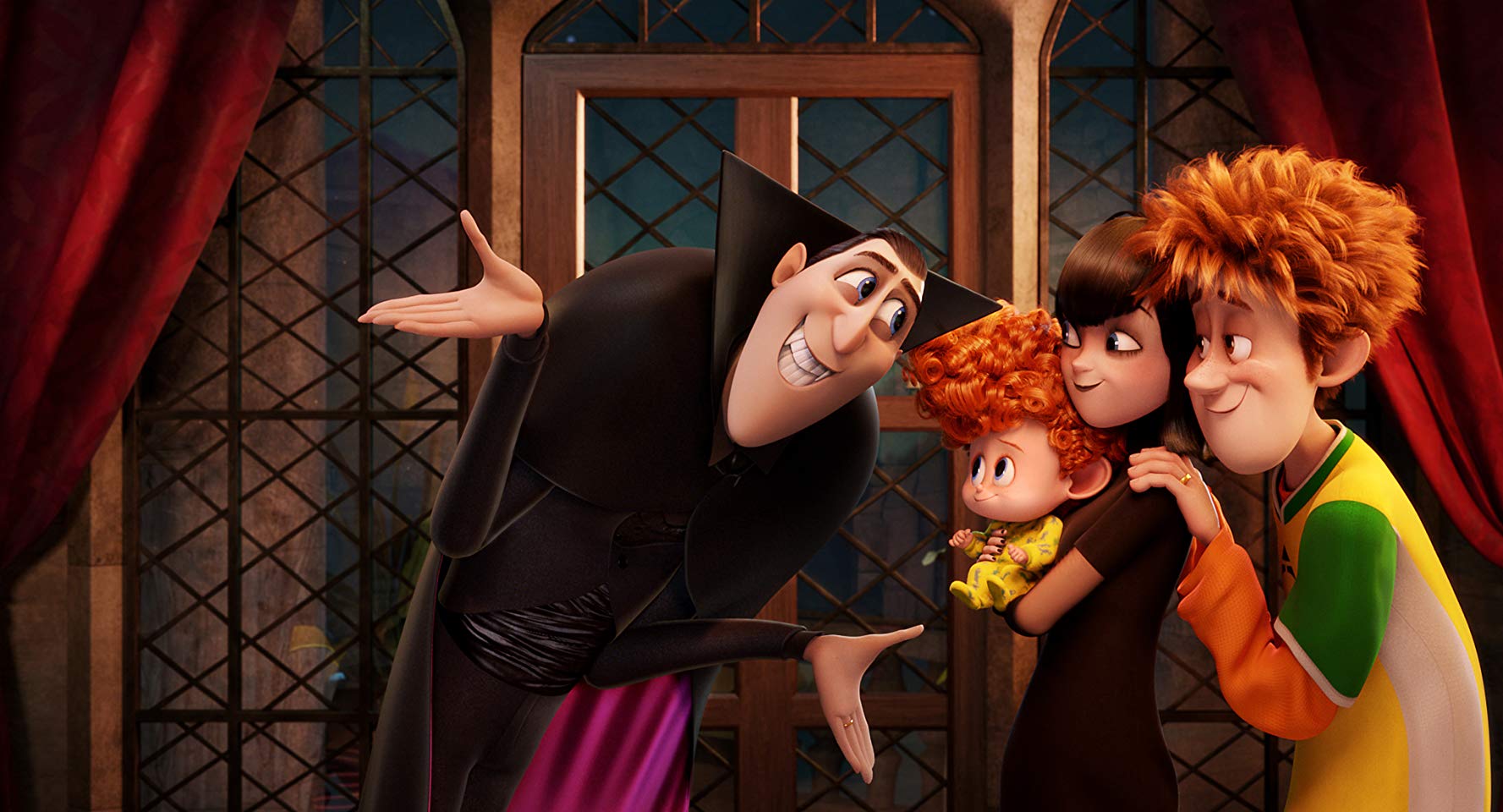 There are a predictable series of new gags. One of the bugbears of modern fantasy and/or animation (for me anyway) is having characters – talking animals, those in fairytale settings – that should logically known nothing of contemporary culture spouting hip modern colloquialisms, referencing celebrities and pop culture. You can give Hotel Transylvania 2 a certain pass here as if is after all set in the present-day world. However, much of the humour centres around things like Dracula getting a cellphone – one where the Bluetooth is literally a blue tooth – and engaging in other things like breakdancing, making references to Yelp and the like. There is a subplot in which Mavis joins Jonathan to visit the outside world for the first time, experiencing such things as slushies at a convenience store and getting to ride a BMX bike. A lot of the film's humour is dependent on either gags about Dracula and the monsters doing regular things or coming up against the modern world – although you only wonder how much any of these references will still hold a relevance or cause audiences to scratch their head when the film is viewed in say twenty years time.
At least the moppet kid Dennis with his carroty curl of hair looks rather cute outfitted in a cape, while the film's most adorable addition is that of a young werewolf puppy girl who develops a crush on Dennis and is constantly jumping up and licking him.
Sony Pictures, Adam Sandler, director Genndy Tartakovsky and most of the voice cast returned with two further sequels Hotel Transylvania 3: Summer Vacation (2018) and Hotel Transylvania: Transformania (2022), as well as an animated tv series Hotel Transylvania: The Series (2017-20).
---
Trailer here
---