---
Crew
Directors – Kyle Balda & Pierre Coffin, Screenplay – Brian Lynch, Producers – Janet Healy & Christopher Melendrani, Music – Heitor Pereira. Production Company – Illumination Entertainment.
Voices
Pierre Coffin (The Minions), Sandra Bullock (Scarlet Overkill), Jon Hamm (Herb Overkill), Michael Keaton (Walter Nelson), Allison Janney (Madge Nelson), Jennifer Saunders (The Queen), Steve Coogan (Professor Flux/Tower Guard), Geoffrey Rush (Narrator), Steve Carell (Young Gru)
---
Plot
Every since they were born back at the beginning of life on Earth, the Minions have been driven to serve the most evil villain they can find but their efforts have always met with disappointment. Following the Napoleonic Wars, they found an ice cave in The Arctic and built a home there. However, over the ensuing centuries, the lack of an evil master to serve has caused them to slump into a listlessness and lack of purpose. Kevin then makes the decision that he will journey forth to find a new master. Joined by Bob and Stuart, they set sail, eventually arriving in New York City in 1968. There they hear of Villain Con, a convention for super-villains being held in Florida and set out to attend. There they accidentally end up selected as the new assistants to Scarlet Overkill, the most respected villainess in the world. They are taken to her headquarters in London where she explains her plan to steal the British Crown Jewels. However, the Minions' attempt to break into the Tower of London end up with Bob accidentally pulling the Sword out of the Stone and being crowned the King of England. This displeases Scarlet but even when Bob decides to abdicate in her favour, she makes plans to eliminate them.
---
The Minions first appeared in Illumination Entertainment's debut film Despicable Me (2010) where their manic antics and incomprehensible babble stole much of the film. By the time of the sequel Despicable Me 2 (2013), the Minions were in danger of taking over pop culture. You could find them everywhere – they were on T-shirts, you could insert Minion icons into social media messages. As Minions went into release, you could even buy Minion-shaped tic-tac dispensers and Minion cereal at my local supermarket, while stores were selling everything from Minion backpacks, caps, scarves and slippers to suspenders.
The Minions have a cuteness factor that has caught on with the public in a certain way. The question with Minions is whether that will translate to giving them an entire film to themselves. They were a substantial contribution to the winning aspects of Despicable Me, which came out of nowhere amid low expectation to prove an unexpected delight. Certainly, they outshone the inferior Despicable Me 2, the point when their popularity hit its peak.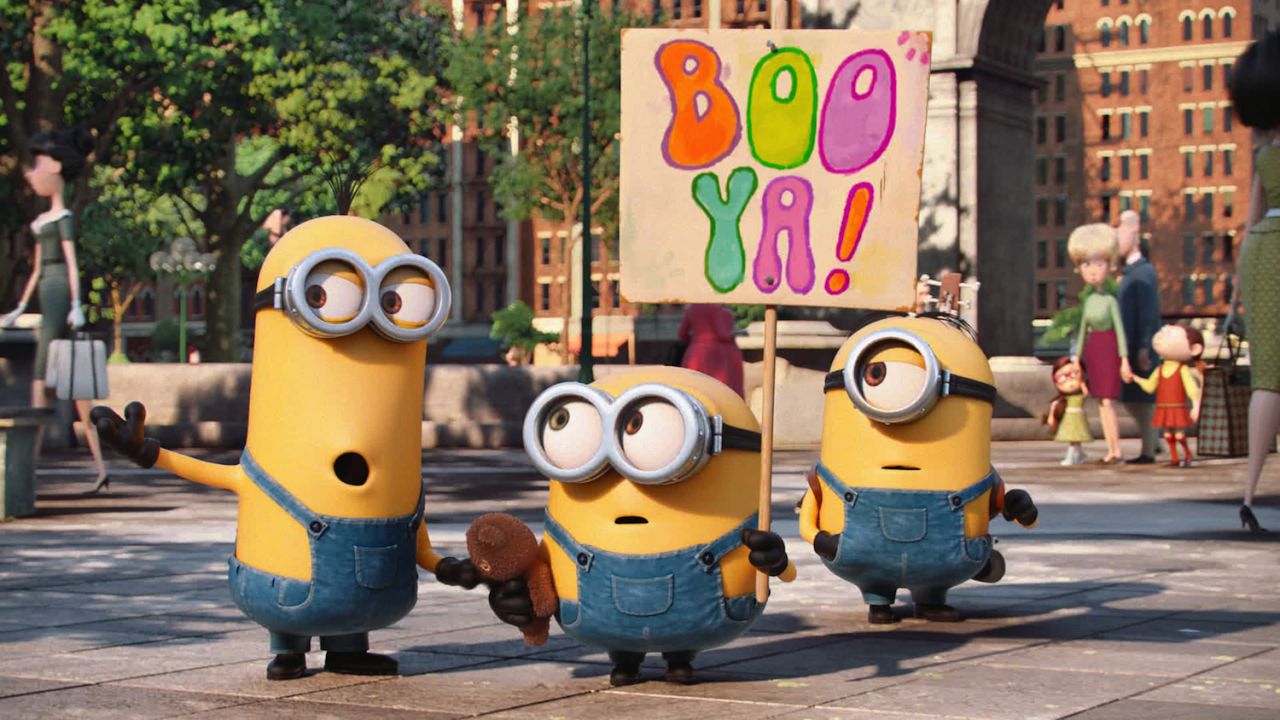 Outside of the Minions, Illumination Entertainment were starting to seem like one-hit wonders that have failed to come anywhere near replicating their first film. Their other ventures into animation with the part live-action Hop (2011) and the Dr Seuss adaptation The Lorax (2012) and The Grinch (2018) have left much to be desired. With Despicable Me 2, Minions and Despicable Me 3 (2017), they seemed to be placing the company's hopes on recycling their one past success. That said, Illumination did pick up markedly with their next films The Secret Life of Pets (2016) and Sing (2016).
Minions is fun enough because well it has Minions and everyone seems to love their cute inanity. The film gets undeniable mileage out of seeing them go crazy with gadgets, in the scenes at the start with them signing on to serve variously a dinosaur, cavemen and a vampire, or the montage of scenes of them going amok in Buckingham Palace. There is a good deal of slapstick chaos – the film opens with their Chipmunk-voices singing out the music accompanying the Universal logo, and if you wait until the end credits they and just about every character that has appeared throughout turns up to take part in a madcap rendition of The Beatles' Revolution (1968).
The film is certainly better than Despicable Me 2, although you feel like the latter third running around Buckingham Palace, with Kevin turned giant size and the battle with Scarlet becomes slapstick chaos for its own sake and where the cute silliness that the Minions' appeal rests in is forgotten.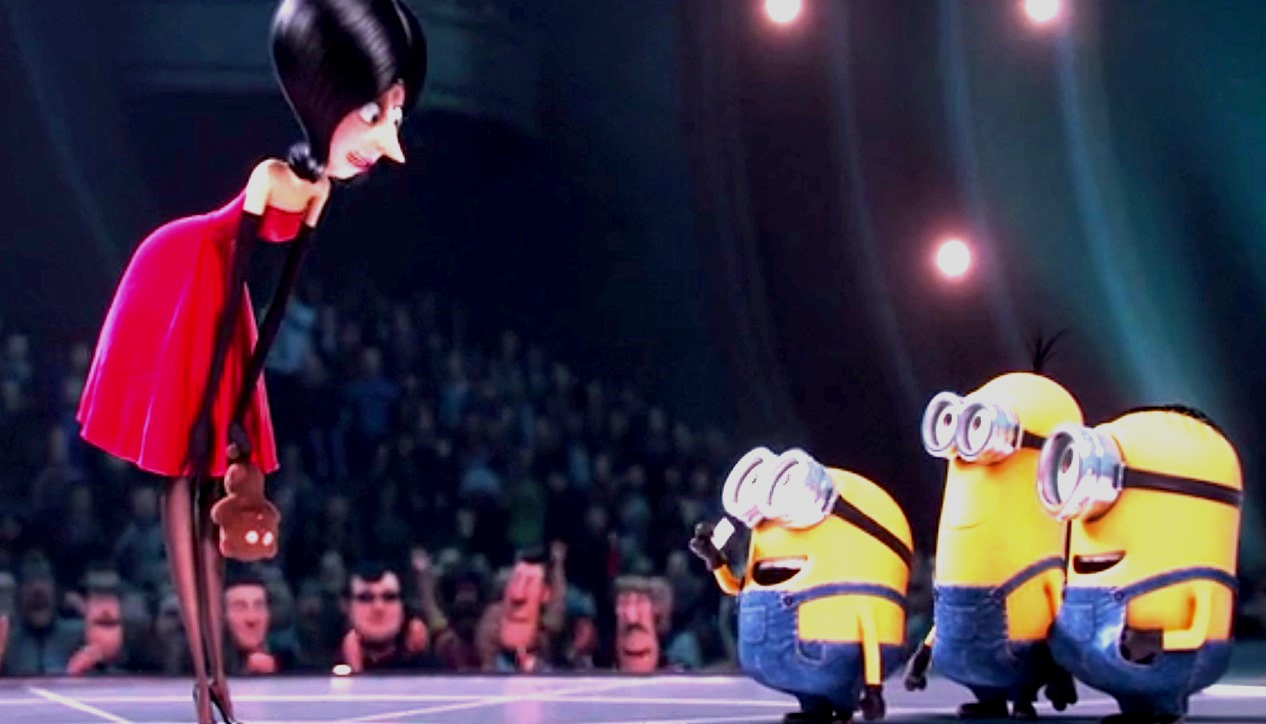 On the other hand, Minions does feel like it is still Illumination Entertainment straining to try and make lightning strike in a bottle all over again. Sandra Bullock's Scarlet Overkill is thrown in to substitute for Gru and seems at most a weaker rehash. The whole super-villain thing was delightfully upturned on its head in Despicable Me but Scarlet comes with a lack of anything similar – she is just a standard cutout black-and-white villainess. It is noted that, despite much of the film being about the Minions' wish to serve the most evil villain, that Scarlet fulfils a standard black hat role and gets the comeuppance that is her due for this sort of film in an ending where the Minions are cast as the good guys. The film's one clever touch is visiting Villain Con, a convention for super-villains, but this comes with surprisingly little in the way of puncturing of the genre's cliches.
One of the odder aspects of the film that the script seems to have run with is a Minion origin story. That said, what get is not really an origin story – we just follow the Minions from the beginning of amoebic life on Earth and their quest for the most villainous master to serve. There is no particular reason given why they have a biological imperative to serve a villain – a much more interesting film would have explored this notion. Nor for that matter does the film grapple with the implications of such an idea – for example, if you were to say that some people were biologically born to work as servants or in minimum wage jobs, I am sure there would be an uproar but because we are talking about a small race of cute creatures in a family film this goes unquestioned.
This was followed by Minions: The Rise of Gru (2022).
---
---