---
Crew
Director – Dan Scanlon, Screenplay – Robert L. Baird, Daniel Gerson & Dan Scanlon, Producer – Kori Rae, Photography – Matt Aspbury & Jean-Claude Katache, Music – Randy Newman, Production Design – Ricky Nierva. Production Company – Pixar Animation Studios.
Voices
Billy Crystal (Mike Wazowski), John Goodman (James P. 'Sulley' Sullivan), Helen Mirren (Dean Hardscrabble), Joel Murray (Don Carlton), Steven Buscemi (Randall Boggs), Sean Hayes (Terri Perry), Dave Foley (Terry Perry), Peter Sohri (Scott 'Squishy' Squibbles), Charlie Day (Art), Alfred Molina (Professor Knight), Nathan Fillion (Johnny Worthington), Julia Sweeney (Mrs Squiggles), Bonnie Hunt (Karen Graves), Frank Oz (Jeff Fungus)
---
Plot
After visiting the Monsters, Inc factory on a school tour, young Mike Wazowski decides he want to grow up to be a scarer. He signs into Monsters University where everyone ridicules his small ineffectual appearance, saying he will never make it as a scarer. Mike determines to put everything he has into studying. In class, he meets big ungainly James P. 'Sulley' Sullivan, the son of a famous scarer who believes that all he needs is a loud roar, and the two strike up a dislike. They are ejected from the class when their argument succeeds in knocking over and releasing the canister containing the famous scare of Dean Hardscrabble. Mike realises that he can earn his way back into the program by entering the Scare Games where the school's fraternities compete through various courses. Mike needs a team and is accepted by the Oozma Kappa fraternity. Sulley joins the team too. Mike then realises that Oozma Kappa are the most inept scarers on campus and is faced with the near impossible task of shaping them into a top team to win the competition.
---
Since their appearance with Toy Story (1995), Pixar Animation Studios created a revolution in computer animation and within less than a decade all modern animated films had switched over from hand-drawn to CGI animation. Over the next decade-and-a-half, Pixar would put out one hit after another with the likes of A Bug's Life (1998), Monsters, Inc. (2001), Finding Nemo (2003), The Incredibles (2004), Cars (2006), Ratatouille (2007), Wall-E (2008) and Up (2009). In a very short period, Pixar rose to become the most popular of a number of animation studios competing for the lucrative family audience dollar at the box-office.
The studio's faltering came after they went through a long and protracted negotiation process with parent company Disney over who owned the rights to their characters with Pixar threatening not to renew their contract with the studio. This was eventually settled with Pixar CEO John Lasseter being appointed chief creative officer at Disney in 2006 as part of the deal. With the rights back in their hands, Pixar set out on a new track of producing sequels to their popular hits. Toy Story 3 (2010) emerged with popular acclaim but then there was the decidedly weaker Cars 2 (2011) and now Monsters University, followed by Finding Dory (2016), Cars 3 (2017), Incredibles 2 (2018), Toy Story 4 (2019) and Lightyear (2022).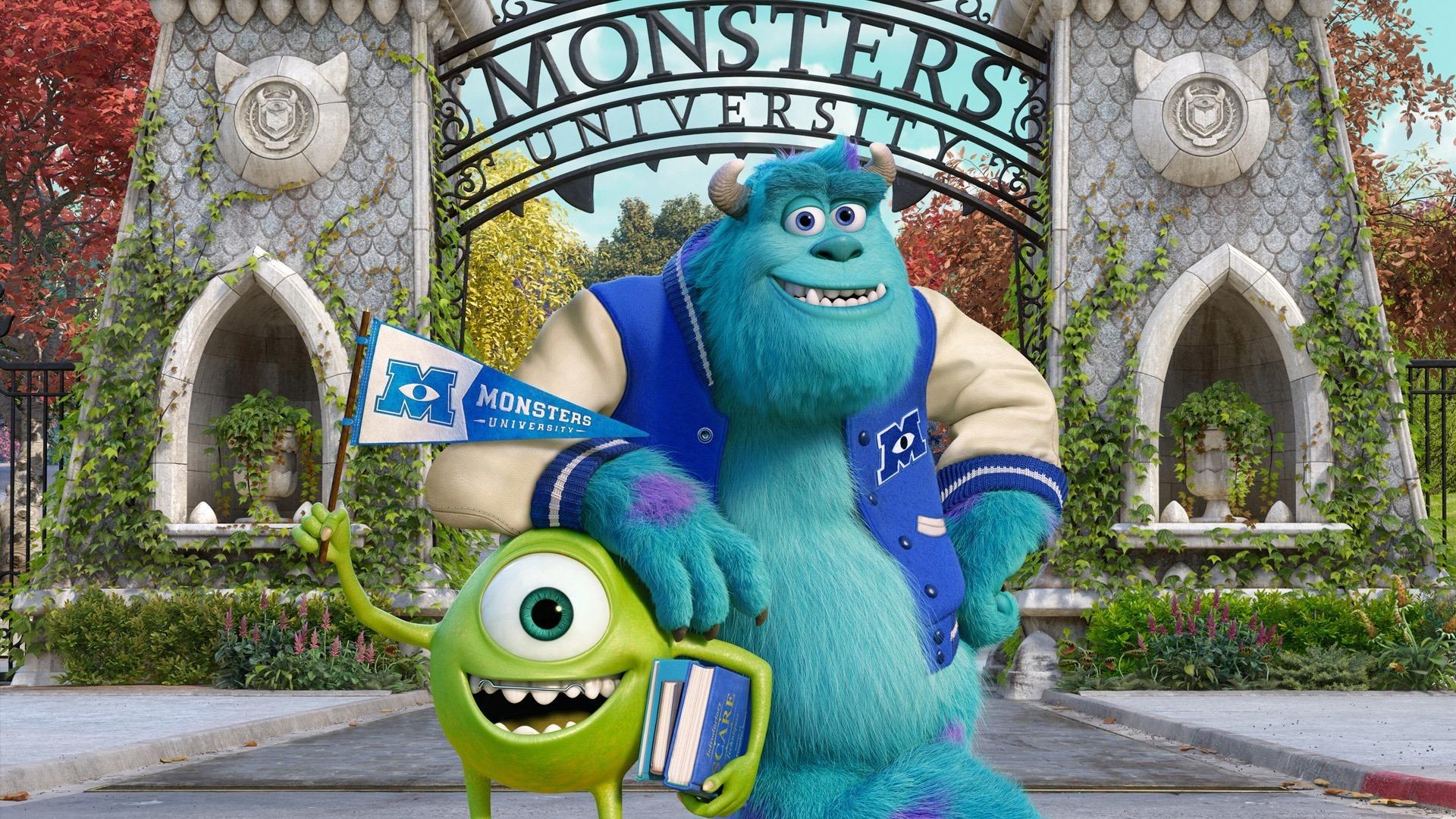 It is hard to quite say what has gone wrong with Pixar but the point where they set off on the path of making these sequels has become a creative decline. Just before this process began, the studio was at their absolute peak artistically with their two finest films Wall-E and Up; since then it has been a deteriorating output that consists of these sequels and 3D re-releases of their classics with the only original fare to emerge up to this point being Brave (2012), a film that suffered badly from a troubled creative process and uncertainty about what it wanted to be.
Monsters University is designed as a prequel to Pixar's fourth film Monsters, Inc., telling the story of how Mike and Sulley became best friends and tracing the course of their journey from novices to scarers at Monsters Inc. The film reunites voice work from both Billy Crystal and John Goodman as Mike and Sulley, as well as supporting appearances from Steve Buscemi, Frank Oz and John Ratzenberger in their same original voice roles. Direction has been handed over to Dan Scanlon, previously a Disney storyboard artist who made his first film for Pixar as co-director of the short Mater and the Ghostlight (2006).
Monsters, Inc. is a well-loved and universally popular film so it is hard to see how a repeat of the same could go wrong for Pixar. Unfortunately, it does. I would probably have liked Monsters University a good deal better if it was being made by a Pixar imitator like Blue Sky Studios, the makers of the interminable Ice Age films, or DreamWorks, the makers of the Shrek and Madagascar films, who between them have reduced the animated sequel to the soullessly formulaic. In terms of what we comes to expect from a Pixar film, Monsters University disappoints.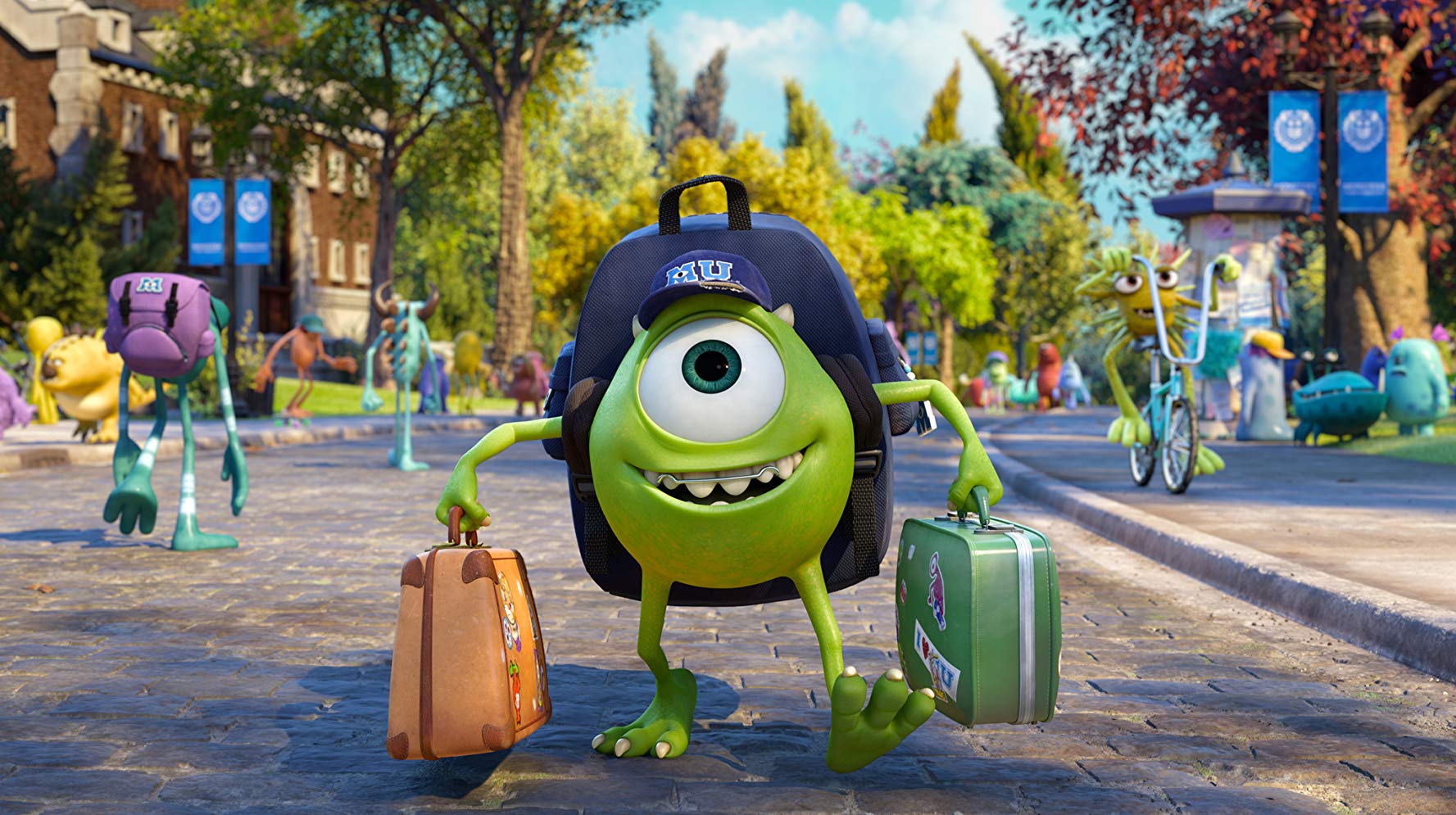 I found the premise of the Monsters, Inc. – monsters harvest the scares of children – limited. It worked well enough for the original but I wondered what new things the sequel could find to do with it. The answer is not much. It is a film that is mostly drawn from our familiarity with the characters. The rest plays out as a series of occasionally cute gags set around the idea of monsters at a university – this is a Pixar film that, for once, does not easily stretch to an international appeal in that so much of it is drawn from the American notion of a university as based around fraternities, jocks and hazing rituals.
Sometimes this is cute and amusing. On the other hand, I kept waiting for the Pixar sense of wacky humour to kick in and unfortunately none of Monsters University does in this regard – there are never any scenes where one sits in a riotous belly laugh at what is happening before us. Equally, there are no moments in the film where you are going "awwww" at the cuteness of what is going on – as you frequently were with the character of Boo in Monsters, Inc..
In terms of story, Monsters University plays into disappointingly traditional story arcs. Much of what happens is a straight cobbling from Revenge of the Nerds (1984) and sequels – the team of losers and nerdish underdogs who seek to triumph in an all-important showdown with the jock fraternity where they eventually discover they can use their useless skills and abilities to their advantage. All that seems missing is the requisite love interest where the underdog would be attracted to a girl who is out of his league. Mike's story throughout the film is that of a standard little guy who eventually triumphs because he believes in himself and his and Sulley's story one of how friendship forms and wins out. All are serviceably told but eminently predicable.
This was followed by a subsequent animated tv series Monsters at Work (2021- ).
---
---