---
Crew
Director – Chris Columbus, Screenplay – Timothy Dowling & Tim Herlihy, Story – Tim Herlihy, Based on the Short Film by Patrick Jean, Producers – Michael Barnathan, Chris Columbus, Allen Covert, Mark Radcliffe & Adam Sandler, Photography (3D) – Amir Mokri, Music – Henry Jackman, Visual Effects Supervisor – Matthew Butler, Visual Effects – Atomic Fiction (Supervisor – Ryan Tudhope), Cantina Creative, Digital Domain (Supervisor – Morten Larsson), Lola Visual Effects, Sony Pictures Imageworks (Supervisor – Daniel Kramer), Trixter (Supervisor – Alessandro Cioffi), Special Effects Supervisor – Burt Dalton, Production Design – Peter Wenham. Production Company – Happy Madison/1492 Pictures
Cast
Adam Sandler (Sam Brenner), Kevin James (President Will Cooper), Michelle Monaghan (Lieutenant-Colonel Violet Van Patten), Peter Dinklage (Eddie Plant), Josh Gad (Ludlow Lamonsoff), Matt Lintz (Matty Van Patten), Brian Cox (Admiral Jim Porter), Ashley Benson (Lady Lisa), Jane Krakowski (Jane Cooper), Dan Aykroyd (Championship MC in 1982), Sean Bean (Corporal Hill), Dennis Akiyama (Professor Toru Iwitani), Anthony Ippolito (13 Year Old Sam), Andrew Bambridge (13 Year Old Eddie), Jared Riley (13 Year Old Will), Jacob Shinder (13 Year Old Ludlow), Serena Williams (Herself), Lainie Kazan (Mickey Lamonsoff)
---
Plot
In 1982, thirteen year-old Sam Brenner competes in a top arcade videogame challenge, the results of which are to be taped and placed aboard a NASA probe, but loses out to Eddie Plant on the final Pac Man challenge. In the present-day, Sam is working as a home installation technician when he is called to do a set up for Violet Van Patten whose husband has just left her. Just then, Sam receives a call from his best childhood friend Will Cooper who is now The President. A US military base in Guam has been attacked by an alien invasion and Sam rushes to the White House where he is able to help Will identify the attacking ships as flying in patterns modelled on the old Galaga game. This is ridiculed by the military brass but Sam is proven right when the aliens attack using other videogame designs. Sam realises the only option is to reunite some of his old arcade friends in taking on the aliens in a deciding live-action videogame battle for the fate of the Earth.
---
Pixels (2010) started out as a two-and-a-half minute part animated, part live-action film from French director Patrick Jean. In Jean's film, a bunch of classic videogames are released from an old video console and proceed to wreak havoc on the city. There is never much more to the short than seeing a bunch of familiar games played out in the real world. The short however became a viral internet sensation. It was promptly brought up by Adam Sandler's Happy Madison production company, scripted by two of Sandler's regular writers and given to Chris Columbus as director to expand as a feature-film. All of that said, the idea of the videogame playing out in real-life had earlier been done in the Raiders of the Lost Arcade segment of the Futurama episode Anthology of Interest II (2002).
I have hated all of Chris Columbus's films as director. Chris Columbus started his career writing screenplays for various Steven Spielberg productions – Gremlins (1984), The Goonies (1985) and Young Sherlock Holmes (1985), before making his directorial debut with the teen comedy Adventures in Babysitting/A Night on the Town (1987). He had great success subsequently as director with the comedies Home Alone (1990), Mrs Doubtfire (1993) and 9 Months (1995).
It is after this point that Chris Columbus began to take on genre properties. He made the excruciatingly dull Isaac Asimov adaptation Bicentennial Man (1999) and then enjoyed a good deal of success with the first two Harry Potter films Harry Potter and the Sorcerer's Stone/Harry Potter and the Philosopher's Stone (2001) and Harry Potter and the Chamber of Secrets (2002), which I would argue are the weakest of an overrated series, and followed this with another banal Young Adult fantasy Percy Jackson & The Olympians: The Lightning Thief (2010) about a teenager who discovers his heritage as a Greek demi-god, while he has produced a bunch of others (see below). Columbus's films are middle-of-the-road comedies that are dependent on large simplistic emotional cues, while his genre material demonstrates an over-reliance on effects with little supporting content.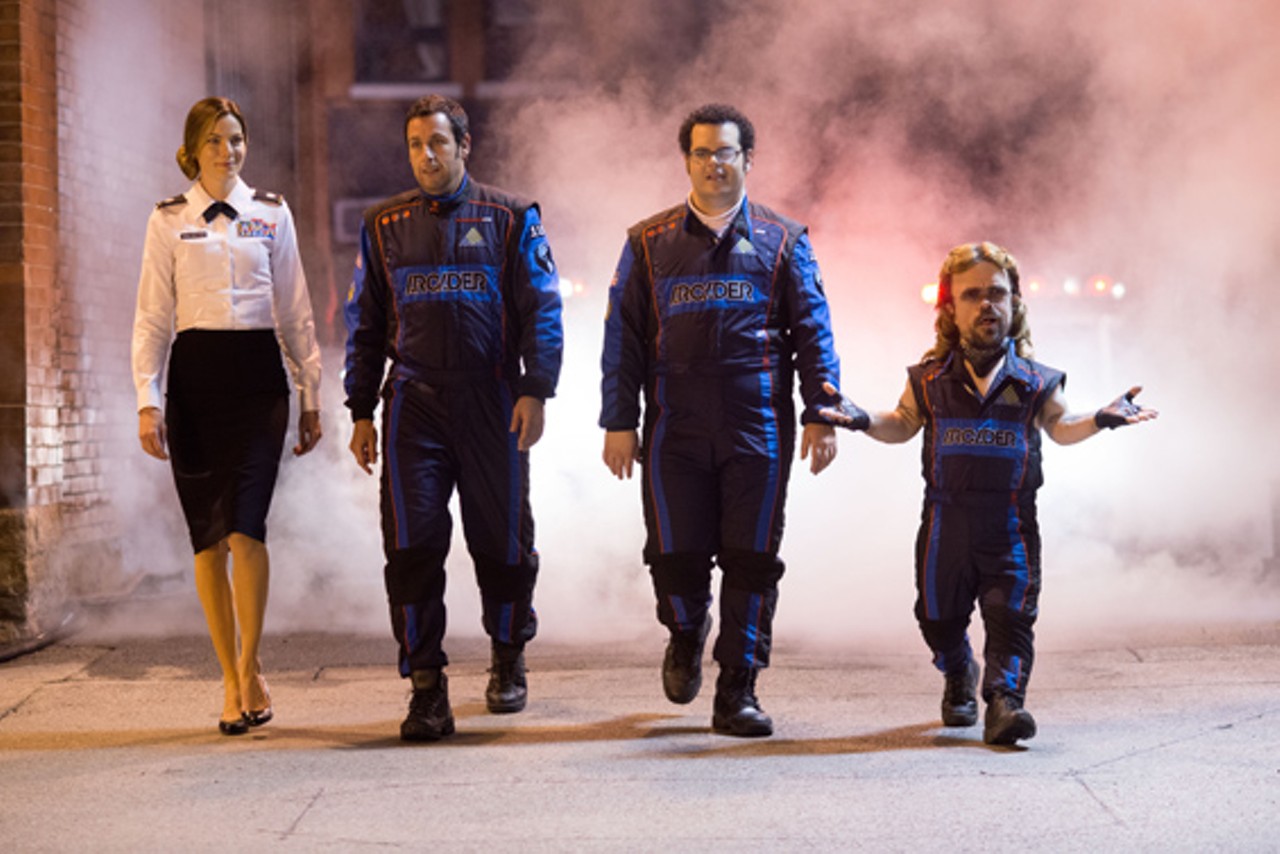 For me, Pixels offers a blast of nostalgia. I grew up in the 1980s and it brought back memories of many hours of misspent youth hanging out at arcade parlours. The film incarnates games that I haven't heard mention of for more than a couple of decades. There is a great deal of fun in the film for anyone over a certain age in seeing the games brought to life. It is very much a film rooted in this era – there are a lot of references made to Madonna, Reagan, Hall and Oates and other figures from the era, even John Hughes's wackiest film Weird Science (1985). The script gives Adam Sandler several lines disparaging the modern Xbox era of gaming that has come to completely eclipse the arcade era. Although part of me cannot help but wonder who the audience for Pixels is – clearly Sandler and Columbus, who similarly grew up in the era, are indulging in nostalgia but much of this is not going to be picked up on by somebody under the age of forty, which is not exactly the target audience for a big-release summer multiplex movie.
Fun and all as the nostalgia aspect is, Pixels is a little more than a one-gimmick film that only a certain number of people will get if they know their pop culture history. There is never anything to the film beyond seeing cute images of Sandler and co engaged in a live-action game of Donkey Kong or seeing blocks of apartment buildings disappearing in a game of Tetris. There seems a certain strained desperation to the idea – like having Sandler and the others running around New York City streets in Minis having to crash into a Pac Man in a live-action equivalent of the game. Nor is there anything particularly exciting to a film when its dramatic sequences involve the heroes shooting at pixellated blocks with rayguns.
Moreover, beyond the live-action incarnation of the game, the script seems stretched in having to find some reason for why everything is happening. It worked perfectly as a two-minute short film where it was carried by the cuteness of the idea but stretched out to feature-length, the script has to come up with a rationale for it all. It contrives the idea of an alien invasion but this seems so utterly generic an invasion that we never even get to meet the aliens behind it.
The other drawback of the film is that it has Adam Sandler. Now Sandler appeals to a certain demographic – I would hate to imagine who that would be – probably the same people that find America's Funniest Home Videos (1989– ) funny. It is not that the guy is incapable of turning out a good performance – he acquitted himself well in Punch-Drunk Love (2002) and Uncut Gems (2019); it is just that he prefers to give these lazy snide performances where you get the impression that Sandler regards himself as the funniest/coolest person on the screen, this boy-man underachiever who enjoys making what he believes are clever putdowns of almost every other character around him. You grit your teeth through the Sandler quotient of the film – you just keep thinking how inane the insults he and Michele Monaghan trade throughout the White House scenes are.
On the other hand, he at least appears as part of an ensemble and his regular partner in crime Kevin James and especially Josh Gad and Peter Dinklage work overtime to give the material life and there are undeniable times where a few of the gags hit. (I especially liked the throwaway gag at the end that plays off Peter Dinklage's obsession with Serena Williams). This sort of distracts from the emptiness of the one-gag premise but even then not much of it is particularly funny.
Chris Columbus also co-wrote the script for the animated Little Nemo: Adventures in Slumberland (1989). In the mid-1990s, Columbus planned a film version of Marvel Comics' Fantastic Four, although only acts as producer on the finished film version Fantastic Four (2005) and its sequel Fantastic Four: Rise of the Silver Surfer (2007). Columbus is also Executive Producer on Monkeybone (2001), Harry Potter and the Prisoner of Azkaban (2004), Night at the Museum (2006) and its sequels Night at the Museum 2 (2009) and Night at the Museum: Secret of the Tomb (2014), Percy Jackson: Sea of Monsters (2013), The Witch: A New-England Folktale (2015), I Kill Giants (2017), The Lighthouse (2019) and Scoob! (2020). He heads the 1492 Productions production company – the date being an obvious play on his more famous namesake.
---
Trailer here
Original Short Film Here:-
---