aka Hotel Transylvania: A Monster Vacation
---
Crew
Director – Genndy Tartakovsky, Screenplay – Michael McCullers & Genndy Tartakovsly, Producer – Michelle Murdocca, Music – Mark Mothersbaugh, Visual Effects Supervisor – Michael Ford, Senior Animation Supervisor – Alan Hawkins, Animation – Sony Pictures Imageworks, Production Design – Scott Wills. Production Company – Sony Pictures Animation.
Voices
Adam Sandler (Dracula), Selena Gomez (Mavis), Kathryn Hahn (Ericka Van Helsing), Asher Blinkoff (Dennis), Andy Samberg (Jonathan), Kevin James (Frankenstein), Fran Drescher (Eunice), Steve Buscemi (Wayne), Molly Shannon (Wanda), David Spade (Griffin), Keegan-Michael Key (Murray), Jim Gaffigan (Professor Abraham Van Helsing), Mel Brooks (Vlad), Chris Parnell (Stan/Fish), Chrissy Tiegen (Crystal)
---
Plot
After hosting a wedding at Hotel Transylvania, Dracula is conscious of the fact that he is still single. He secretly starts using mobile apps to trying to look for a date. His daughter Mavis decides that what he needs is a family vacation and books them, along with the rest of the monsters, aboard the cruise ship Legacy that sets out from the Bermuda Triangle bound for Atlantis. On board, Dracula is attracted to the ship's captain Ericka. Realising that he has got his zing back, he tries to talk to her but constantly stumbles over his own awkwardness. He is unaware that she is the granddaughter of his nemesis Professor Van Helsing who is still alive attached to a ratchety mechanical body, and that they have hatched a plot to kill him.
---
I cannot say that I am a fan of Sony Pictures Animation's Hotel Transylvania series – the series began with Hotel Transylvania (2012) and Summer Vacation was preceded by Hotel Transylvania 2 (2015) and followed by the subsequent Hotel Transylvania: Transformania (2022), as well the animated tv series Hotel Transylvania: The Series (2017-20) – which reduce the Famous Monsters to comedic caricatures. That said, the series appears to be enjoyed by its intended child audiences. Thus it is director Genndy Tartakovsky, Adam Sandler, Selena Gomez and most of the voice cast are back for a third outing. The film was titled Hotel Transylvania 3: Summer Vacation before Sony realised that not all of the world experiences summer at the same time as the US whereupon it was retitled Hotel Transylvania 3: A Monster Vacation for other countries.
Everything that could be said about the other Hotel Transylvania films – the great icons of horror being reduced to comic caricatures, the Adam Sandler presence – still stands and is as equally applicable to the third entry in the series. It is neither worse, nor anything better than the other films. The major difference this time is that the monsters are placed aboard a cruise liner – the film starts out with Mavis organising a family getaway but by the time we set sail this has morphed into the other regular monsters coming along too well because … – and that Dracula gets a love interest.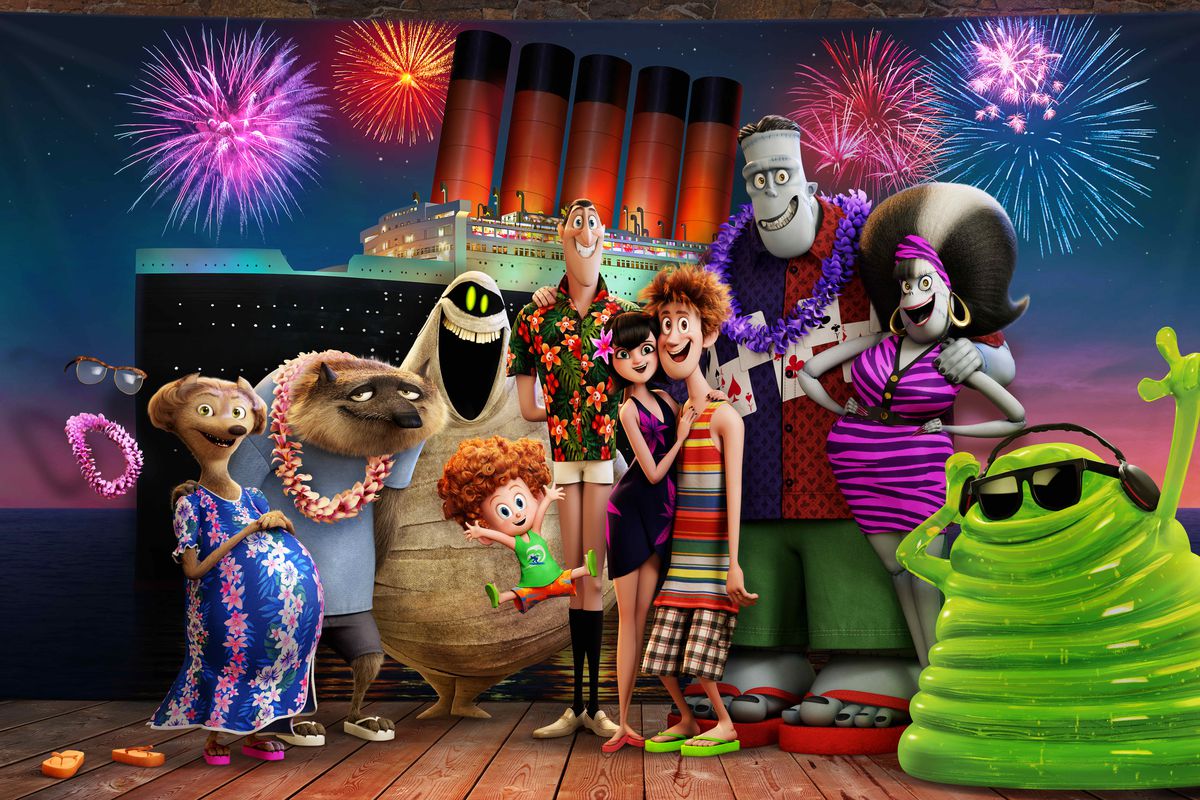 Hotel Transylvania 3 is capably made. Genndy Tartakovsky and the Sony Pictures Animation team have gotten their act well polished by now and there are some accomplished set-ups. There is a lot of visual invention to the scenes where Dracula takes a stroll along the deck and Ericka's attempts to kill him all miss and instead get Blobby while Dracula walks on oblivious. Or a scene where the gremlins from Gremlins (1984) are repurposed to run a ramshackle airline where the plane is visibly falling apart throughout the journey. The film is often more worth watching for what is happening in the background than the main action.
On the other hand, everything about Hotel Transylvania 3 is ever so predictable. Is there any guessing that despite Ericka's attempts to repeatedly kill Dracula throughout that she will not see the error of her ways, he will forgive her and the two end up together? It is played so utterly predictable it leaves you yawning. At the very least it could have been given a kinky spin akin to the mutual appreciation of either's dark side that Gomez and Morticia have in the various incarnations of The Addams Family.
That also brings us to the Adam Sandler presence. The whole "blah-bla-blah" shtick has started to feel tired and worn out. Added to this here is the gag about him rediscovering his 'zing' that get used and overused. It is hard to describe how saddening it feels after reading Bram Stoker and being raised on the magnificence of Christopher Lee's Dracula to see Dracula reduced to a clueless schmuck getting tongue-tied over trying to talk to a girl.
---
---