aka Stroke of Midnight
---
Crew
Director – Tom Clegg, Screenplay – Timothy Prager, Based on a Screenplay by Madeline Di Maggio & Pamela Wallace, Producer – Monique Annaud, Music – Didier Vasseur, Art Direction'– Claude Bouvard. Production Company – Chrysalide Films/Canal +/The Movie Group.
Cast
Jennifer Grey (Kelly Carter), Rob Lowe (Francesco Salvitore), Elisabeth Vitali (Veronique), Andrea Ferreol (Wanda), Rebecca Potok (Mimi Larcher), Florence Pelly (Taffy Rodriguez), Alison Hornus (Domino Charvet)
---
Plot
Shy Kelly Carter works as a seamstress for the self-important Parisian fashion designer Francesco Salvitore and is treated as a slave by her two roommates. Her secret passion is designing shoes. Salvitore is looking for a new girl to represent his product and decides to hold an audition party. Kelly puts on a pair of her shoes and is transformed into a stunning beauty. She attends the party where Salvitore is captivated by her and wants to sign her as his model. She has to flee at midnight but drops one of her shoes. Salvitore comes searching for her, thinking the woman he met was a model named Prudence. She signs the modelling contract on the insistence that Kelly design the shoes. However, being two people at once requires some tricky changes of shoes, especially when Salvitore starts romancing Prudence.
---
Cinderella has the distinction of being the story that has undergone the most ever film adaptations. If the Shoe Fits is a modern updating. It is not a particularly good film – indeed, its distributors regarded the film as so bad that its release was held up for a number of years before it was dumped straight to video.
Here the Cinderella story is transplanted into the Paris fashion world and the magic angle is played down. (Indeed, the magic that does happen when the film's Cinderella transforms from frump to beauty is unbelievably cheap – the lights just flicker on and off). The Fairy Godmother character (Andrea Ferreol) is almost entirely written out – she is just a flaky, eccentric tourist who may or may not have magical powers – she does cause a boy's balloon to return when it flies away and may have repaired Cinderella's shoes. However, she has nothing to do with the transformation – in fact, is not even present during it – and the closest the film ever comes to pumpkins and mice-drawn coaches is to have Andrea Ferreol appear as a taxi driver at midnight.
The importance of the glass slipper and the stroke of midnight are much less here than they traditionally are – Cinderella's flight at the stroke of midnight has no significance and the glass slipper, instead of being the object whereby the prince searches the kingdom for Cinderella, becomes the magical device whereby she transforms back and forward between frump and beauty. Most of the film is concerned with the complications that occur when Jennifer Grey has to flip back and forward between herself and the alter ego.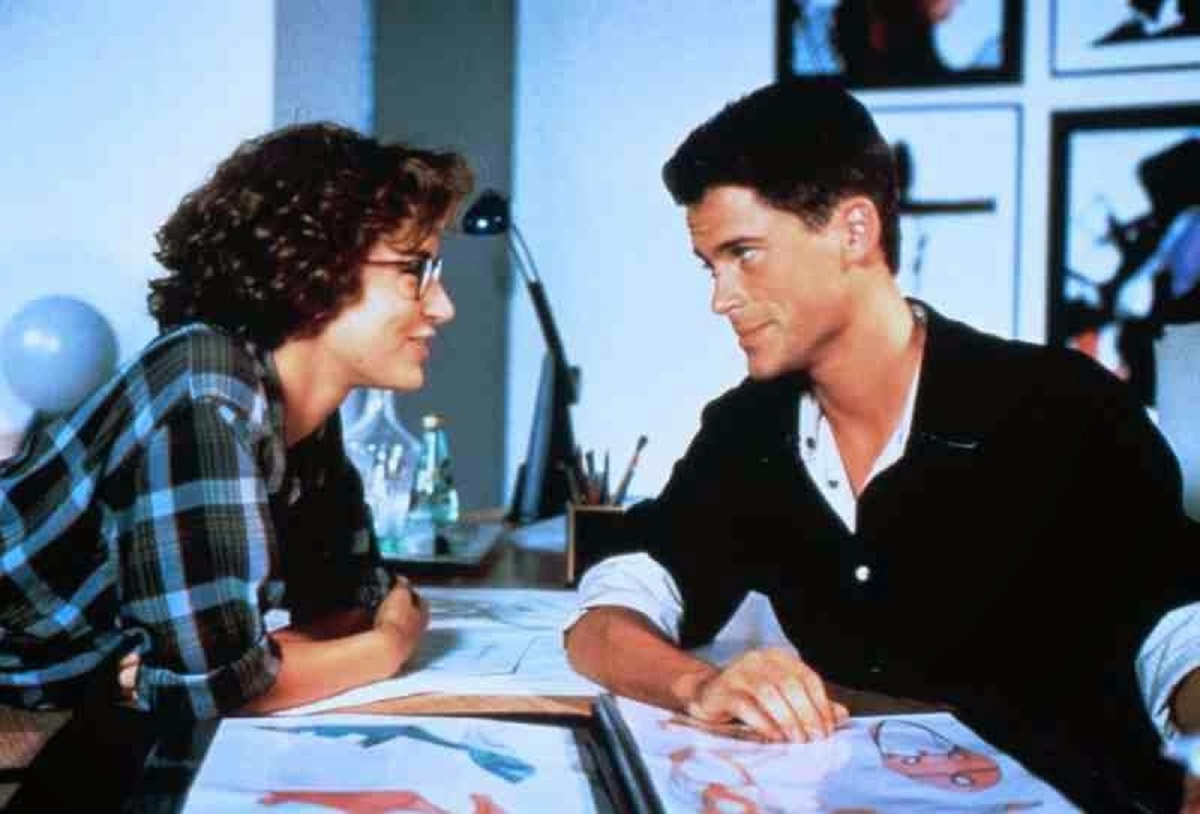 It is all takes place with a giddy silliness under Tom Clegg, who spent almost his entire career directing British tv. Most of the cast overact at the level of cartoonish farce. Rob Lowe is a particular offender, deliberately giving a vain and preening performance. Of course, Rob Lowe has the perfect looks for the part of Prince Charming but he refuses to take the part seriously in any way. The character is softened somewhat by the end but it is hard to imagine anything charming about such a neurotic and self-absorbed character.
On the other hand, Jennifer Grey – an actress that has never succeeded in fulfilling any of the promise that her debut in Dirty Dancing (1987) seemed to hold for her – has an infectious cuteness as Cinderella. One can easily believe her as the underachieving introvert. On the minus side, she lacks the classic beauty that should stand up and take one's breath away when she transforms – all that happens is that she gels her hair back and puts on a formal dress. Indeed, her transformation has the distinction of being far more attractive in the Before part than the After part.
---
Trailer here
---