(Arthur 3: La Guerre des Deux Mondes)
---
Crew
Director/Screenplay/Producer – Luc Besson, Based on a Universe Created by Patrice Garcia, Photography – Thierry Arbogast, Music – Eric Serra, CGI Effects/Animation – Buf (CG Director – Pierre Buffin, General Supervisor – Stephane Naze, Director of Animation – Yann Avenati, Visual Effects Supervisor – Olivier Cauwet), Special Effects Supervisor – Jean-Baptiste Bonetto, Makeup Effects – Jean-Christophe Spadaccini, Production Design – Hugues Tissandier. Production Company – Digital Factory/Buf/Europa Corp./TF1 Films/Apipoulai Productions/Avalanche Productions/Canal +/Sofica Europacorp.
Cast
Freddie Highmore (Arthur), Ronald Leroy Crawford (Grandfather Archibald), Robert Stanton (Armand), Penelope Ann Balfour (Rose), Richard William Davis (M), Mia Farrow (Grandmother Daisy), Steve Routman (Dr Stitch), Stephen Shagov (Captain Bellerive), Dashiell Harmon Eaves (Simon), Jean Betote Njamba (Bogo Chief), Cooper Daniels (George Lucas)
Voices
Lou Reed (Maltazard), Selena Gomez (Selenia), Iggy Pop (Darkos), Jimmy Fallon (Betameche)
---
Plot
Maltazard has now emerged into the human world at full-size. Stuck down inside the world of the Minimoys, Arthur, Selenia and Betameche try to get to Grandfather Archibald's study to obtain the potion that will restore Arthur to normal size. However, Maltazard obtains the potion first and uses it to enlarge his warriors. As they attack the town, Arthur and the others race to stop Maltazard.
---
France's Luc Besson became a powerhouse action director in the 1990s with phenomenal works such as Nikita/La Femme Nikita (1990) and Leon/The Professional (1994). Besson's late 90s was far more uneven with overblown efforts like The Fifth Element (1997) and The Messenger: The Story of Joan of Arc (1999), while the 00s saw him taking on oddities as diverse as the angel drama Angel-A (2005) to the Aung San Suu Kyi biopic The Lady (2011) and the dazzling Valerian and the City of a Thousand Planets (2017). Throughout the 00s, Besson has still maintained his hand as producer of well-above average action films like The Transporter (2002) and sequels, Banlieue 13 (2004), Taken (2008), Colombiana (2011), Lockout (2012) and 3 Days to Kill (2014).
The oddest among what might be termed Besson's experiments in the 2000s was the trilogy of films beginning with Arthur and the Invisibles (2006). This was intended as a children's tale and was made in a mixture of live-action and CGI animation. It was given a US theatrical release in dubbed form but did little business and received few good notices. Despite this, Besson and most of his cast and creative team went onto make two sequels with Arthur and the Revenge of Maltazard (2009) and Arthur and the Two Worlds War here. The sequels received little wide release outside of French-speaking territories. I found Arthur and the Invisibles passable but The Revenge of Maltazard slipped down to a juvenile level of annoying CGI eye candy and adolescent gags such that it took a long time to muster the enthusiasm to finally watch the last chapter. A decade later, Luc Besson returned to the Minimoy world with Arthur, Malediction! (2022).
Luc Besson reminds of Robert Rodriguez who made his name with stylised and amazing action films like El Mariachi (1993) and Desperado (1995) and then jumped into doing a bunch of kids' movies – the increasingly dreary Spy Kids sequels, The Adventures of Sharkboy and Lavagirl in 3D (2005), Shorts (2009). However, these Minimoy films are far worse than any of Rodriguez's children's films, which at least have an infectious enjoyability in their frequently absurdist visual humour.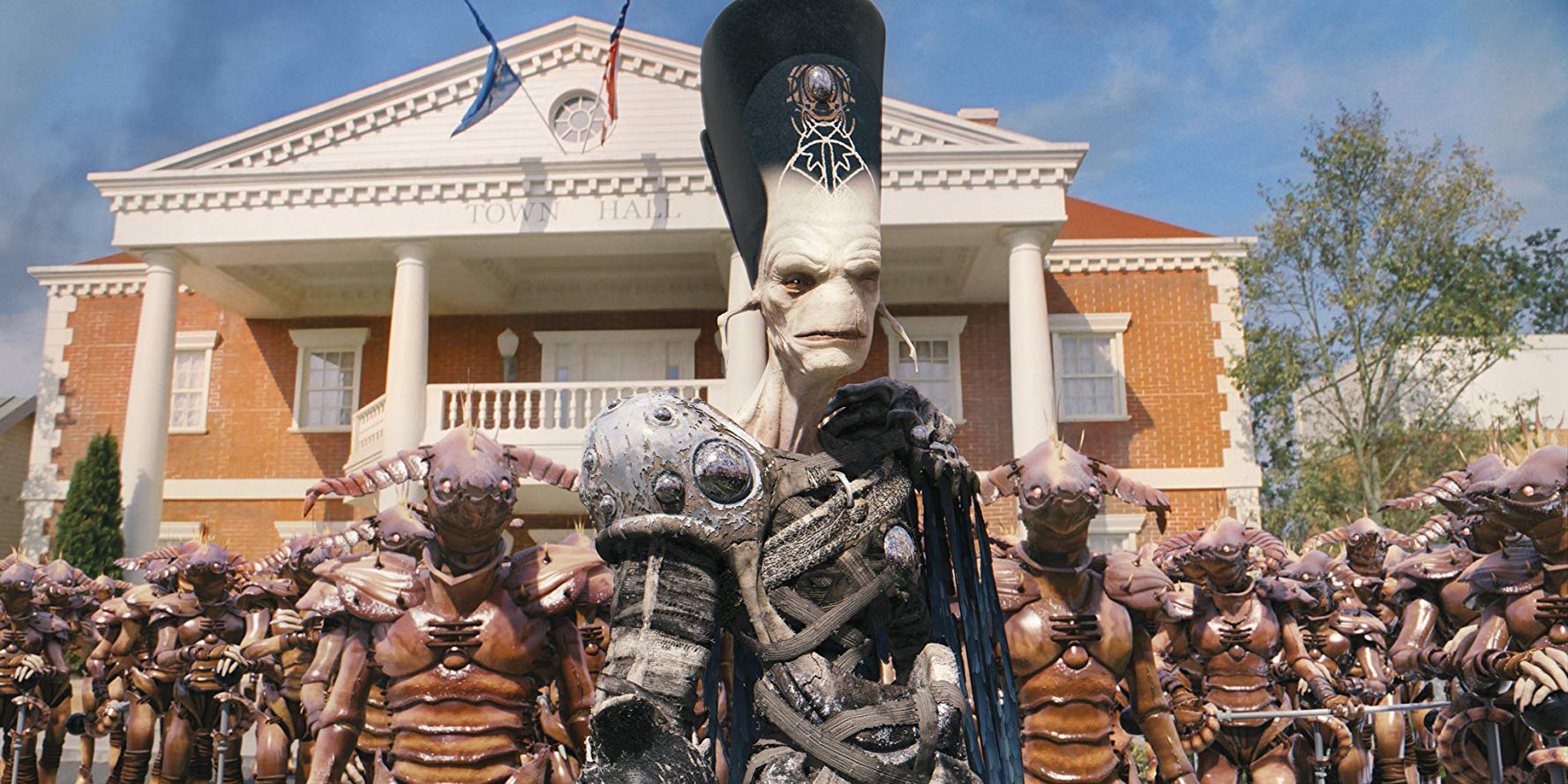 Here everything (in the animated scenes) is dubbed in annoying kid's voices and glib one-liners like "That's gotta hurt" and "Hasta la vista, baby." Much of the early parts of the film consist of things whizzing about – Arthur and the Minimoys riding through the sewers on the policeman's badge, trying to exit the taps in bubbles of water, rides on slot cars, fights on toy trains. (Indeed, the middle of the film seems to toss in giant-sized toys for the express purpose of having Arthur and co ride on them). For much of the film, the villains – especially the idiotic Iggy Pop-voiced Darkos – seem to exist to take cartoonish pratfalls. While Lou Reed's laidback delivery as Maltazard seems better this time, Iggy Pop delivers all of his dialogue as though trying to talk with a mouthful of marbles and all of his teeth removed.
The main problem with these Minimoy sequels is that in terms of story they feel like they only have script enough for a single film and that this has been extruded out to make two films. Both films seem overly padded by pieces of contrived drama – the quest for the Elixir of Life, Arthur's father calling out the fire department to destroy the bees' nest, most of the aforementioned action scenes. The film does at least mount a reasonable climax with Maltazard and his soldiers attacking the town aboard enlarged bugs. Besson throws in a mildly amusing but rather strained Star Wars (1977) joke at the end where we meet a young George Lucas.
Luc Besson's other films of genre note are the arty Le Dernier Combat (1983) set in a post-holocaust world where people have become mute; the space opera/action film The Fifth Element (1997); his fantastical interpretation of the historical story of Joan of Arc in The Messenger: The Story of Joan of Arc (1999); the eccentric angelic intervention film Angel-A (2005); the adventure film The Extraordinary Adventures of Adele Blanc-Sec (2010); Lucy (2014) in which Scarlett Johansson gains enormously expanded mental abilities; and the space opera Valerian and the City of a Thousand Planets (2017). Besson also produced and wrote Kamikaze (1986) where a scientists invents a device that can kill people on tv and The Dancer (2000) about a mute dancer who gains expression through a unique sound invention; produced the mystical quasi-sf Quebecois film Chaos and Desire (2002): wrote and produced the End Times serial killer thriller Crimson Rivers II: Angels of the Apocalypse (2003); produced the serial killer film Tristan (2003); produced and wrote the futuristic action film Banlieue 13 (2004) and its sequel Banlieue 13: Ultimatum (2009); produced the serial killer thriller Tell No One (2006); produced the Backwoods Brutality film Frontier(s) (2007); produced the videogame adaptation Hitman (2007); produced the horror film The Secret (2007); produced and wrote Banlieue 13: Ultimatum (2009); produced the animated A Monster in Paris (2011); produced the orbiting prison film Lockout (2012); wrote/produced the English-language Banlieue 13 remake Brick Mansions (2014); and wrote/produced The Warriors Gate (2016) in which a videogamer is transported to Ancient China.
---
---