(Seuls)
---
Crew
Director/Screenplay – David Moreau, Adaptation – David Moreau & Guillaume Moulin, Based on the Comic Strip Seuls by Bruno Gazzotti & Fabien Vehlmann, Producer – Abel Nahmias, Photography – Nicolas Loir, Music – Rob, Visual Effects – Mathematic Studio (Supervisor – Julien Lambert & Fabrice Lagayette), Special Effects Supervisor – Julian Poncet, Makeup Effects – Alexis Kinebanyan, Production Design – Gwendel Bescond. Production Company – Echo Films/Studio Canal/Faust Films/Scope Pictures/Canal+/Cine+.
Cast
Sofia Lesaffre (Leila Bennami), Stephane Bak (Dodji Sango), Paul Scarfoglio (Yvan Gersh), Jean-Stan Du Pac (Terry), Kim Lockhart (Camille Delaborde), Thomas Doret (Saul Berthier)
---
Plot
In Fortville, teenager Leila Bennami wakes up on what should be a typical school day to find her parents have disappeared. Outside the entire city is deserted and all other people appear to have vanished. She eventually encounters three other children and they find shelter together. As they search, they find that the city is surrounded by a vast bank of fog that is moving in closer. They receive transmissions from the military outside saying that help is coming but urging them not to enter the fog. At the same time, they also find that a masked figure is hunting them.
---
David Moreau is a French director. His Them (2006), co-directed with Xavier Palud, about a couple being terrorised by mysterious figures gained quite a degree of word of mouth and festival attention. Palud and Moreau were brought to the US to direct the English-language remake of the Pang Brothers' The Eye (2008) but this was a critical dud that killed further prospects. The two subsequently returned to France and went their own ways. Moreau went on to make the romance It Boy (2013) and then returned with Alone.
With Alone, David Moreau adapts Seuls (2006- ), a comic-book series written by Fabien Vehlmann and illustrated by Bruno Gazzotti, which is currently in its twelfth volume. The comic-book is about children that find themselves in a deserted city before the discovery they are in an alternate realm. Assorted adventures take them through exploring the realm and discovering other child clans, creatures and magic powers. (Disclaimer:- The comic-books are not available in English and there is zero English-language information about them on the web. I am trying to read summaries of the stories through Google Translate, which tends to substitute words in ways that don't always make coherent grammar).
From what I can gather, the film follows the basics of the comics – the children finding themselves in a deserted city, their attempts to escape and then the eventual discovery that they are dead. This essentially makes Alone into a Deathdream film. This is a term this site uses for a bunch of films ranging from An Occurrence at Owl Creek Bridge (1961) through The Sixth Sense (1999) and various imitators where a series of anomalous events are eventually explained in a twist that reveals that the protagonist(s) were dead all along. I don't feel too much concern about revealing this twist as the comics go on from there to create a series of adventures in the alternate dimension they find themselves in. By contrast, the film eliminates a whole bunch of encounters with others in the deserted city and ends with the children realising they are dead and arriving in the other realm to find it apparently ruled over by the killer Saul.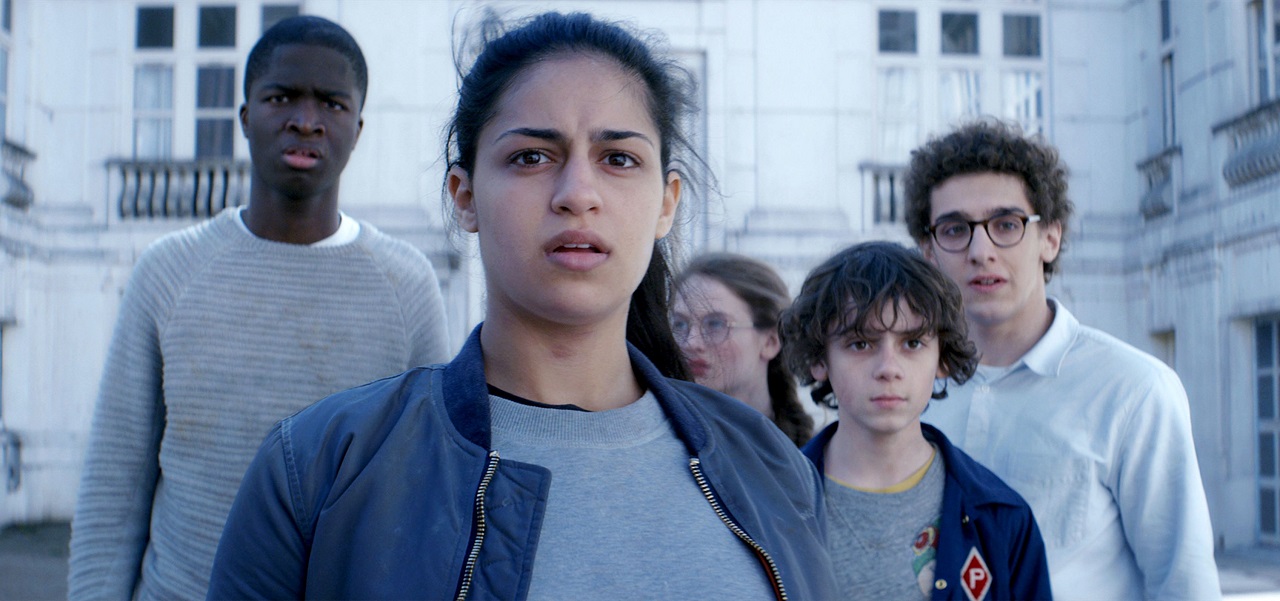 Most of the film falls into being a Last People on Earth drama. This is a genre that goes back to at least The Quiet Earth (1985), although you can also cite some of the post-nuclear holocaust films of the 1950s. The 2010s has seen a number of variations on this theme with films such as The End of the Animal (2010), Vanishing on 7th Street (2010), The Midnight After (2014) and Bokeh (2017). Indeed, the deserted city that segues into a deathdream twist was previously used in The Last Seven (2010), which also had the group pursued by a mystery figure.
As a Last People on Earth drama, there is nothing out of the ordinary about Alone. The scenes with the children searching the deserted city and trying to make sense of their situation are by the book. Most of the time David Moreau seems to want to have his cast driving around in flashy expensive vehicles. The film does get a boost from Sofia Lesaffre who gives a strong, assured performance (her character is supposed to be ten years-old in the comics but has been bumped up to her late teens in the film). The fog and the masked person hunting them certainly add something different but not sufficient intrigue is created by this. The deathdream ending is by now such a cliche that the revelation at the end of the film feels tedious. One suspects that there was the intention to film the subsequent chapters of Seuls and the film was made as a lead-in to a potential series but this has yet to go anywhere.
---
Trailer here
---