---
France/Belgium/Germany/Japan. 2021.
Crew
Director – Leos Carax, Screenplay/Music – Ron Mael & Russell Mael, Producers – Adam Driver, Charles Gillibert & Paul-Dominique Vacharasinthu, Photography – Caroline Champetier, Songs – Sparks, Lyrics – LC [Leos Carax] Ron Mael & Russell Mael, Visual Effects Supervisor – Guillaume Pondard, Visual Effects – Mikros Image, Annette Puppet Designed and Animated by La Pendue Company (Created by Estelle Charlier & Romuald Collinet), Prosthetics – Millennium FX (Designers – Rob Mayer & Neill Gorton), Production Design – Florian Sanson. Production Company – Tribus P Films International/CG Cinema International/Theo Films/ARTE France Cinema/UGCDetail Film/Eurospace/Scope Pictures/Wrong Man/RTBF (Television Belge)/Piano/Garidi Films/Arte France/ZDF-Arte/Canal+/Cine+/Voo & Be tv/Centre National du Cinema de l'Image Animee/Eurimages/Film- und Medienstiftung NRW/Fimforderungsanstaldt/Tax Shelter Gouvernement Federal de Belgique/Screen Flanders/Wallimage (La Wallonie)/LVT, Asur, Interceramic & Monex va Efcine/Agency for Cultural Affairs, Government of Japan/Kinology/Indefilms 8/Cofinova 16/Palatine Etoile 17/Cinemage 14/Cineaxe/Sofitvcine 7/SG Image 2018/Talipot Studio.
Cast
Adam Driver (Henry McHenry), Marion Cotillard (Ann Defrasnoux), Simon Helberg (The Accompanist), Devyn McDowell (Annette in Prison)
---
Plot
In Los Angeles, the popular stand-up comedian Henry McHenry, who performs as The Ape of God, and the opera singer Ann Defrasnoux marry. Not long after, she gives birth to a puppet-like child that they name Annette. Henry's act starts to lose its popularity and this produces tensions at home as he takes to drink. They take a sea voyage but as Ann argues with a drunken Henry on deck in the midst of a storm, she falls overboard and is drowned. Henry sinks into a slump but regains himself after seeing that Annette has a beautiful singing voice. He persuades Ann's accompanist now a conductor to place Annette on tour where she proves a smash success as Baby Annette. However, this serves to bring dark secrets to the fore.
---
Leos Carax is a French director who has attracted controversy and acclaim in about equal amounts. Carax first appeared with Boy Meets Girl (1984) then went onto the near future SF film Mauvais Sang (1986). His output since then has been sporadic – Annette is only his sixth film in 37 years, marking an average of around six years between films. Elsewhere, he has made the non-genre likes of Les Amants de Pont-Neuf (1991) and Pola X (1999). His last film was the surreal Holy Motors (2012) that came with a mind-bending bizarreness that left all audiences buzzing.
With typically eccentric regard, Carax decides to make a musical with Annette. The Musical is a long established genre, although only one that has occasionally intersected with genre material – see the likes of The Rocky Horror Picture Show (1975), Little Shop of Horrors (1986), Existo (1999), The Phantom of the Opera (2004), Repo! A Genetic Opera (2008) – despite it being an inherently fantastical one where characters constantly express their innermost feelings in song. Of course with Leos Carax directing, Annette is anything but a regular musical.
You could easily glance over a plot description of Annette and assume nothing out of the ordinary about it. A couple marry, have a child, the guy's fortune fall, tensions occur – these are the dramatic plot developments that could take place in a musical or for that matter a regular drama. You could easily point to something like La La Land (2016), which intersects with somewhat similar plotlines. On the other hand, Annette is also a Surrealist film, not the least of which is the fact that the titular child the couple have is played by a Puppet in all the except the final scene.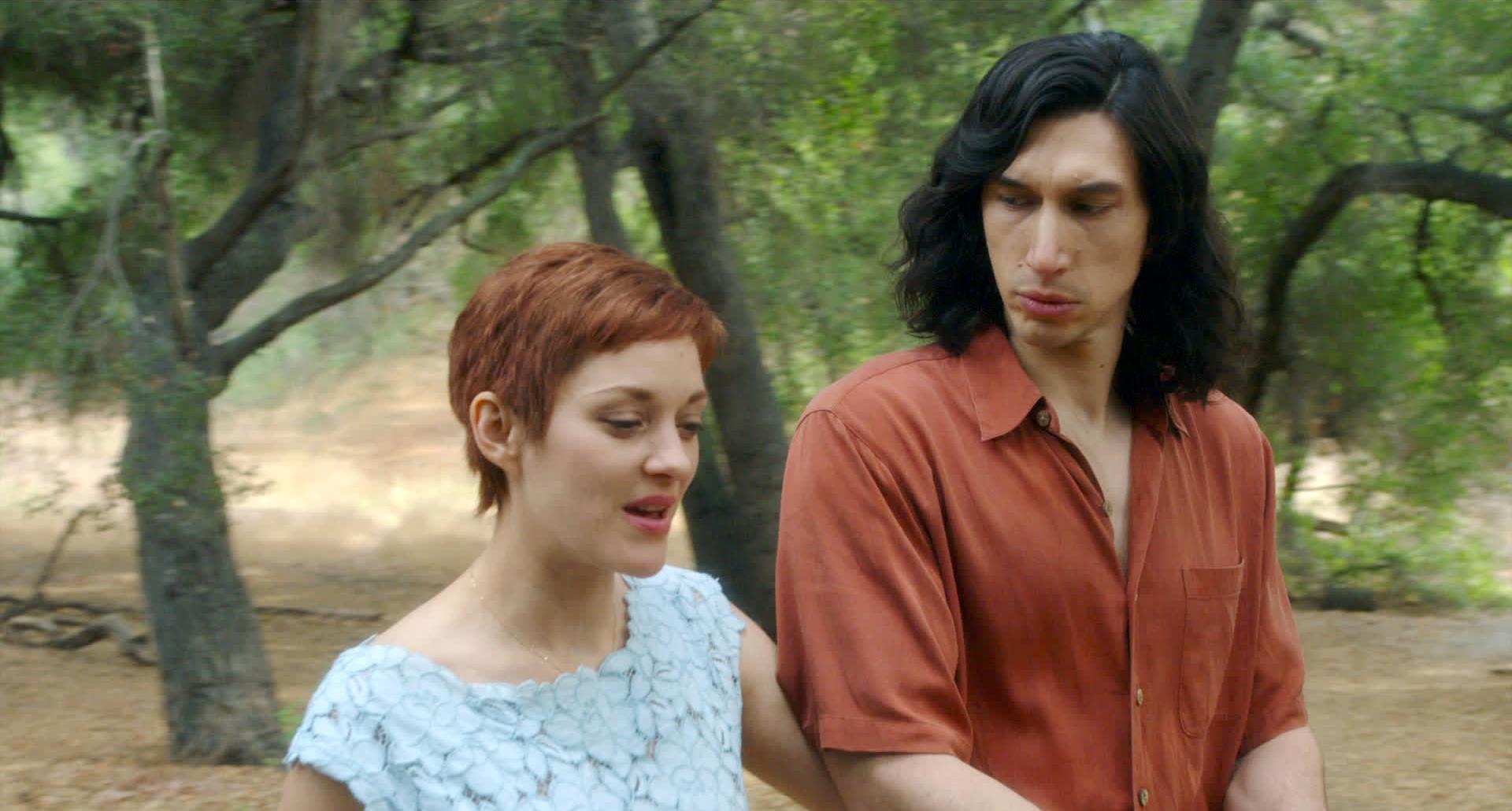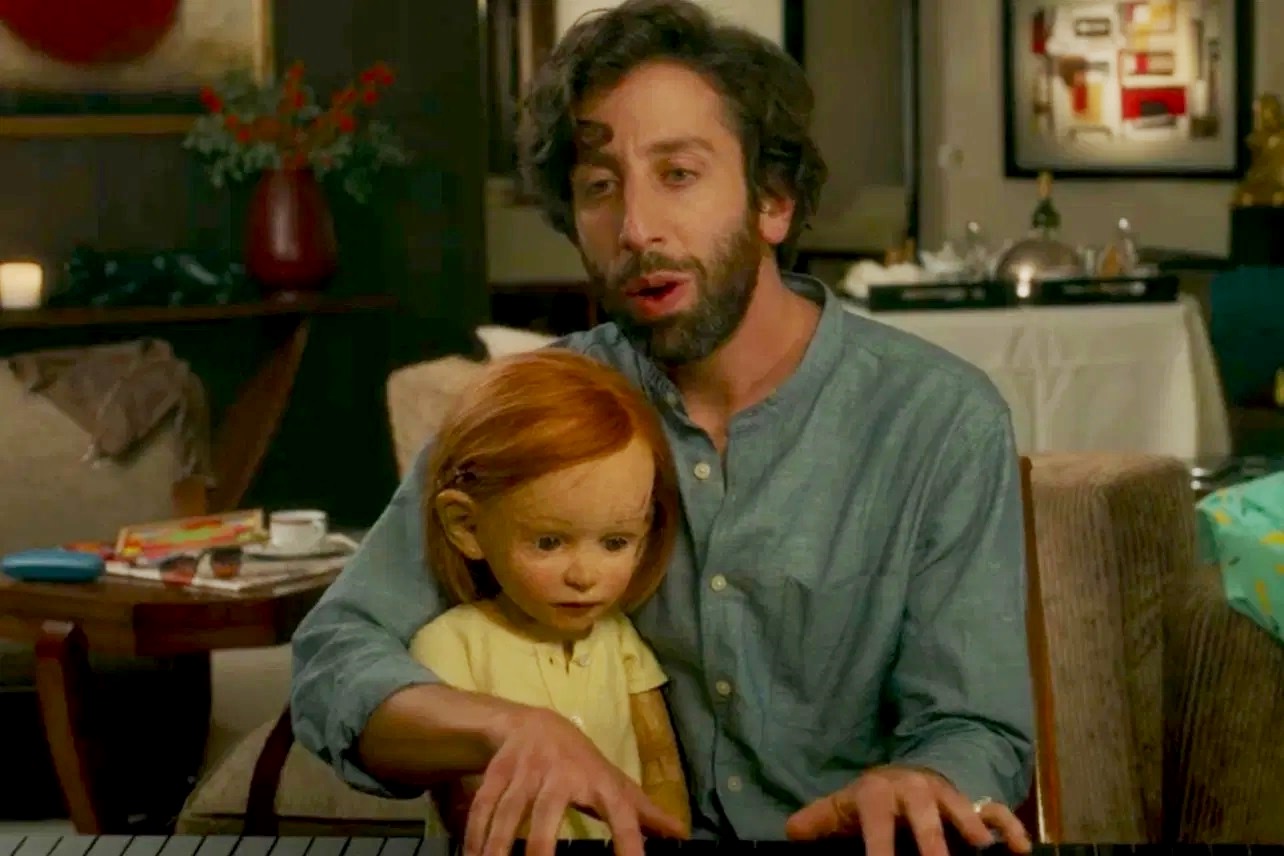 Of course, Leos Carax makes anything but a regular musical. You are caught up in his boundary-breaking approach from the very first scene where we see Carax himself and his daughter Nastya in a control booth as he announces "Are we going to start?" This is followed by the two writers/songwriters, Ron and Russell Mael who form the band Sparks, joining Adam Driver, Marion Cotillard and Simon Helberg and various crew as they exit onto the street arm in arm singing in an appealingly fourth-wall breaking number about the fact that they are making a film that comes with lines about the budget being in place, that they feel unprepared amid meta questioning about whether the theatre is outside or in the mind.
Things become even more wildly inventive when it comes to Adam Driver's first stand-up performance, which goes from him starting into a regular stand-up act filled with a self-deprecating monologue before he abruptly bursts into song accompanied by a back-up chorus – who will appear in most scenes throughout the film – and then equally abruptly returns to his monologue, while joined by the audience who start to sing as a chorus too. The changes of tone and sudden juxtapositions are head-spinning.
A great deal of the brilliance of the film is Leos Carax breaking with the traditions of the musical in having characters sing in the most unlikely of situations. The paparazzi following Adam Driver and Marion Cotillard, even the delivery room team break into chorus. The characters sing their marital disputes. Adam Driver and Marion Cotillard sing while they have sex. He sings while riding a motorcycle down the road, while she even sings while she is sitting on the toilet and reaching under to wipe herself. In one of the most hilarious scenes, there is a fight between two characters in which one of them is drowned in a pool in between coming up for breaths of air to sing the next line and then go under again.
Leos Carax stages the film beautifully, none the more so than Annette's final concert and then the father-daughter reconciliation scene that comes right at the end. Annette is not as complete a mindfuck of a film as Holy Motors was. It's at least more traditional in matters like plotting at the same time as being unique and wholly original in terms of approach. In a time when everything else that is out there is tailored and test marketed to box-office tastes, this emerges as a welcome breath of originality.
(Winner in this site's Top 10 Films of 2021 list. Nominee for Best Director (Leos Carax) at this site's Best of 2021 Awards).
---
Trailer here
---