(Les Amants Criminels)
---
Crew
Director/Screenplay – Francois Ozon, Producers – Olivier Delbosc & Marc Missonnier, Photography – Pierre Stoeber, Music – Philippe Romba, Art Direction – Arnaud de Moleron. Production Company – Le Studio Canal +/Fidelite Productions/Le Sept Cinema.
Cast
Jeremie Renier (Luc), Natacha Regnier (Alice), Miki Manojlovic (L'homme de Rois), Salim Kechiouche (Said)
---
Plot
Teenager Alice connives her boyfriend, the shy and sexually hung-up Luc, into helping her kill Said, a classmate she claims orchestrated her gang rape. She pretends to give into Said's desires and lures him to the school gymnasium locker room where she and Luc stab him to death. They then drive out into the forest to dispose of the body. In trying to find their way back to the car, they become lost. They seek refuge at a cottage in the woods. Then the brutish woodsman who lives there returns and makes them prisoners in his cellar.
---
Criminal Lovers was the second feature film from Francois Ozon who had previously made the strange fantastical Sitcom (1998). Ozon has since gone onto become one of France's top directors with the likes of Under the Sand (2001), 8 Women (2002), Swimming Pool (2003), 5×2 (2004), Angel (2007), the fantasy film Ricky (2009), Potiche (2010). Young & Beautiful (2013), The New Girlfriend (2014), Frantz (2016), The Double Lover (2017) and By the Grace of God (2018).
Criminal Lovers is like one of Paul Bright's modern fairytale deconstructions – Freeway (1996) and in particular its sequel, the dazzling Freeway II: Confessions of a Trickbaby (1999) (which was a modernised version of Hansel and Gretel and came out around the same time as Criminal Lovers). These are films in which Bright reinterprets classic tales with a healthy injection of modern sarcasm and juvenile delinquency.
Criminal Lovers could be a version of Hansel and Gretel rewritten by way of Pretty Poison (1968). Here Hansel and Gretel are a teenage couple who murder a classmate who supposedly engineered the girl's gang rape. Their attempts to dispose of the body has them lost in the woods, which catapults them into a nightmare where they are made prisoners of 'an ogre' who makes allusions to wanting to eat both of them. Although, this proves to be an ambiguous ogre – the twist that director/writer Francois Ozon throws on the fairytale is to turn it into a remarkable gay coming-out parable at the end.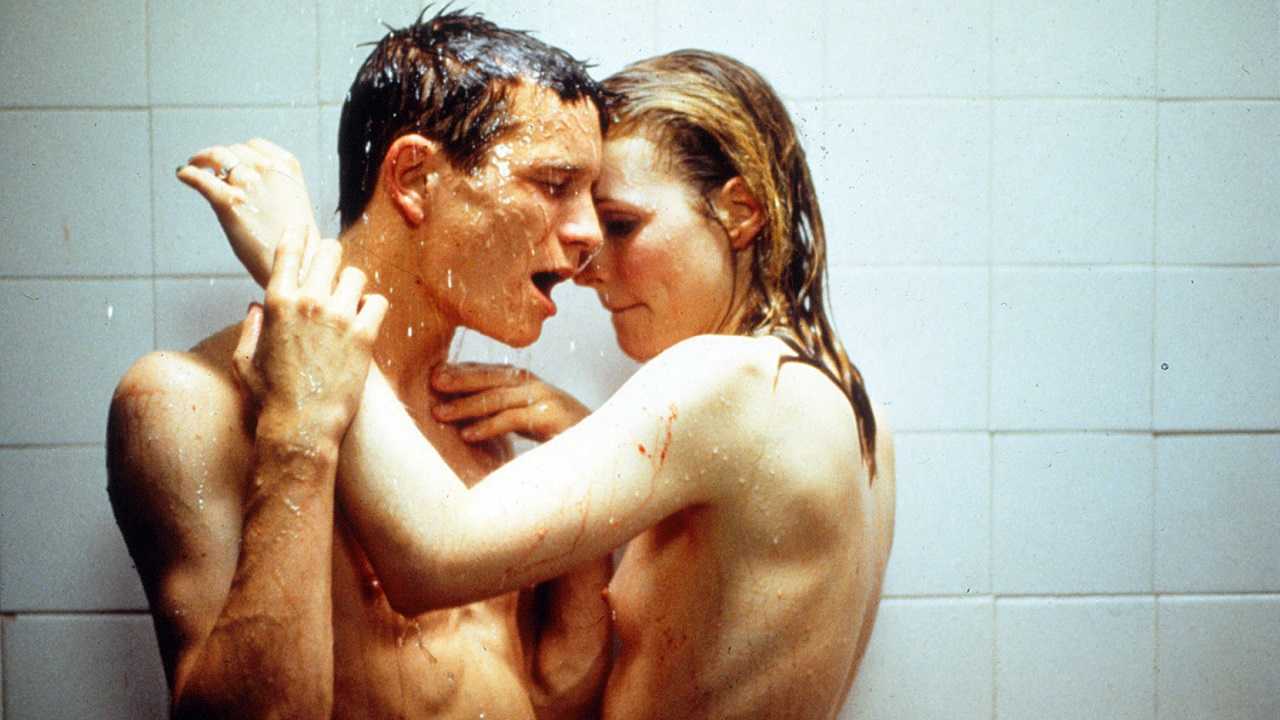 Francois Ozon grabs the audience's attention from the opening in which Natacha Regnier teases a blindfolded Salim Kechiouche, telling him she is undressing but not and taking photos of him undressed saying she is going to show them to his mother. However, after grabbing one's attention with this scene, Ozon starts to meander somewhat. In synopsis and in title, Criminal Lovers tends to suggest something much more anarchic than it is. There is not that there is anything particularly wrong with the film – it is just that you think that another director might have dug into the murder and burial scenes with greater psychological tension or even a riotous sense of black comedy. The central murder is a banal event. Moreover, Natacha Regnier's teen seductress seems altogether too plain – she lacks any of the dangerousness and seductive playfulness that Tuesday Weld had in Pretty Poison and seems as bewildered an innocent as Jeremie Renier is.
That said, Criminal Lovers picks up considerably once it arrives at the woodland cottage. Miki Manojlovic gives a performance that hover on a razor's edge between brutish violence and a coarse tenderness. In these scenes, Francois Ozon reduces the film's lighting level to almost complete darkness. There is one scene with Miki Manojlovic and Jeremie Renier sitting at the dinnertable facing one another in alternating closeups, both almost entirely in shadow, where Manojlovic states "I like my boys fattened up and my girls all skin and bone" that contains a genuine chill where you are never sure if such a comment is meant to be taken seriously or not.
Francois Ozon demonstrates moments of considerable style. There is a wonderfully dreamy scene with Jeremie Renier and Natacha Regnier drifting through a misty river on an oarless boat. The couple's final consummation comes amid exquisitely composed wide-angles with the two kissing under waterfalls and swimming naked in pools – but it is an idyll that Ozon does not take too seriously as demonstrated by the number of cutaways to woodland creatures romping, which gradually increases to the point of absurdity.
---
---