---
Crew
Director/Screenplay – Leos Carax, Producer – Pierre Grise, Photography – Yves Cape & Caroline Champetier, Visual Effects Supervisor – Alexandre Bon, Makeup Effects – Jean-Christophe Spadaccini, Production Design – Florian Sanson. Production Company – Pierre Grise Productions/Theo Films/Arte France Cinema/Pandora Film/WDR-Arte Production/Canal Plus/Centre National du Cinema et de L'image Animee/European Union Media Programme/Region Ile-de-France/Procirep-Angoa/FFA Mini Traite/Medienboard Berlin Brandenburg/Soficinema 8/Wild Bunch.
Cast
Denis Lavant (Monsieur Oscar/The Banker/The Beggar/The Motion Capture Artist/Mr Shit/The Father/The Accordianist/The Killer/The Killed/The Dying/Man at Home), Edith Scob (Celeste), Eva Mendes (Kay M), Kylie Minogue (Eva Grace), Jeanne Disson (Angele), Elise Lhomeau (Lea), Reda Oumouzoune (Motion Capture Acrobat), Leos Carax (The Sleeper)
---
Plot
A businessman, Monsieur Oscar, sets out in his stretch limousine with his driver Celeste to attend the day's appointments. The first of these requires Oscar to don a wig, dress as an old lady and beg in the streets. For the second appointment, Oscar dons a motion capture suit and conducts a series of moves in a darkened room, before joining a female dancer for an erotic performance. For the next, Oscar dresses as a crazy derelict where he abducts a model and takes her to his lair in the sewers. In other appointments, Oscar adopts disguises as a father who must pick up his daughter from a party, where he must murder a man and meets an old flame.
---
Leos Carax is a French director who has attracted controversy and acclaim in about equal amounts. Carax first appeared with Boy Meets Girl (1984) then went onto the near-future science-fiction film Mauvais Sang (1986). His output since then has been sporadic – with Holy Motors marking only his third film in twenty-five years. Elsewhere, he has made the non-genre likes of Les Amants de Pont-Neuf (1991) and Pola X (1999), the latter causing some controversy for its story of an incestuous love affair and scenes of unsimulated sex between the lead actors. Carax subsequently went on to make the surreal musical Annette (2021).
Holy Motors emerged as an international festival hit after premiering at the 2012 Cannes Festival. More than anything else, it is a film that leaves every audience scratching their heads as to what it means. The film has a complete mindfuck aspect that is comparable at least to the works of Alejandro Jodorowsky and David Lynch.
The film opens with a man (played by Leos Carax himself) waking up inside what looks like a hotel room. He approaches a wall and we see that one of his fingers is a key. This opens the wall and the man walks into a movie theatre of people who all sit in zombified silence. He is suddenly accompanied by a panther as he walks through. We are then introduced to lead actor Denis Lavant (who has appeared in almost all of Leos Carax's films) who it becomes apparent is an important businessman as he is ushered to his limo for the day's appointments.
We follow Lavant on his way to work, only for the first of the film's mindfucks to arrive as he exits from the limo accompanied by two bodyguards but where we see that he has donned a disguise as an old stooped beggar woman who stands on the street with a bowl panhandling for change. He is then taken onto his next appointment at an industrial plant where he changes into a motion capture suit and enters a darkened room to do some calisthenics where we see him in terms of moving points of light in the dark, before he is joined by a woman in a red stretch bodysuit where the two of them engage in an erotic contortionist dance.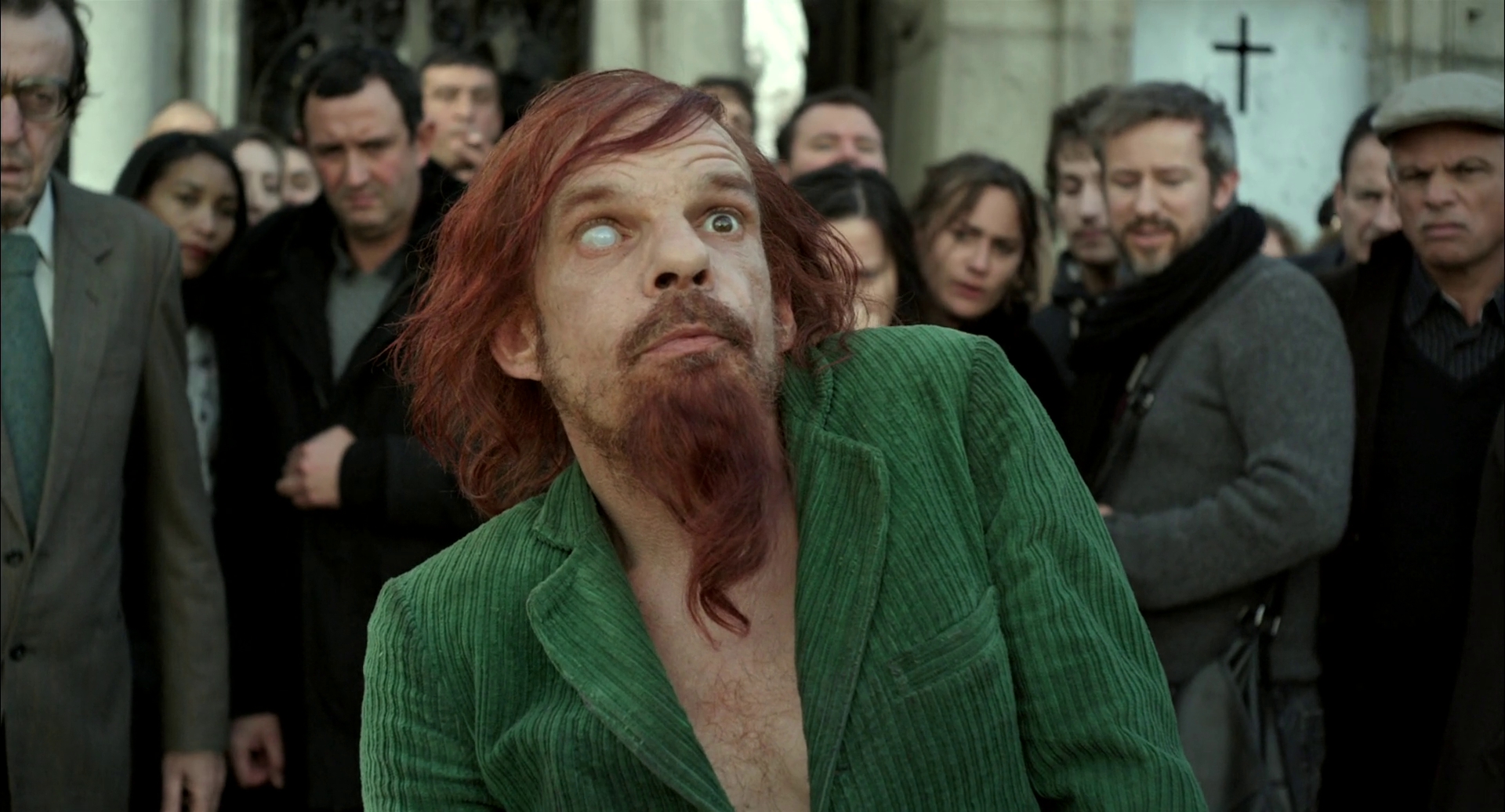 Next we see him dressed as a filthy and unintelligible derelict stumbling through the streets, eating flowers, causing all in his path to flee, before coming to a photo shoot with a beautiful model (Eva Mendes). He then abducts the model and carries her off to his underground lair where they engage in a wordless romance of sorts, she makes a burka for her face and he strips naked and cuddles in her lap whilst sporting a giant erection. (This is extension of Merde, an episode of the anthology Tokyo! (2008) where Denis Lavant played the same role of a person who spoke an unintelligible language living in the sewers – in both stories, the characters is named Merde/Shit).
Up to this point, the film is one of stunning demented brilliance. You wonder just where on earth Leos Carax is possibly taking the film with each scenario. Although after sustaining the first 40 or so minutes with an intense weirdness, the later episodes never hit the same mark. In the subsequent disguises, Denis Lavant is an ordinary man who picks his teenage daughter up from a party and gives her advice while delivering her home.
He then becomes a man who enters an industrial area and kills a man who looks identical to the disguise he has adopted. The man in turn kills him and the two lie on the floor dying. Lavant is then inexplicably resurrected and becomes a middle-aged man who watches Kylie Minogue (who would appear to be an old flame) as she performs a song while moving through an old theatre. After he exits, she commits suicide by jumping from the roof.
In the final segment, the chauffeur drops Lavant off to his final role where he goes home and we see that his wife and family are apes. In the coda, the limo is driven back to its home base – the Holy Motors of the title. Chauffeur Edith Scob exits wearing a mask – a clear visual reference to her famous role in Eyes Without a Face (1959) – and after the lights are out, the parked limos start talking amongst themselves, commenting on the passengers that they control.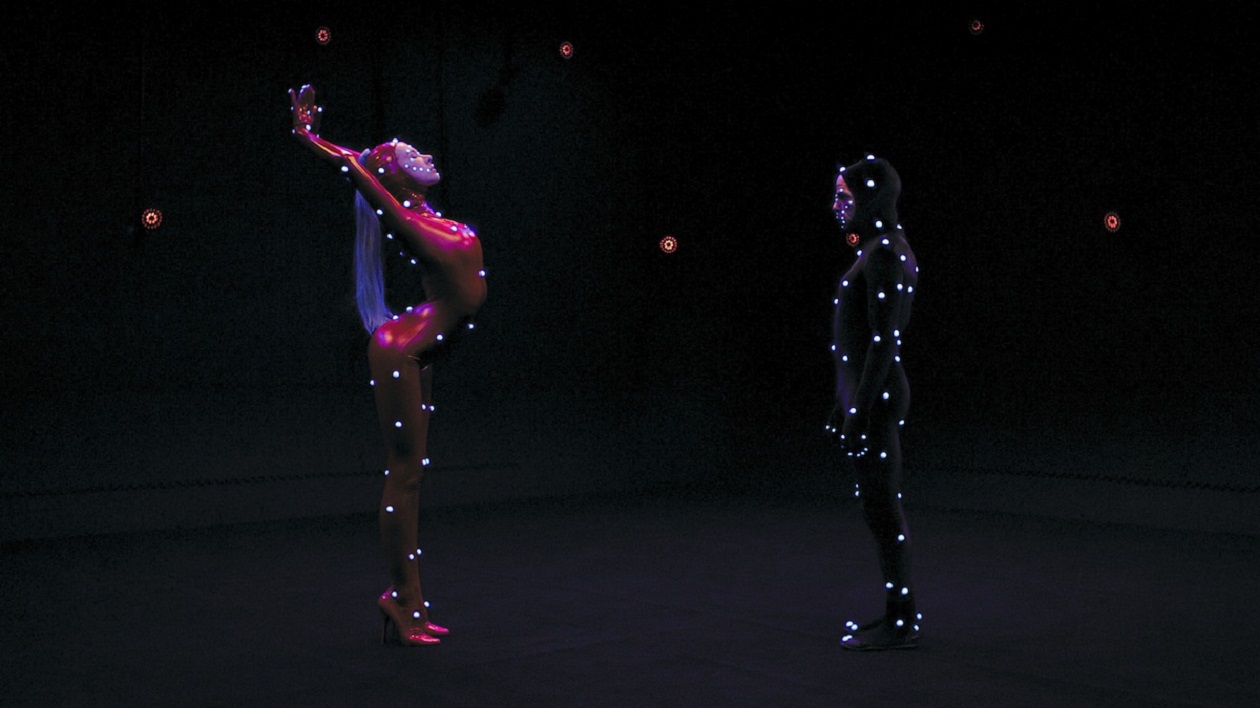 The response to all of this is a big "huh?" As with almost every other audience member, I exited Holy Motors wondering what on Earth I had just seen. It is a superb piece of filmmaking from an artistic perspective. Denis Lavant gives a fantastic performance in the number of chameleon-like transformations he undergoes from role to role. But what the heck is it all about? In interviews, Leos Carax has called it a work of science-fiction (although not one that would come under this site's classification of what constitutes science-fiction) and that it was about covering the gamut of human experience in one day. I am not entirely sure if the average person's experiences can include erotic dances as motion capture artists or living as a crazed non-verbal troglodyte but one will give Carax the benefit of the doubt on that. You can see Holy Motors as akin to the recent Cosmopolis (2012), which had a very similar plot that took place in a limousine as it drifted through various vignettes that illustrate aspects of society. Maybe a Cosmopolis that has been hijacked by an Alejandro Jodorowsky.
If you are to search for meaning in Holy Motors – and it may well be that it is not intended to have any meaning – then it reads to me as a surreal parody of celebrity culture and the role of an actor. The prologue with Leos Carax opening up the symbolic door into the movie theatre and its audience is surely about him in his role of director in effect opening the door up to us. Denis Lavant would appear to play a part that functions the same way that actors do in real-life – inhabiting various roles, sometimes being killed and then continuing on to the next role with no continuity between them. (The character is named Monsieur Oscar – Oscar being Leos Carax's middle name – which would tend to suggest that Lavant is a stand-in for Carax).
The end of the film with the talking limos is a sardonic joke on celebrity culture that in effect sees limos – surely the signifier of status and lavish self-importance in culture – where the relationship has been inverted and it is they (being deities as the title would seem to indicate) who are pulling the real strings and manipulating the events and appointments that Denis Lavant goes to. Well maybe. That is just my take and doesn't explain all of the film. Whatever the case, it is surely likely to be a film that generates screeds of intense theorising about its meaning in years to come.
(Winner in this site's Top 10 Films of 2012 list. Nominee for Best Director (Leos Carax) and Best Actor (Denis Lavant) at this site's Best of 2012 Awards).
---
---